With Halloween just around the corner, it's time to start planning a Halloween party! Whether you're planning a Halloween party for kids or adults, these deliciously spooky Halloween party food ideas are sure to delight!
When it comes to planning the perfect Halloween party, there's a lot to think about. From decorations to costumes, and finding the perfect scary food and drinks for your guests. Don't worry though, we've got you covered. Read on to be inspired by some delightfully scary Halloween treats!
Green Witch Finger Cookies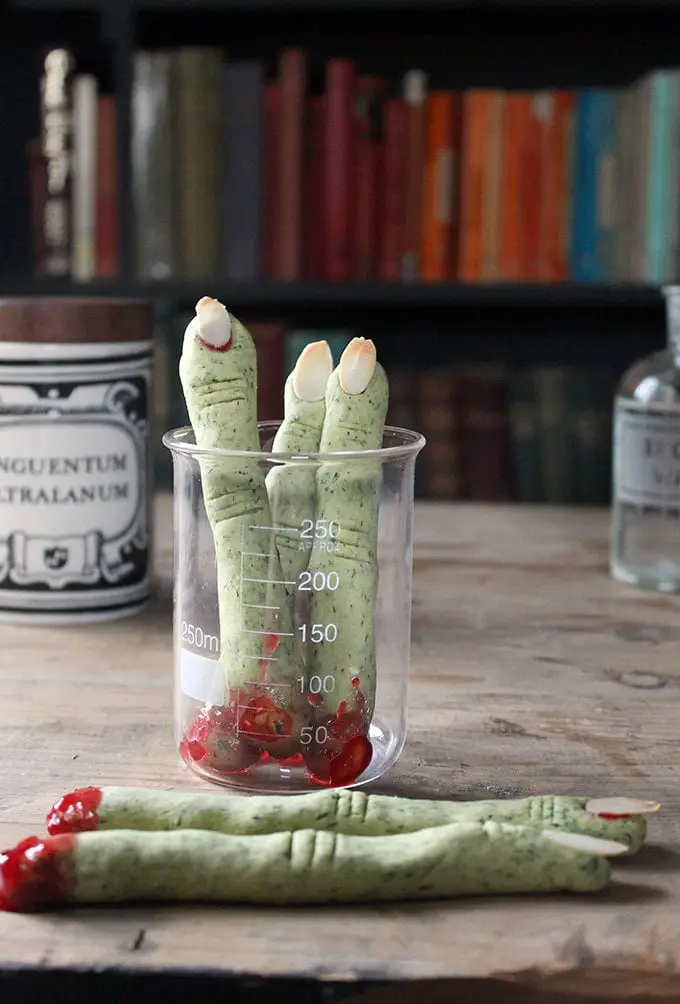 These delicious Halloween Witch Finger Cookies are the perfect spooky snack for your Halloween party. They are naturally green with hidden… spinach, making them a great way for you to get your little ones to eat their greens. You can't taste the leafy greens, so your kids will be none the wiser. They taste exactly like peanut butter cookies with jam 'blood'.
No-Bake Chocolate Marshmallow Cauldrons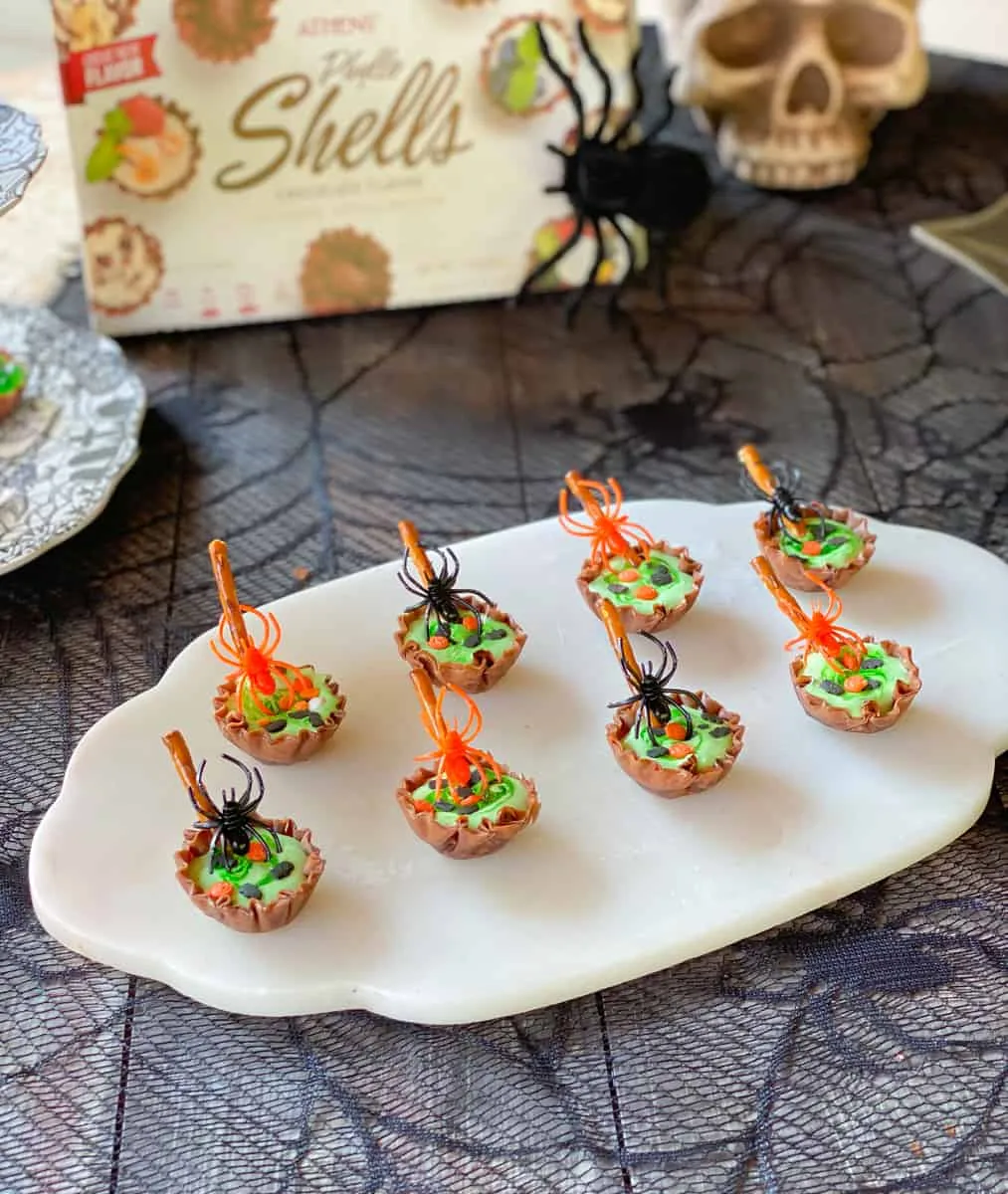 These witches cauldrons are a fun and delicious Halloween party treat that requires no baking! This makes them the perfect treats for kids to make and eat and can be assembled in just under 10 minutes!
Meringue Ghosts Halloween Party Food Recipe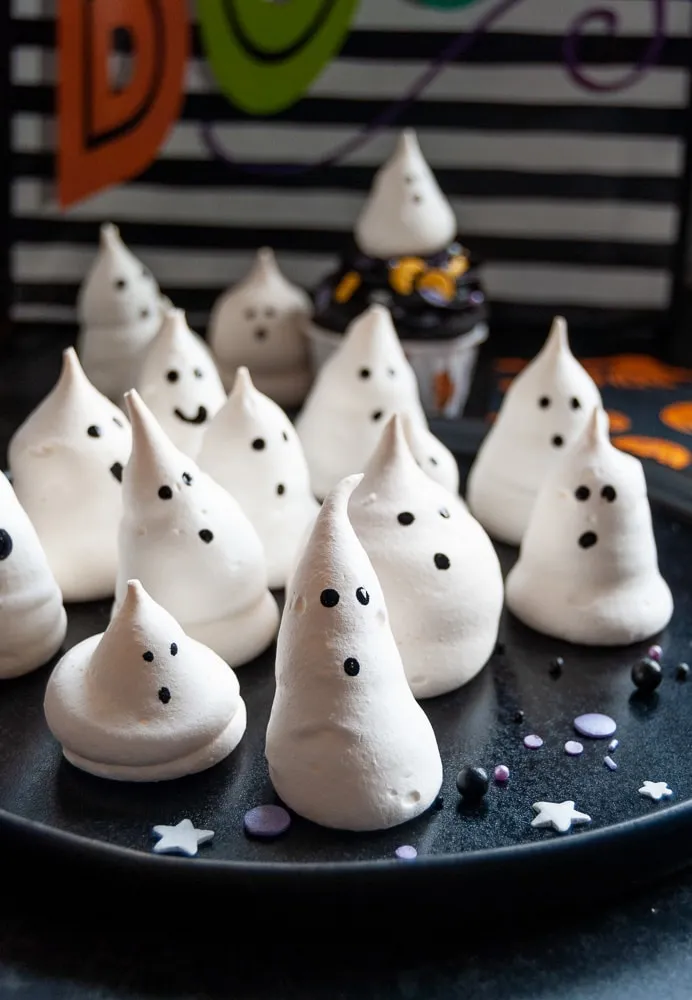 Something Sweet Something Savory
It's so easy to make these cute little Meringue Ghosts! They are crisp on the outside and marshmallowy on the inside. Your Halloween visitors will love them!
Halloween Graveyard Dirt Cake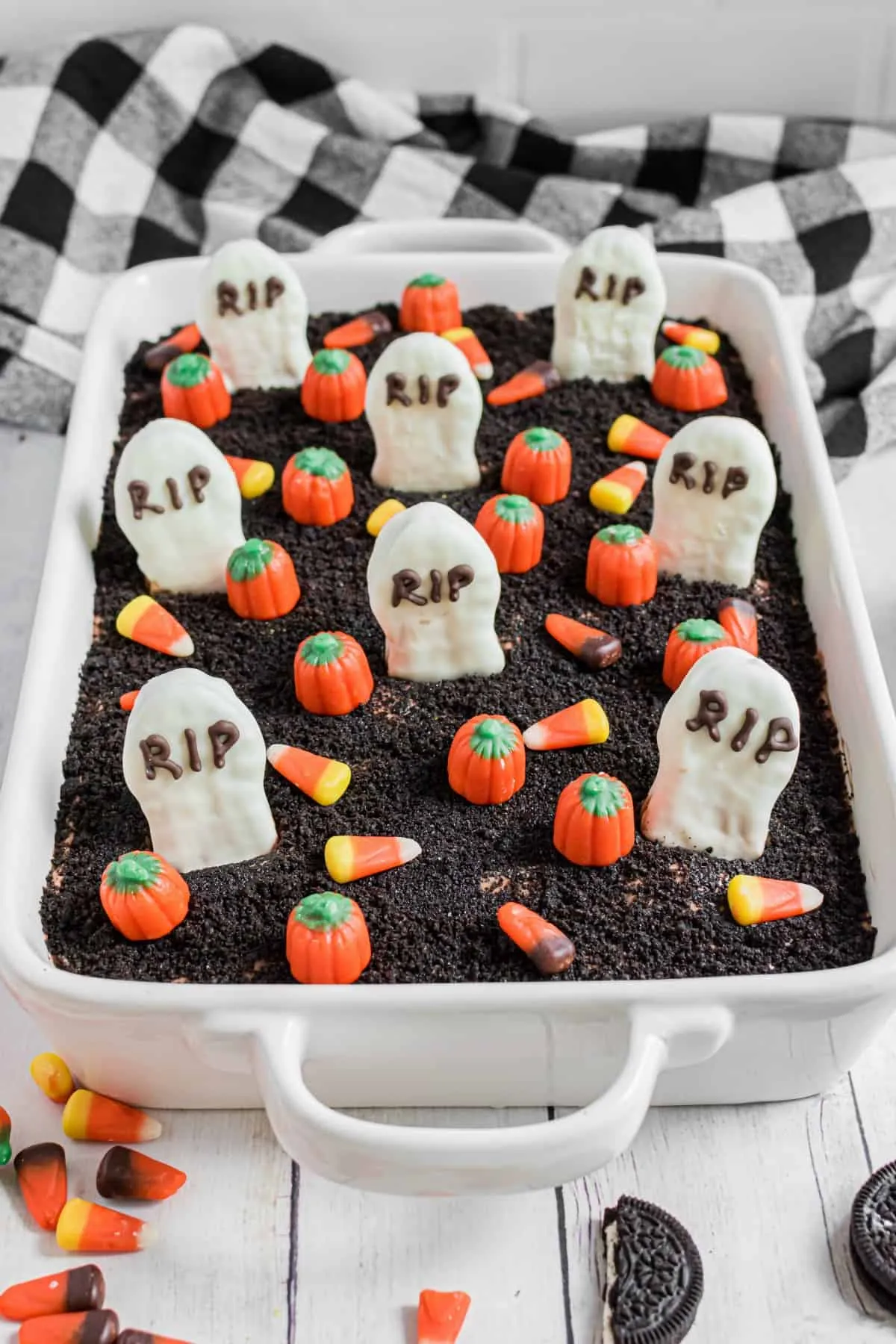 This Halloween dessert is a little spooky, a little silly, and a lot delicious! Add a cookie graveyard to your Dirt Pudding Cake and invite the ghouls and ghosts out to party!
Halloween Chocolate Drip Cake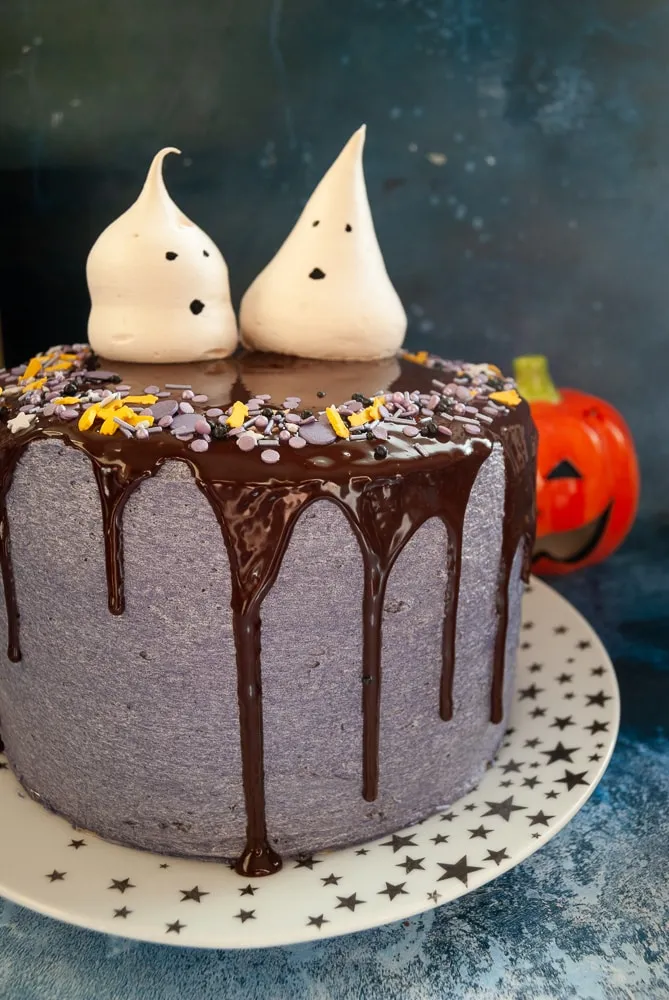 Something Sweet Something Savory
This Halloween Chocolate Drip Cake is a perfect showstopping cake for a Halloween party – four layers of rich Devil's Chocolate sponge cake with vanilla buttercream and topped with a shiny chocolate ganache glaze. It can't fail to wow your trick or treaters!
Gourmet Homemade Halloween Caramel Apples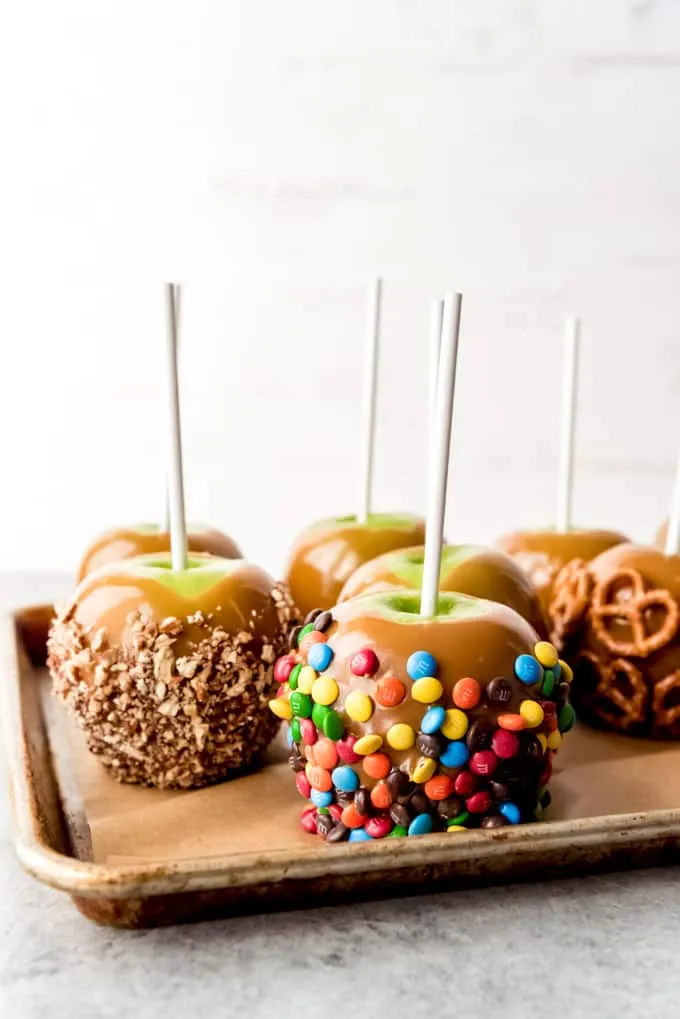 Gourmet Homemade Caramel Apples are easy and fun to make! The sweet, buttery caramel is perfect with crisp, tart Granny Smith apples, and you can decorate them with as many crunchy, chewy, nutty or crispy toppings as you want!
Halloween Sugar Cookies Recipe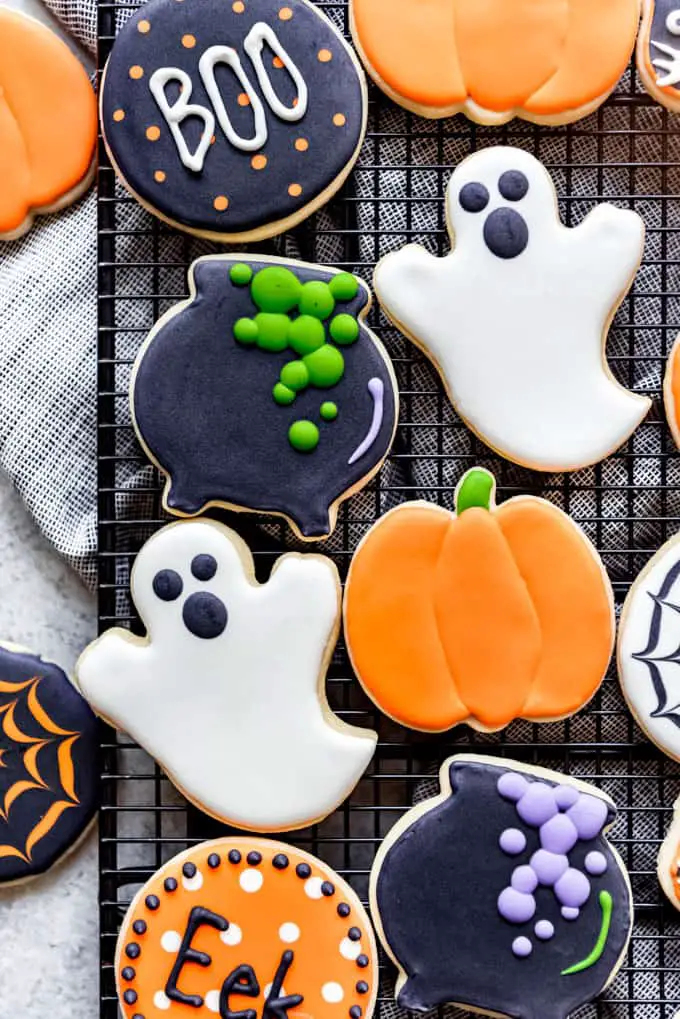 These tasty Halloween Sugar Cookies are soft and delicious but still hold their shape after baking. You can decorate them with royal icing using the easiest techniques ever to create the perfect Halloween party snacks!
Hocus Pocus Potion Float – Halloween Mocktail Dessert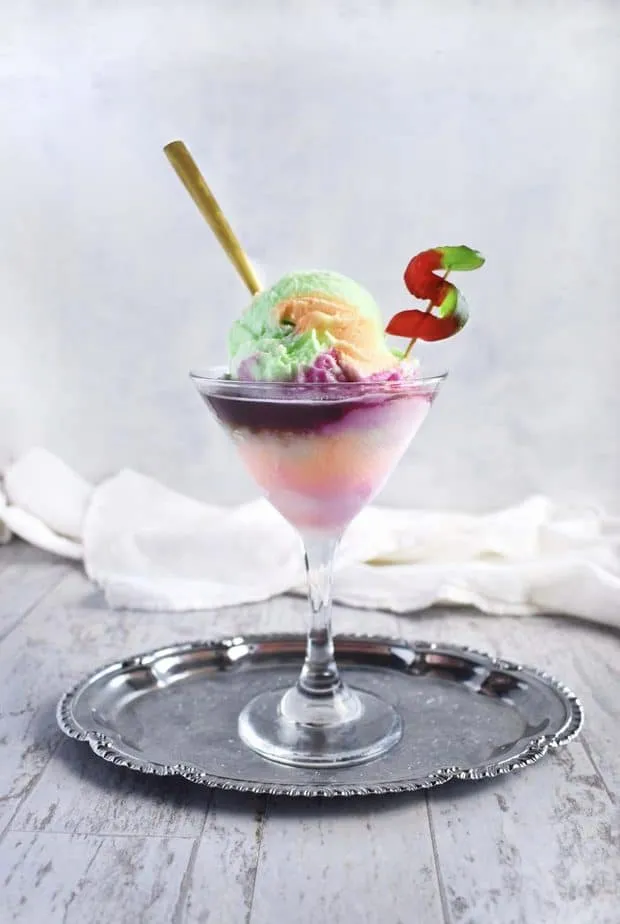 This Hocus Pocus Potion Float is a fun and festive Halloween ice cream float! The perfect easy and festive drink and treat.
Halloween Sour Cream Sugar Cookies with a Delicious Cream Cheese Frosting
These delicious and easy Halloween sour cream sugar cookies will make a great Halloween party snack for your guests. They use a delicious cream cheese frosting, are light and fluffy, and they are ideal for cutting into fun shapes with cookie cutters!
Gluten-Free, Vegan, and Allergy-Free Homemade Little Debbie Pumpkin Delights Recipe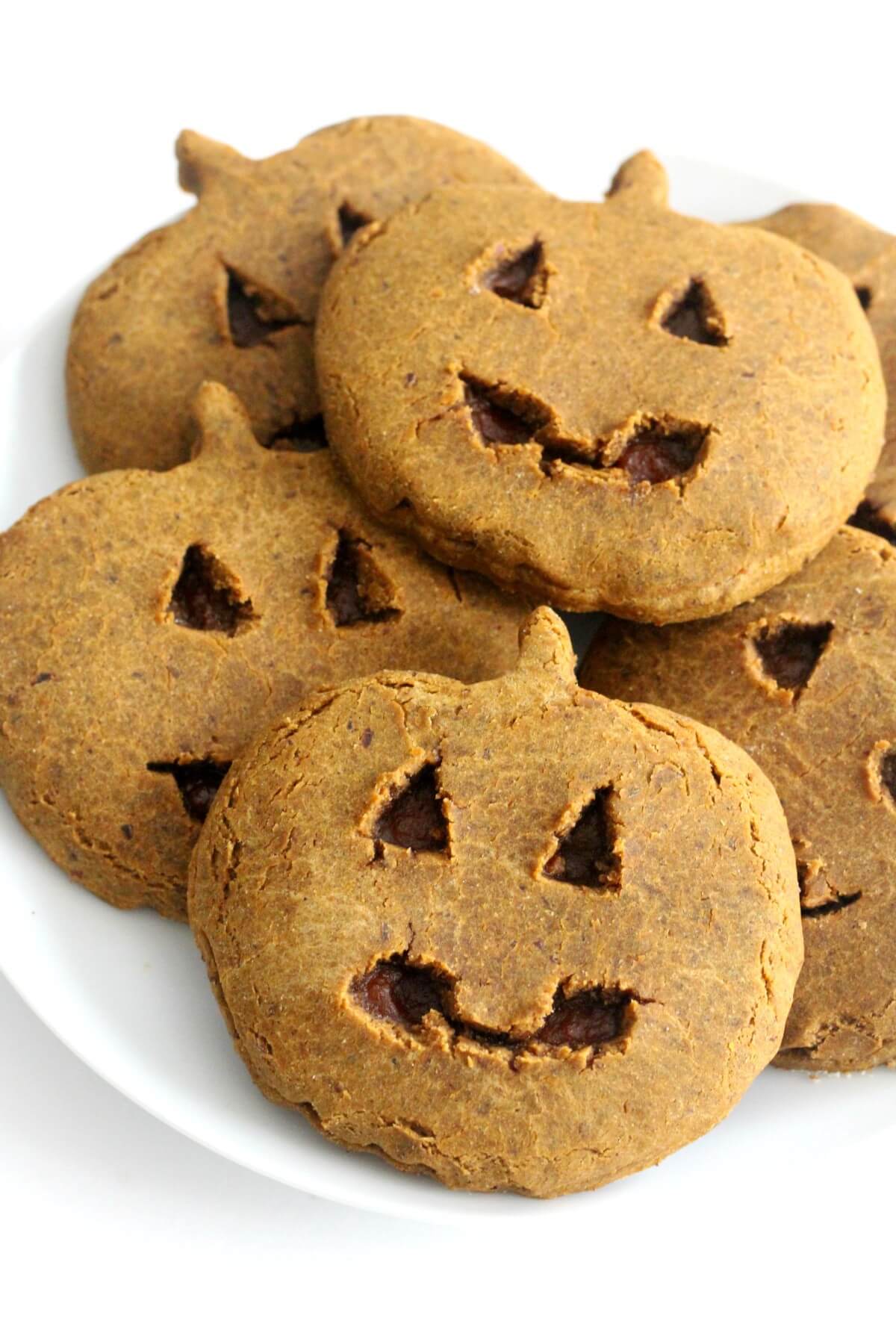 This delicious Homemade Little Debbie Pumpkin Delights recipe is a copycat version of the seasonal treat we all love! This is a healthier gluten-free, vegan, and allergy-free recipe for the soft pumpkin spiced cookies with a spooky carved face and stuffed with a tasty pumpkin butter filling! This dessert tastes like pumpkin pie, but thankfully you don't have to wait for its limited-edition arrival!
Gluten-Free, Vegan Ghost Cupcakes for Halloween
These spooky and cute Gluten-Free Ghost Cupcakes are perfect for Halloween parties! These super easy to make cupcakes are not only vegan, but they are allergy-free and perfect for kids! These tasty cupcakes are made with a simple black chocolate cupcake base and dairy-free vanilla buttercream frosting. Whether you're looking for a unique Halloween party treat or a simple non-candy dessert, these are a must!
Double Chocolate Halloween Cookies with Zombie Blood
Get your Halloween on with these spooktacular zombified double chocolate crinkle cookies. These delicious cookies are soft and chewy, chocolatey, and OOZING with zombie blood (aka caramel).
Kid-Friendly Halloween Snack Board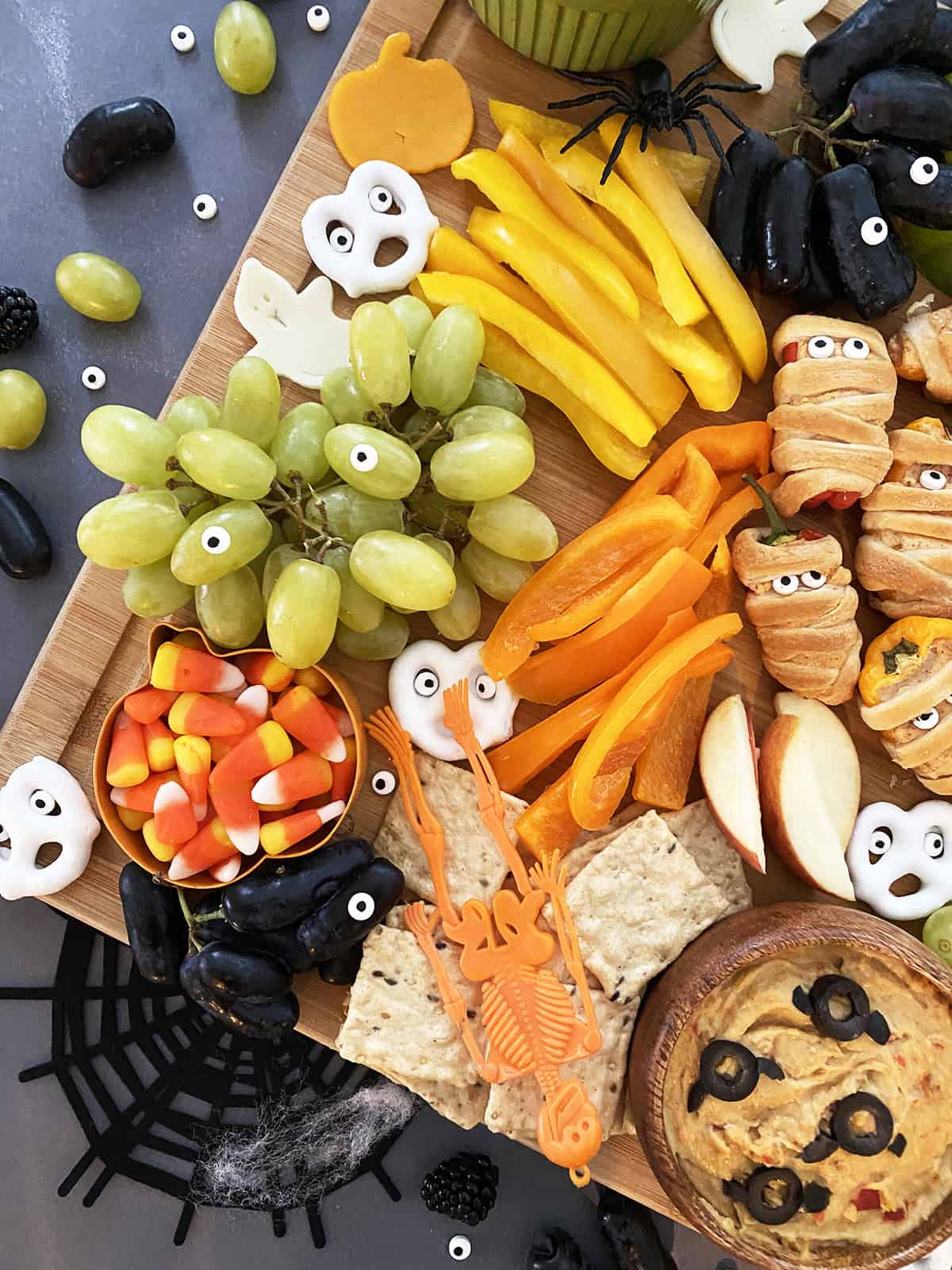 Before everyone heads out trick or treating, fill up on this spooky fun Halloween snack board! Made with fresh fruits, veggies and themed treats, everyone will love it!
Chocolate Halloween Spider Web Cake
This chocolate spider web cake is a show stopper for your Halloween party, perfect for all ages.
Ghostly Halloween Guacamole
Dress up your guacamole in a spooky way for Halloween, this is such a fun idea for Halloween parties!
Frankenstein Halloween Cookie Recipe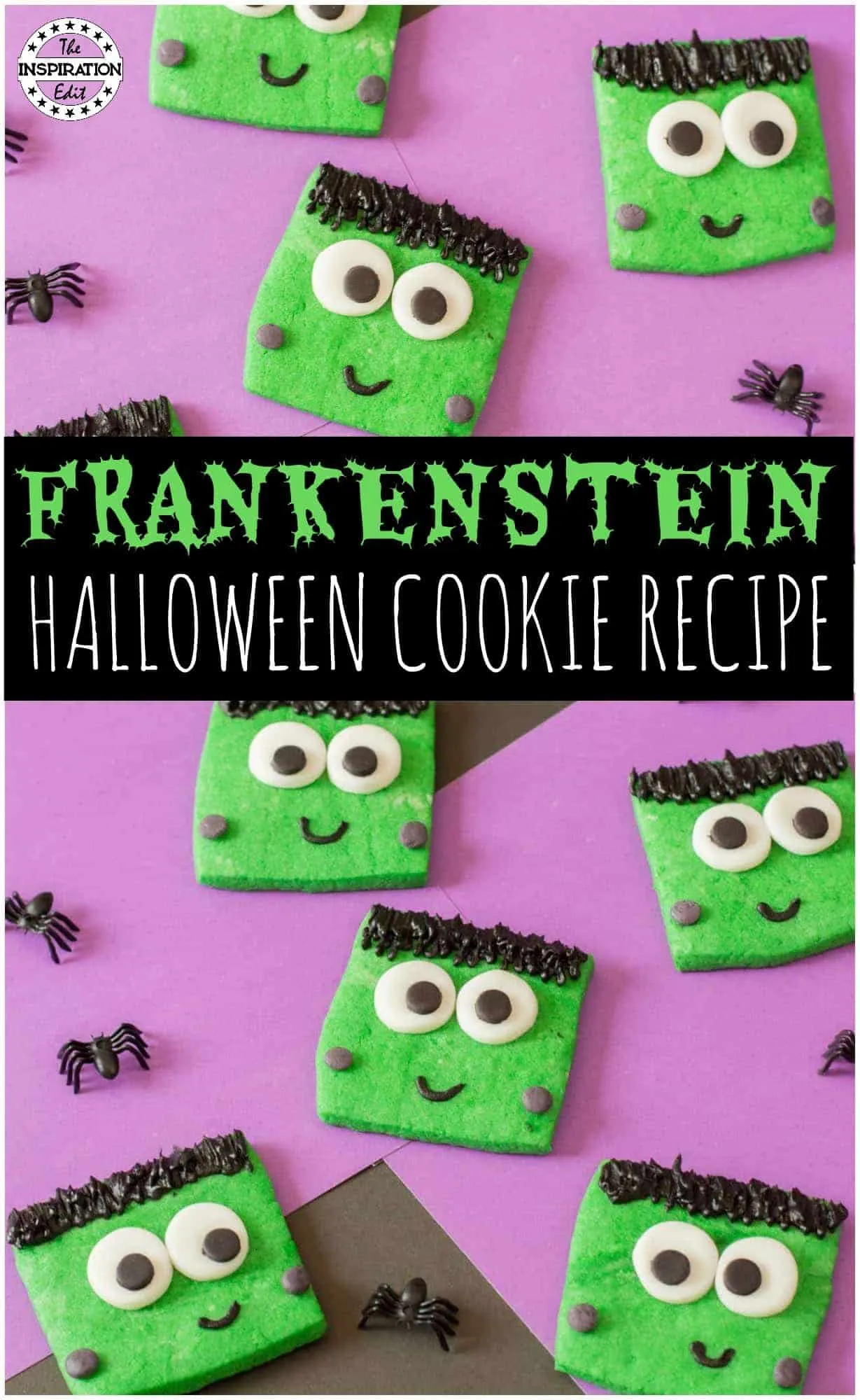 These creepy Halloween Frankenstein Cookies are the perfect Halloween party snacks for kids!
Witches Brew Halloween Trifle Recipe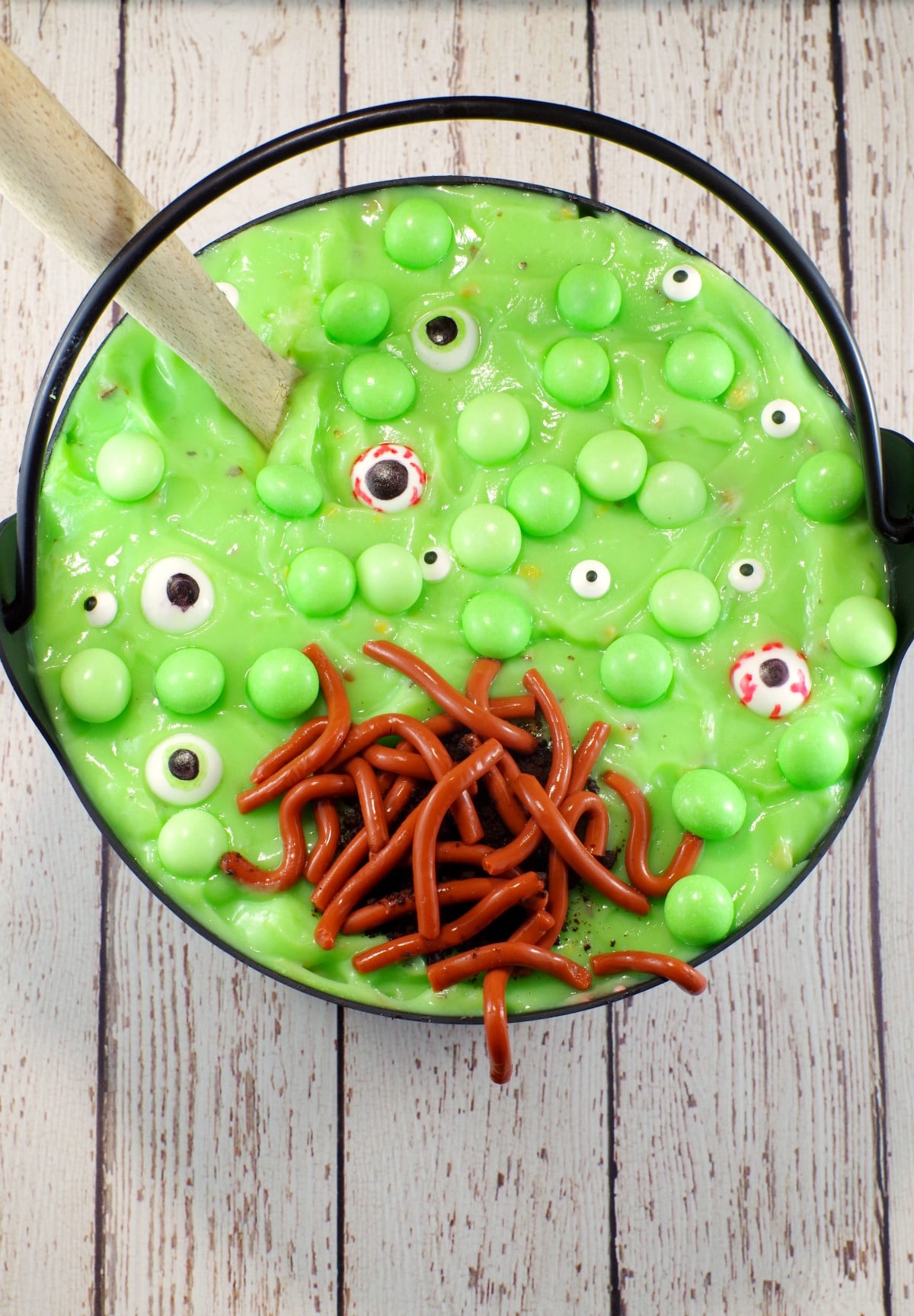 This Witches Brew Spumoni Trifle is the ideal dessert for your Halloween party. This tasty trifle consists of layers of cake, pistachio pudding, whipped cream and cherry almond cream cheese. It's topped with mint eyeballs, bubbles and jello worms! This dessert is both scary-looking and super delicious!
Halloween Dessert Board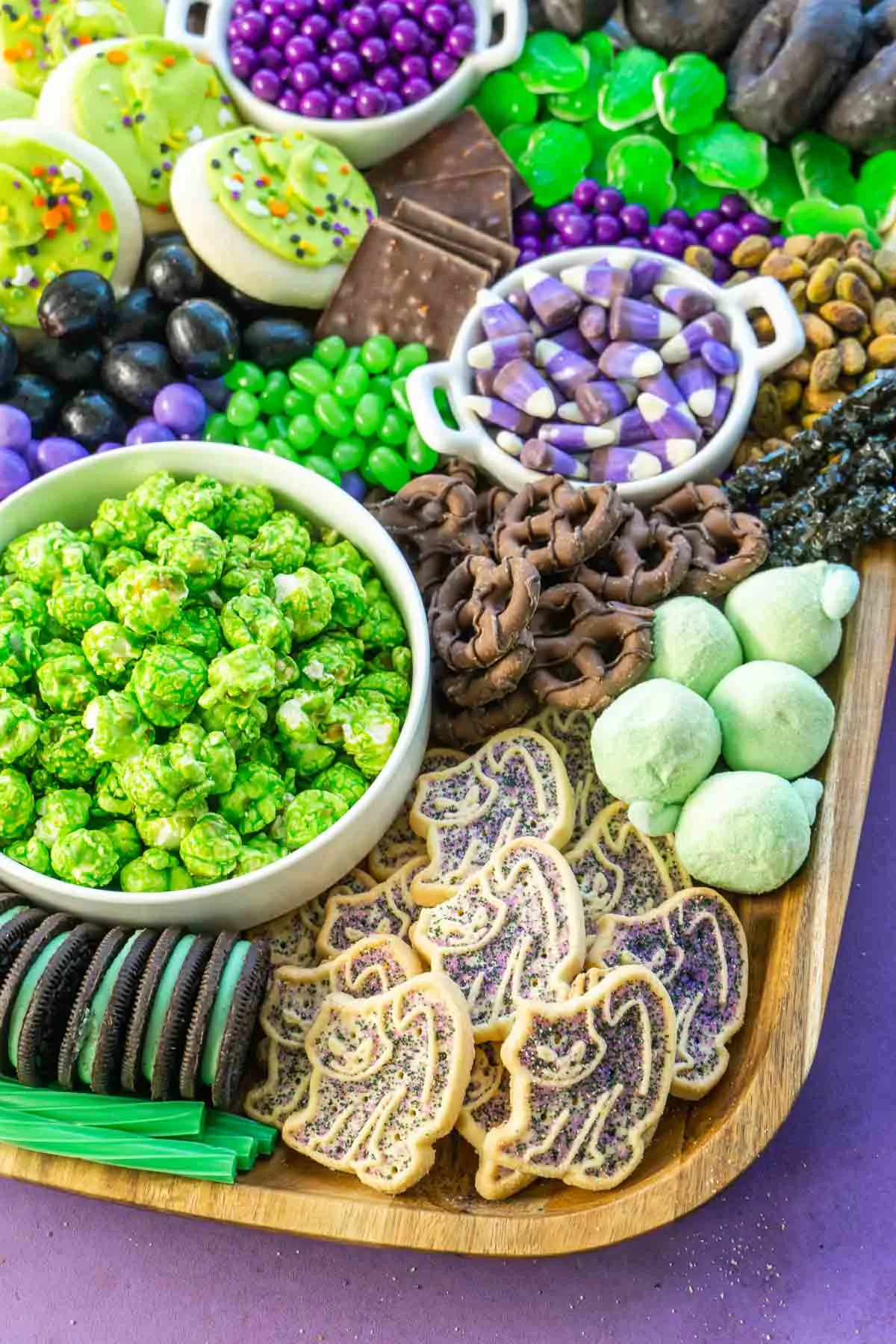 Snack bpards are one of my favourite Halloween party food ideas! Whether you're planning a Halloween house party or a simple movie night at home, this Halloween dessert board is sure to delight! Easy to make, and even easier to eat… Yum!
Halloween Party Food Ideas
I hope you've loved these Halloween party food ideas as much as I do! If you have any of your own you would like to add, please feel free to add a link in the comments!