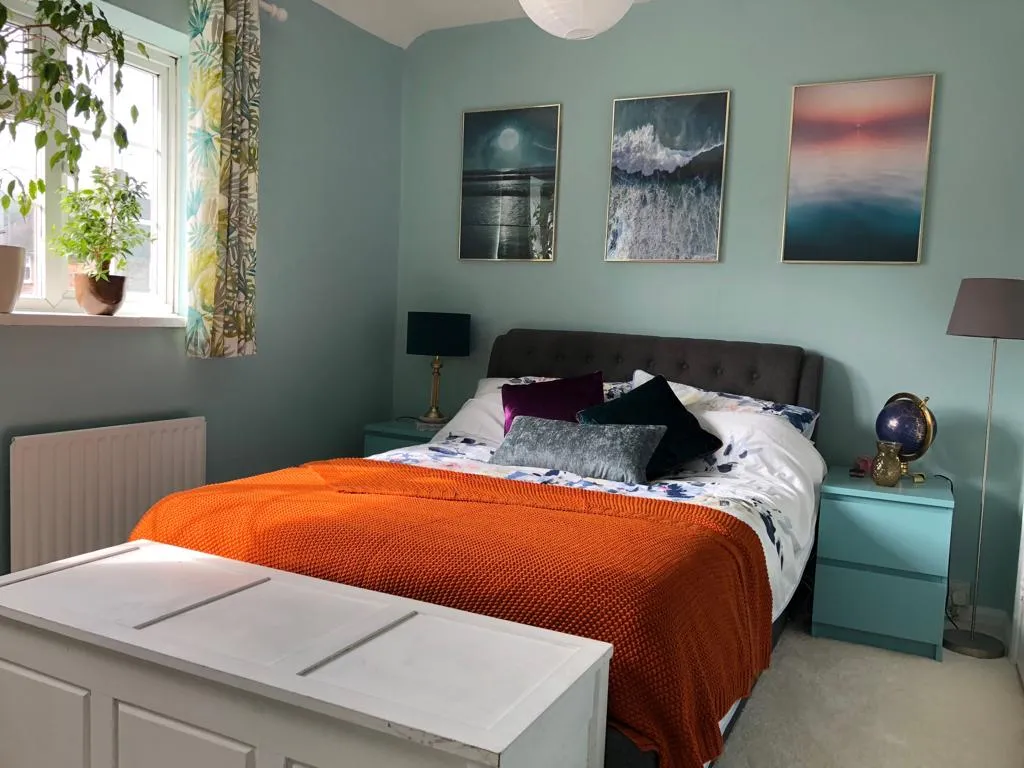 Good morning! If you have been following my blog and instagram (@emilymay_designs) you will have noticed that we have recently bought our first home! There is still a lot to do here and I still need to do a full home tour on the blog, but for now I am so excited to share our bedroom makeover with you, with before and after pictures!
The Before Pictures…
Let me share the before pictures with you… The first picture is the image from the estate agents website (why do estate agents always have to use such wide angle lenses… grrr!!) and the second image is the room on the day we moved in.
Bedroom Makeover, Step 2: Sorting out the Walls and Floors!
We really wanted the bedroom to be somewhere clean, bright, calm and relaxing, where we can completely switch off at the end of each day, so the first steps we took were to re line the walls and painted them a beautiful calm blue (thanks to my father in law!!) and we bought a lovely soft, thick carpet!
Bedroom Makeover, Step 3: Choosing the Accessories!
After this we moved our furniture in, (our bed and bedside tables) and then the next step was to accessorise the room- my favourite part! Having art on the walls is really important to me, there are not many things I dislike more than bare walls- it drives me nuts seeing peoples houses on TV with plain white empty walls- pictures give a room it's soul! I collaborated with Desenio, and they kindly sent me a voucher to choose some prints and frames on their website. Their website is FULL of gorgeous prints in lots of different styles, and they all come with the option to order with frames, which makes things so much easier. All you have to do is select your favourites and create a shortlist, and then you can experiment with layouts and frame styles on the Desenio website until you are happy, and then you just need to place your order and they will be delivered to your door- easy peasy!
I definitely prefer to have a few larger prints than lots of small ones when it comes to hanging art, so I chose three huge photographic prints of beach and sea scenes that remind me of being on holiday- I love them! The prints I went for in the end are:
and I also chose another print called Planets in Sky, which will be going up in the nursery when we get started on that.
Framing The Pictures
I opted for gold frames, as I knew they would look beautiful with the shade of blue I had chosen for the walls, as well as matching other gold mirrors and accessories we have in the room already. So here are the 'after' pictures: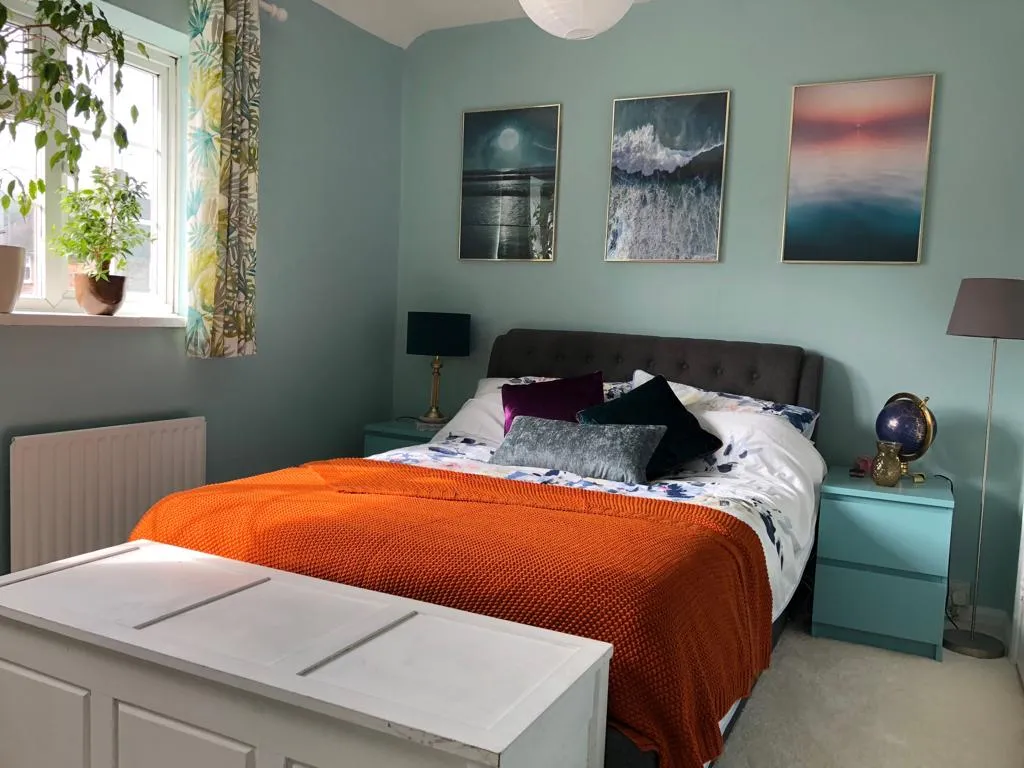 What do you think? I am so happy to finally have a room in my house where I can truly relax- every time I walk in I get that holiday feeling!
If you are looking to spruce up your home, I have some great news! Desenio have given me a discount code for my readers (I don't make any commission on this- it's just for you!)
For the next 3 days only you can use my code 'EMILYMAY' for a 25% discount at desenio.co.uk – it will be valid off posters between October 9th and 11th (except on frames and on handpicked-/collaboration posters)
I would love to see pictures of your gallery walls, so please feel free to add links to your projects in the comments below!
This post was in collaboration with Desenio, I was not paid for this but wall art was provided free or charge. This post was written by me and all opinions are my own 🙂