Today we're going to be delving into the often overlooked, yet surprisingly influential space in our homes: the downstairs toilet. Too often treated as an afterthought, this compact area presents an incredible opportunity to experiment with creative design choices that can leave a lasting impression on both residents and guests alike. These downstairs toilet wallpaper ideas will hopefully give you the inspiration you need to revamp your own downstairs loo!
Gone are the days of bland and uninspired wallpaper choices for the humble powder room. With a little imagination and the right selection, you can transform this tiny sanctuary into a stylish retreat that reflects your personality and sets the tone for the rest of your home's interior design. In this blog post, we will explore a curated collection of trendy, sophisticated, and fun wallpaper ideas specially selected to elevate your downstairs toilet from ordinary to extraordinary.
Blue and White Downstairs Toilet Wallpaper with Gold Accessories
Design: Style Charade
I'm going to start with my favourite: This stunning powder room makeover by Jenn from Style Charade. The before and after pictures are astonishing, so do head over and check out the rest of the images on Style Charade!
Jenn chose the Hydrangea Wallpaper in blue and white by Rifle Paper Co. and the paint colour 'Grand Rapids' by Benjamin Moore for the panelling, which gives the space a timeless, elegant look. The gold hardware and accessories add a touch of warmth and glamour, creating the perfect calm, elegant little sanctuary.
A Fun and Fresh Downstairs Toilet and Shower Room
Interior Design: Prepford Wife
Victoria from Prepford Wife revamped her powder room for the One Room Challenge—an online event that challenges designers and home decor lovers to transform a room in their home in just eight weeks.
I LOVE the final design! It's so fresh and playful—a world away from the before images. As you can see, the combination of blue and white with gold accessories makes this previously dark space feel light and airy. 
For the wallpaper, Victoria chose the Veranda wallpaper by Serena and Lily. Unfortunately, I don't think that design is available any more, but if you want to achieve a similar look, you could try a similar blue and white stripe like this Regency Stripe.
Floral Downstairs Toilet Wallpaper
Shop on Etsy
This captivating wallpaper design by artist Kelsey Garrity Riley brims with personality and charm. This wallpaper exudes a sense of joyful enchantment, making it a wonderful choice for a downstairs loo.
Using colourful floral wallpaper in your downstairs toilet is a great way to bring the space to life. As you can see, the vanity unit has been painted in the same shade of green as the leaves in the wallpaper, which helps tie the design together and creates a wonderfully pleasing look.
Quirky Bathroom Wallpaper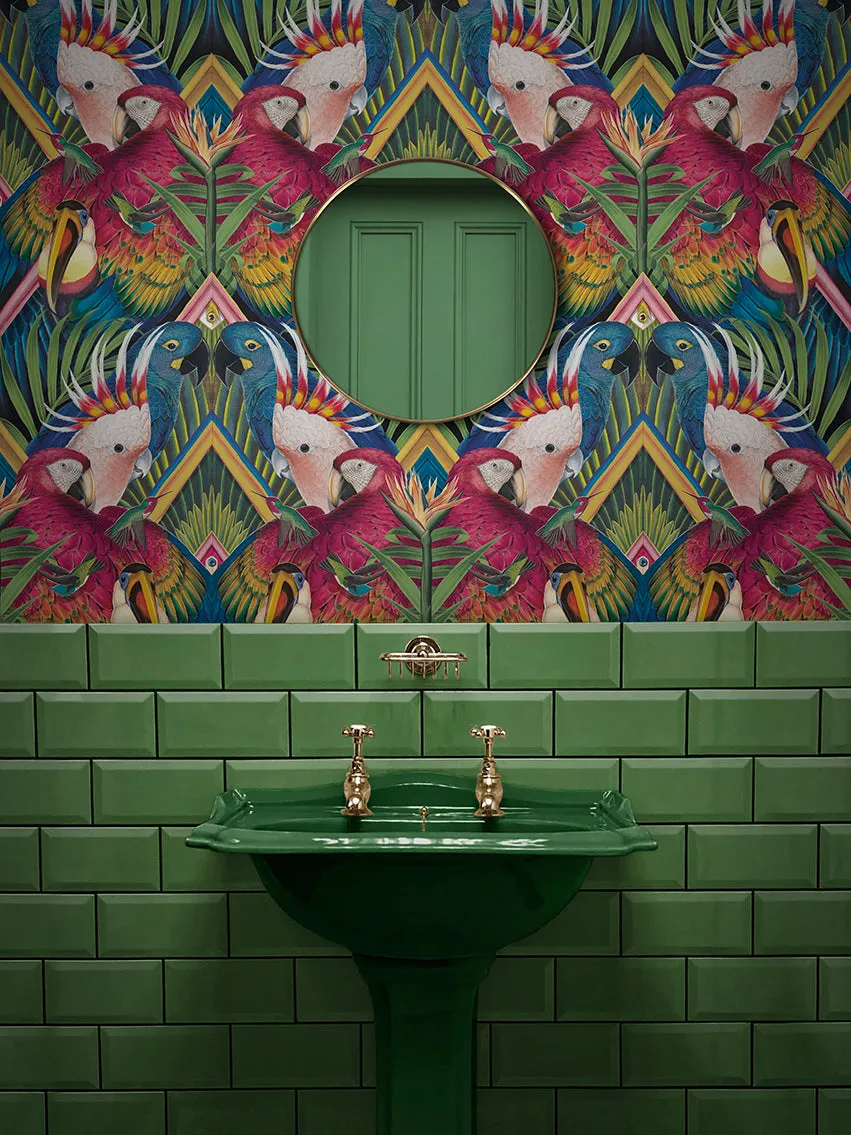 Wallpaper: Divine Savages
This bold and colourful downstairs toilet wallpaper draws inspiration from the magnificent birds of paradise found in far-flung, exotic lands. Turn the smallest room in your house into a world of vibrant beauty, as this graphic print brings a touch of sultry decadence to your interior.
As you can see, this bold wallpaper works beautifully with the rich shade of green used on the tiles, sink, and woodwork. What a fantastic way to make a statement in a small space!
Bold Bottle Green Wallpaper
Havisham Bottle Green Wallpaper
This stunning wallpaper design is an ideal choice for anyone who wants to create a sophisticated yet maximlist look in their downstairs loo. The green panelling looks amazing with the colour palette of the wallpaper, creating a warm, elegant, and fun space.
Rainforest Wallpaper with Blue Bathroom Tiles
This funky bathroom wallpaper paired with deep blue wall tiles gives this downstairs toilet a calm and tranquil feel. I particularly love the colour scheme of this wallpaper, which helps keep the space looking fresh and bright.
Barbiecore Bathroom Wallpaper
Barbiecore is an aesthetic trend that draws inspiration from the iconic doll Barbie. It embraces her playful, glamorous, and vibrant style, incorporating bold colors, patterns, and nostalgic elements into fashion, design, and decor. It evokes a sense of nostalgia and celebrates the whimsical and energetic qualities associated with Barbie's universe.
If you love the Barbiecore aesthetic, but you don't want to turn your whole home pink, transforming your powder room into a Barbiecore dream is a great way to get your fix!
This gorgeous wallpaper by Sorbet Dreams features a nostalgic oyster-pearl design on a backdrop of pink, white, and turquoise stripes.
Blue and Gold Luxury Downstairs Toilet Wallpaper
Navy and Gold Fish Wallpaper
Choosing a sophisticated colour scheme like navy blue, gold, and cream, is a great way to create a luxurious feel in your downstairs toilet. Keep things simple by painting your panelling in cream or off-white, and choosing a classic design for your sink and toilet. Adding a gold mirror and gold or brass hardware will add warmth to the space, as well as a touch of luxury!
This beautiful fish wallpaper is available from Dunelm, and is a really affordable way to create a luxurious feel in your downstairs loo.
Downstairs Toilet Wallpaper FAQs
Can You Put Wallpaper in a Downstairs Toilet?
Yes, you can definitely use wallpaper in a downstairs toilet. Wallpaper can be a great way to add personality, style, and visual interest to any room, including smaller spaces like a downstairs toilet. It can transform a plain and utilitarian space into a more visually appealing and inviting environment. Just make sure to choose a wallpaper that is suitable for the bathroom environment, such as moisture-resistant or vinyl-coated options, to ensure its durability and longevity in a potentially humid area.
How do You Style a Downstairs Toilet?
Styling a downstairs toilet involves creating a cohesive and visually pleasing space that reflects your personal taste and complements the overall design of your home. Here are some tips to help you style a downstairs toilet:
Color Palette: Choose a color palette that aligns with the overall theme or style of your home. Consider using neutral or light colors to create a sense of cleanliness and openness. You can also incorporate accent colors or patterns to add interest and personality.
Lighting: Adequate lighting is essential in a toilet space. Install bright and well-distributed lighting fixtures, such as ceiling lights or wall sconces, to ensure sufficient illumination. If possible, utilize natural light by incorporating a window or skylight.
Mirror and Storage: Install a well-sized mirror above the sink to visually expand the space and provide functionality. Consider adding storage solutions like a small cabinet or shelving unit to keep toiletries and supplies organized.
Wall Decor: Enhance the visual appeal of the space by incorporating wall decor. Hang artwork, framed prints, or decorative mirrors that complement the overall design. Consider using moisture-resistant or framed prints to protect them from humidity.
Accessories: Select accessories that tie the space together. Add a soap dispenser, hand towel holder, and other bathroom essentials that match the overall style and color scheme. Plants or small decorative items can also add a touch of freshness and vibrancy.
Flooring: Choose flooring that is practical, easy to clean, and complements the overall design. Options such as ceramic tiles, vinyl, or laminate flooring work well in a toilet space.
Remember to keep the space clutter-free and organized. Consider adding personal touches, such as scented candles or small decorative accents, to create a welcoming atmosphere. Ultimately, the styling choices should reflect your personal preferences and create a comfortable and functional space for your downstairs toilet.