When you think of DIY projects around the house, your first inclination might be to upgrade the kitchen counters or makeover the shower. Yet, in a recent study, 11 of the 12 most valuable improvements were on the home's exterior. The 2021 Cost vs Value Report from Remodeling magazine reported exterior improvement projects as providing the greatest return on investment (ROI) for homeowners. Only a minor kitchen remodel made it into the top 12. 
Along with increasing a home's sale price, many improvements add value to one's daily life. For example, under-deck patio decorating ideas require a low investment for a great return on one's enjoyment and utility of a patio for entertaining. Likewise, a beautiful garden can produce delicious fruits and vegetables and fragrant bouquets and an ROI for the homeowner. 
If you're unsure where to start on your next project, consider one of these 10 ideas.
1 – Garage door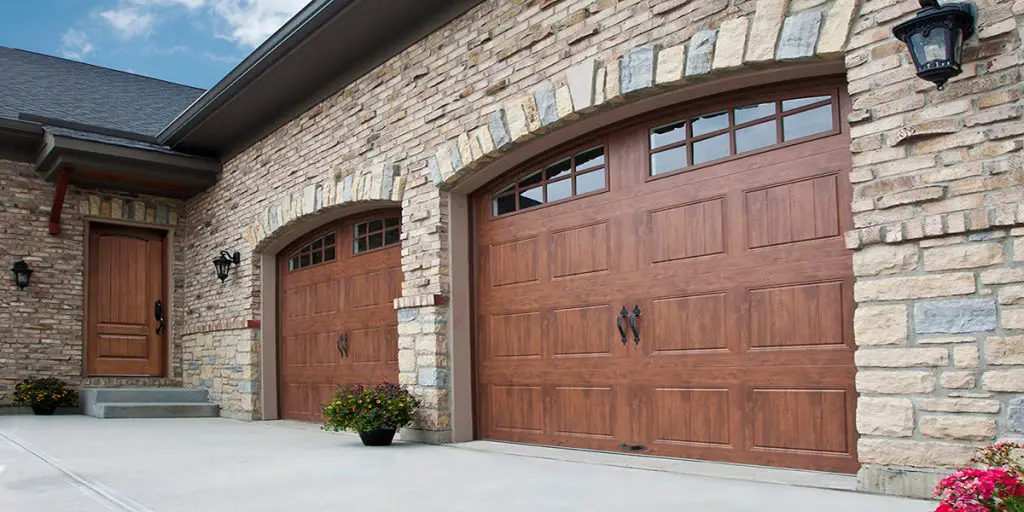 Image via NC Garage Doors
According to the Cost vs Value Report, a garage door is the number one exterior improvement in terms of an ROI, with about 94% of the cost recouped at a home sale. A garage door affects the aesthetics of your home, but it can also be a major inconvenience if it is not working properly. In addition, older garage door engines can get squeakier and more difficult over time, and the exterior door can date your home. 
When shopping for a new garage door, look at the available types and styles. Consider whether you'd like more light or more privacy as you compare windows and styles for the door. Costs can vary widely, but a professional installation is recommended due to the weight of garage doors. If your current door is working properly, update the exterior with a new coat of paint or stain.
2 – Siding or stone veneer
The second most valuable upgrade is a new facade for your home — siding or stone veneer. Both have grown in popularity with the modern farmhouse exteriors of today's new homes. 
Stone veneer is a mixture of cement, aggregates, and pigments, which gives a natural look without the weight of the natural stone. For residences, there are three main types of stone veneer:
Individual stones are fastened onto a single, large panel.

Large-format, in which single stones are individually installed much like conventional stone.

Individual pieces.
While panels are the easiest to install, individual stones allow you to create a more custom look. 
New siding can also increase the aesthetics of your home and make it more energy-efficient. Be sure to ask about the R-value of the siding to make the most of its insulation. When choosing new siding for your home, consider whether you want to go with wood, vinyl, wood shingles or engineered wood. Consider the style of your home and its surroundings to be sure it will be an aesthetically pleasing choice, both in material and colour.
3 – Windows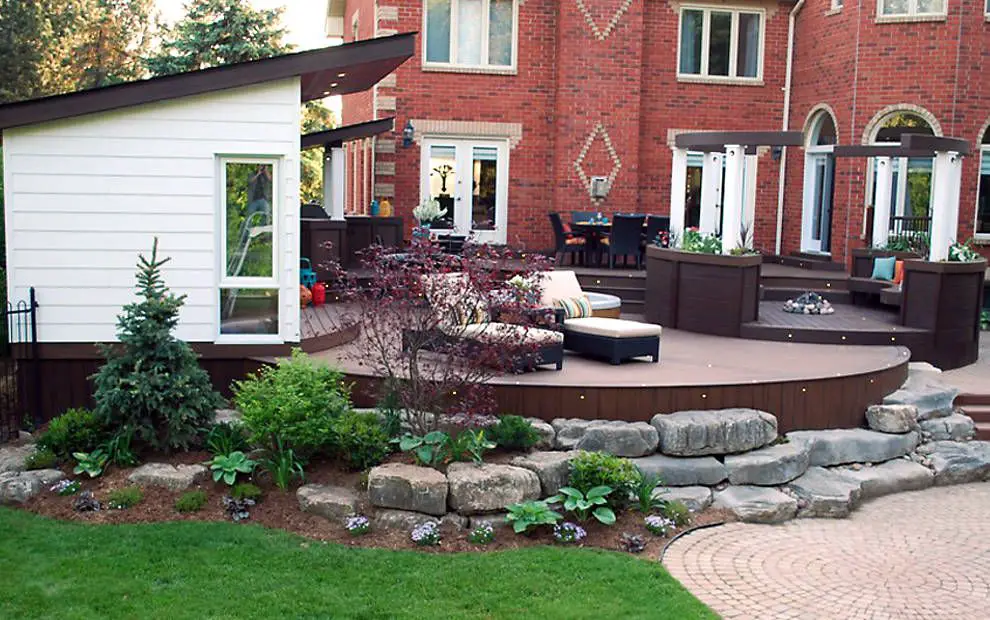 The third most valuable update is replacement windows. Older windows affect your home's value and energy efficiency, especially if you have broken windows. Broken windows or poorly performing windows —when it comes to energy efficiency — provide two important reasons to upgrade. 
By some estimates, up to 40% of a home's heating energy can be lost, and up to 87% of its heat gained through windows. Improving windows' thermal performance reduces energy costs and greenhouse gas emissions. 
Additionally, new windows with clean lines can help to enhance the beauty of your home. To choose the right windows, determine whether you want panes in your windows and what materials you prefer: vinyl, wood, aluminium or composite. 
4 – Deck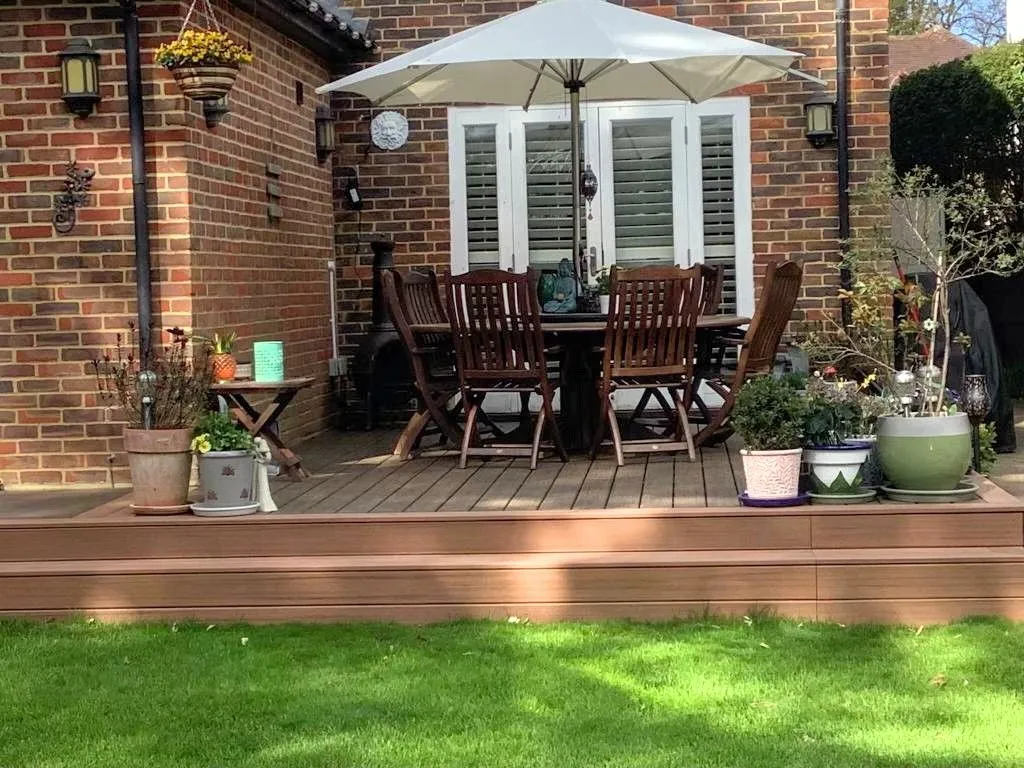 Next, consider adding or updating your garden deck to increase your outdoor entertaining space. Then, host a party in the fresh air, watch an outdoor movie, or invite a few friends over for a barbecue. 
If you're building a new deck, consider the benefits of wood versus composite decking boards in terms of cost and maintenance. While wood can add natural beauty to your garden, it will also need regular sealing and staining to protect its fibres from rot. Composite costs a bit more but will be virtually maintenance-free for the life of the deck, other than a little cleaning from time to time.
If you have the space and slope to build a two-story deck, consider adding an under-deck drainage system and transforming the area under the deck so it is dry and useable. Install a ceiling and lighting under the deck, and you can easily enclose a sunroom or create your own personal spa area. Some homeowners choose to enclose the space and use it for much-needed storage. Others leave it open for the children to have a playroom or to provide a lovely sunroom to enjoy afternoon tea.
5 – The front door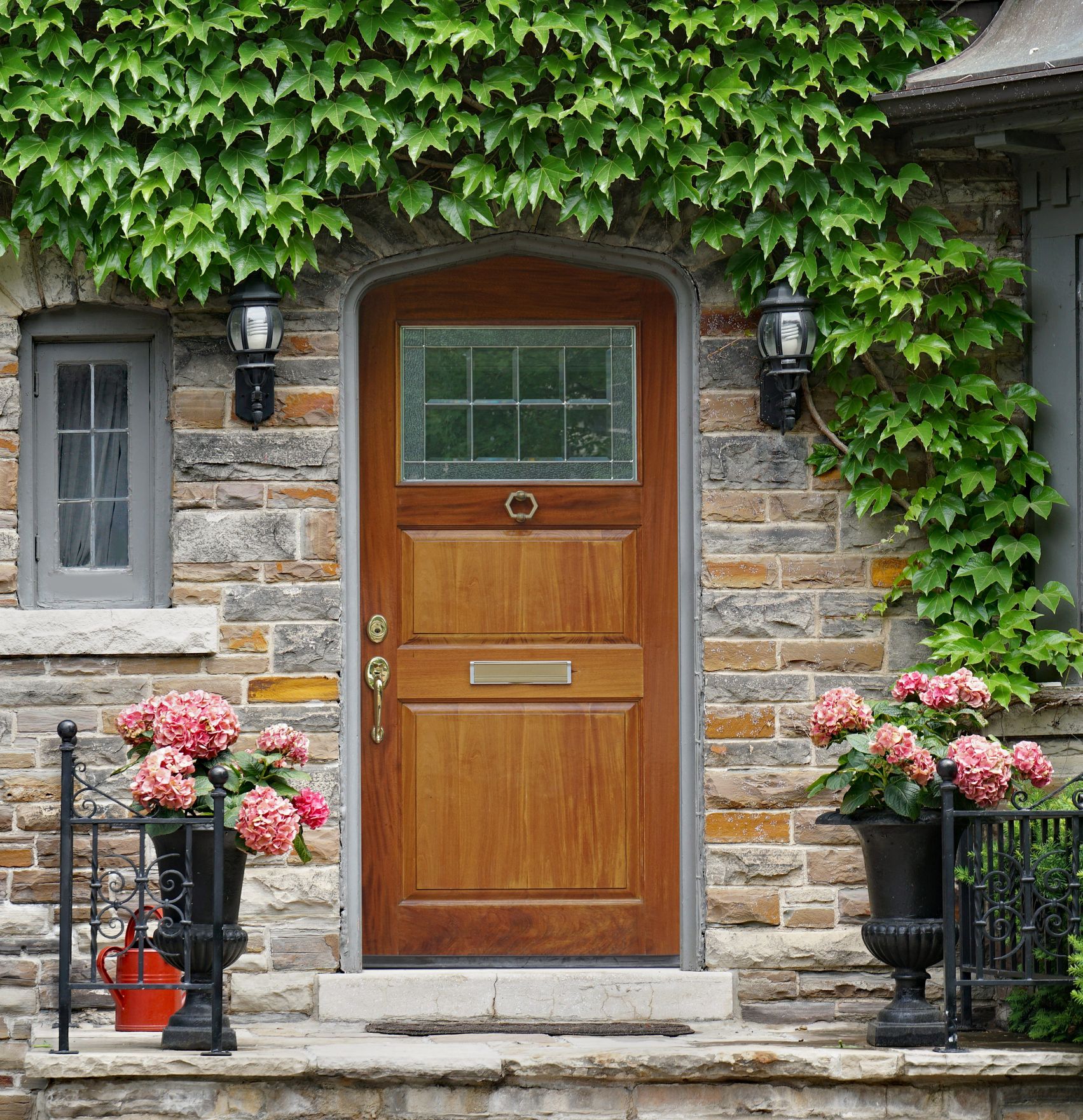 How your house looks from the sidewalk matters — not just for today's visitors, but tomorrow's buyers. Keep your front door and entry looking their best by repairing or replacing any cracked glass, peeling paint, or crumbling brick. Taking care of home maintenance will make your entrance more beautiful and more weather resistant. 
Elevate your entrance with new house numbers, lovely potted plants, and a cheery welcome mat. Additionally, a good power wash can make your home sparkle like new. 
How can you pick the best front door colour? First, you might think about what kind of mood you'd like to set. Red attracts attention, while orange conveys optimism, and blue instils calm and trust. At the same time, you'll want to consider the other colours and materials that define your home. For example, for a brick home, blue is a popular colour to complement the orange of the building materials. 
6 – A greener lawn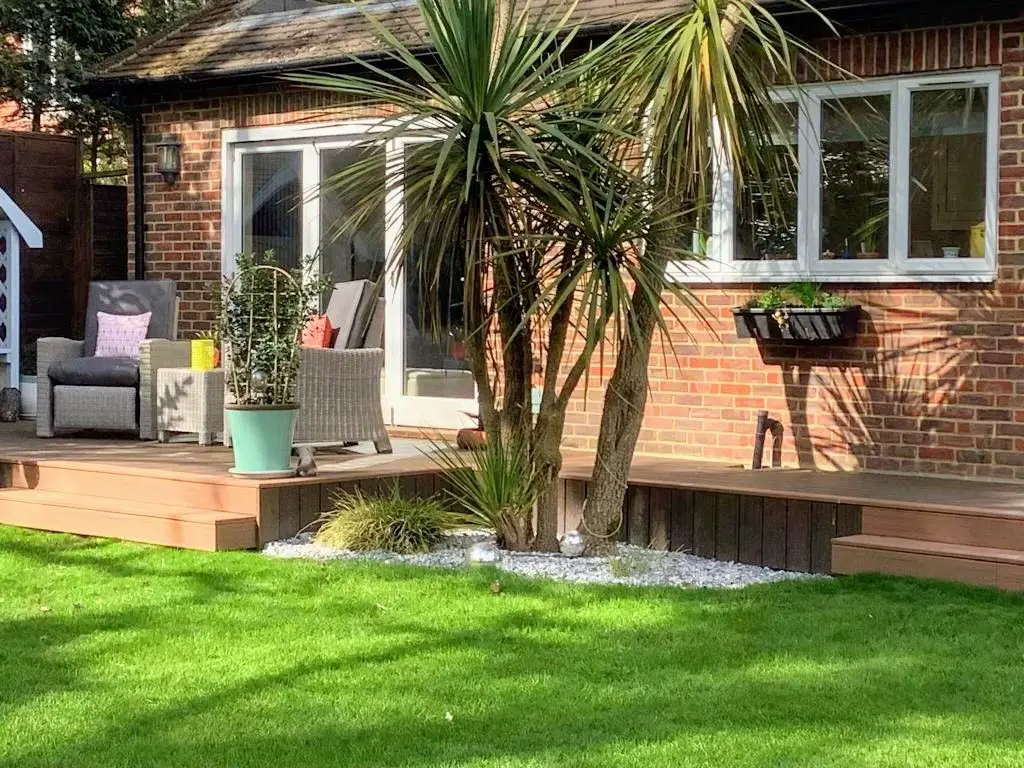 Your lawn is the first hint a buyer has about the maintenance of your home. However, you don't have to have perfect greens to have a neat lawn. Water deeply, but not necessarily daily, to keep the lawn lush. Dig out any weeds and apply fertilizer as needed. Keep your lawn mowed, but not too short, which can kill grass over time. 
Make sure you know your soil type so that you are properly feeding the grass and so you purchase the best seed to fill in any blank spots. What is the best sort of grass to grow? The broad categories of grasses in the UK include:
Bents

Fescues

Rye, and

Meadow grasses
Get to know the pros and cons of each. The best choice will depend on your environment and lifestyle (especially how much time you want to spend maintaining your lawn). 
7 – A lovely garden
A well-maintained garden outback may increase your property value by as much as 20%. Start with the basic gardening tips: 
Trim back the hedges.

Clean the patio or deck.

Update your furniture and add some potted plants.
Window boxes are a quick way to add structure and colour. If you have a larger budget and can afford some "wow" factor, bring in a landscaper to help you plan a more defined garden. If you have a green thumb, try your hand at growing something healthy and delicious just steps from your kitchen. Check out these tips from the Royal Horticulture Society.
Further reading: Stunning Tiles for Outdoor Areas
8 – Outdoor lighting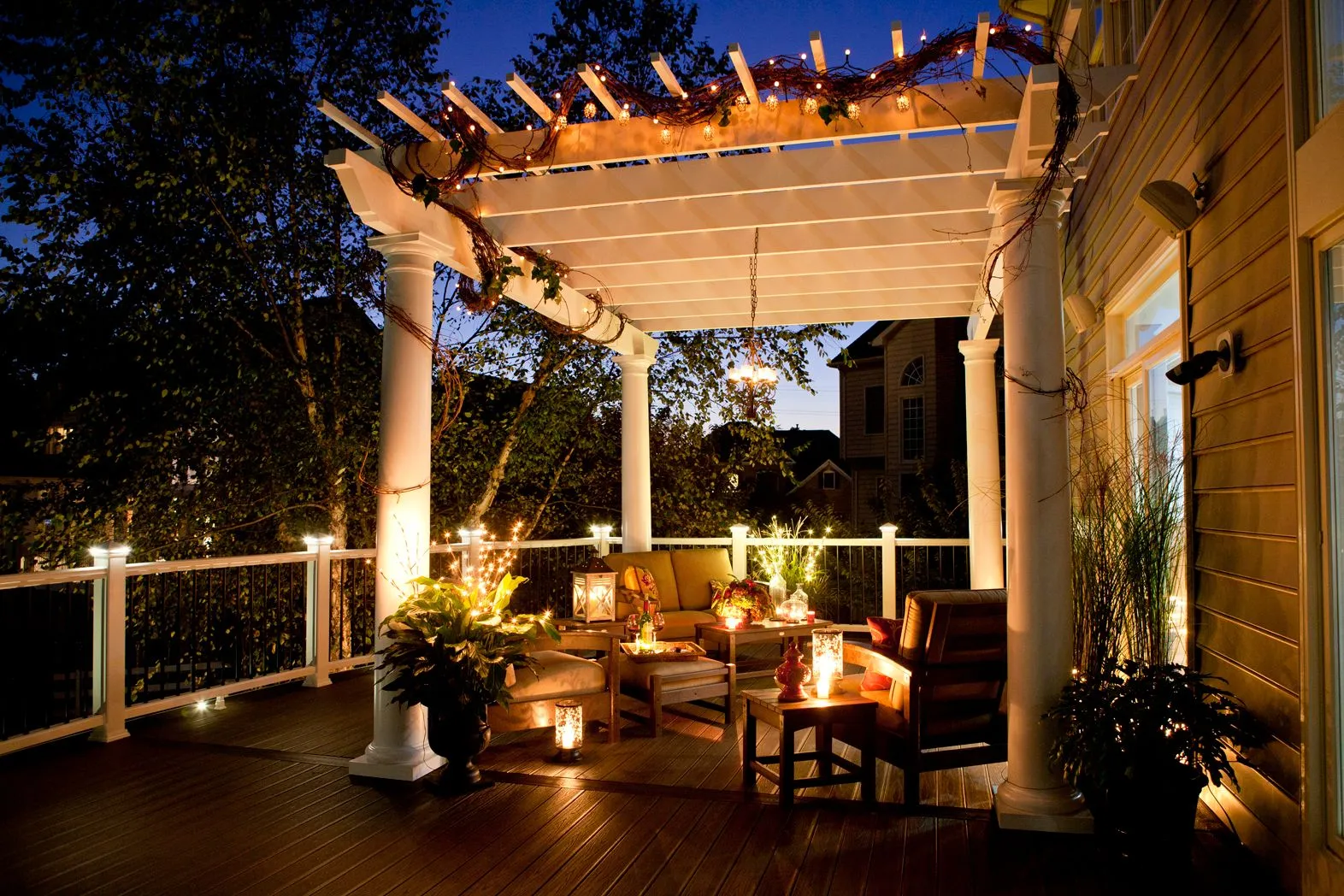 An often overlooked but highly desired exterior home improvement is outdoor lighting. Increase the value of your home and make it safer by installing lighting around your garden and entryway. About 66 per cent of potential homebuyers say they are looking for adequate outdoor lighting. 
Check out new options in solar lighting, fairy lights or Edison bulbs or install permanent fixtures. Replacing sad, worn lights on the exterior of your home will instantly update it. Take a walk around your home at night to find spots that need more lighting for safety and security. You'll especially want to pay attention to areas with uneven footing to keep from turning an ankle in the dark. Shop around for the styles that best suit your home. 
9 – Add Curb Appeal with a Water Feature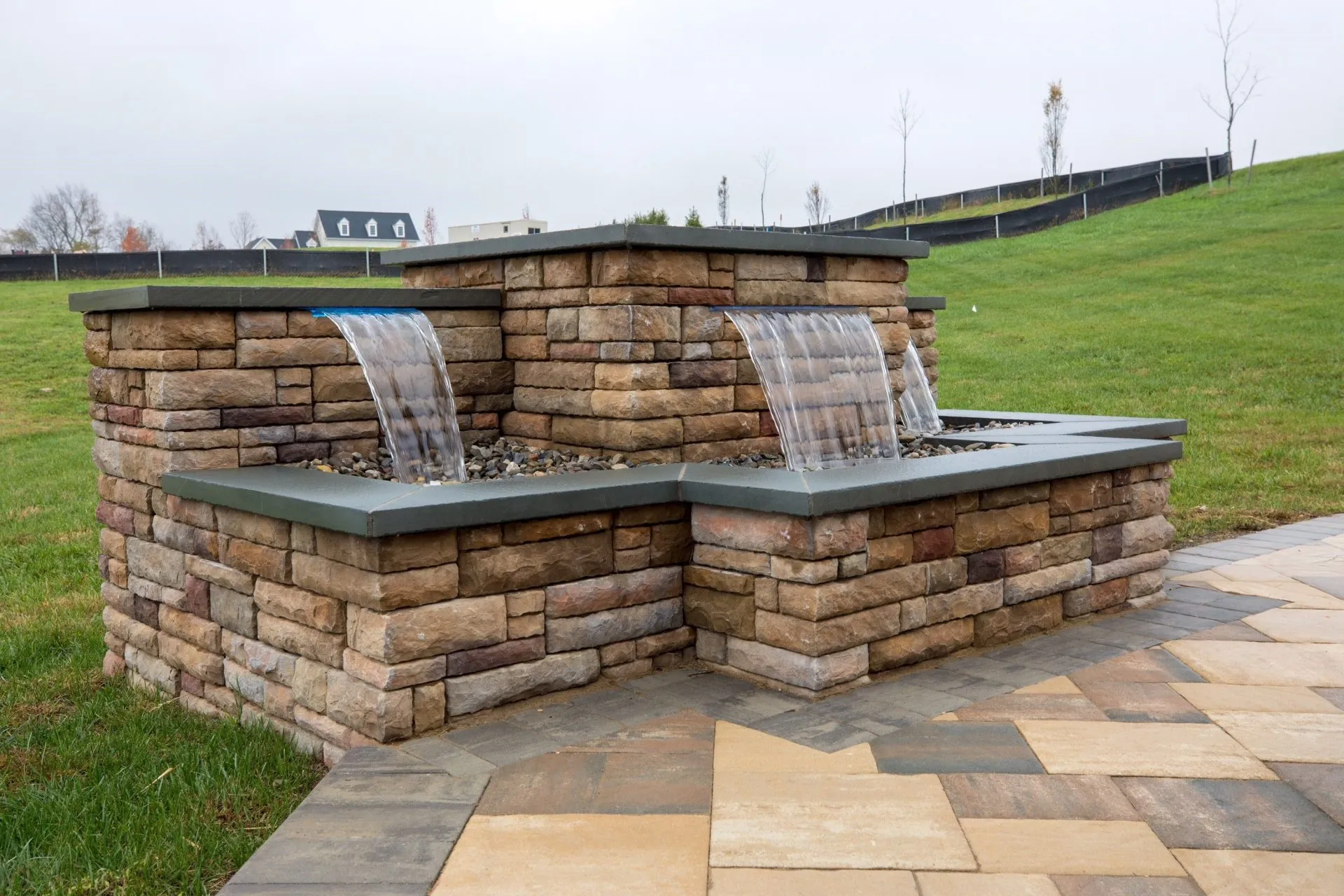 The sound of water can soothe the soul. Adding a water feature can also create a beautiful focal point and a nice respite for the birds and butterflies in your garden. Simply add a birdbath in the garden or a bubbling fountain on the deck. Keep in mind that running water features will reduce your risk of attracting bugs and algae.
If you'd like to try your hand at a DIY water feature, consider the cost of materials and your time. Some are as simple as a couple of large flower pots and a water spout. Others require complicated landscaping and plumbing. But, with the purchase of a simple water pump, you'll soon be in business. 
10 – A pergola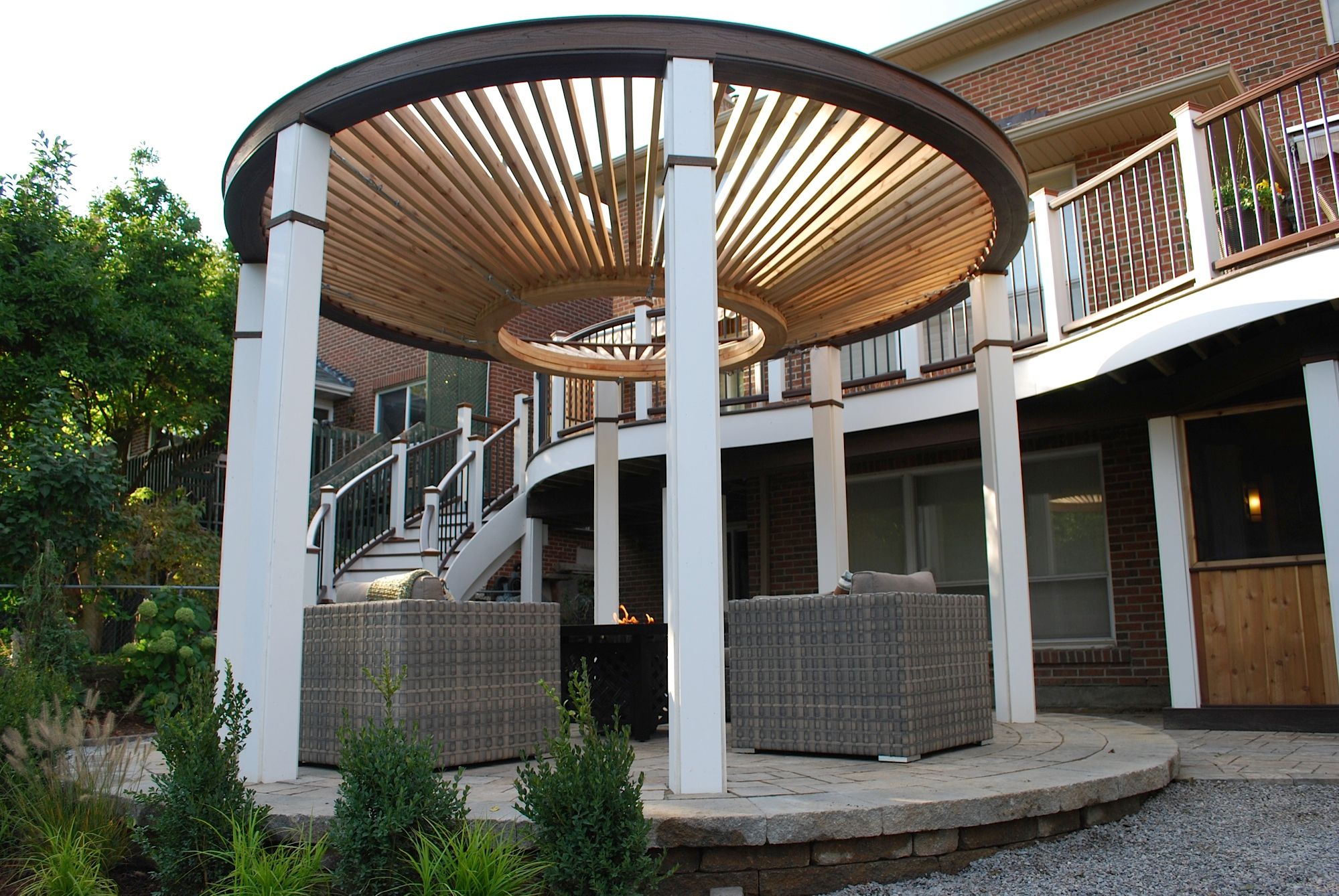 Add vertical space to your deck or patio with a pergola overhead to elevate your outdoor living space and give you many options for shade. This lovely addition to your home's exterior also provides space for hanging plants and vines such as climbing roses. A new option to check out: some pergolas come equipped with louvred slats and retractable canopies to offer more cover from the weather.   
The weather is getting a bit nicer each day. So plan your exterior improvements now and enjoy them for seasons to come — or cash in soon on a more lucrative real estate sale.