Choosing the right paint colour for your bedroom can feel like a difficult decision, but thankfully there are many great options to choose from. In this article, I'm sharing some of my favourite warm bedroom paint colours. These colours are perfect if you want to create a cosy bedroom design!
For the purpose of simplicity, I'm sharing Farrow and Ball paint colours. However, if you don't have the budget for Farrow and Ball paint, you can always get the colour matched at your local decorator's centre or simply choose a close alternative from another paint brand.
Pink Colours
Psychologically, pink is a very calming colour, making it ideal for use in the bedroom. And contrary to popular belief, it doesn't have to be too 'sugary' and girly. If you are looking for a sophisticated pink colour for a 'grown up' bedroom, these are my two favourite options.
Setting Plaster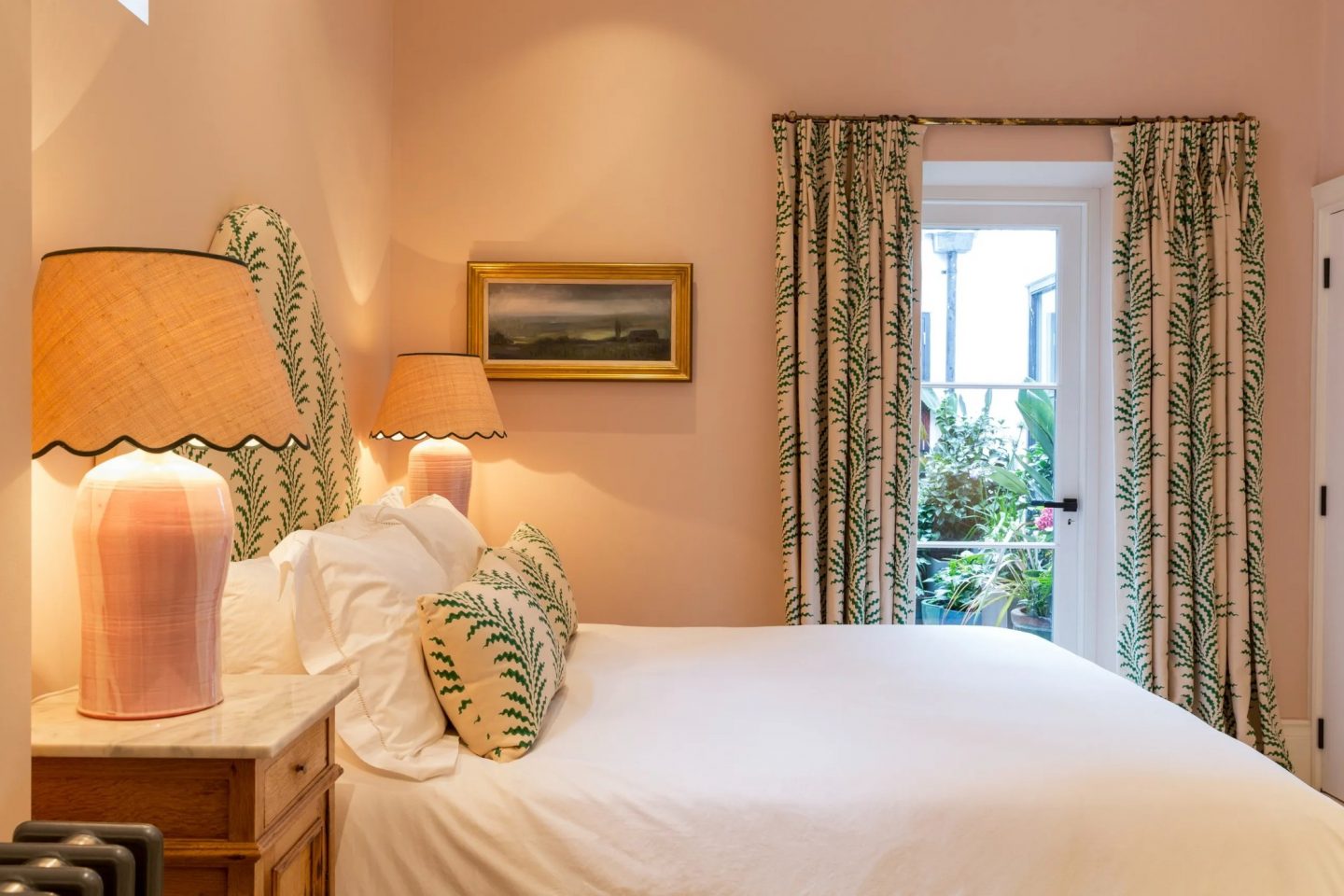 Image Source: House & Garden UK
Setting Plaster is one of my all-time favourite Farrow and Ball colours! In fact, I have just painted my living room in Setting plaster, and I love it. As the name suggests, it's more of a 'plastery' pink, and I would even say it's getting close to being a neutral. The earthy tones will help your space feel grounded, while the pink makes it feel calm and cosy.
Pink Ground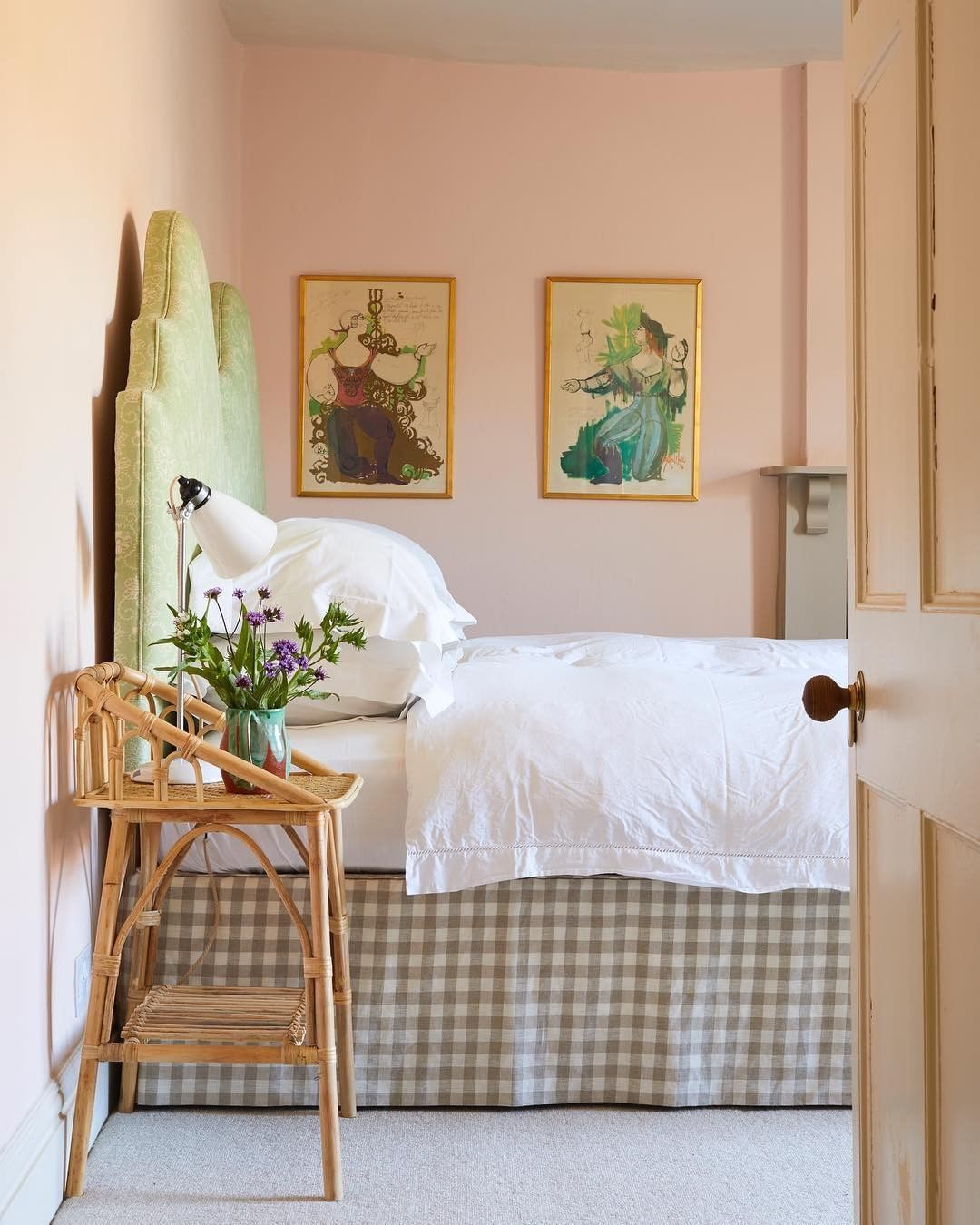 Image Source: Compton Smith Interiors
Pink Ground is a dusty pink with yellow undertones, which gives it an almost glowing look. This warm light pink is perfect for bedrooms and looks fabulous paired with gold accents and hints of light green for contrast.
Warm Neutral Bedroom Paint Colours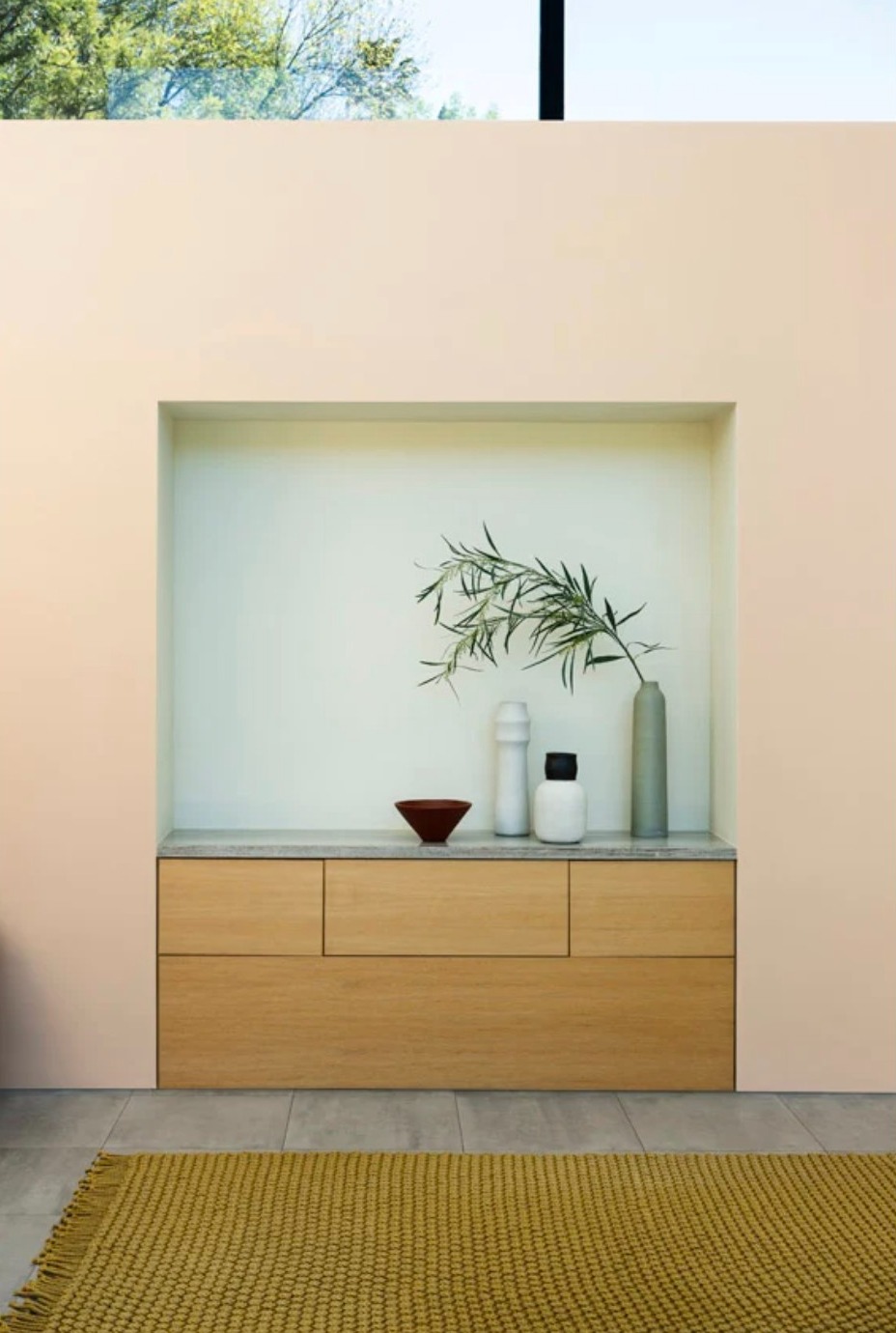 Image Source: Farrow and Ball
If you like to keep things neutral, then be sure to choose a warm neutral such as Sand from Farrow and Ball's California collection. This collection of paints was curated by Kelly Wearstler, and all of the colours compliment each other beautifully. If you decide to choose Sand and you're looking for an accent colour to brighten things up, try Faded Terracotta, Citrona, or one of the other colours from this gorgeous collection.
Warm White Bedroom Paint Colours
If you're looking for a warm white paint colour for your bedroom, Skimming Stone by Farrow and Ball is an excellent choice. Skimming Stone has a subtle warmth that can bring life to a dark bedroom.
It works well with both light and dark colours. If you want to keep things airy and bright, try pairing Skimming Stone with either Strong White or All White by Farrow and Ball. If you prefer a more dramatic look, paint your bedroom walls in Skimmings stone, and use a dark colour like Railings as accents on your trim.
Slipper Satin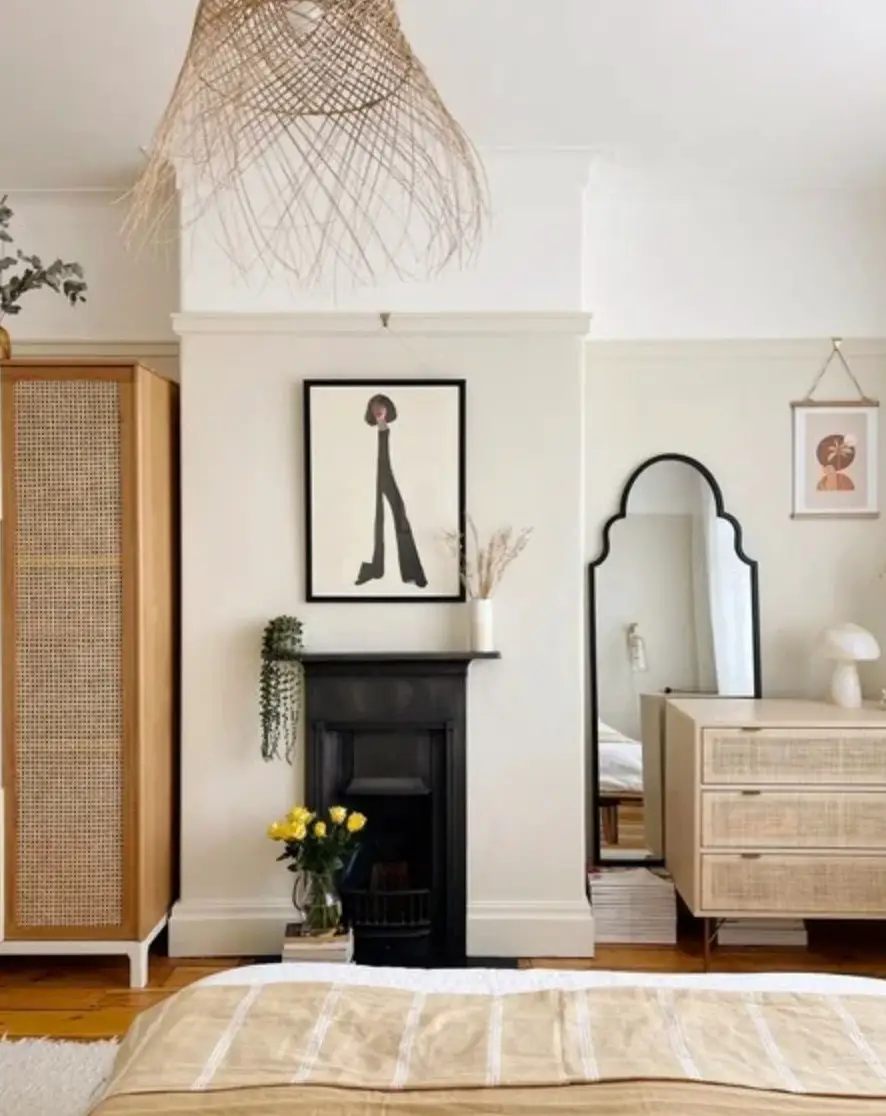 Image source: Farrow and Ball
Slipper Satin is another lovely shade of warm white by Farrow and Ball. Taking its name from the silk used in traditional ballet slippers, this is an excellent option for those who want a warm bedroom colour scheme without going to a brighter colour.
Warm Red Colours For the Bedroom – Red Earth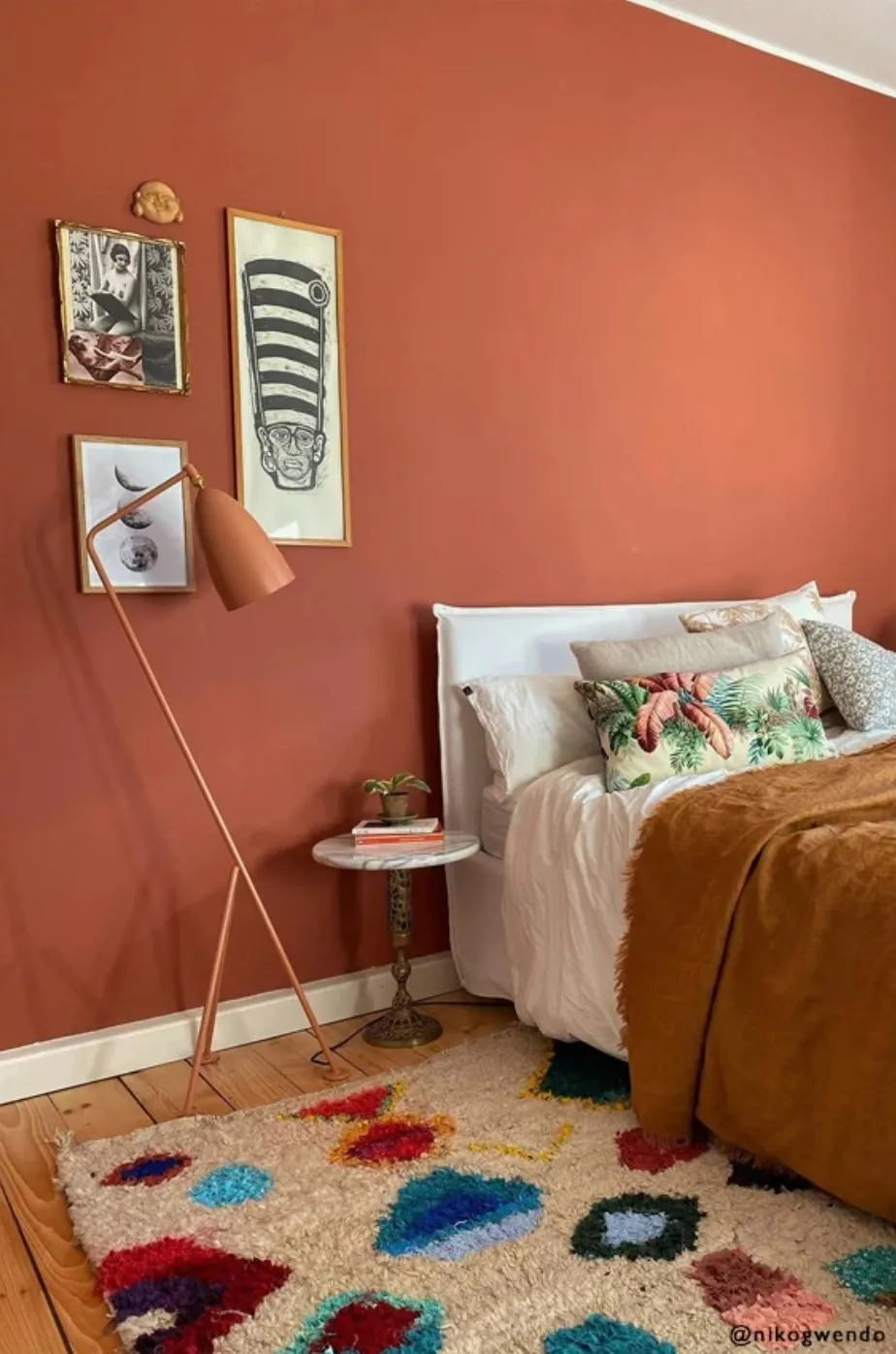 Designed by NIKOGWENDO
Red Earth by Farrow and Ball is a beautiful rich terracotta colour. Terracotta colours can work really well in bedrooms, creating a warm, cosy feeling without making you feel too sleepy. As you can see in the image above, it works well with other warm colours such as golden yellows, natural wood tones, and greens.
Warm Orange Bedroom Paint Colours – Faded Terracotta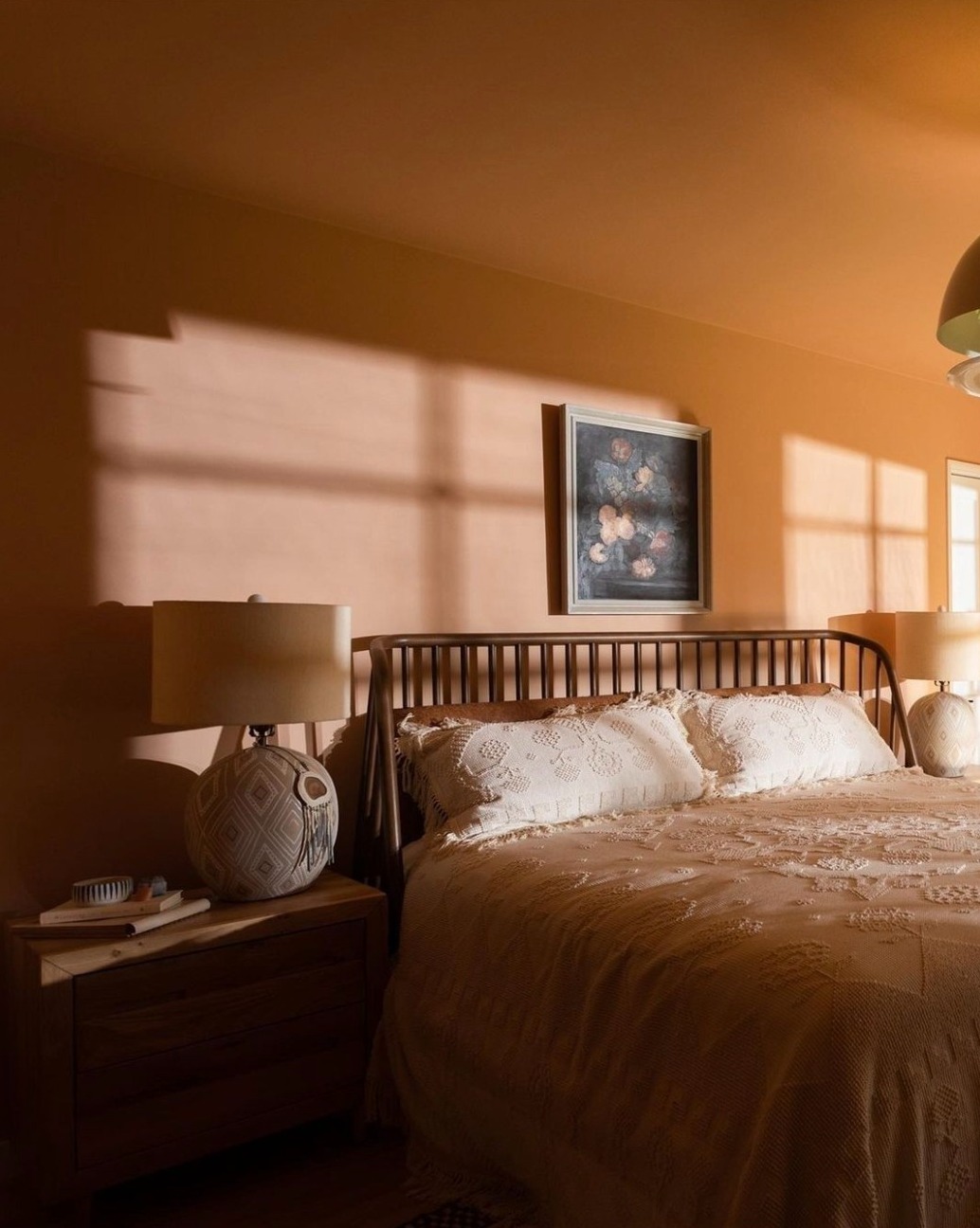 Image Source: @il_quadrifoglio_
Like red, orange is a lovely warm colour for a bedroom. You should probably steer clear of brighter oranges and yellows, because they are very stimulating. However, Faded Terracotta by Farrow and Ball strikes the perfect balance. This gorgeous colour is soft, earthy, and warm, much like the sun-baked roof tiles that you will see almost everywhere in the Mediterranian.
Grey Green Colours – Mizzle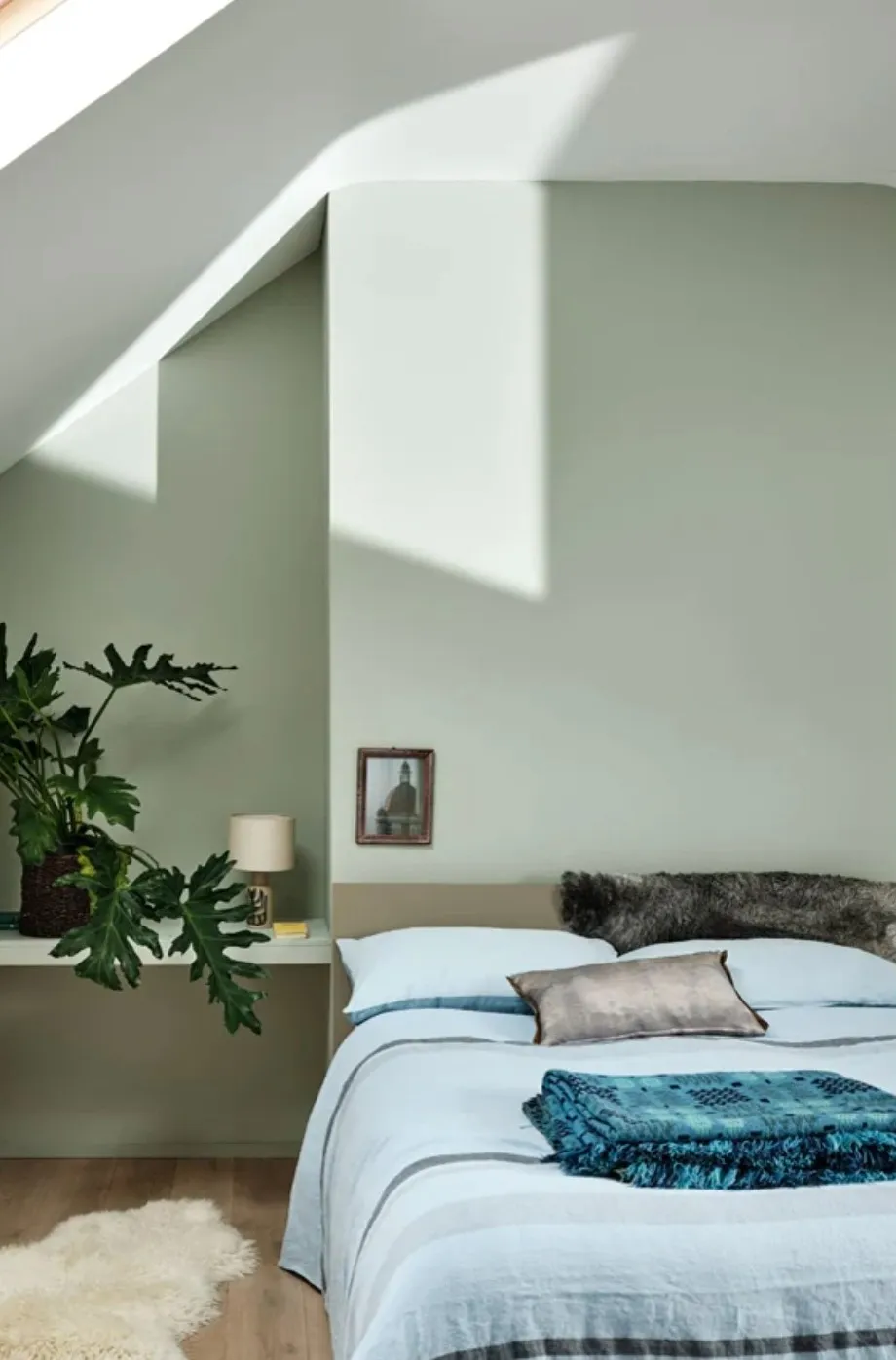 You might be surprised to know that there are some great warm green grey paint colours out there to choose from. One of my favourites is Farrow and Ball's Mizzle. This soft green-grey is perfect for creating a relaxing bedroom design that doesn't feel too cool. Pair it with fresh white linens and natural wooden furniture for a perfectly balanced bedroom design.
Should You Paint Your Bedroom in a Warm Colour?
Painting your bedroom in a warm colour can help to create a cosy feeling, which is ideal for north or east-facing bedrooms, as well as bedrooms that lack natural light.
If you love to spend your evenings curled up with a book, then what better place to do it than in a warm cosy bedroom!