Often, when choosing a colour scheme for our homes, it's the stronger accent colours that we obsess over. Selecting the perfect wall colour usually involves many tester pots and trials before we are happy. Yet, given the number of beautiful bold shades available, we often forget to consider the more subtle neutral shades.
These shades can be instrumental in achieving a well-balanced space that works well together and makes the best use of both natural and artificial light. Choosing white or magnolia may be a well-trodden choice. However, better is out there. Skimming Stone is one such colour. Its subtle warmth can bring life to spaces while complimenting well with the greys, browns and beiges of both modern and traditional interior design.
In these examples, Skimming Stone's abilities are shown in rooms with different objectives. Versatility is one of Skimming Stone's strongest suits!
Farrow and Ball Skimming Stone Living Room
Image via: Centered by Design
Straight lines and squares keep regiment in this space, but not at the cost of individuality or style. Brought together so well by the Farrow and Ball Skimming Stone walls, used like this, Skimming Stone shows how it has the ability to reflect in different tones. Using lighting carefully like this can bring a stronger feeling of 3-dimensional space.
This can be extremely useful in maximising visual space in smaller areas of your home. Darker furniture can sometimes be off-putting in its stark contrast in concentrated spaces. However, here your eyes find the purple flower so easily and naturally. This is helped by Skimming Stone's subtle grey tone and timeless ability to take our eyes gently through a room.
Take inspiration from this decor and utilise small flashes of colour to draw your eye towards a focal point and enable Farrow and Ball's Skimming Stone to ease your eye's progress from there.
A Timeless Living Room Design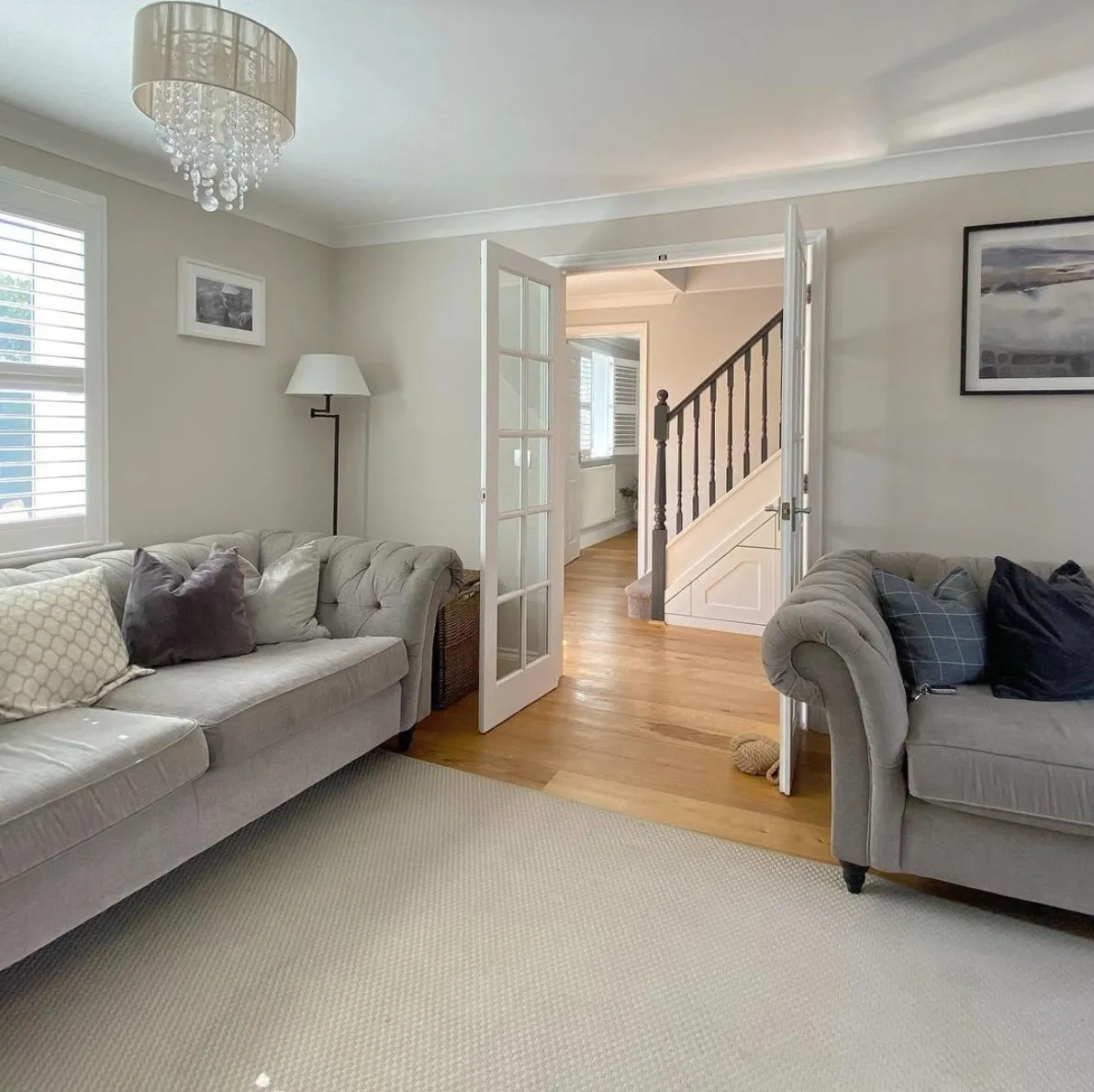 Image via Instagram: @beesforeverhome
Creating spaces that invite us and make us want to stay while keeping a modern feel can be challenging, this space shows the best of a subtle designer's skills.
This well-defined space is kept inviting but defined and separate in style. A large rug calms the floors warmth and the white ceiling and carpentry help give strength to the space. This ensures that the natural light is used to the greatest effect as far into the room as possible.
Simple cushions with colours taken from the colour palette of the room give accent and continuation to the space. When leaving the room to the hallway, the theme continues, but darker accents and the warmer floor revealed, remind you of your destination. Use Farrow and Ball Skimming Stone in this way to ensure the best use of natural light throughout larger spaces.
A Simple Neutral Interior Painted in Skimming Stone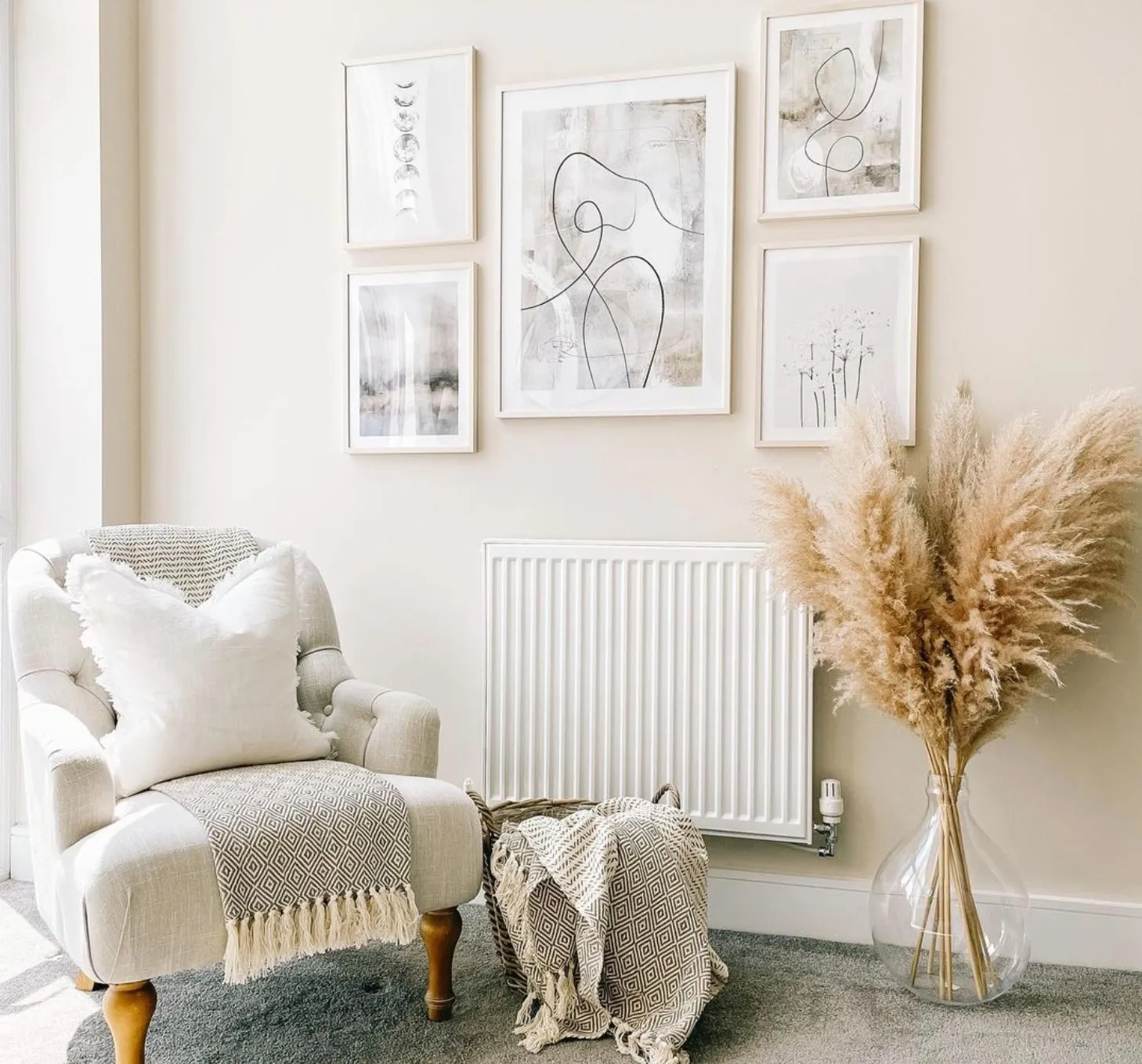 Image via instagram @reynoldsresidence
The warmth of Farrow and Ball's Skimming Stone is working seamlessly here to bring life to the space without taking away the underlying calm of the space. A perfect calming bedroom colour, this is a wonderful colour for children's bedrooms and adults' bedrooms alike.
Natural fabrics and furniture upholstery work so well with Skimming Stone. Lighter shades are used here, and as you can see, they work well with the natural warmth of the wood. Try including natural fabrics in a variety of textures to bring depth and personality to a neutral space painted in Farrow and Ball Skimming Stone.
The designer has dedicated a wall to display framed artwork in this image. By choosing Skimming Stone nothing is left to chance when they are viewed. Skimming Stone is the perfect background for artwork, especially when it is itself subtle and refined.
Farrow and Ball Skimming Stone Dining Room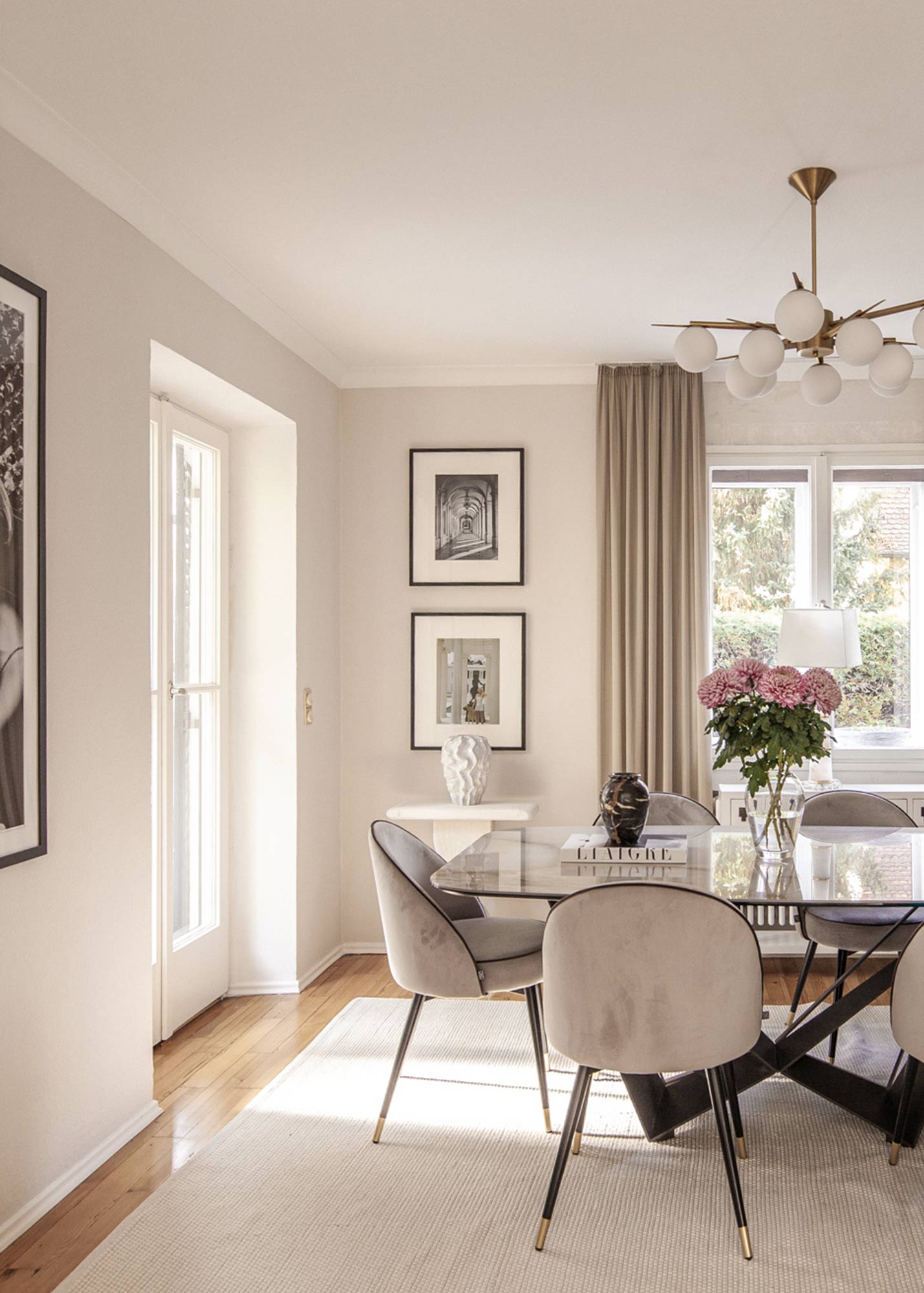 Image via Edition Noire
A crisp modern feel is achieved in this space, whilst still allowing it to feel warm and inviting. This is much down to the careful use of beige as an intermediary between the light and fresh Skimming Stone walls and the darker accent colours of the furniture, carpentry and picture frames.
This is ideal colour palette for shared spaces within your home. Using light and colour in this way is also perfect for a home office space or other dual-purpose areas of your home. Farrow and Ball Skimming Stone can give the subtle warmth needed to keep the room comfy as well as functional. This is important because we tend to spend long hours at work. The small details can make a big difference to how a space feels once you have been working in it for a few hours.
A Relaxing Living Room Painted in Farrow and Ball's Skimming Stone
Image via Pinterest
Here Farrow and Ball's Skimming Stone is showing its ability to work well with brown tones to create a soft visual contrast. Using browns like this helps give definition to a space without harsh colours. Keeping lines soft helps ensure the space is inviting and somewhere you would choose to unwind. A few sumptuous cushions and a snuggly blanket almost draw you in with the promise of tranquil comfort.
Try blending different finishes and textures with Skimming Stone. The contrast between reflective finishes like the glossed white woodwork and matt walls is perfect. Where you have larger wall areas but wish for contrast in the finish, take a tip from this design and use white decorative plates to give your eye a subtle reflection from another perspective.
As you can see through these images, Skimming Stone has so much to give as a background colour with the ability to draw the different elements of a room together and yet remain complementary to them all.
Farrow and Ball Skimming Stone FAQs
Here are some of the most common questions people are asking about Skimming Stone by Farrow and Ball.
Is Farrow and Ball Skimming Stone Grey or Beige?
Skimming Stone is a warm light grey colour from Farrow and Balls Contemporary Neutrals range. It is a colour with just the right amount of warmth to form the foundation of your colour scheme.
What Colours Go Best With Skimming Stone?
Skimming Stone is a versatile colour which can background and enhance many colour schemes. It compliments colour schemes well and really shows its ability to create calming spaces when used with grey tones. It also can be used to great effect in rooms where purples, like Farrow and Balls Pelt, are featured. Skimming Stone contrasts the deep purple with its subtle warmth.
Which White Goes With Skimming Stone?
Choosing the right white is important to get the best from Skimming Stone. A grey-based white like Farrow and Balls Strong White pairs well with Skimming Stone giving a contemporary feel to traditional decor. For a subtly warmer effect pair with All White which is a straight white with no additional tints.
Does Skimming Stone Go With Grey?
Skimming Stone compliments grey colours creating visually calming spaces that still have a strong identity. One of the best grey colours to pair with Skimming Stone is Dove Tale. Darker greys and blacks will work very well too. Try Railings or Pitch Black on your woodwork and trim for maximum contrast.
FARROW AND BALL PAINT SAMPLES
If you want to try before you buy, you can buy Farrow and Ball paint samples in small test pots. Each test pot is £4.95, and contains 0.1l which will cover about 1.4m2, which will give you a good idea of how the colour will look on your walls.
Pro Tip: Test your paint on each wall of your room, so you can see how it looks at different angles and in different amounts of light.
WHERE CAN I BUY FARROW AND BALL COLOUR CHARTS?
Farrow and Ball is one of the best paint brands in the UK, so you should be able to find them in most reputable DIY stores. It's easier to order online though!
You can get a Farrow and Ball colour chart here, it's completely free!
And here's a link to Farrow and Ball's book: Decorating With Colour.
If you're ready to buy, head over to Farrow and Ball to order online. You can get everything you need here, including a free colour card and tester pots
If you're just getting started in Interior Design, or looking for more inspiration, check out my article on the best interior design books for beginners for more inspiration!