Frenchic paint is a high-quality, environmentally friendly paint that comes in a wide range of colours. There are so many different colors to choose from that it can be hard to decide which one is right for your project. In this article, I'm sharing some of the most popular Frenchic paint colours for furniture.
Frenchic now offers paints for both interior and exterior use, so whether you're looking to spruce up your patio furniture or give your dresser a makeover, Frenchic is an excellent option.
What is Frenchic Paint?
Frenchic Paint is a line of environmentally friendly, non-toxic paints that are ideal for both interior and exterior use. These paints are made from natural ingredients and do not contain harsh chemicals or other toxic substances.
Unlike conventional paints, Frenchic Paints offer excellent coverage and color saturation, as well as fast drying times.
They are also super easy to apply, with a smooth consistency that evenly spreads over surfaces and allows for even brush strokes. So if you are looking for high-quality paints that don't compromise on performance or safety, Frenchic is the paint for you.
Frenchic offers several different ranges of paint for various purposes:
The Original Artisan Range – An eco-friendly chalk and mineral paint that is perfect for updating furniture and creating unique paint effects. This paint is self-priming but requires sealing with a layer of wax or Tuff Top Coat.
The Lazy Range – This excellent paint is both self-priming and self finishing, making it the perfect choice for anyone who loves quick and easy upcycling projects. It's waterproof, so it can be used on kitchen and bathroom furniture and is certified safe to use on children's toys.
The Frenchic Alfresco Range – Frenchic Alfresco paints are suitable for both indoor and outdoor use. This paint is super easy to use, and is available in a range of gorgeous bright colours, as well as the classics. It doesn't require any priming or sealing, making it the perfect choice for anyone wanting to quickly update either their indoor or outdoor furniture.
Frenchic Chalk Wall Paint – This beautiful chalk paint is perfect for use on walls in your home. It has a lovely velvety texture and a beautiful matte finish. It offers excellent coverage and can be used on ceilings, walls, tiles, floors, and woodwork.
Trim Paint – Frenchic's Trim Paint has a slight satin sheen to it, making it an ideal choice for trim, woodwork, and radiators. However, it can also be used on furniture if you wish.
So let's get down to the important stuff… The best Frenchic paint colours to use on furniture!
The Best Frenchic Paint Colours for Furniture
1 – Hornblower
Hornblower is undoubtedly one of the most popular Frenchic paint colours. This rich, deep blue is perfect for giving a touch of elegance to any room. It works incredibly well on pieces of furniture with intricate details, such as cabinets and dressers.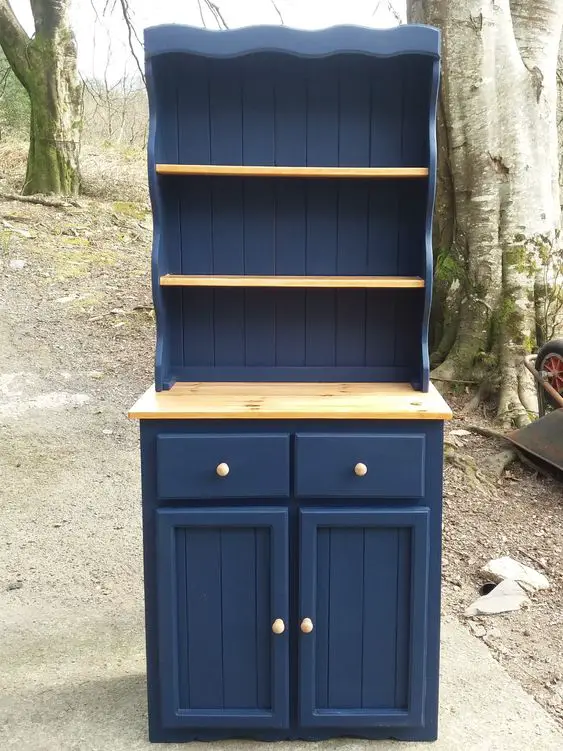 Image via Pinterest uploaded by Thomas Kearly
2 – Loof
Loof is a classic Black colour that works well on both large and small pieces of furniture. One of the reasons it's so popular is because of its ability to turn a tired old piece of furniture into something sophisticated and modern. It's a sure winner if you don't know where to start.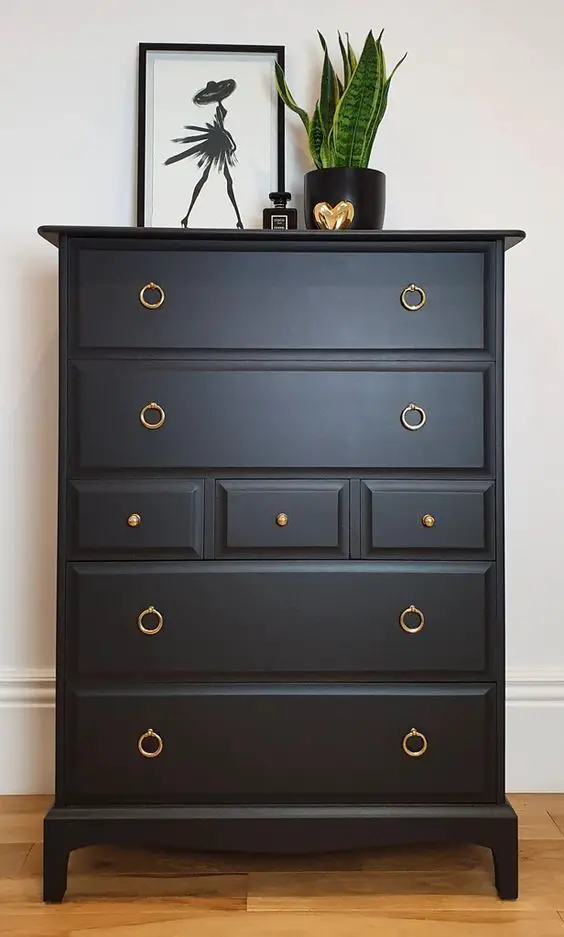 Image via Pinterest
3 – Whitey White
Whitey white is a versatile clean white colour that can be used in a variety of ways. It's perfect for creating a fresh and airy feel in a room or for giving an antique piece of furniture a new lease of life.
Image from Etsy. This item is for sale on Etsy.
4 – Creme de la Creme
Creme de la Creme is a light, ivory colour that is perfect for adding a touch of luxury to any room. It's often used on high-end pieces of furniture, such as cabinets and tables.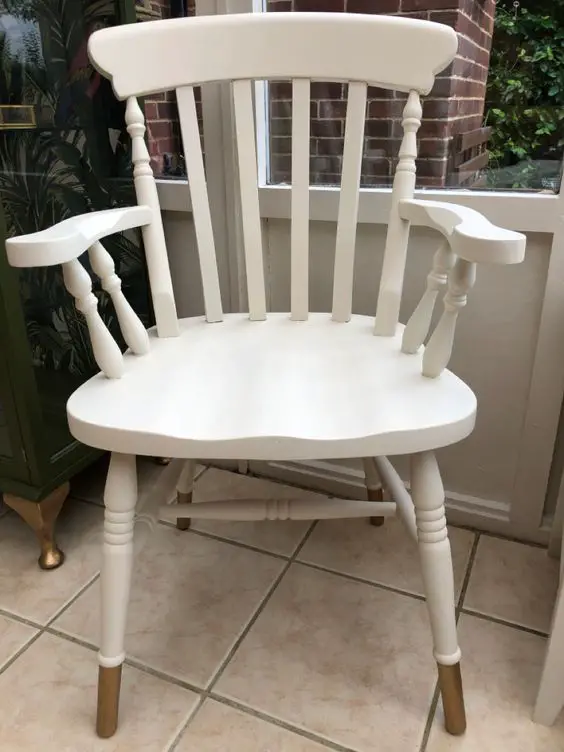 Image from Pinterest uploaded by Karen Martin
5 – Salt of The Earth
Salt of the Earth is a warm, grey (greige) colour that is perfect for giving your furniture a classic farmhouse/country cottage look. It's an excellent choice for larger pieces of furniture, such as dressers and sideboards.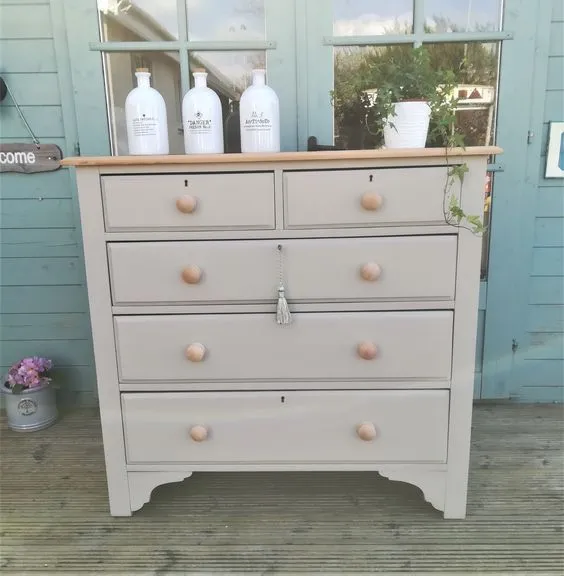 Image via Pinterest uploaded by @auriatibbles
6 – Dusky Blush
Frenchic's Dusky Blush is a warm, rose-pink colour that is perfect for giving your furniture a soft, romantic look. It looks great on smaller items of furniture with clean lines and bold features, such as bedside tables and chests of drawers.
Image via Etsy
What Surfaces Can You Use Frenchic Paint On?
Frenchic paint can be used on virtually any surface, making it a versatile and practical choice for homeowners and DIY enthusiasts alike. Whether you're painting furniture, walls, or floors, this high-quality paint will produce vibrant and long-lasting results. Some of the most commonly painted surfaces include wood, metal, plaster, brick, concrete, and tile. However, Frenchic paint can also be used to cover natural stone such as slate or marble, as well as synthetic materials such as vinyl or laminate.
Do You Need to Sand Before Using Frenchic Paint?
The question of whether or not you need to sand before using Frenchic Paint is a common one among homeowners and DIYers.
On the one hand, sanding can help to smooth the surface of your piece and remove any rough or jagged edges. This, in turn, can ensure that your new paint goes on smoothly and looks professional.
However, on the other hand, many types of Frenchic paint are formulated to work without requiring any pre-sanding at all. For example, if you're using one of their chalk paint options, or a paint from the 'lazy' range, it's perfectly fine just to apply a coat straight to your piece without doing any sort of prep work beforehand.
Can Frenchic Paint Be Used on Radiators?
Yes, Frenchic paint can be used on radiators. 'Frenchic Trim' is the best paint for this task. It has a slight sheen to it, and it's perfect for use on radiators, as well as skirting boards and doors.
Not only does it produce a beautiful finish that can last for years, but it also seals the radiator against moisture and rust buildup. This helps to keep it in good condition over time. So if you're looking for an all-around great paint for your radiator, Frenchic is definitely the way to go. Whether you want a bold statement color or a sleek neutral tone, this versatile paint will help bring your radiator to life!
Is Frenchic Paint Washable?
Painting your home can be a major undertaking. It's important to know that your hard work will stand the test of time—particularly if you have young children or messy pets in the home!
As it turns out, though, Frenchic Paint is actually highly washable and very resistant to fading or discoloration over time. This makes it an ideal choice for households with young children or pets who are likely to get paint on their clothes or carpets.
Despite its strength and durability, Frenchic Paint is also very easy to clean off brushes and rollers after use. Yay!
How Long Does Frenchic Paint Take To Dry?
All Frenchic paints are made with a water-based formula. This means that they are capable of drying relatively quickly.
For most projects, it takes just a few hours for a coat of paint to dry completely. However, factors like temperature and humidity can naturally affect drying time as well. In addition, thicker paints may take longer to fully cure since they generally require multiple layers in order to achieve an opaque finish.
Regardless of these variables, you can generally expect a coat or two of Frenchic paint to be fully dry within about 24 hours or less.
Where to Buy Frenchic Paint
Many retailers now stock Frenchic paint, so if you want to find a local stockist you can do so here.
You can also order Frenchic paint online and have it delivered right to your door! Visit their website here.
If you're undecided on which of the Frenchic paint colours to choose for your next project, you can order a colour chart here.