Pigeon by Farrow and Ball is a sophisticated green-grey colour. It's perfect for creating calming colour schemes, and can work just as well in a bedroom as it does in a living room, kitchen, or dining room. If you've been thinking of using Farrow and Ball Pigeon in your home, you've made a great choice—this timeless colour isn't going to go out of style any time soon!
Farrow and Ball is known for being one of the best paint brands in the UK, so you can be sure you will get a high-quality finish when using their paints. I've gathered some of my favourite examples of how Pigeon can be used in both traditional and modern interiors. At the end of the article, I'm also going to share some other colours that go well with Pigeon to help you build the perfect colour scheme.
Farrow and Ball Pigeon Living Room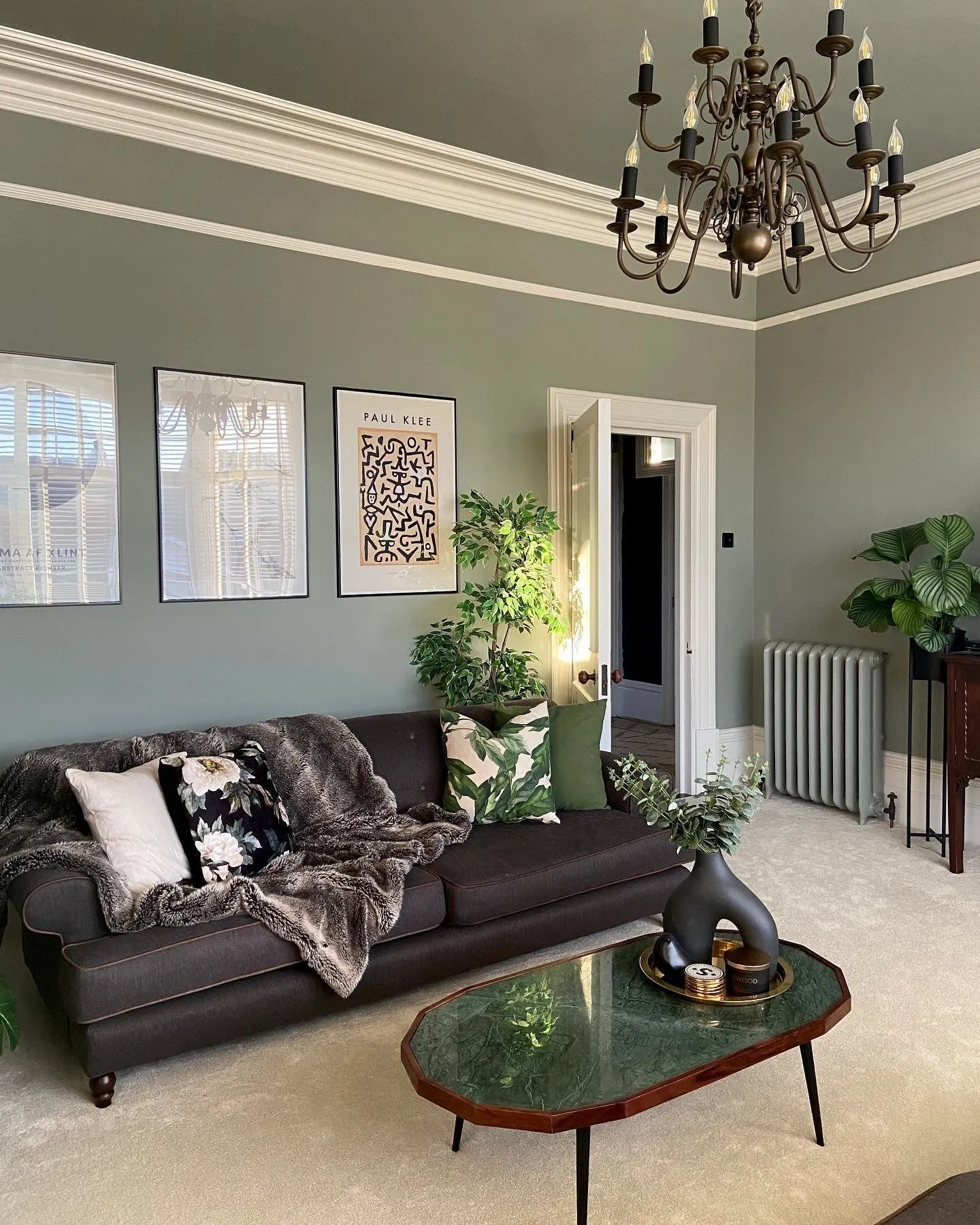 Image Source: The Scruff House via Instagram
This stunning living room has been painted in Farrow and Ball's Pigeon on both the walls and the ceiling. The cream coloured carpet and white-painted architectural features help to lighten the space and ensure it doesn't feel too dark. The dark coloured furniture works well here too, creating contrast and giving this period home a smart modern look.
Dining Room Painted in Pigeon by Farrow and Ball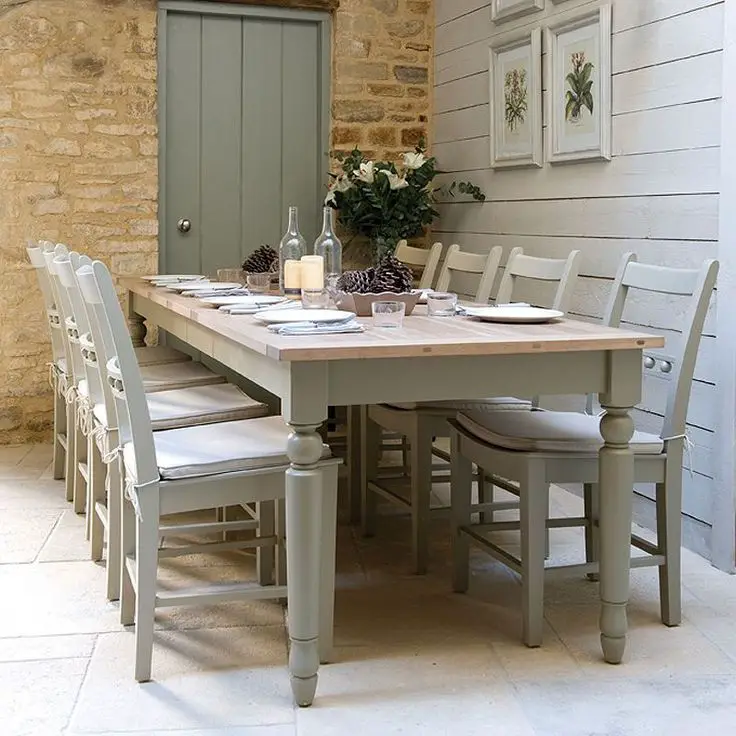 This gorgeous dining room uses Farrow and Ball's Shaded White on the wood panelling, with Pigeon on the door as an accent colour. This colour scheme works really well, giving the space an effortlessly stylish, inviting look that draws you to the dining area in this open plan space.
Living Room Painted in Pigeon by Farrow and Ball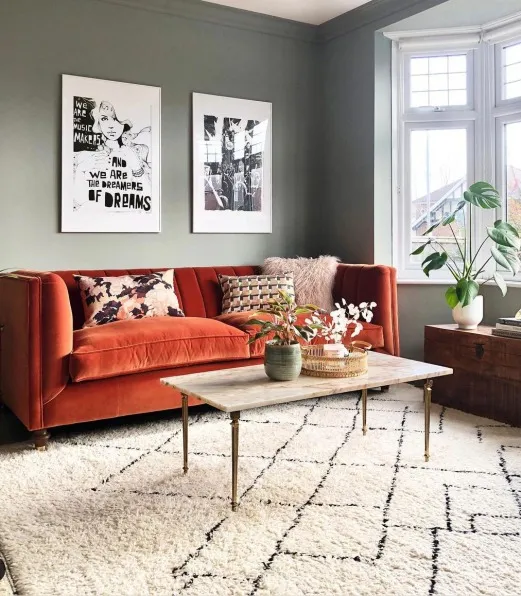 Image via First Sense Interiors in Instagram
This stunning living room design by Meera from First Sense Interiors features walls painted in Pigeon by Farrow and Ball. Paired with a bright rust-orange sofa, this combination creates a striking modern-glam look. She also used Pigeon in her boot room, (pictured below) which looks much lighter and brighter thanks to the abundance of natural light in the space.
This is a great example of how Pigeon can look so different depending on the light. This is exactly why I always recommend buying testers of the colours you are thinking of using and testing them on every wall in your room to see how they look at different angles, and throughout the day as the light changes.
You can get a free Farrow and Ball Colour Card Here which will let you see all of the colours and give you an idea of how they look together in various combinations.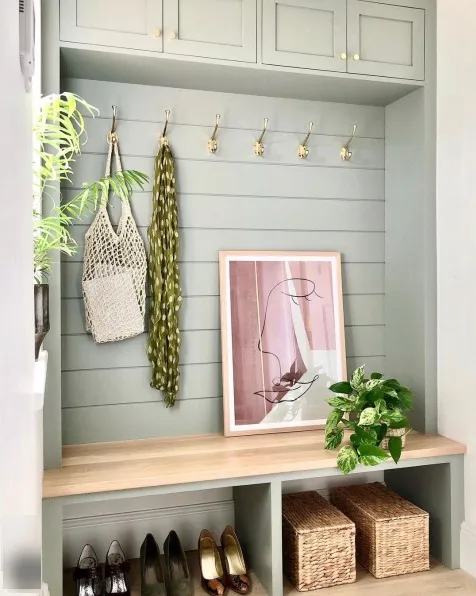 Kitchen Cabinets Painted in Pigeon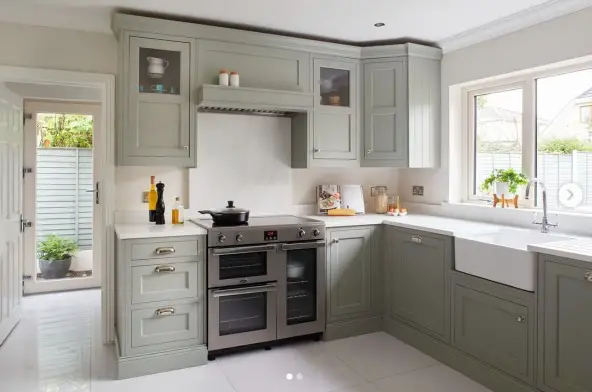 Image via De Barra Kitchens on Instagram
I'm in love with this kitchen! The cabinets have all been painted in Farrow and Ball Pigeon which looks beautiful against the crisp white worktop and white floor tiles. Because of this, the whole space feels fresh, bright, and inviting.
Bedroom Painted in Pigeon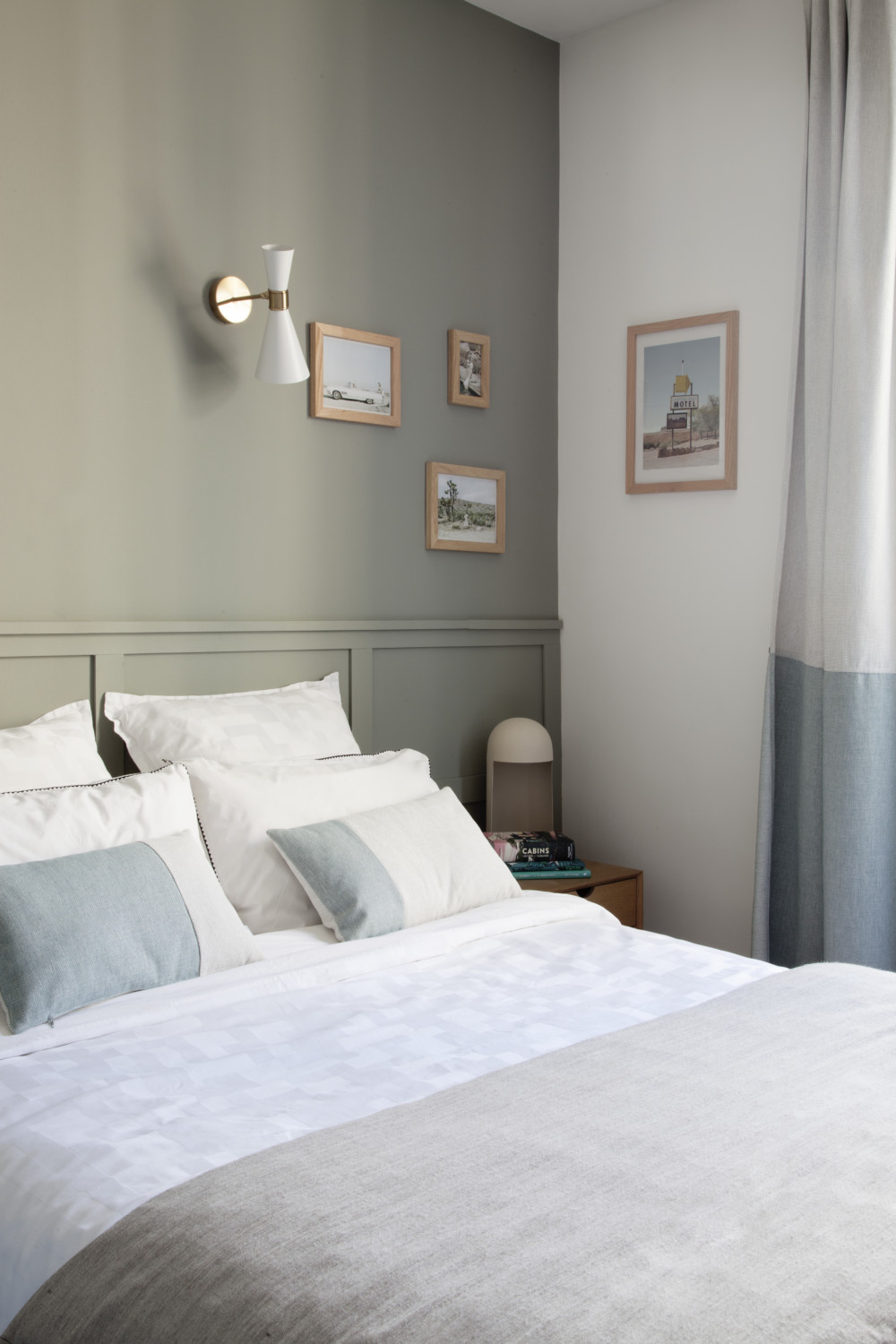 Image Via Sloft Magazine
This bedroom has been painted with a feature wall behind the bed in Farrow and Ball's Pigeon. Paired with crisp white walls, this creates a very soothing colour scheme—which is perfect for a bedroom! Although the feature wall looks fairly dark in this space, the white walls balance this out. White bedding helps complete the look creating a serene space.
Is Farrow and Ball Pigeon Green?
Farrow and Ball's Pigeon is a sophisticated blue-grey colour, with green undertones. Overall, it can be considered a green colour though, depending on where you use it. For example, in south-facing rooms with good light Pigeon will appear much more green than blue.
It's a great choice for anywhere in your home where you want to create a relaxed, down-to-earth atmosphere.
What Colours go With Farrow and Ball Pigeon?
If you're wondering which colours to pair with Pigeon, you're in the right place! Farrow and Ball offers it's own recommendations, but there are some other great options you may not have through of!
Whites:
Red:
Pink:
What RAL Colour is Farrow and Ball Pigeon?
According to Hex to RAL, Farrow and Ball Pigeon's RAL colour is: RAL 120 70 05. It's a very close match.

Is Farrow and Ball Pigeon a Warm Colour?
Yes, Pigeon is a warm colour. Although it is a blue-grey colour, the green undertones in it bring out the warmth. It's a wonderful choice for rooms with plenty of natural light, as you will see the tones change throughout the day.
WHERE TO BUY FARROW AND BALL PAINT?
If you're ready to buy, head over to farrow-ball.com to order online. You can get everything you need here, including a free colour card and tester pots.
FARROW AND BALL PAINT SAMPLES
If you want to try before you buy, you can buy Farrow and Ball paint samples in small test pots. Each test pot is £4.95, and contains 0.1l which will cover about 1.4m2, which will give you a good idea of how the colour will look on your walls.
Pro Tip: Test your paint on each wall of your room, so you can see how it looks at different angles and in different amounts of light.
WHERE CAN I BUY FARROW AND BALL COLOUR CHARTS?
You can get a Farrow and Ball colour chart here, it's completely free!
And here's a link to Farrow and Ball's book: Decorating With Colour.
If you're just getting started in Interior Design, or if you're planning on taking on more renovation projects, check out my article on the best interior design books for beginners for more inspiration!