Adding a couple of quirky bedside tables to your bedroom is one of the quickest and easiest ways to add personality to your space without making any drastic changes to your decor.
There are lots of cool and unusual bedside tables to choose from, so we've gathered some of our favourite quirky bedside table ideas from across the web to help you find the perfect ones for your own bedroom!
Gold Quirky Bedside Table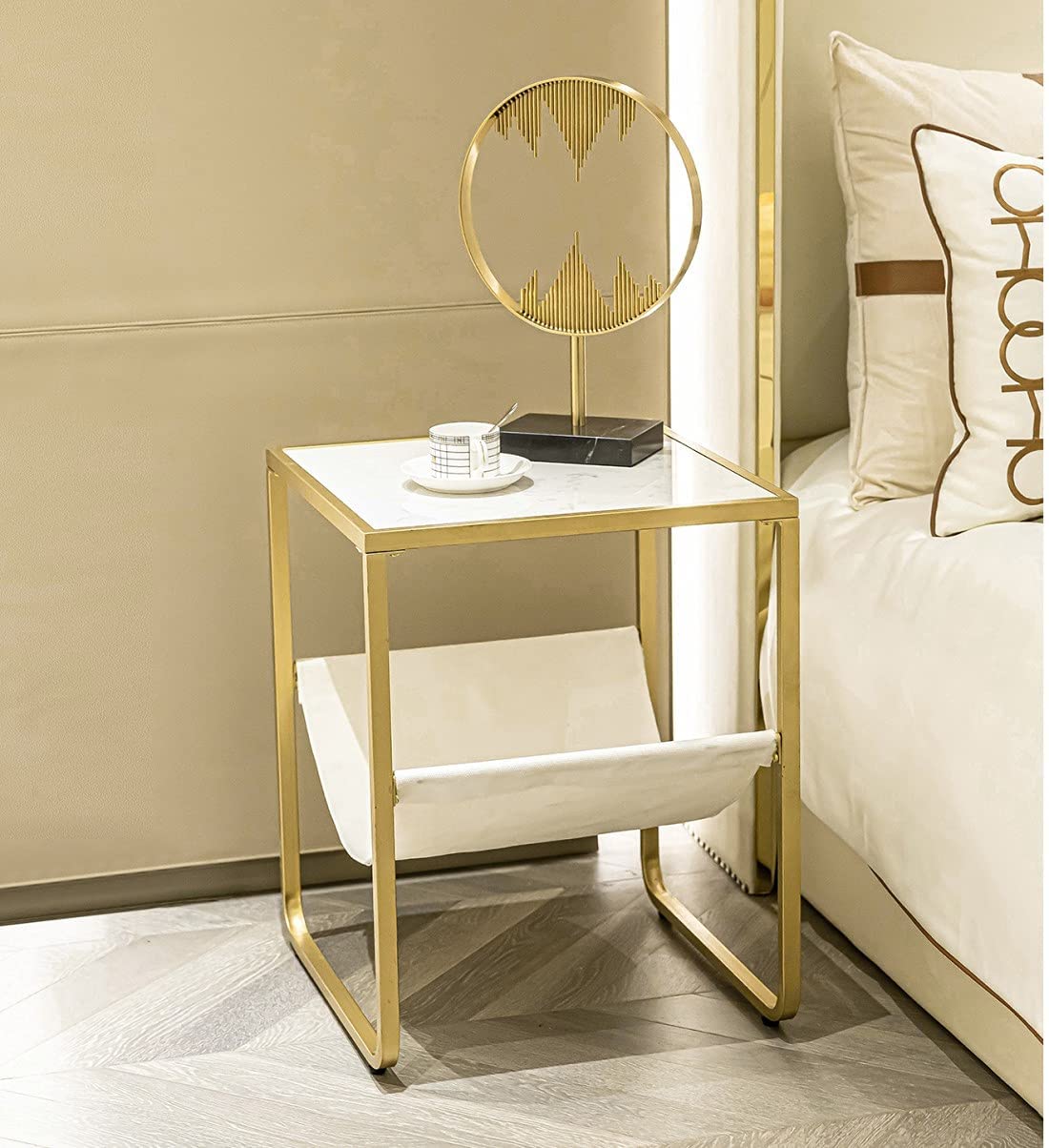 This stunning bedside table combines the luxurious feel of a modern hotel with a design that's unique and has more personality to it. Marble is a popular trend in both modern home design and high-end hotels. However, it can feel a little overdone when you constantly see the combinations of gold and marble on home decor Instagram accounts. Despite utilising a classic combination, the open design and built-in fabric hammock under the table make this bedside table feel much more quirky. It also doesn't sacrifice functionality which can sometimes be an issue with more unique designs.
Quirky Wire Bedside Table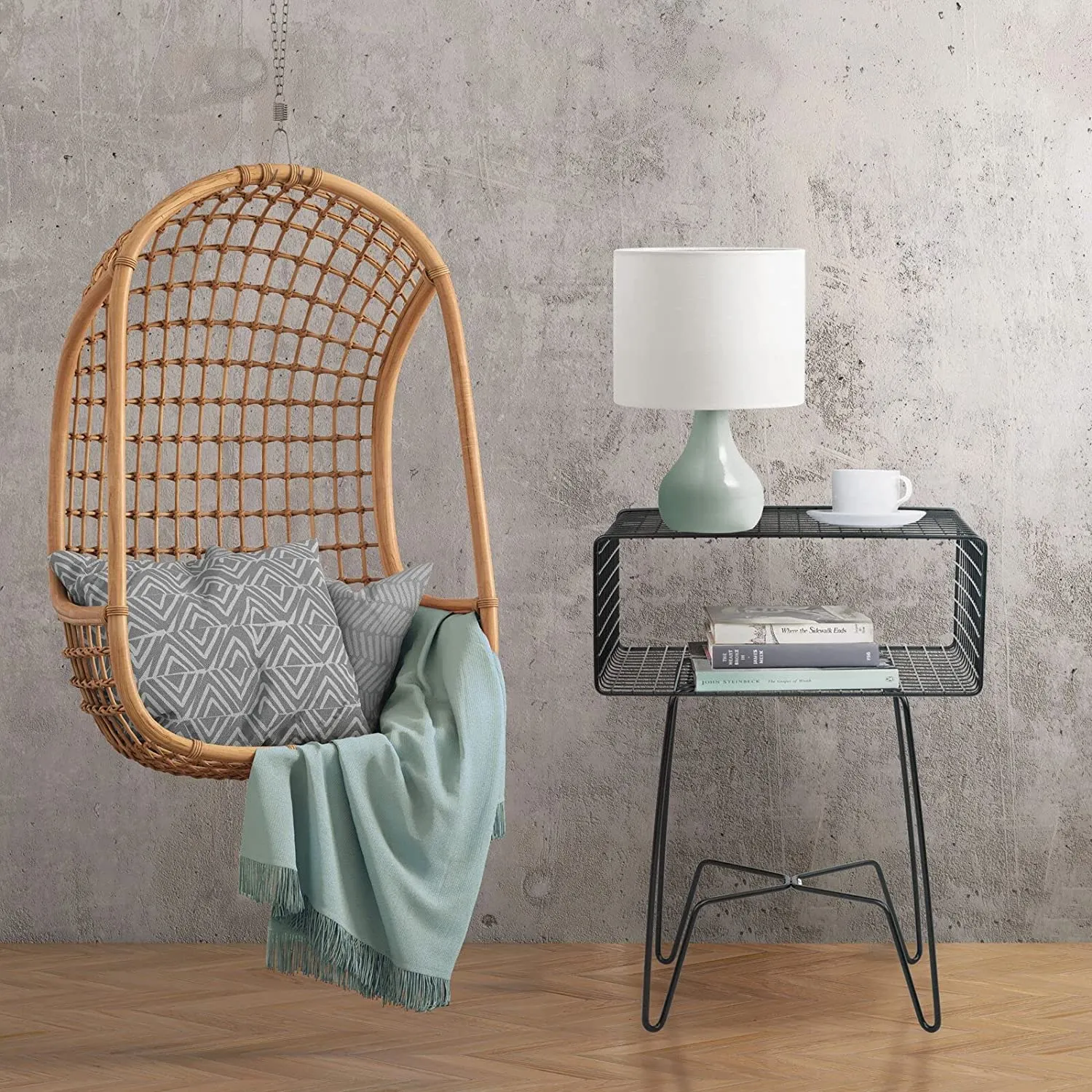 If you don't need a huge amount of storage on your bedside table then these quirky gold wire nightstands are the perfect option for a modern bedroom design. The openness of these bedside tables makes them more of a subtle addition to a space, helping the room to feel bigger without being weighed down by bulky furniture. Use the shelf to keep some reading material, a few favourite skincare products or opt for something that's more aesthetically pleasing.
Floating Quirky Bedside Table
If you really want to make a statement in your bedroom, try a floating bedside table! This unique nightstand is made from wood and suspended from four ropes. This is a great option for boho-inspired bedrooms and coastal-inspired homes.
Gold Drip Bedside Table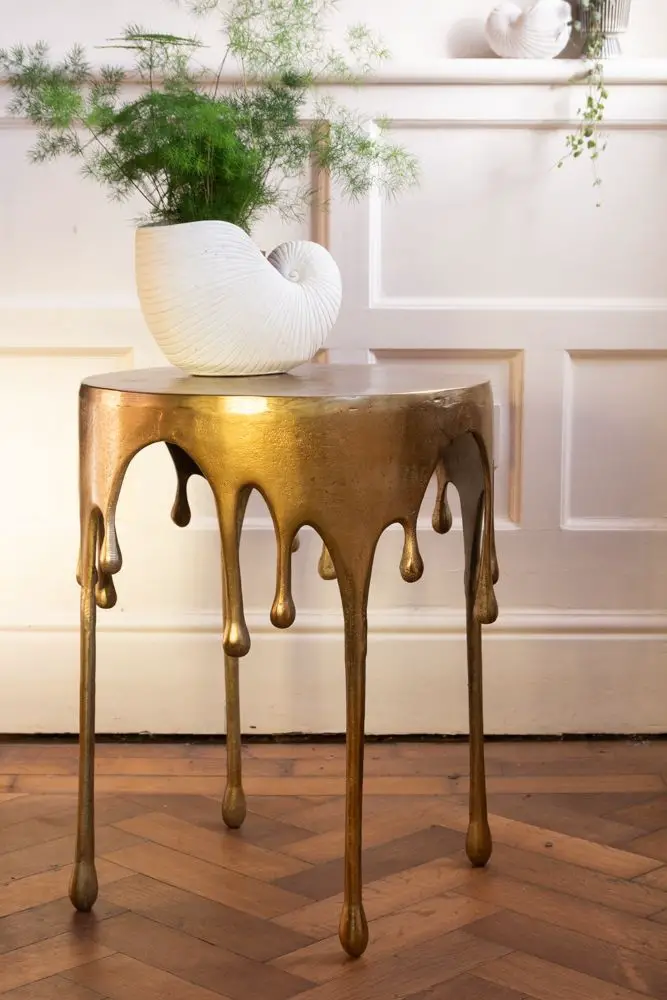 If you're looking for a nightstand that has buckets of personality then this dripping gold bedside table is the perfect addition to a quirky bedroom design. The all-gold dripping paint effect would work well with almost any style. From minimalist rooms with gold accents to bright and colourful rooms adding even more personality. Whatever style you love, this quirky gold bedside table is sure to be a talking point!
Unusual Shaped Bedside Table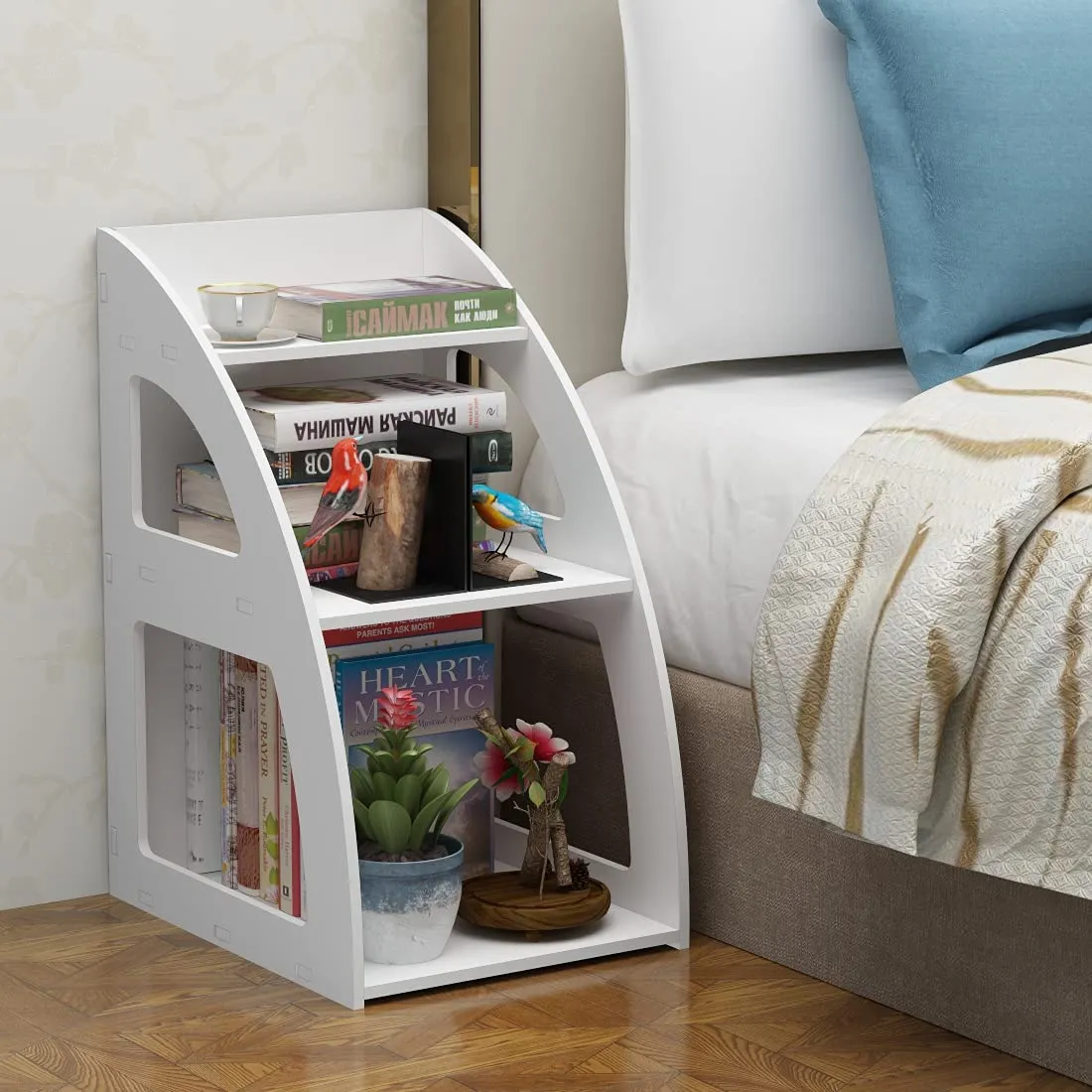 One of the easiest ways to make a functional nightstand feel more quirky is simply to opt for a different shape. This rounded bedside table offers lots of storage or space for decoration with two shelves. It also has space to put a drink on top with the smallest shelf (featuring a plant in the photo). Often it feels like you have to sacrifice functionality for the sake of originality, so this nightstand is the perfect compromise. The minimalist white look also helps it to fit in with most designs, so if you're not totally sure about going for something more out there then this is a good middle ground.
Modern Neon Bedside Table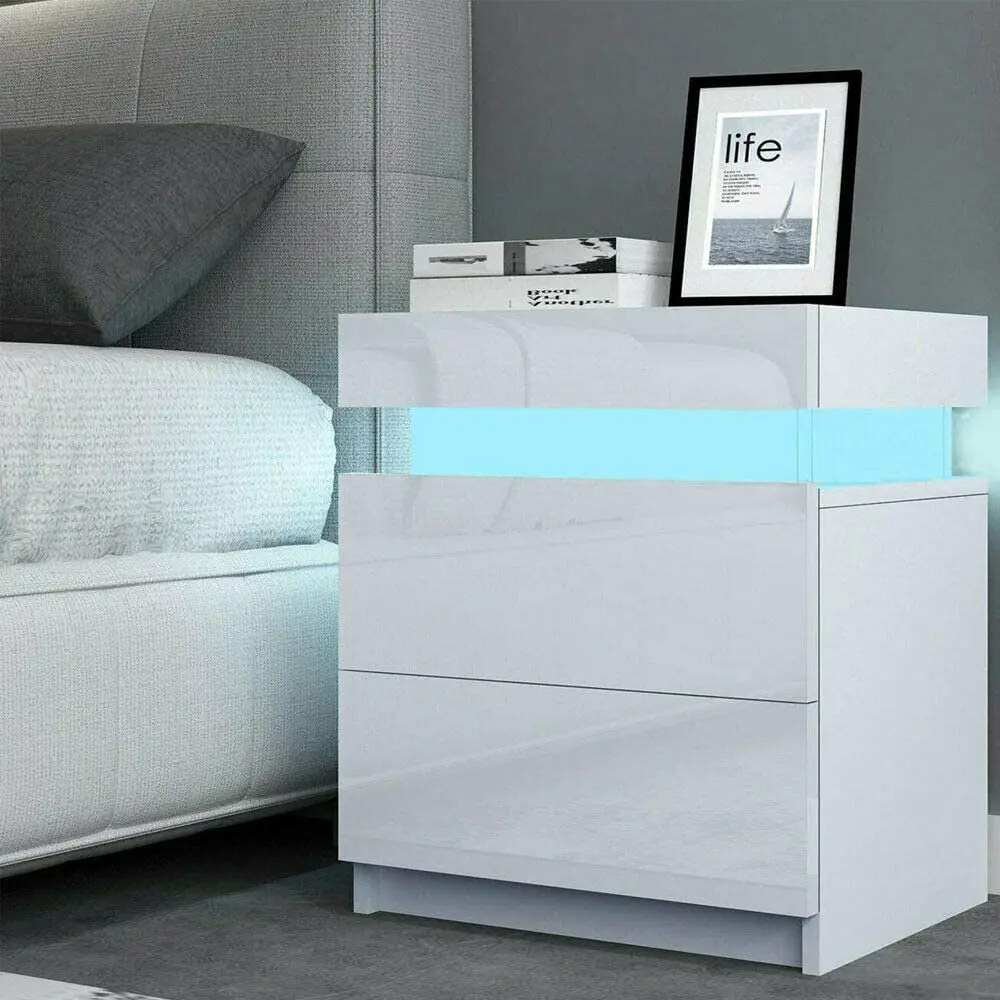 This light-up bedside table is the perfect balance between quirky and functional. The two drawers provide plenty of storage in addition to a hidden compartment underneath the tabletop. There is a light in the space between the hidden compartment and drawers which gives a luminous glow. What makes this bedside table design really unique is that the multicoloured LED light strip can be changed using a remote control. This means that you can set the mood according to the time of day or your mood, or even use it to adjust your decor with minimal extra input!
Quirky Mirrored Bedside Table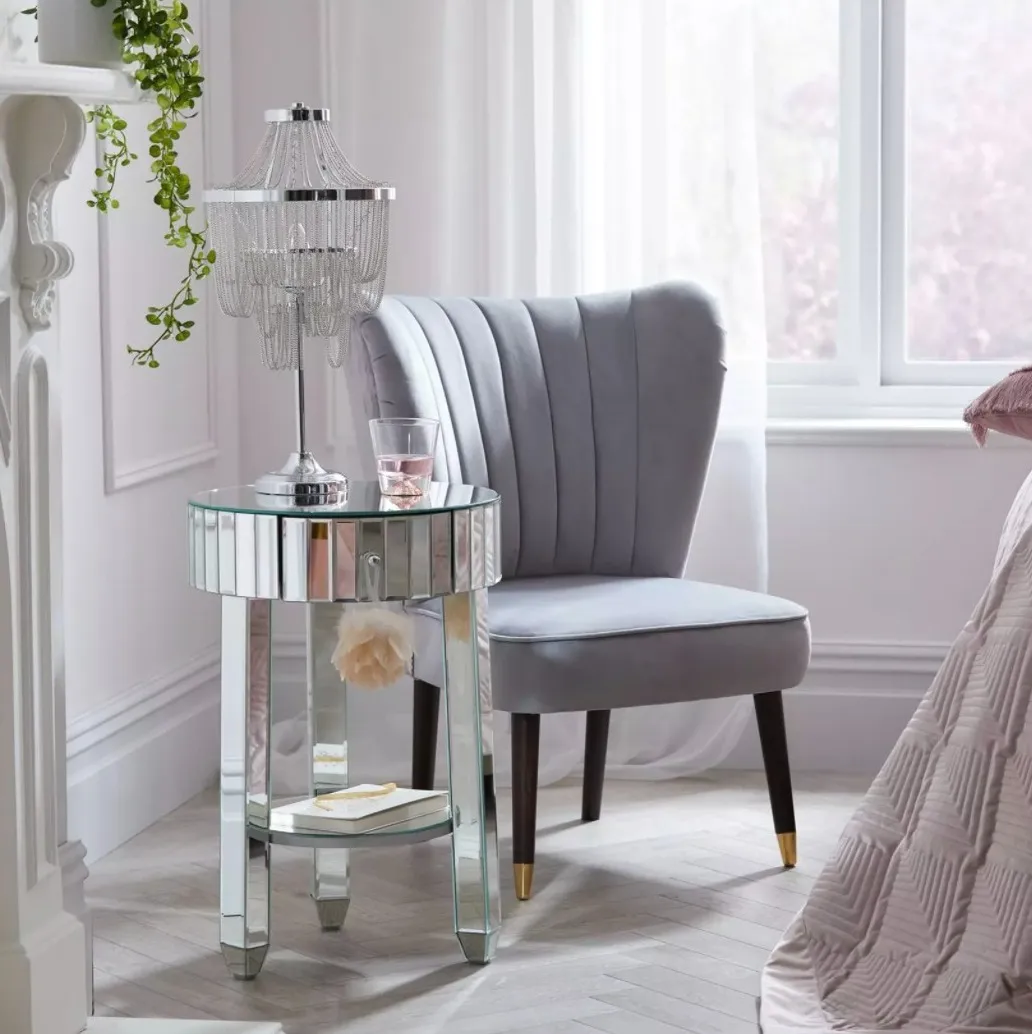 This quirky nightstand is made entirely of mirrored panels. It would fit perfectly into a modern or glamorous room design, as well as with more eclectic and quirky styles. If you love pieces that feel opulent and unique without being the centre of attention, then this mirrored design is perfect. It will add a touch of luxury without standing out too much. The small drawer is also great for a little added storage so you can keep the things that are important close to you without it looking cluttered.
Quirky Wooden Bedside Table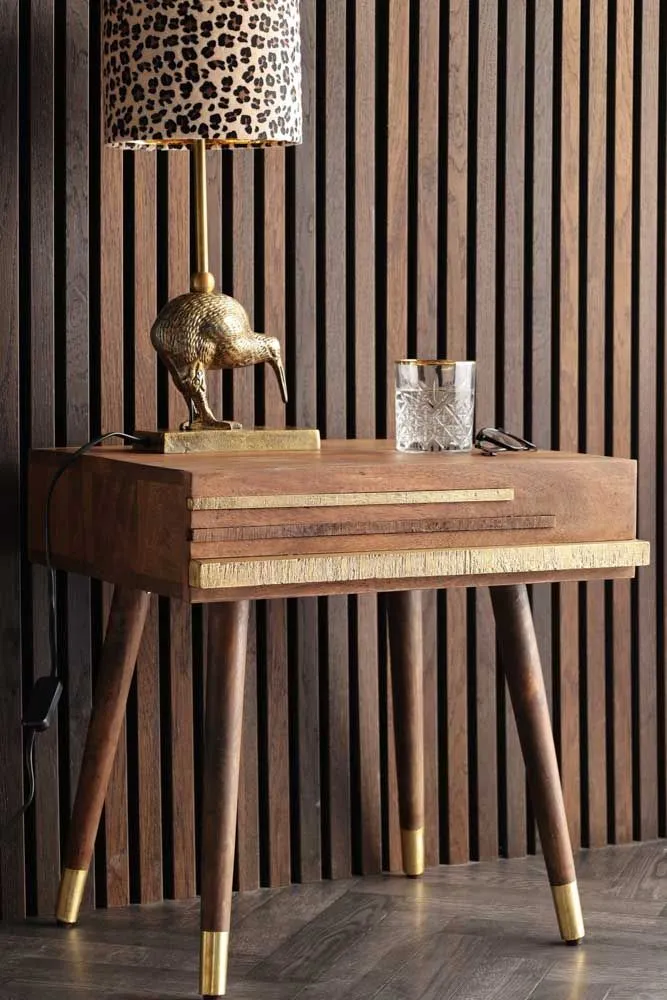 Adding natural textures like wood and raffia to your space is a great way to make the room feel more calming. However, if you love furniture that has a little more personality then this can feel a little restrictive. This multi-tonal wooden bedside table with gold accents is a perfect option if you're looking for a quirky bedside table for your natural-toned room. One of the most unique features of this nightstand is that the wood looks like stacked up books. Each layer being slightly further forward or back to create more texture. This nightstand is a great option if you want to add a little more personality to your rustic room.
Industrial Inspired Bedside Table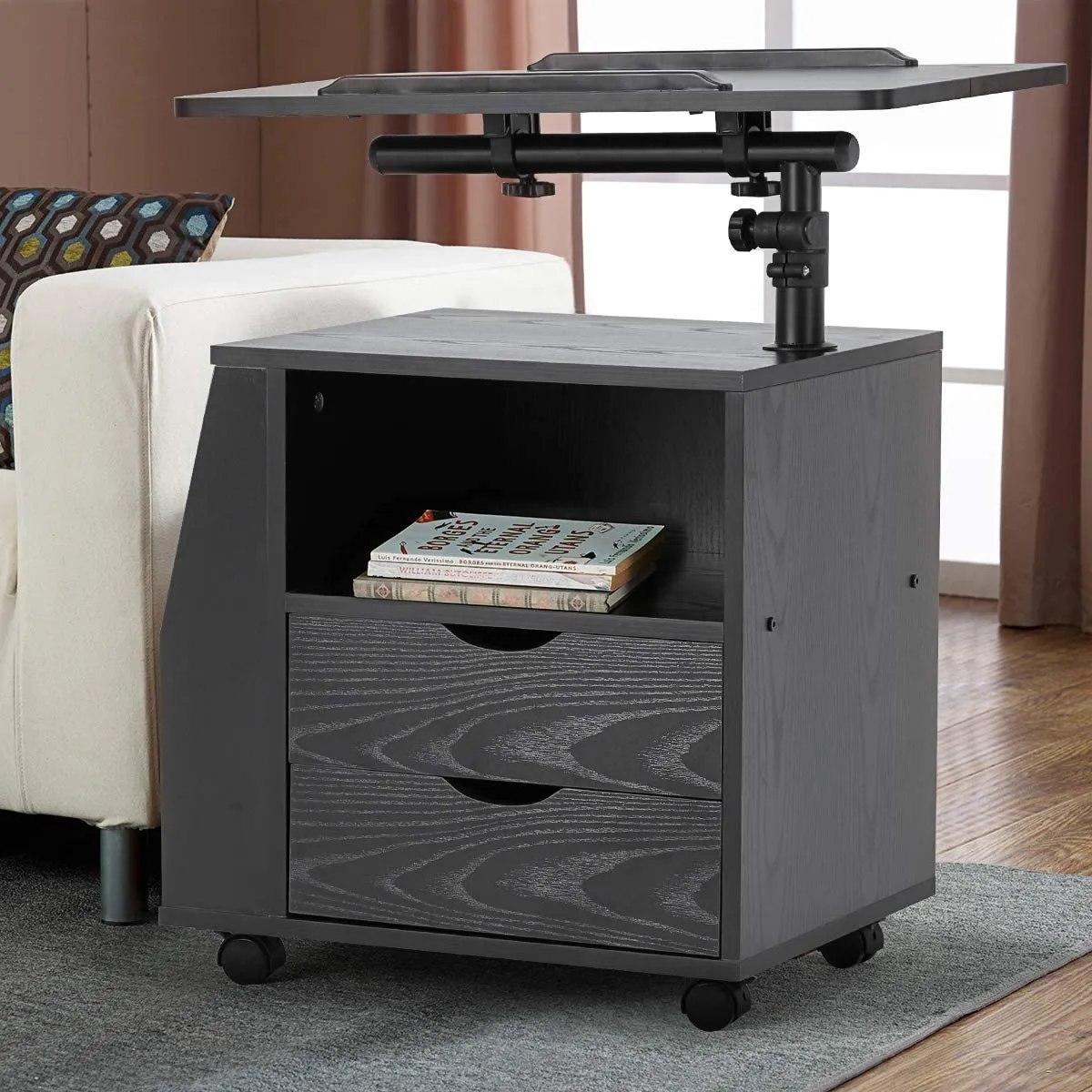 Some of the most quirky bedside tables stand out because they've completely redesigned the functionality of an item that everyone owns, rather than changing the colour or shape. This adjustable nightstand does just that with drawers, a pocket on the side of the cabinet and an adjustable tabletop. This bedside table would be the ideal solution for a small space because it provides so much extra functionality. If you are used to working on your bed then simply turn the top around and use it as a desk.
Sustainable Wooden Bedside Table
A hugely popular trend in homeware over the past few years has been to repurpose other items to create something new. However, if you're not DIY-minded you might be wondering how to do that. This bedside table from Rocket St George saves you the effort and is arguably more functional. This quirky bedside table has been designed to look like a record player but has a full-size drawer that opens fully to provide great functionality and storage options. If you love a midcentury modern style then the record player bedside table would be perfect for you.
Industrial Ladder Style Bedside Table with Shelves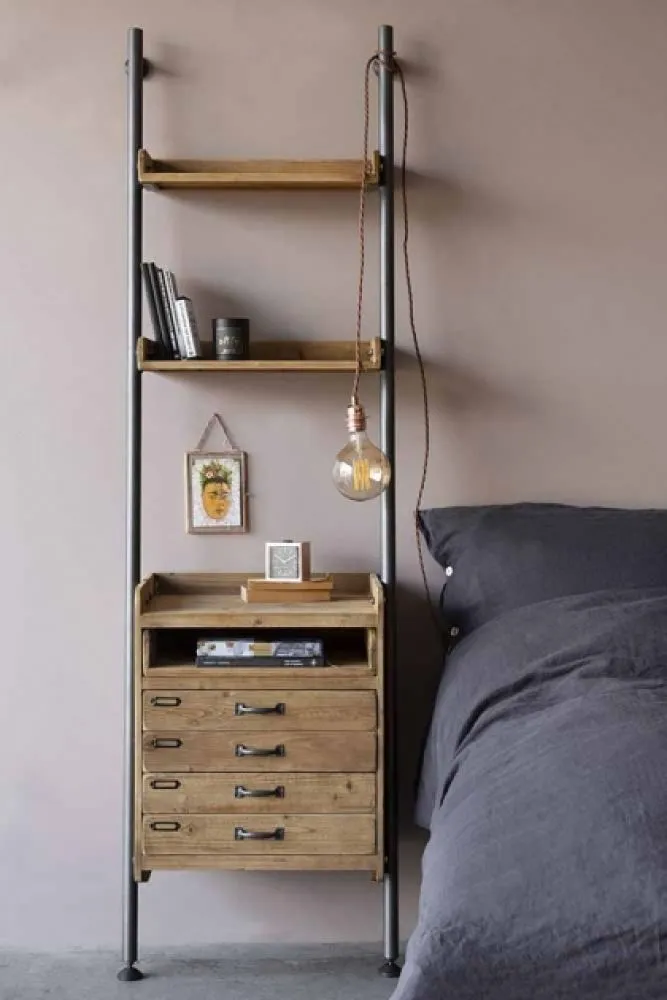 If you're looking for something really unique that fits in a small space, then choose something tall to make the most of the height. This shelving unit makes for a really quirky bedside table simply because it's not something that would normally be used in this way. The shelves and drawers provide plenty of storage, or you could put everything in the drawers and decorate the shelves for a little added personality. Just make sure that you've properly secured anything heavy on the shelves!!
Quirky White Bedside Cabinet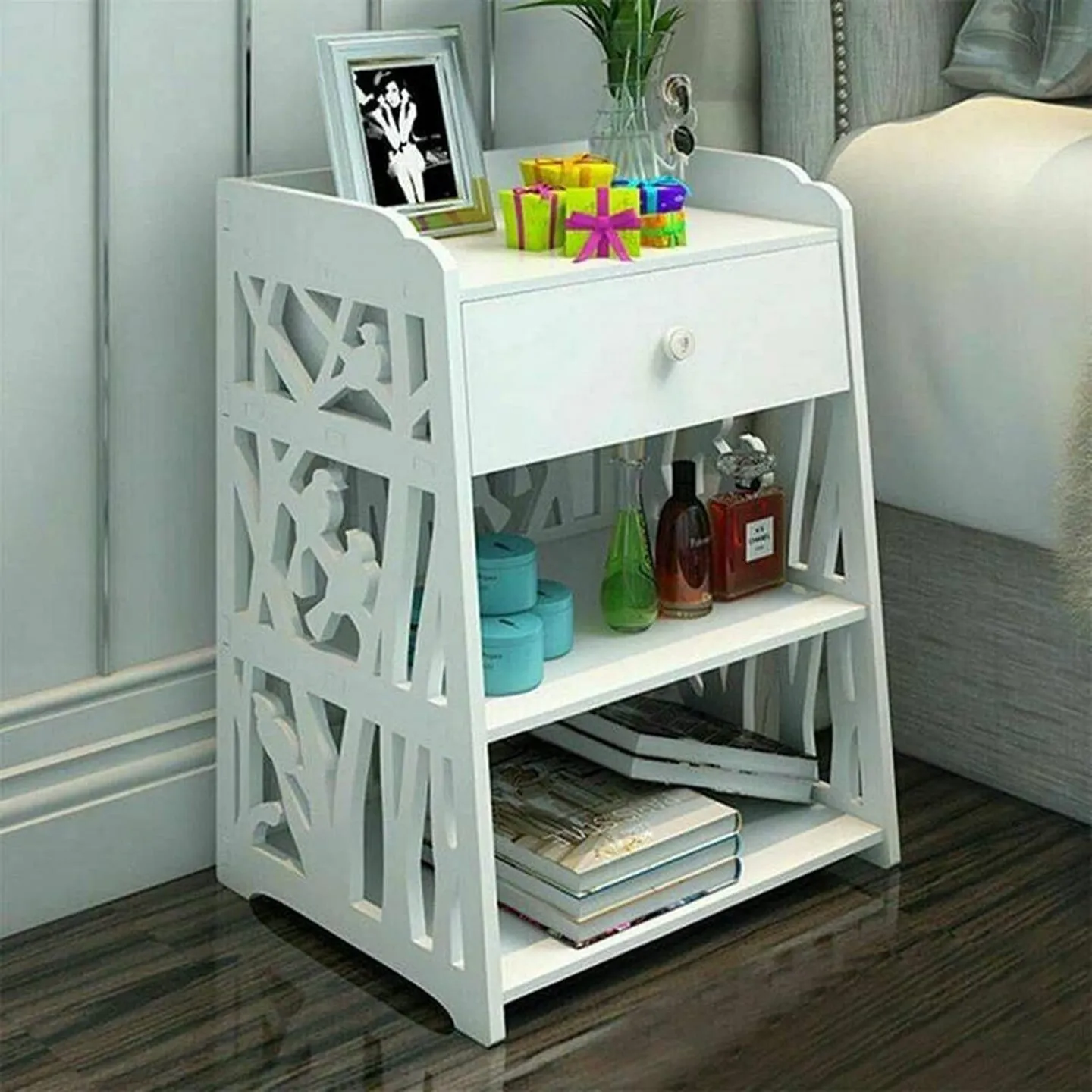 If you love the combination of natural textures and modern design then this all-white bedside table with the texture of branches on the side is a great option to add a little personality to your space without feeling too over the top. The shelves and drawers provide plenty of storage space, or you can use the shelves to show off even more of your personality if you don't need the extra room. This quirky bedside table is a perfect balance of unique but subtle. You can also easily repaint it when you want to refresh your space in future.
Shabby Chic Bedside Table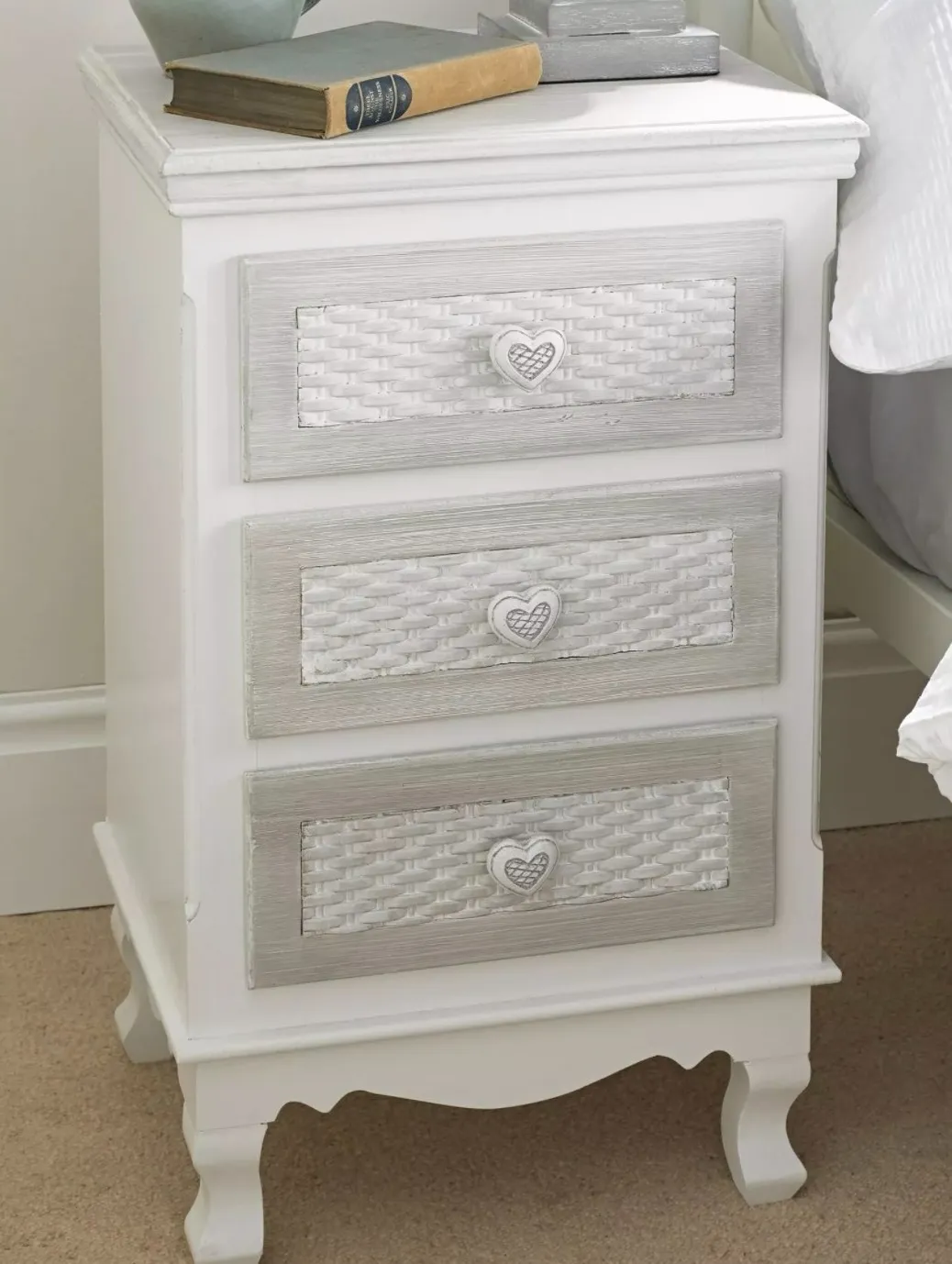 A lot of quirky bedside tables are more modern and focus on unusual shapes shape and designs to mske them stand out from the crowd. However, if your home is older or you prefer a more rustic design then these might not work for you. This cream wooden nightstand with details carved into the drawers would look great in a country house or rustic cottage. The design is unique but still fits in with a more traditional home design thanks to the rounded shape and neutral colours.
Industrial Locker Bedside Table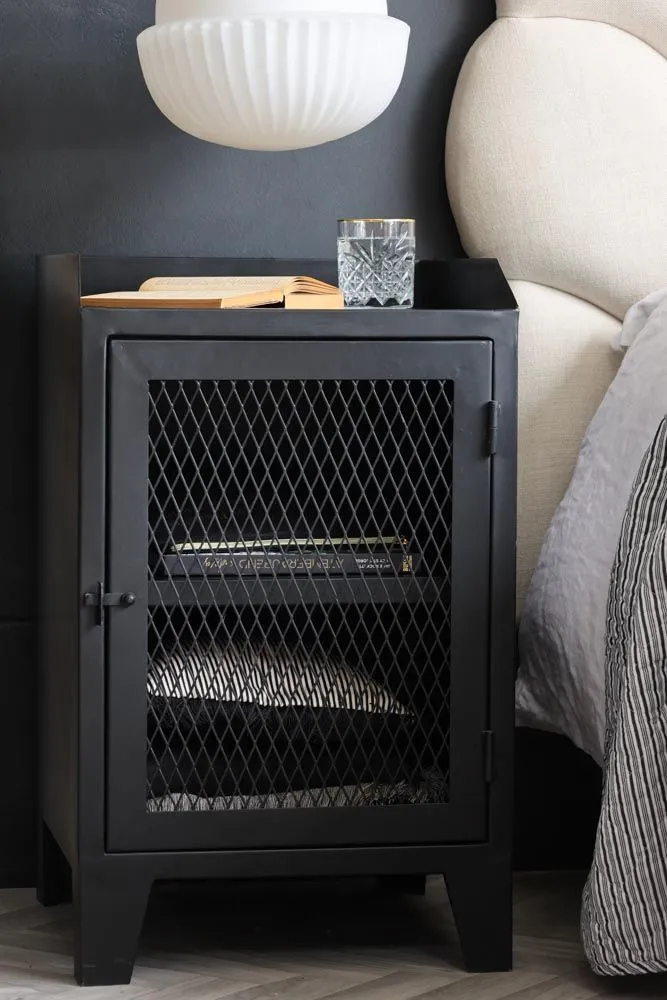 If you love industrial interior design, then this locker inspired quirky bedside cabinet would be a great addition to bedroom furniture. Try pairing it with a glass bedside lamp for maximum contrast! If you want to add a little colour into your space or contrast textures then add some big leafy plants around the room to bring your space to life.
Colourful Industrial Bedside Table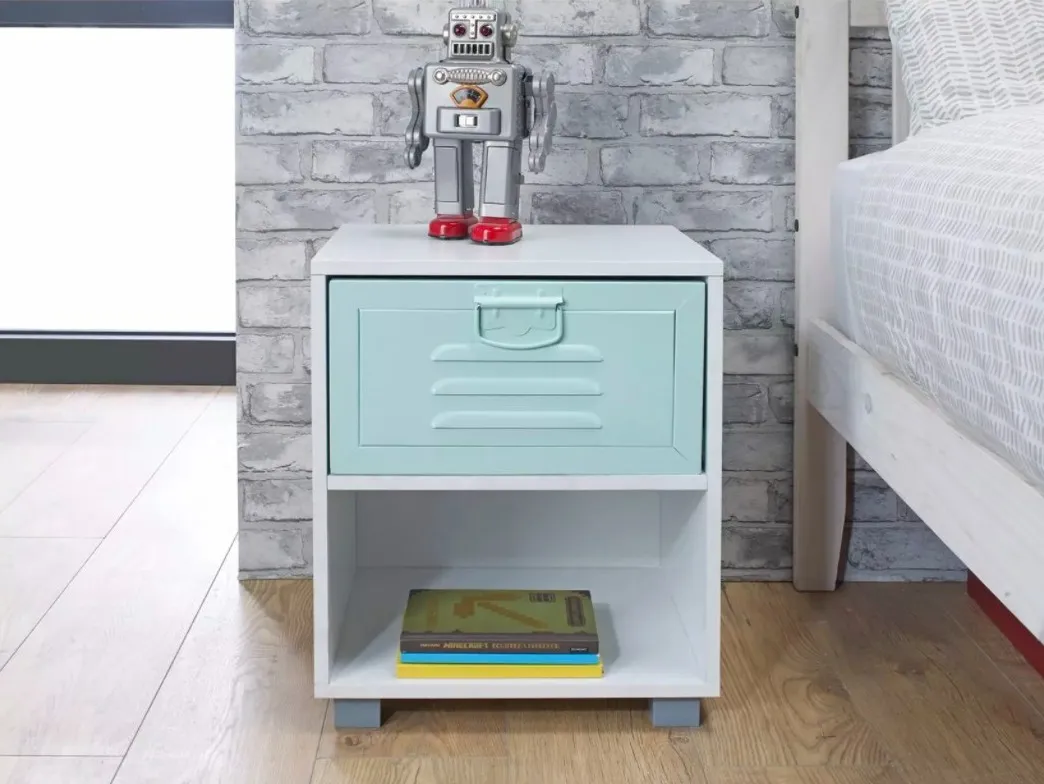 If you love the industrial decor style but you can't stand the idea of everything being monochrome, there's no need to compromise. It's completely possible to integrate colour with a more industrial style, as this quirky blue bedside table shows. This nightstand still looks like a locker, but the bright blue of the drawer softens it, which will help you to blend the two styles together throughout your space. The large drawer and big shelf underneath also help to keep it functional while still being the centre of attention In your bright and industrial room.
Quirky Rolling Bedside Table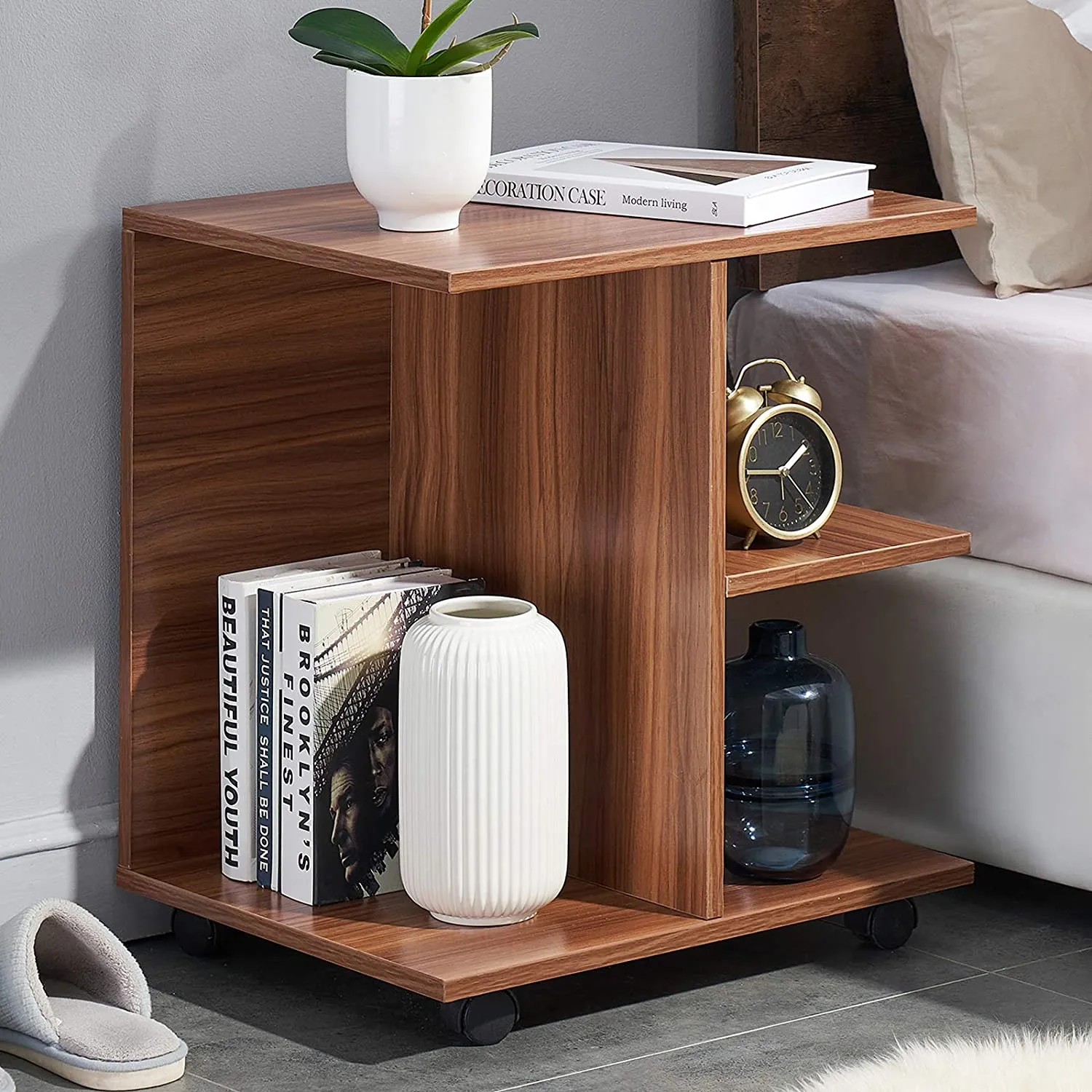 Finding a great nightstand that's the right combination of unique and functional is already a challenge. But it gets even harder when you decide you want natural colours and textures included too! Thankfully this quirky bedside table ticks all of those boxes with a modern shape and asymmetrical shelves made entirely out of a dark wood. It's the perfect colour for a mid-century modern bedroom. Choose your most aesthetically pleasing books, pots, vases or plants to add more personality to the nightstand. If you have a colour theme in mind then try to pick pieces that reflect this. If you need more storage you could add baskets on some of the shelves to keep your things together.
So Many Quirky Bedside Tables to Choose From!
Finding gorgeous and quirky bedside tables can feel like a real struggle! There are so many variations on the same boring design so you could find yourself on page 12 of Amazon before anything even ctches your eye caught your eye. Thankfully, these unique designs all help to bring more of an eclectic feel to your space and add more personality. There's something to match every style, colour palette and room size, so choose your favourite and have fun designing your unique bedroom!
Love quirky interiors? Check out our favourite quirky homeware ideas for more unique decor inspiration!