Novelty beds these days are so much more than the old 'race car' beds that you used to see as a kid when you were flipping through the Argos catalogues, and no one knows this better than Cuckooland, who have the most AMAZING range of children's novelty beds! Their designs are perfect for fuelling the young imagination, without being garish or tacky (as some children's novelty beds definitely can be) And let's face it, they add a lot more fun and excitement to a children's room than a regular bed!
Here are some of my favourites.
Note: When you buy something through a link on this site we may earn a commission.
Unique Tree House Kids Bed
The first, and my personal favourite- A Tree house bunk bed– how awesome is this? This original design features two single beds with a staircase leading to the top. It comes in a choice of 26 colours, so you can choose a hue that complements the existing decor. This bed is perfect for creating. Pinterest worthy bedroom! Add some decorations and fairy lights to create the perfect magical hideaway for your little ones.
Related posts: Storage Ideas for Children's Bedrooms
Luxury Teepee Children's Bed with Storage
This Teepee Luxury Children's bed with toy storage. These beds are made to order- aren't they beautiful? It's the perfect choice for sparking your little ones imagination. Imagine the fun games you could have hiding and playing in that!
Unique Kids Beds With Tower Playhouse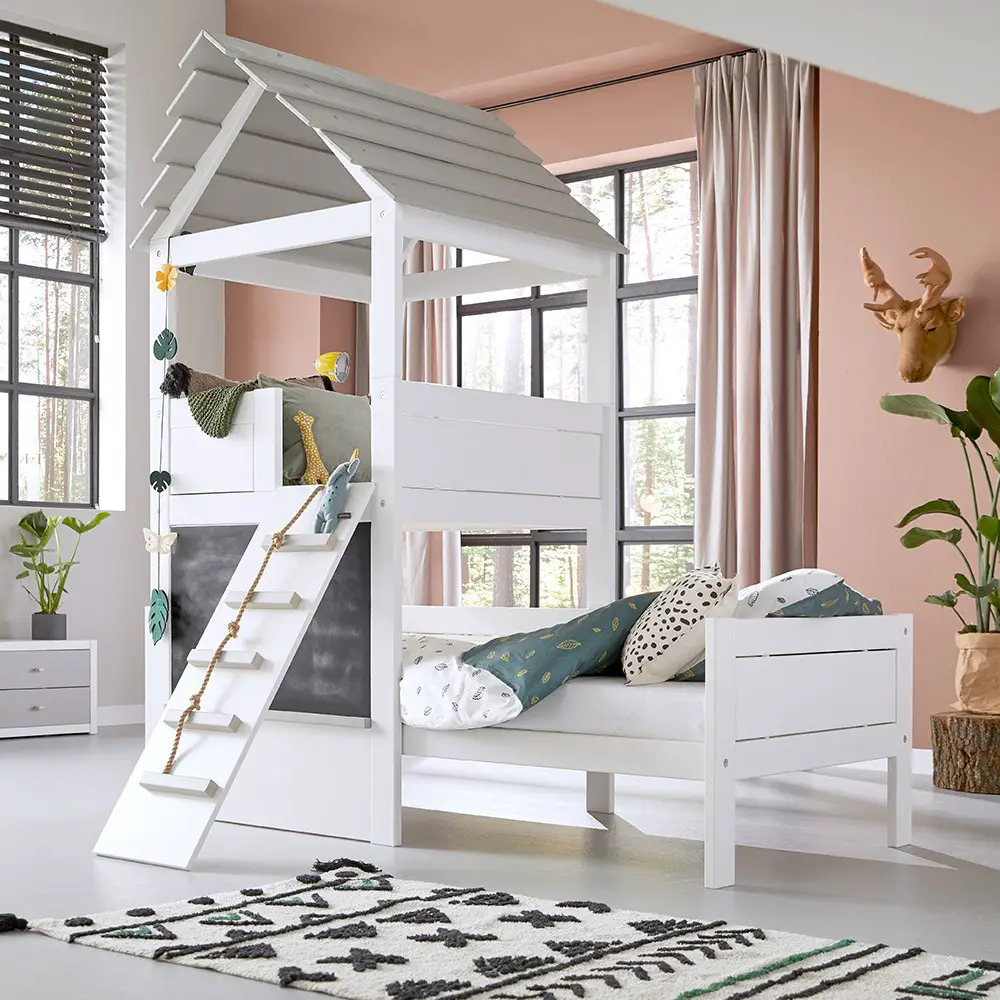 This unique kids bed features a single bed, with a play tower above. The tower play area has ladder access, and is the perfect place for little ones to hide, read, and play games. This is a great choice for smaller bedrooms where floor space is at a premium. It provides additional play space without taking up valuable floor space.
Unique Kids Teepee Cabin Bed
Kids teepee cabin bed. A simple, but really lovely creative design! This is a great choice for kids who want a fun bed, but don't want to sleep up high. It would be easy to turn this bed into a den by covering it with a blanket, to create a super cosy play space.
Unique Tent-Style Cabin Bed for Kids
This unique Children's Traditional Tent Cabin Bed is perfect for kids who love camping and outdoor adventures. It's designed in the style of a traditional tent, with a flat at the front that can be opened with two poles, or closed for privacy.
Unique Kids House Bed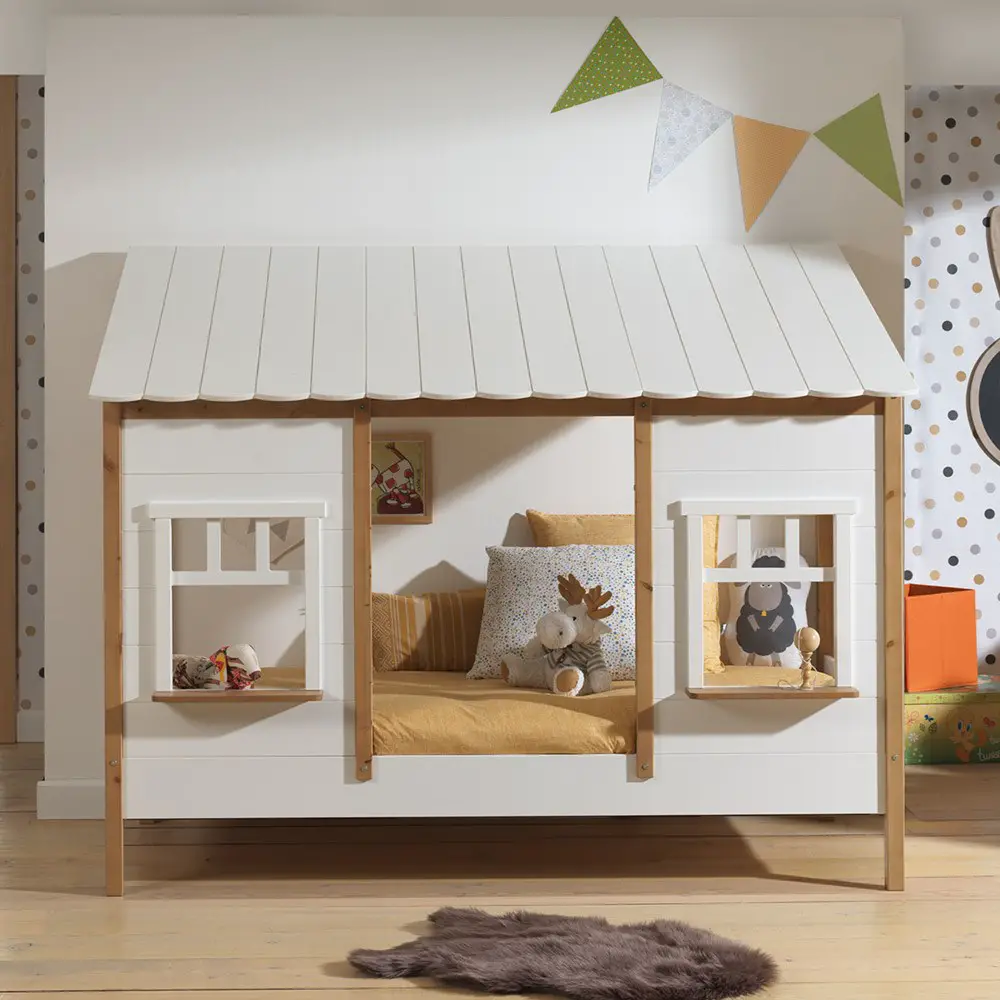 If your child loves playing house, then this traditional Country House Bed is the perfect choice. It has a wide opening at the front for easy access, and two charming little windows either side of the door. This lovely bed is perfect for sparking your little one's imaginations!
Beach House Double Bed for Kids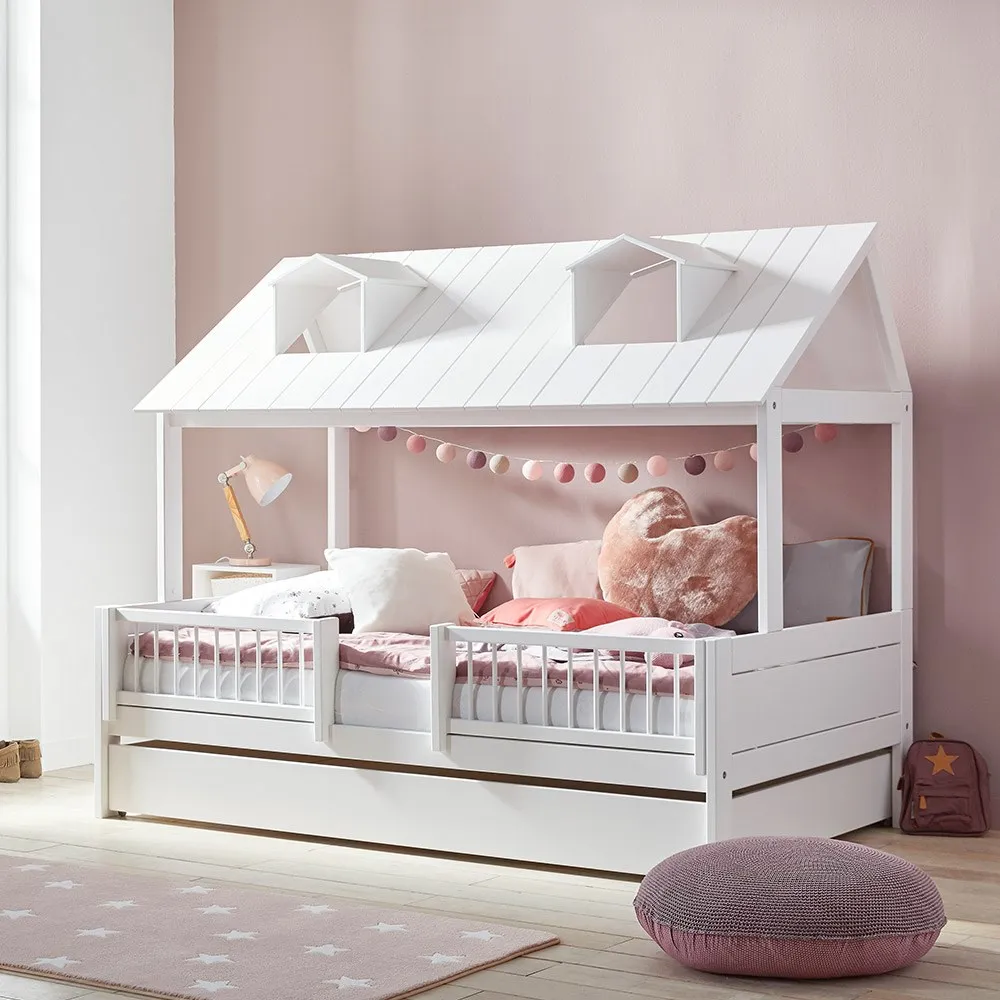 If you like to co-sleeping with your child, a double bed can make things much more comfortable. This charming California style beach house inspired double bed for kids is perfect for giving you sum extra space, without compromising on the fun factor!
It's available as a small double, or as a standard double, so you can choose the size depending on what suits you. It's a great choice for a larger nursery.
The bed itself is handcrafted in Denmark from solid pine wood. This means you can rest assured that this bed is sturdy and high quality, and will last for years to come.
Final Thoughts on Unique Kids Beds
I'm loving all the cool things you can get to decorate children's bedrooms at the moment- anyone want to let me loose on their kids room?
So what's your view on novelty beds for kids- hot or not? Which one is your favourite?
Cuckooland have a huge range of unique kids beds to choose from. Whatever your child's interests are, there's sure to be a novelty bed that they'll absolutely love. And the best part is that these beds are all made from high-quality materials, so you can be sure that they'll last for years and years.
If you enjoyed this article, you might also be interested in these cool ideas for storing kids books!