Are you thinking of updating your commercial property? Take a look at the trends that are happening in 2023.
Offices and commercial spaces have to offer a comfortable working space for employees but should also make a good first impression for visitors. Whilst commercial property lawyers can help advise with the relocation and placement of your commercial space, it's important to understand how to turn it into something special for all.
In this article, we're going to explore design trends for your commercial property, enabling you to create the perfect work environment. 
What Are Commercial Properties Used For?
A commercial property is a property used for business purposes, such as office buildings, retail spaces, warehouses, and hotels. These properties are typically owned by businesses or investors with the aim of generating income through rent or lease payments. 
This can include office space, retail units, and even workshops. They are different from residential properties and are designed to fit a specific purpose.
Why is the Design of Your Commercial Property So Important?
There are many different reasons why the design of your commercial property is important. Let's take a look.
Image and Branding
A well-designed interior helps to create a positive image and reinforces the branding of the business.
Functionality
The design of a commercial space should meet the specific needs and requirements of the business. For example, the layout of a retail store should be optimised for customer flow and product display.
Employee Satisfaction
A well-designed workspace can improve employee morale, productivity, and creativity.
Customer Experience
A well-designed interior can help create a comfortable and inviting atmosphere for customers. This can improve their overall experience and increase customer loyalty.
Return on Investment
Investing in a high-quality interior design can result in a better return on investment. This is because it can attract more customers, retain employees, and increase property value.
How Does Resimercial Design Benefit a Workspace?
The concept of "resimercial" design has gained popularity as more individuals work from home. This design style blends the comfort of a residential interior with the productivity of a commercial space. The goal is to create a comfortable and inviting atmosphere that promotes employee well-being while still maintaining a professional appearance.
Businesses can incorporate this trend by choosing furniture with softer, curved shapes, opting for lighter colour palettes, and incorporating statement lighting for both warmth and functionality.
Additionally, adding houseplants is another way to bring a touch of nature into the workplace. By embracing these elements, companies can create an environment that is both stylish and conducive to productivity.
Trends to be Aware of in 2023
Sustainability is on trend
Sustainability has become a hot topic in recent times, but that's not an excuse to ignore its significance. The focus is on using environmentally friendly materials, such as handcrafted or reused furniture and decor, to reduce their impact on the planet.
Sustainable design can be integrated into various industries, from giving a corporate office a fresh look with energy-efficient lighting, to creating a luxurious atmosphere in hotels or restaurants.
The minimalistic look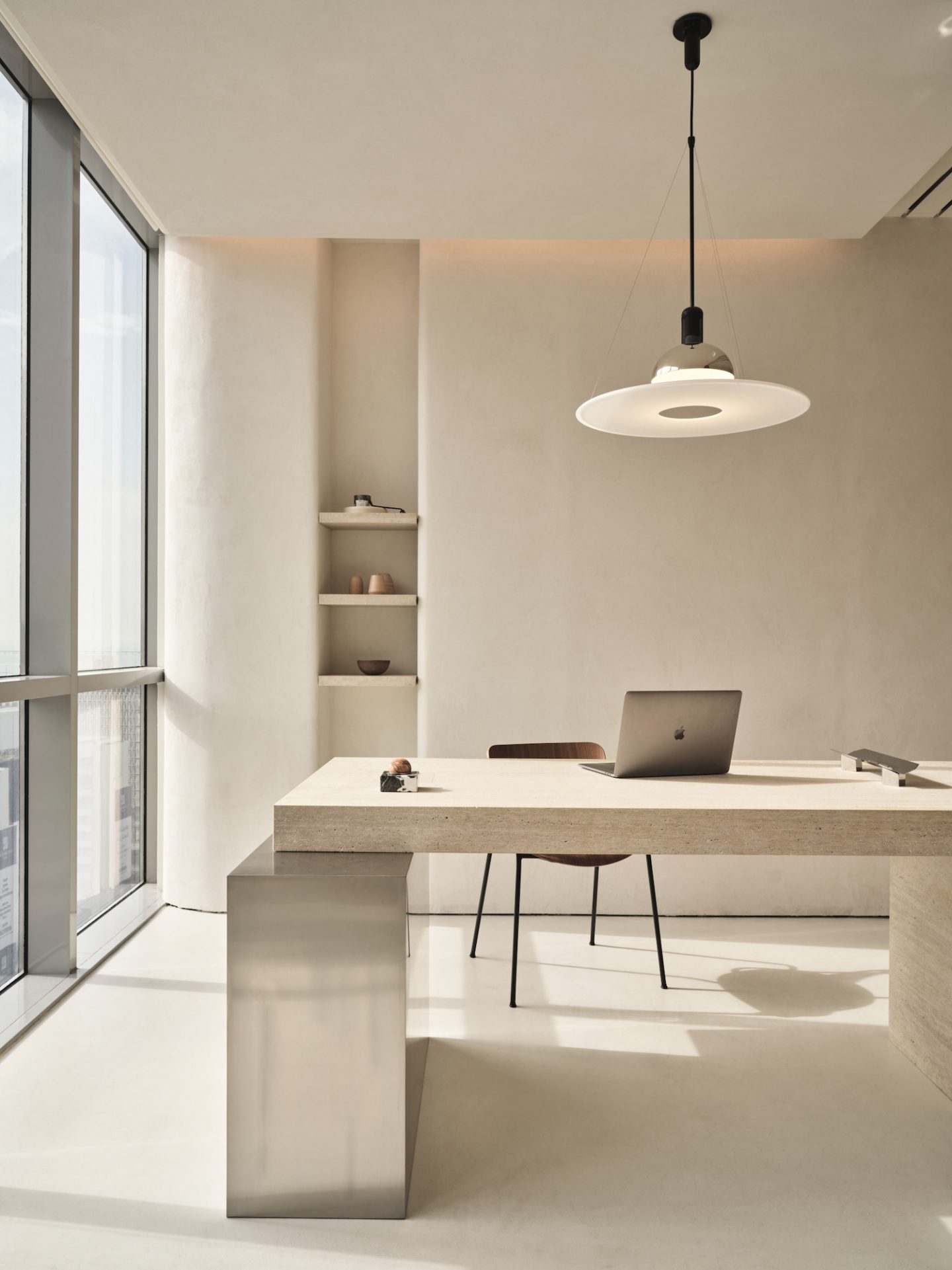 In a fast-paced world, the simplicity of interior design is becoming increasingly valuable. This can be achieved through a minimalist approach, where attention is placed on only a few key design elements to create a refined look.
Minimalism emphasises making a statement with the most important aspects that embody your establishment's style, instead of attempting to showcase every latest trend and resulting in a cluttered appearance. The minimalist aesthetic brings a timeless and luxurious character, which is what customers are seeking in retail and hospitality businesses.
Introduce curves
We're witnessing a resurgence of interest in rounded designs in interior spaces, particularly in commercial settings. These curves and soft edges provide a calming contrast to the sharp lines and angles often found in typical corporate environments. The result is a welcoming and more inviting space where people feel comfortable spending time.
Incorporating rounded designs can also create a connection to nature, adding to the timeless, sustainable aesthetic that is becoming more important in interior design. By emulating natural shapes, businesses can create a space that feels rejuvenating and grounding.
Go for colour blocking
Incorporating colour blocking into interior design is a stylish and effective way to add life to a space while maintaining a professional appearance. This approach can be used in a variety of settings, including offices, cafes, restaurants, hotels, and more. 
The right use of colour can create a calming and sophisticated atmosphere in an office, while adding bright and eye-catching pops of colour can attract customers to a coffee shop or retail outlet. By using colour blocking, a space can be transformed into a visually stunning and memorable environment.
Designing your commercial space in 2023…
The design of your commercial property is not just about the look. It can help branding, encourage productivity and boost morale. By using the trends suggested in this article, you can be sure that you'll create a vibrant workspace for employees and visitors.