If you've been looking for a more affordable alternative to a conservatory, extension, or garden room, I think I might have found the perfect solution: The Garden Dome by Hypedome.
These transparent geodesic domes not only offer extra space away from the elements, but they also look amazing! From hosting insta-worthy dinner parties to creating a home office that you'll never want to leave, Hypedomes present an innovative and stylish means of optimising your outdoor space.
Whether you're an eco-conscious homeowner seeking the perfect conservatory alternative or you're looking to create an all-weather meditation room, the geodesic dome may just be the answer you've been searching for.
Why a Hypedome is the Perfect Conservatory Alternative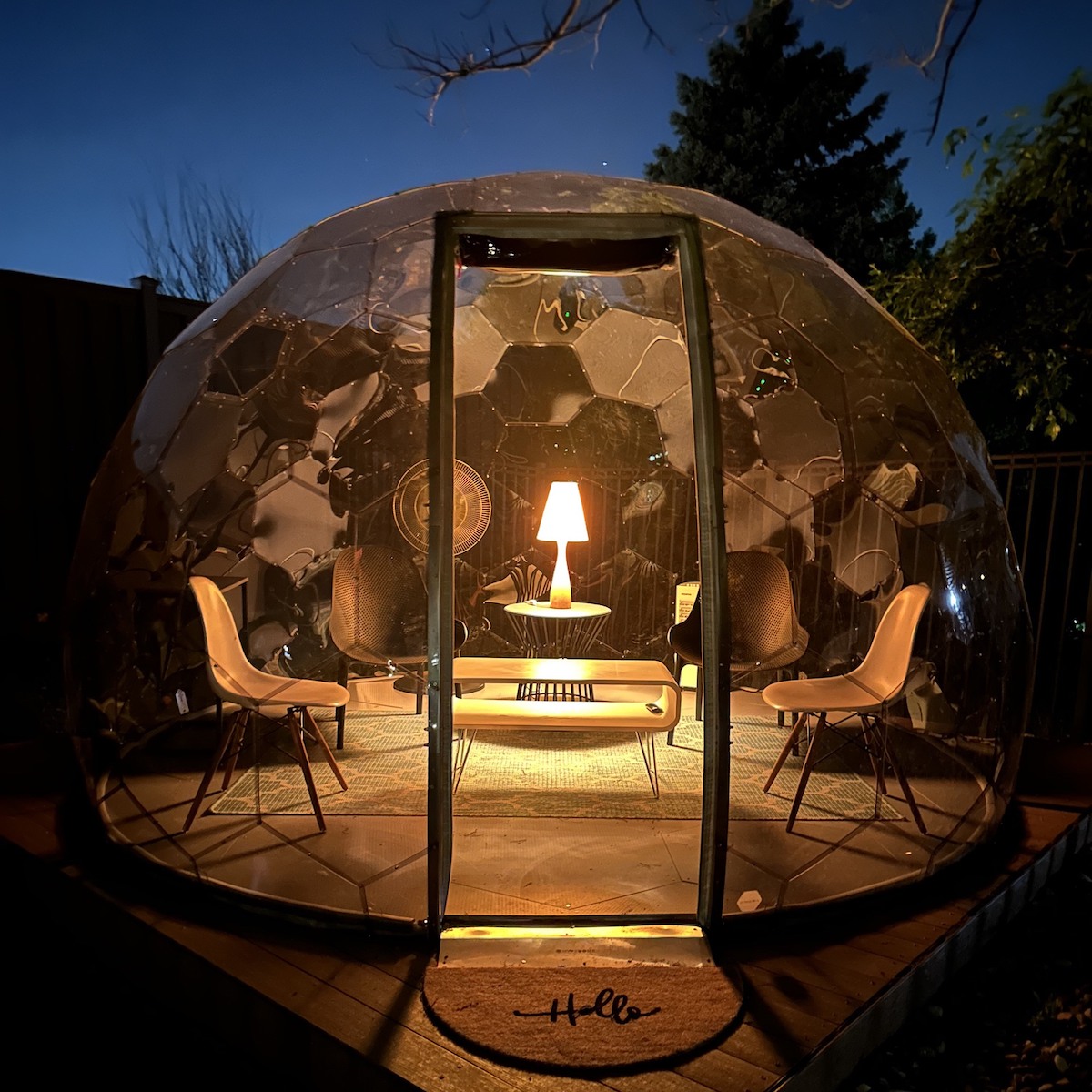 There's a good reason why so many houses in the UK have a conservatory or sunroom—the unpredictable weather means we don't get to spend as much time outdoors as we would like! Traditional conservatories give you plenty of natural light and a good view of the garden without having to suffer the wind and rain.
The problem for many is that a traditional home extension can take months or even years to be built, and cost tens of thousands of pounds. The Hypedome is a fantastic solution that enables you to use your outdoor space all year round in pretty much any weather.
Let's take a look at some of the reasons why the Hypedome is a great alternative to a conservatory.
Strength and Durability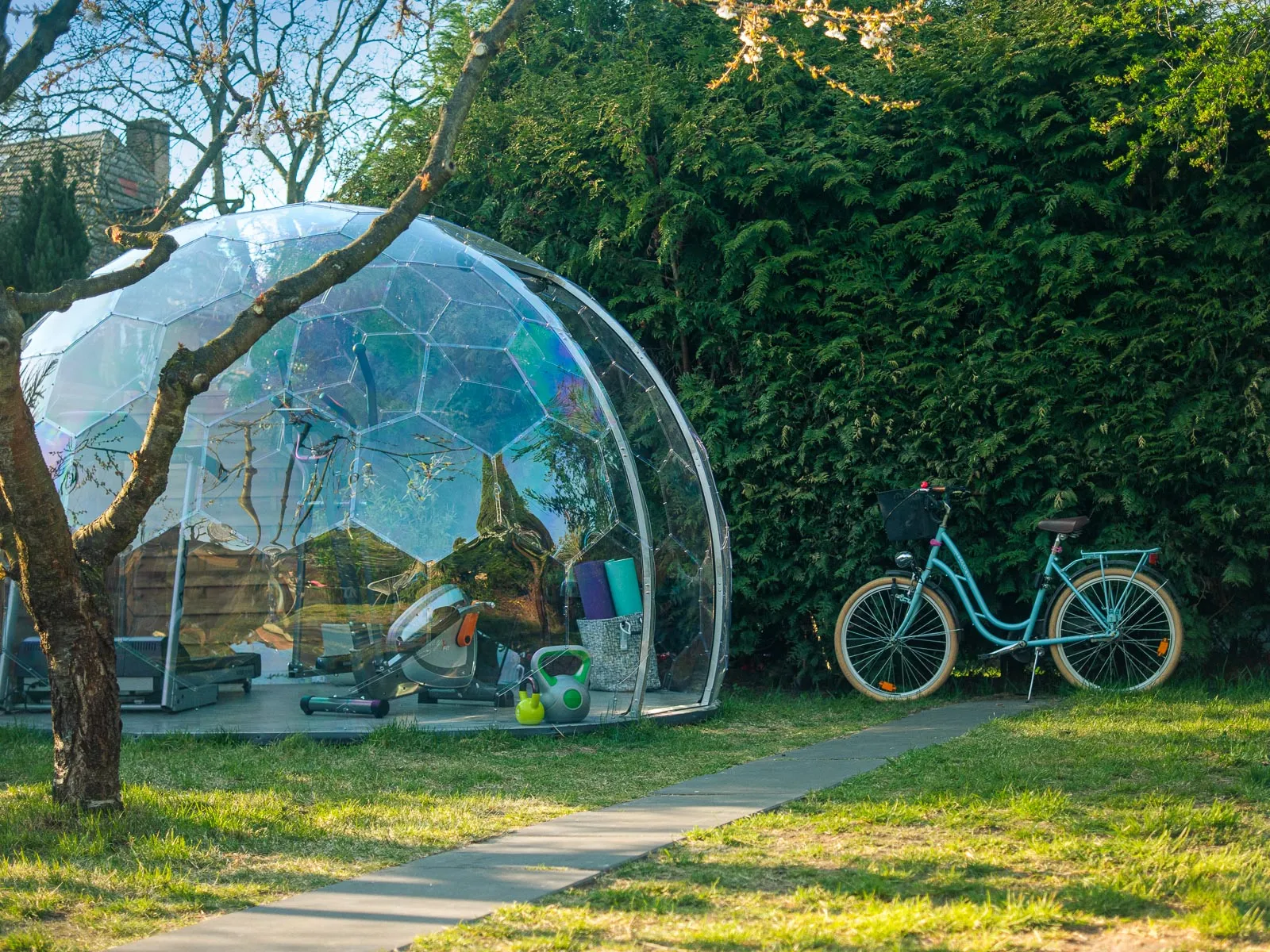 Geodesic domes are renowned for their remarkable strength and structural integrity. The interconnected hexagons distribute loads evenly, making them exceptionally resistant to wind, snow, and other environmental stresses. This durability ensures that your dome will require minimal maintenance over its lifespan, reducing long-term costs.
Energy Efficiency
Hypedome's curved design reduces heat loss and promotes natural airflow. This natural ventilation can help maintain a stable and comfortable temperature inside, reducing the need for energy-intensive heating and cooling systems. The dome's shape also allows for optimal solar gain, harnessing sunlight throughout the day, which can further lower energy consumption.
Versatility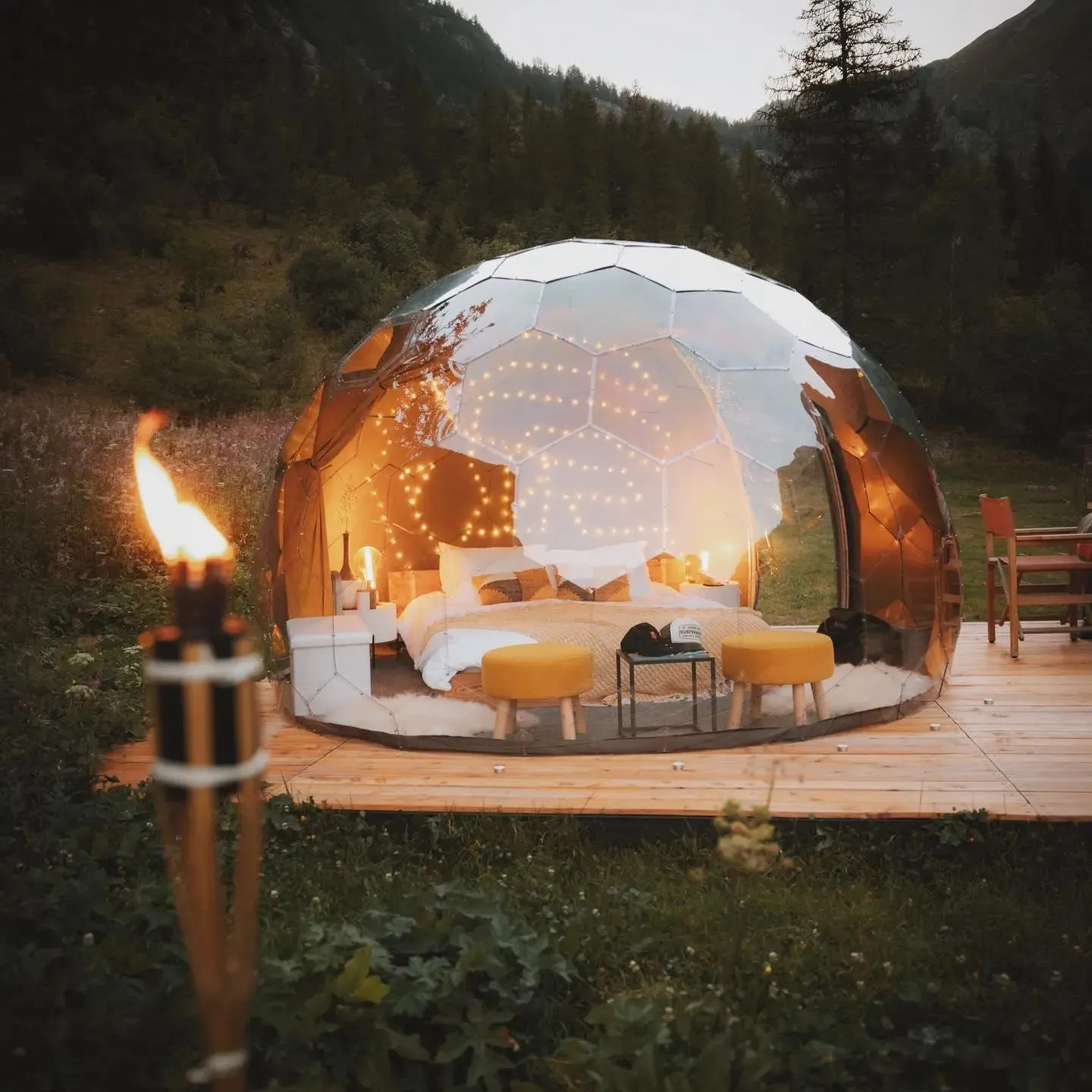 Hypedomes can be used for a wide variety of different purposes. They can serve as greenhouses, conservatories, recreational spaces, dining spaces, or even living areas. Their versatility makes them suitable for a wide range of purposes, providing a customizable and functional alternative to traditional conservatories.
Aesthetic Appeal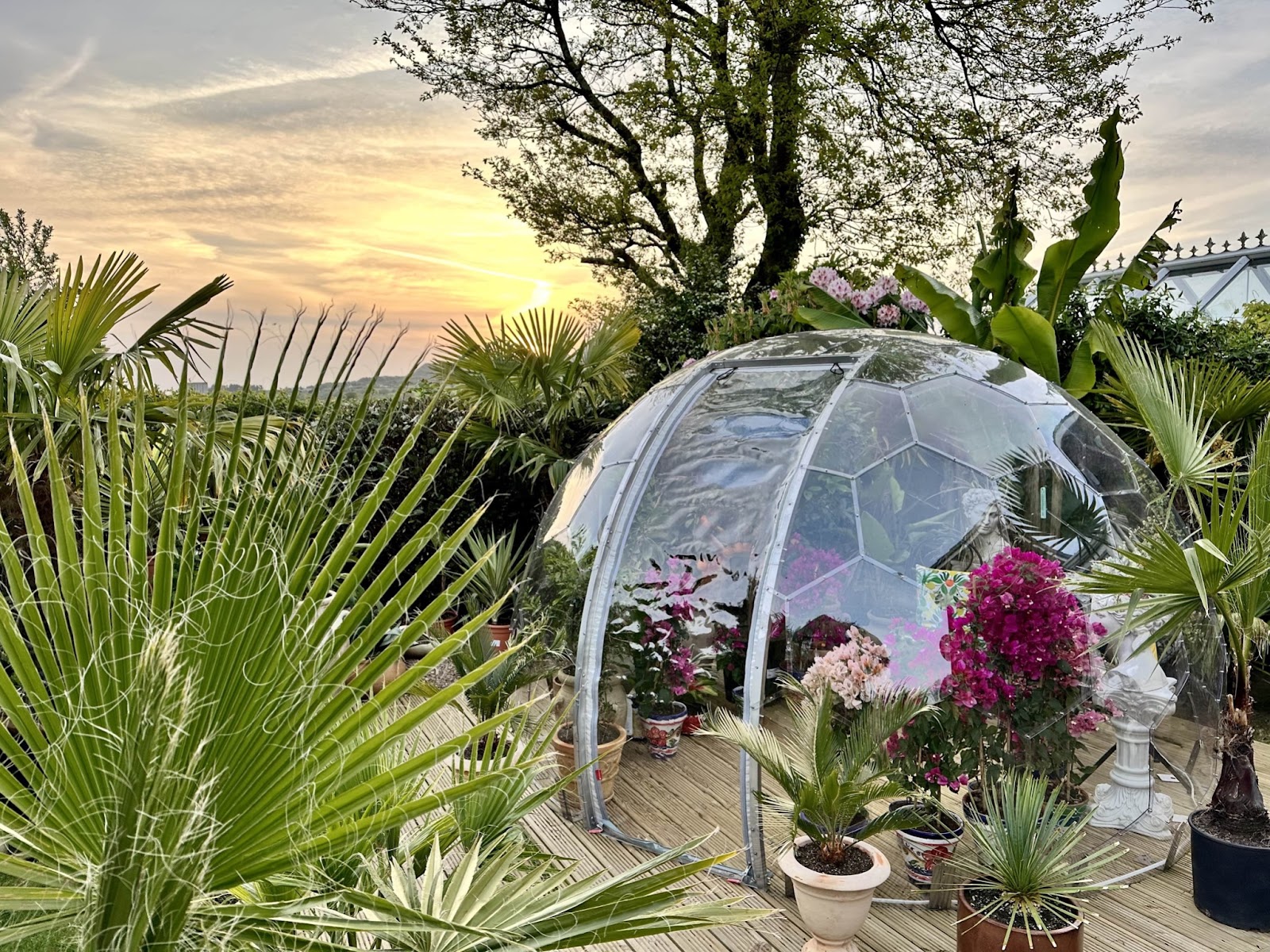 Geodesic domes have a unique and striking appearance that sets them apart from traditional conservatories. Their futuristic and elegant design can make a fantastic focal point in your garden or on your patio, adding a touch of architectural beauty to your property.
It Will Save You Money
If you plan on working from home or in a hybrid setting long-term, investing in a garden office provides great value. Traditional prefab garden offices tend to be pricey, often starting around £20,000 and going up to £50,000, not to mention the added foundation preparation costs. But with an all-inclusive garden office kit from Hypedome priced at under £6,000, installation costs are significantly reduced.
It's Quick and Easy to Set Up
Hypedome's garden domes are super easy to set up and only require two people for assembly. Hypedome S can be assembled in 5-6 hours and Hypedome M can be done in 8-10 hours. This means you can have your dome set up and ready for use in a day or two!
No Foundations are Needed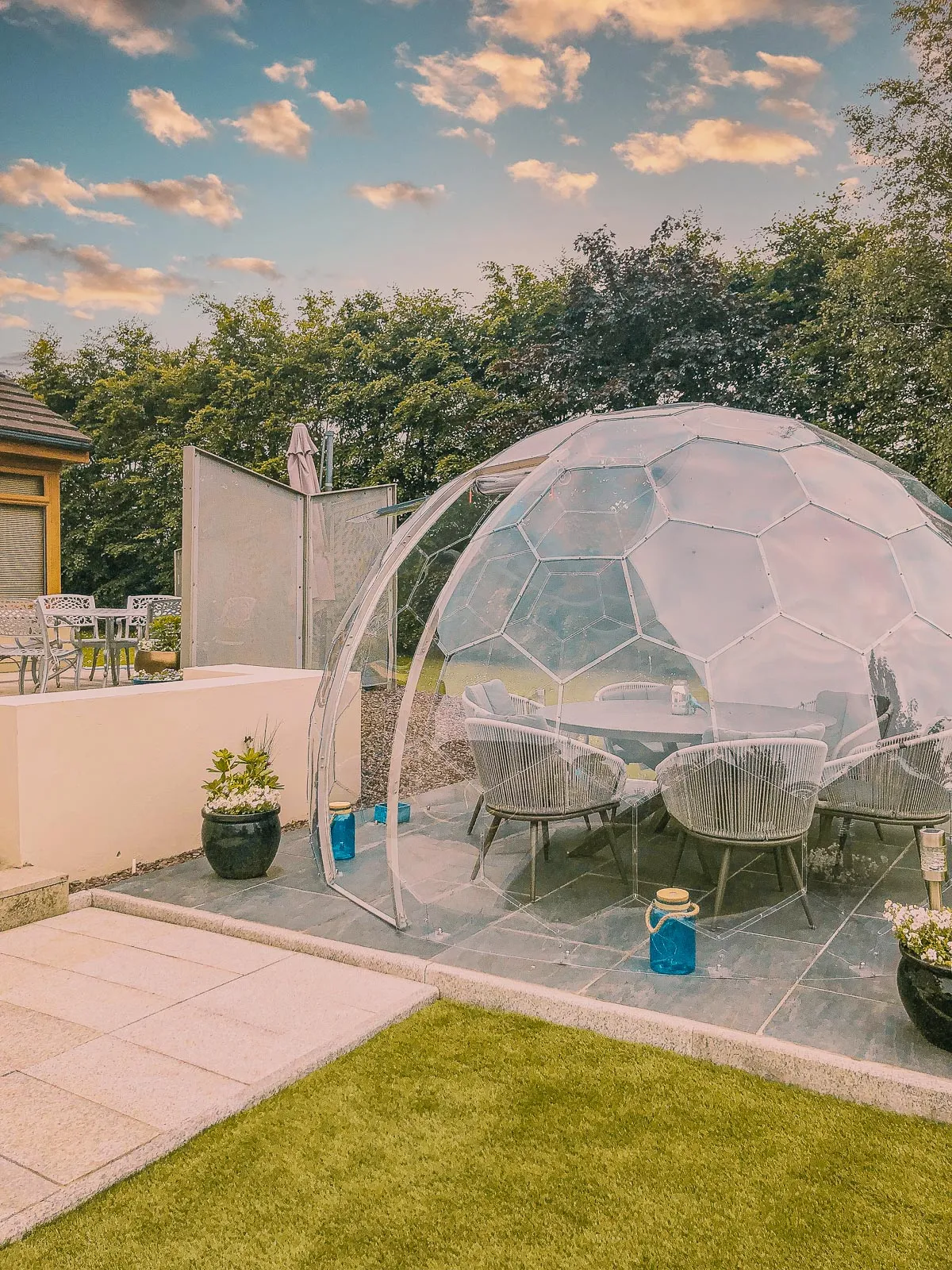 Hypedomes can be securely placed on a variety of outdoor surfaces without the need for pouring concrete or investing in specialized foundations. Whether you have wooden decking, soil, gravel, grass, or sand, the kit includes ideal anchoring options, such as screws for decking and stainless steel stakes for ground surfaces. Additional insulation can be achieved by opting for a soft floor membrane or a modular insulated base tailored to the underlying surface. 
No Planning Permission is Required
In most cases, smaller garden structures in the UK are considered outbuildings and don't require planning permission if they meet specific requirements. For instance, a single-story extension with a maximum eave height of 2.5 meters and a floor area not exceeding 15 square meters typically falls within the permitted dimensions.
This means that Hypedomes can be installed without seeking planning permission if they meet these criteria. However, it's essential to remember that there can be exceptions to these rules. It's worth consulting local authorities before proceeding with any home extension project to ensure compliance with building regulations and avoid any potential issues.
Renter Friendly
Hypedomes are an ideal choice for anyone who rents their property, as the dome can easily be dismantled and reassembled if you move to a new home.
What Can You Use a Hypedome For?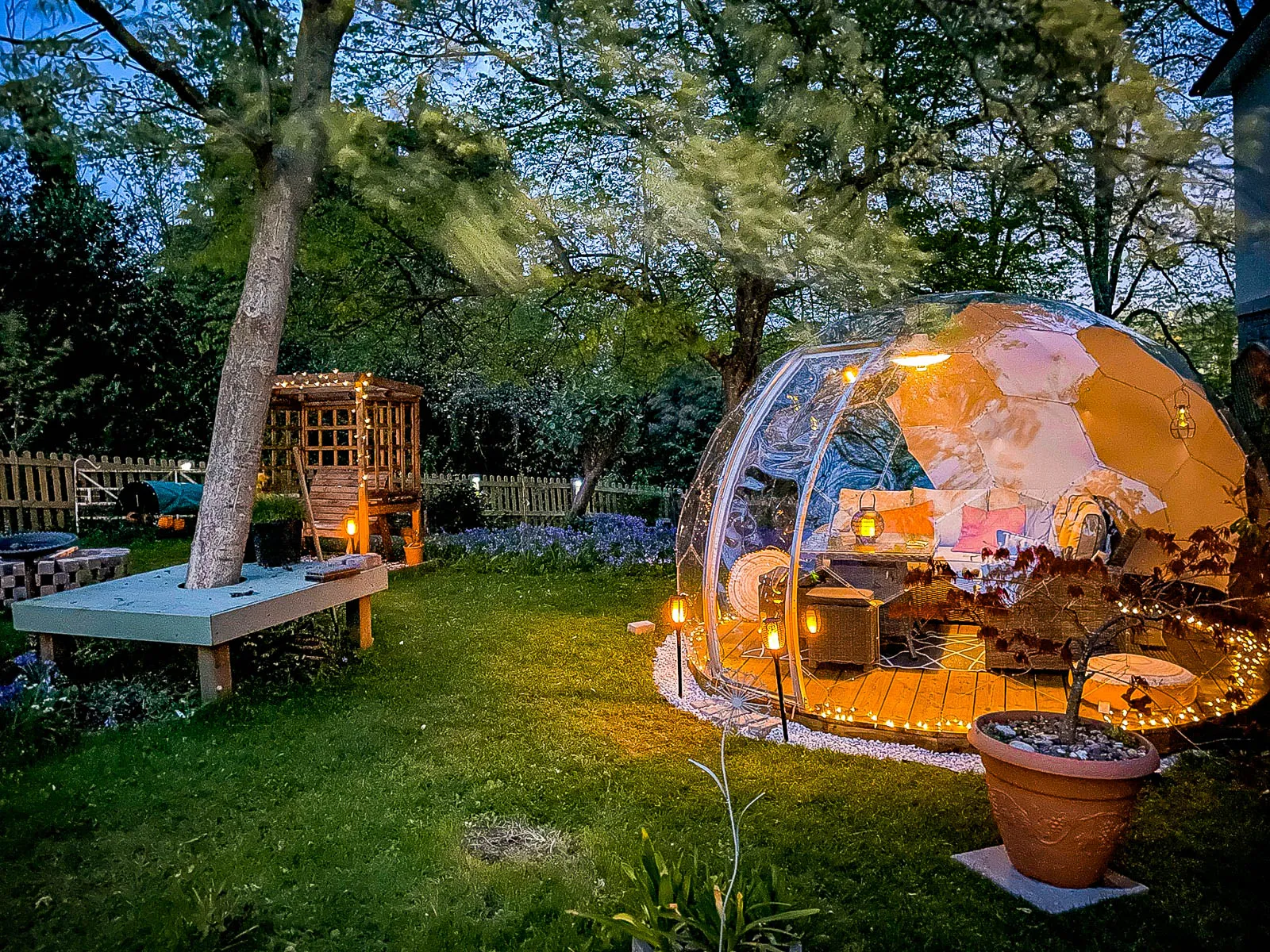 Here are just a few ideas of what you could use a Hypedome for:
Outdoor Lounge Space. A clear garden dome can function as a lounge area, providing a comfortable space to enjoy your garden, rain or shine. For furnishing ideas, consider exploring garden bubble concepts.
Fitness Area. Transform a large garden pod into a dedicated gym where you can store exercise equipment and work out in a beautiful garden setting.
Meditation Sanctuary. For those seeking tranquility, small garden pods offer a peaceful setting for practicing yoga, allowing you to connect with nature and soak up some sunshine.
Enclosed Spa Retreat. Enjoy a luxurious hot tub experience without worrying about weather conditions by creating a cosy atmosphere within an outdoor dome that protects you from the elements.
Home Office. A garden dome can provide the necessary space and privacy for you to set up an office, conduct business, and focus on the task at hand.
Man cave. Men can create their ideal man cave within a garden pod, engaging in hobbies, playing video games, or engaging in conversations with friends.
Outdoor Theater Room. Transform a large garden pod into a cinema space, complete with a big screen, surround sound, and seating to elevate your movie-watching experience.
Stargazing Hub. For astronomy enthusiasts, an outdoor garden pod offers an exceptional setting for enjoying the night sky, thanks to its clear panels and frameless structure.
Creative Studio for Aspiring Artists. Children can be inspired to create masterpieces in a garden pod art studio surrounded by nature, benefiting from ample storage space and access to natural light.
Versatile Living Space. A Hypesome can serve a dual purpose, such as a craft room and office, dining and bar area, or playroom and yoga space. The possibilities for adapting the dome for all family members are endless.
Is the Hypedome the Perfect Conservatory Alternative for You?
As you can see, Hypedomes offer an affordable (and stylish) solution to anyone looking for more usable space in their garden. They are well equipped to withstand various weather conditions, including sun, rain, wind, and even snow, making them an excellent option for anyone who wants to make the most of their garden all year round.
One of the best features of Hypedome's garden domes is that they can be dismantled and reassembled when required, making them perfect for anyone who rents their home, as well as homeowners who are planning a move in the near future.
The benefits of Hypedome are numerous, including its energy efficiency, easy installation, and versatility. So whether you are looking to create an outdoor gym, a chic home office, or a relaxing garden room, Hypedome is an excellent choice that will give you endless enjoyment at a fraction of the price of a conservatory or other home extension.