You know how your favourite bedsheets are so beautifully soft after years of wear and washing? Well, you can get that look and feel straight away by choosing washed cotton bedsheets.
This article will cover everything you need to know about washed cotton, and why it's the perfect material for bed sheets.
What is Washed Cotton?
'Washed cotton' is a cotton material that has been pre-washed (also known as garment washed) to give it a relaxed, 'lived in' look. Cotton can be garment washed in a few different ways, but the most popular ways include using enzymes, pigments, chloride, and even stones.
I reached out to Bedfolk to find out more about how they get the bedding from their 'Relaxed' range so soft:
"The process involves very large washing machines in which softeners are added to the garments to help relax the fibres and give that lovely soft feeling that would typically take many washes to achieve (in a high quality 100% natural material such as cotton or linen)."
"Garment washed bedding will typically have a lived-in look and an ultra-soft feel, which is an irresistible combination in bedding and has made Relaxed our bestselling cotton style. To get the best out of garment-washed cotton (or linen) we recommend embracing the laid-back texture and ditching the iron!" – (Jo, Bedfolk)
The Benefits of Washed Cotton Bedding
Garment washed cotton is softer than normal cotton, making it an ideal choice for bedding
Pre washing cotton washes the colour out slightly, giving the material an effortlessly stylish, vintage look
It won't shrink or lose its shape
Pre-washed cotton doesn't require ironing
Washed Cotton vs Cotton – What's the Difference?
When you buy normal unwashed cotton bed sheets, you might notice that they are slightly stiff the first time that you use them. This stiffness will naturally go on its own after a few washes, but it will take a little while longer to become perfectly soft. Normal cotton also usually requires ironing after washing, as it can develop heavy creases which look messy.
Washed cotton bed sheets on the other hand have the look and feel of well-loved bedding from the moment you put them on. The surface of the cotton is softer, and the material is more relaxed with natural wrinkles and light creases that you won't want to iron out.
Where to Buy Relaxed Cotton Bedding
Changing your bed linen to a washed cotton material is one of the easiest things you can to create a relaxing bedroom design. The good news is there are loads of gorgeous bedding sets available to buy online, so you won't even need to leave your house to go hunting for the perfect bed linen. Here are some of my favourites:
The Bedfolk Relaxed bedding in Rose is my number one choice for soft bedding. The soft colours will work with almost any decor style, giving you an effortlessly chic look.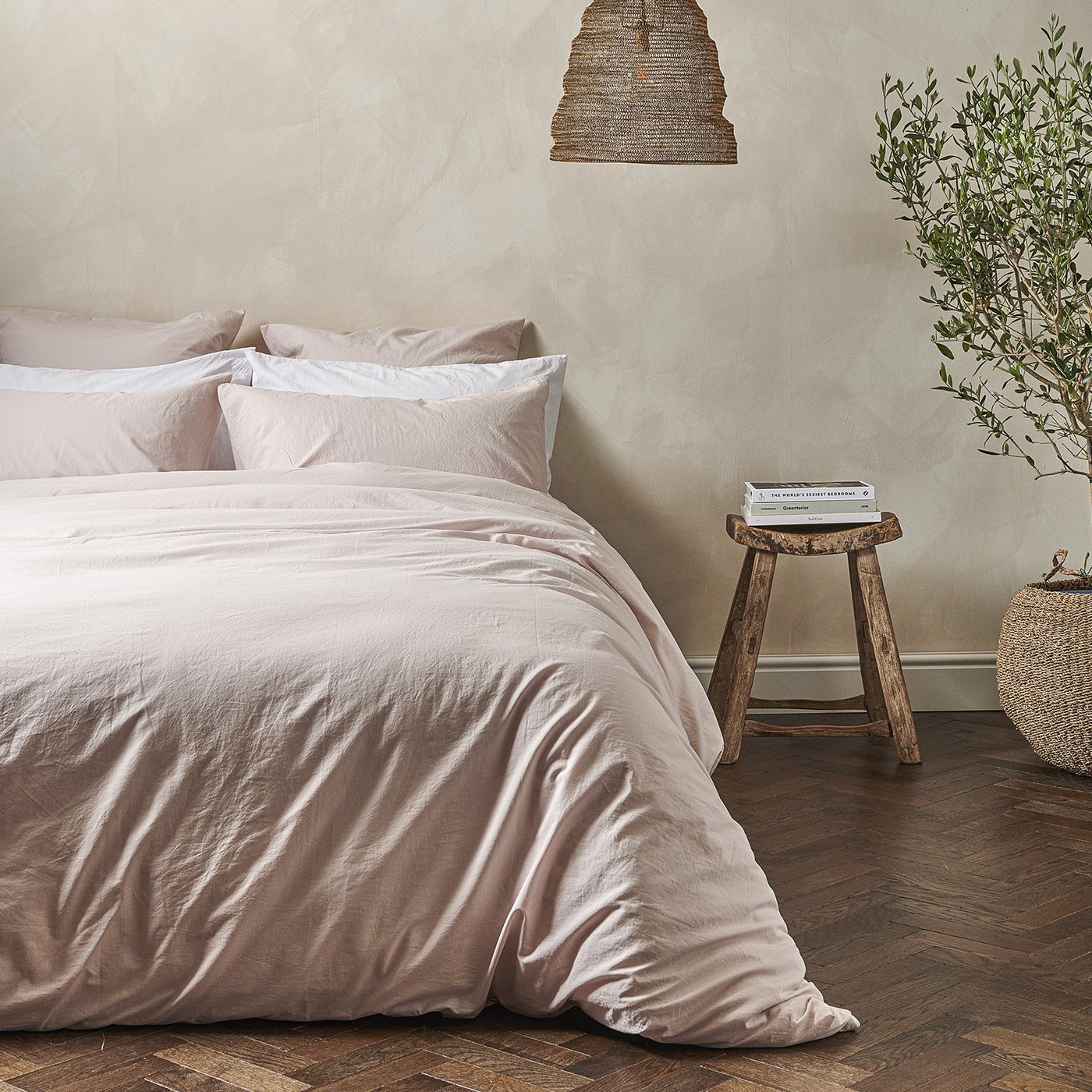 Next up is the Alexia Stonewashed bedding from Made.com. This beautifully soft bedding has been stonewashed to give it an easy going look and make it super soft. This bedding is available in a wide range of colours, so there's something for everyone in this collection.
These GETIYA premium washed cotton bedsheets are reversible, so you can change up your look any time you like. These super soft bed sheets are a great choice for anyone one a budget. 
La Redoute also has a great selection of washed cotton and linen bedsheets. Definitely worth checking out! Click here to see the sheets in the image below.