It's finally Autumn, which means it's officially dinner party season! I love throwing dinner parties, it's such a great opportunity to socialise with friends in a stress free environment, and generally much cheaper than eating out too! Today I thought I would share with you some of my favourite tips for hosting the perfect Dinner Party!
Put Together the Perfect Guest List and Seating Plan
Think carefully about who you are going to invite, you will want to invite guests who if they don't already know each other, will find each other interesting. Think about how many guests you can comfortably seat in your home to ensure you have enough space, and make sure you stick to this number! Ask your guests to RSVP to your dinner party invitation with any dietary requirements or allergies, this way you will have time to plan your menu well in advance and avoid any last minute stress. Having a seating plan can be a great idea if you have guests who don't already know each other, as it can take away any anxiety they might have about where to sit, and you can place people together who you think will click well.
Create an Atmosphere with Music and Lighting
It's always good to have some background music playing softly, as it helps people to relax (particularly early on in the evening before every one has arrived) You can download dinner party favourites playlists on spotify, or even buy CD's of dinner party music on Amazon.
It's always better to go for soft lighting in the evenings, so if you have a dimmer switch then dim your lights, alternatively you could bring in some lamps or fairy lights to create softer lighting if you are unable to dim your lights. Use candles on the tables, they make the space feel cosy and add warmth to the atmosphere with their soft flicker and glow.
Dress the Table Beautifully
Having a beautifully dressed table can really wow your guests! Always use matching plates and bowls, and make sure all your cutlery matches too. Choose either flowers or seasonal foliage to create a beautiful centrepiece! I always prefer table runners to table cloths- creating a long centrepiece along the runner can look amazing.
Use cloth napkins- nothing will ruin the vibe like cheap paper napkins! Most department stores have beautiful cloth napkins, and they can last years so it's definitely something worth investing in in my opinion!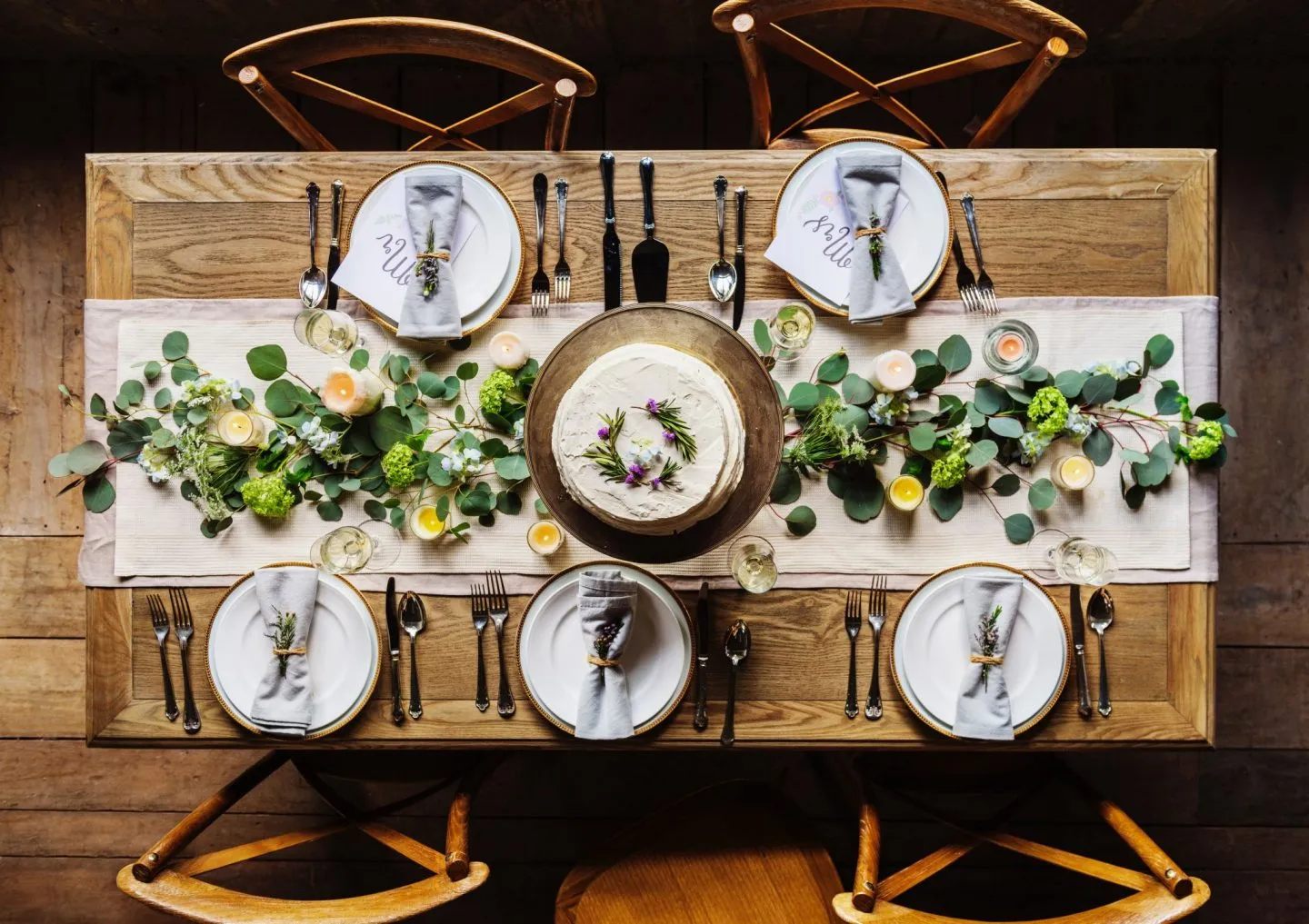 Choose a Simple Dinner Menu
Choose a simple menu if you are doing the cooking yourself, otherwise you will be stressed and won't have any time to socialise with your guests! I would recommend choosing dishes that can be prepared earlier in the day, and then either be served cold (starters), or heated up on the evening. Something like soup or a salad is great for a starter, as you can heat soup up again on the hob just before you need to serve it. For main courses dishes like a Lasagne or shepherds pie for example can be prepared during the day and just put in the oven before your guests have arrived. Desserts can also be prepared in advance and put in the fridge.
Choose a Great Drinks Menu
Whether you are drinking alcohol or not, it's important to have a great drinks menu available for your guests. It's a lovely touch to have a drink ready for your guests arrival, so maybe start with a delicious cocktail to break the ice and show off your skills!
Shop around for some good wine and sparkling wine, and maybe have a few spirits such as whisky, vodka and gin on offer, as well as mixers and soft drinks. Always make sure you have the correct glassware for the drinks you are serving. Soho Home have a beautiful selection of crystal glassware- perfect for dinner parties. Make sure you have plenty of ice and garnishes available as well- there are few things worse than a warm gin and tonic…
Remember to Relax and Enjoy!
Being the host, you can sometimes feel a little under pressure, but if you have prepared most things in advance then you should have plenty of time to socialise and relax with your guests too! Depending on the crowd, it can be a fun to have a couple of after dinner games available to play while you have coffee and mints, a few fun ideas are 'Heads Up' (available on the app store) or as a game on Amazon, the classic 'Who Am I?' (you just need some post its) or even a good old fashioned board game like trivial pursuit!