Duck egg blue is a timeless colour that can work well in almost any area of the home. This soft, serene colour is perfect for creating a calming atmosphere, so whether you're looking to update your bedroom, living room, or kitchen, duck egg blue is a great choice! In this article, I'm sharing some of the best duck egg blue paint colours around. I'll be sharing some images to inspire you, and a colour palette that you can use in your own home.
What Colour is Duck Egg Blue?
Duck egg blue is a pale blue-green colour. It gets its name from the colour of an actual duck egg, which can vary from white to the most beautiful light blue and green colours. Duck egg blue is a popular colour for bedrooms in particular, as it has a calming effect that can simultaneously create an inviting space.
The shade of duck egg blue paint can vary depending on the lighting. However, it typically has more green in it than other shades of blue. Duck egg blue is a versatile colour that can be used in many different ways, from interior walls to front doors. Whether you want to create a soothing atmosphere or add a pop of colour, duck egg blue is a wonderful option.
Duck egg blue will work well with both modern and more traditional interior design styles. 
1 – Dunelm Duck Egg Blue Paint
If you're looking for a high-quality duck egg blue paint option that is budget-friendly then Dunelm has the perfect choice for you. They have a couple of options within the Duck Egg Blue family. This is great news because it means that whatever you're looking for there will be a shade to suit you.
Their traditional Duck Egg Blue paint comes in both water-based and a 'paint for everywhere' option. This is suitable even if you want to paint things like radiators and other metal surfaces in a room. They also have a Sage Eggshell option but with much stronger undertones of green within the shade.
2 –  COAT Duck Egg Blue
As we have come to expect from COAT, they offer high-quality paint that definitely ticks the boxes for someone looking for Duck Egg Blue paint shades for their home.
This duck egg blue paint is ultra-durable. This makes it an ideal choice for rooms where there could potentially be heavy dirt – kitchens and bathrooms for example. The shade itself is a relaxed Duck Egg Blue with definite grey undertones. This makes it a great choice for a room where you wanted a slightly darker shade on the walls.
It's available in flat matte, which has a 2% sheen, or soft sheen which has a subtle shine to it (35% sheen). The flat Matte option is perfect for bedrooms and living rooms, while the soft sheen is best for kitchens and bathrooms. It's also available in eggshell, and exterior paint.
3 – Farrow and Ball Dix Blue
 

 

View this post on Instagram

 
Dix Blue is a popular Farrow and Ball shade that takes its name from one of their first-ever East Anglia stockists. As you might expect from Farrow and Ball they have different shades that would be considered Duck Egg Blue, of which Dix Blue is one.
It is often described as quite a relaxed colour, given by the black pigment that gives it a vintage feel. Despite being called Dix Blue, the shade has a large amount of green which helps the colour to feel warm and welcoming. This makes it suitable for just about any room in the house.
4 – Farrow and Ball Green Blue
 

 

View this post on Instagram

 
One of the most noticeable things about Farrow and Ball Green Blue is that the colour changes dramatically depending on the light. In fact, there are many people that will debate it is one colour whilst others insist it is another. Essentially though, it's the perfect blend of green and blue.
This makes it the ideal colour for those that want a deeper Duck Egg Blue within their home but aren't sure whether they want a shade with more green or bluer undertones. This shade of light blue and soft green brings a fresh feel to a room, without losing the warmth you would expect from a green shade.
5 – Little Greene Celestial Blue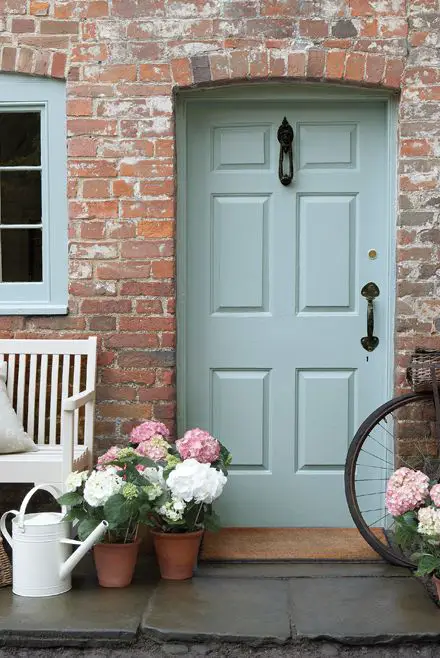 If you're looking for a colour with a traditional history then Celestial Blue is a great choice. Little Greene chose the name for the shade from a colour card they found from the early 1800s – so it's a shade that has been used for a large number of years.
Their Duck Egg Blue offering definitely has strong blue undertones so if you're looking for a shade that leans towards blue then this is a great choice. That said when the light hits it in a certain way it can have a slightly green or grey look; so suitable for lots of rooms throughout the house.
6 – Laura Ashley Duck Egg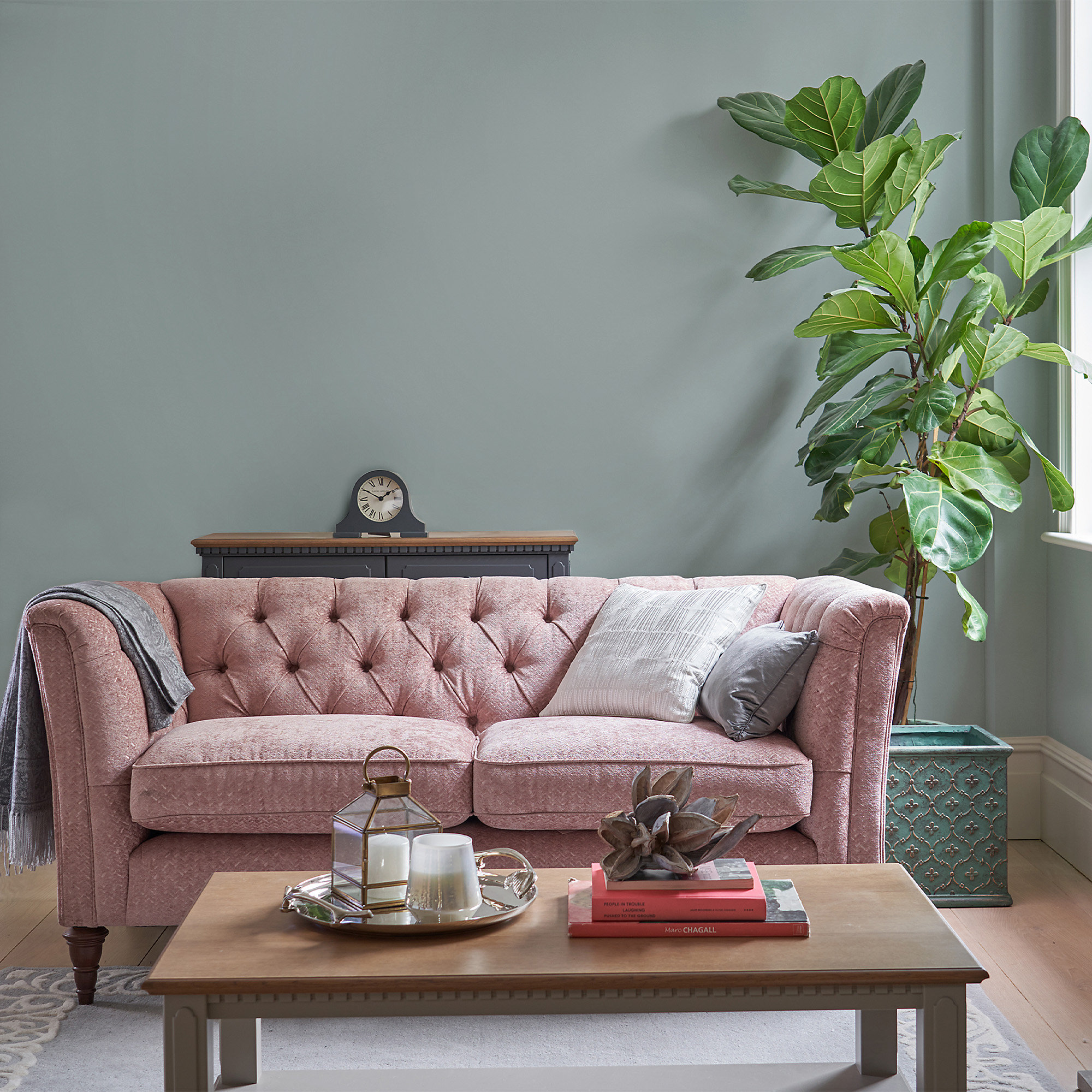 Laura Ashley's Duck Egg Blue paint is a beautiful blend of green and blue. Much like the other shades on offer, it can vary depending on the light in the room, the time of day and how the sunlight hits the walls.
7- Dulux Duck Egg Blue Equivalent: Mint Macaroon
Dulux are well known for offering a wide variety of colour choices and their range of Duck Egg Blue and similar colours is no exception. Of their popular choices is Mint Macaroon – named after the tasty, afternoon tea treat.
 

 

View this post on Instagram

 
The shade itself leans towards a teal shade, slightly brighter than some of the Duck Egg Blue shades on offer. Don't be put off by this though, it's perfect for bringing smaller rooms to life. If you're looking for a light mint green-inspired shade of Duck Egg Blue then Mint Macaroon is a great choice.
Dulux also offers a more 'Official' duck egg blue, called 'Duckegg'. This is available from Dulux Trade.
Is Duck Egg Blue Paint Blue or Green?
Duck egg blue is generally a muted blend of blue and green. However, just like with real eggs, there are lots of different shades of blue-green that could be considered duck egg blue! The question surrounding where Duck Egg Blue falls on the colour chart is a long ongoing one, and not one likely to go away any time soon.
The dictionary definition is "a pale greenish-blue colour"; which does nothing to help the ongoing discussions surrounding which colour it actually is. On a colour wheel, it appears perfectly on the line between green and blue; so it is probably time to accept that it is officially a combination of the two colours.
The room that the paint is placed in and the decor it is surrounded by can affect the shades within the colour too. For example, a room with lots of light might bring out the bluer tones within the paint, whereas darker furniture gives the paint a greener undertone.
What Colour Goes With Duck Egg Blue?
Duck egg blue is a versatile colour that can work with a variety of different colour schemes. Some of the best colours to pair with duck egg blue include:
Black
White
Beige/Neutrals
Coral
Pink
Green
One of the greatest things about choosing to paint your walls Duck Egg Blue is that there is no shortage of colours that you can match with the paint. As you might imagine both blue and green complement the colour perfectly. If you have a room that you want to have these colours in then you're all set. However, don't assume that Duck Egg Blue on the walls means that you need to stick to blue and/or green elsewhere because that is not the case at all.
If you're looking to create a room that feels light and fresh then white is a great choice of colour for items throughout the rest of the room. White is a shade that feels clean and vibrant, which really does pop when teamed up with Duck Egg Blue. Many people like to create coastal-feeling rooms with beachy artwork and white furniture. Duck Egg Blue on the walls will work with this style beautifully.
It's also a shade that works well in rooms that are designed to have a natural feel. This could includfe beige colours, natural wood neutral taupes work well in a room where this is the final look that you're going for. 
Does Dulux Do Duck Egg Blue?
Dulux offers their own duck egg blue paint colour called 'Duckegg'. You might also be interested to know that Dulux offers a colour matching service at most of their decorator's centres. This means if you have fount another shade of Duck egg blue, they can match it for you, giving you the perfect hue for your project.
Duck Egg Blue Colour Combinations
One thing you'll notice if you're shopping around for Duck Egg Blue shades is that there are plenty of shades on offer. Of course, as you would imagine they all have variations of blue and green, but that doesn't mean they all look the same. There are plenty of shades that have more green than blue and even some that take on a darker grey look. This is thanks to the undertones within the paint shade of choice.
I have put together a palette of my favourite duck egg blue colour combination using Farrow and Ball colours. I also included hex codes in case you want to try and match the colours with another paint brand.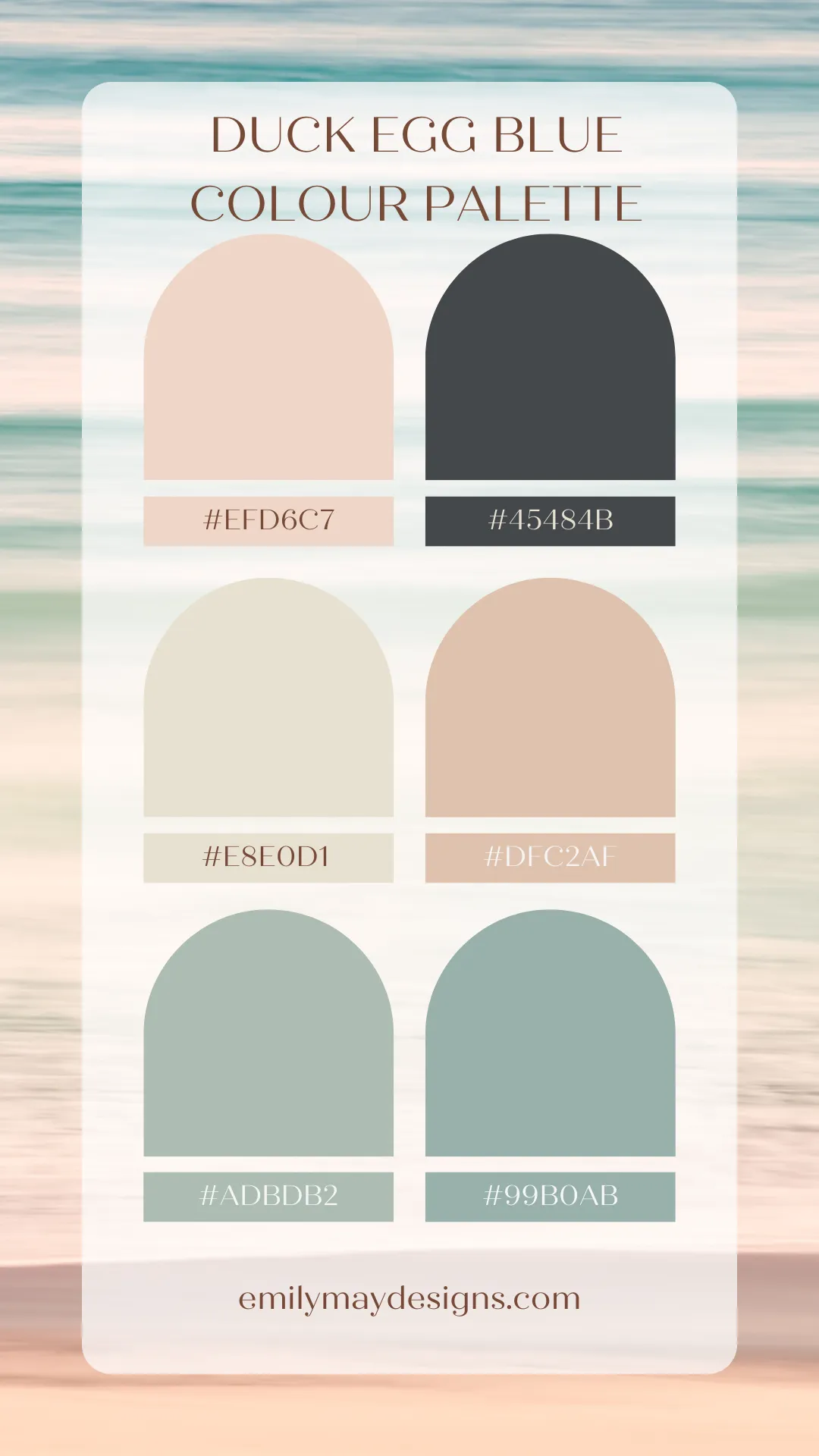 Top Left: Pink Ground
Top Right: Railings
Middle Left: Slipper Satin
Middle Right: Setting Plaster
Bottom Left: Green Blue
Bottom Right: Dix Blue
I included Farrow and Ball's Railings to add some contrast. You don't need to use black on the walls, but you might want to bring in touches of darker colour in your art or accessories. Railings and Green-Blue look amazing together!
With a variety of Duck Egg Blue colour combinations on offer, the truck is to shop around and make sure you choose the perfect shade for you. The differences between the colours may be subtle. However, they will make all the difference to your finished room. Consider what furniture will be going in the room, what artwork you'll be hanging and even what style the room will be finished in. This will help you choose between the different options of Duck Egg Blue colour combinations out there.
Final Thoughts
The truth is that when it comes to decorating your house, there aren't any steadfast rules. However, there are some sensible choices you can make with colours that work better in one room than others. Duck Egg Blue is most certainly one of those timeless shades that can work just about anywhere.