Christmas is a time for family, friends, and of course, food! If you're hosting this year, make sure your table is as festive as can be with one of these elegant Christmas table decor ideas.
1. Eclectic Christmas Tablescape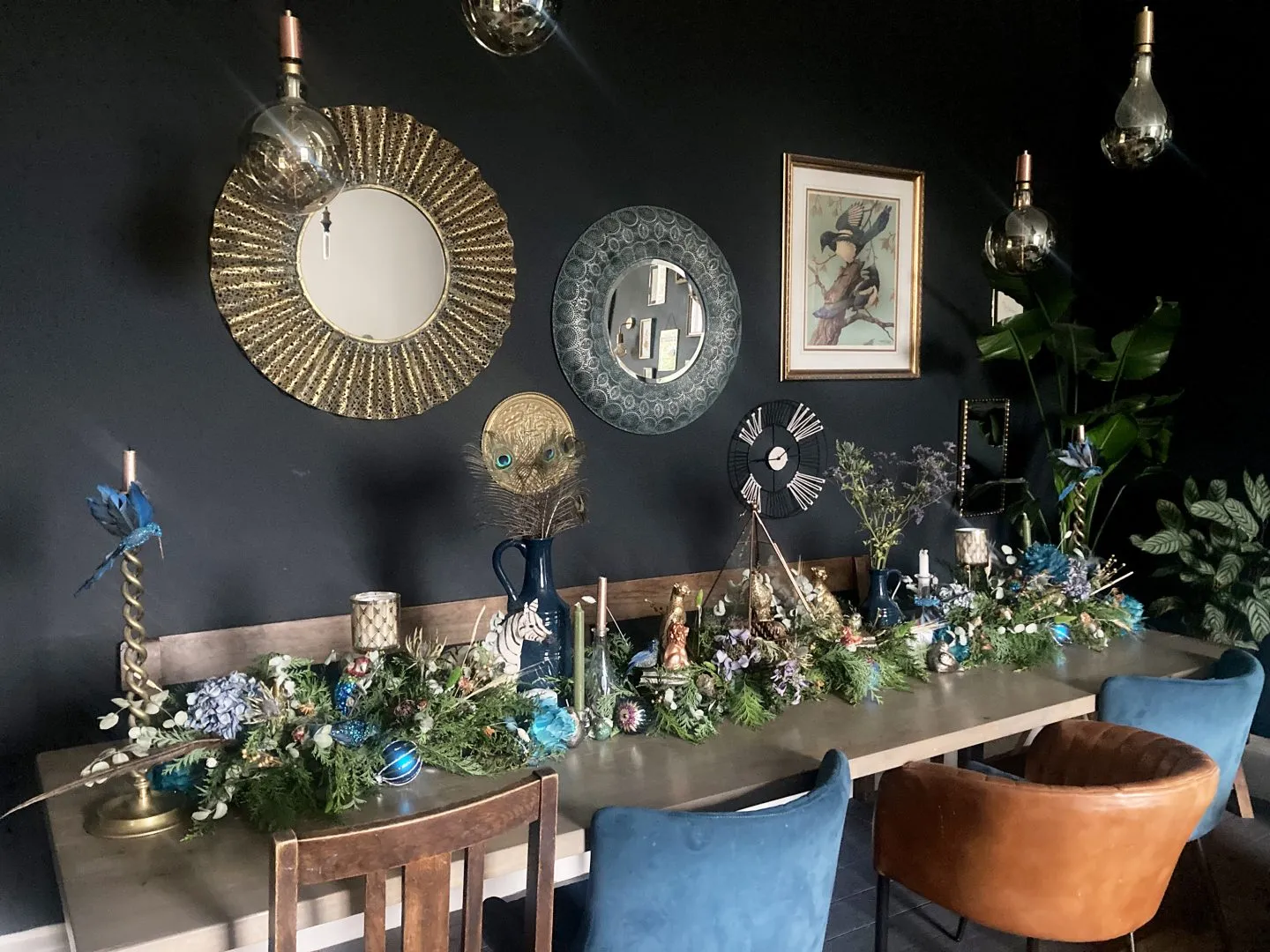 Give your guests a glamorous welcome with this incredible tablescape that is just packed full of whimsy and wonder! This look is achieved by using plenty of greenery along the table, with plenty of glittery baubles, candles, and animal ornaments carefully placed throughout.
This tablescape works beautifully against the backdrop of the black walls, while the hanging Edison pendants help to anchor the space and add a touch of industrial glamour.
To avoid going overboard, stick to a white or neutral-coloured tablecloth and dinnerware.
2. Woodland Inspired Christmas Table Decor
This woodland-inspired Christmas table decor is one of my favourite ideas. Not only is it surprisingly easy to recreate for yourself, but it's stunning and is guaranteed to wow your guests.
To recreate this look, simply gather some moss, fern leaves, and other pretty foliage from your garden or local woodland, and lay them along the centre of your table. Add a couple of glass vases filled with flower stems along with some tall candlesticks for height, and finish off with some green side plates and napkins to complete the look.
3. Pretty in Pink
Blush pink, dusty blue, and gold are the perfect combination in this gorgeous Christmas tablescape. This simple but effective look is easy to recreate for yourself using tall candlesticks, pink glass votives, bottle brush Christmas trees, and brown craft Christmas crackers with gold accents.
4. Add A Touch of Nature for an Eco-Friendly Christmas Table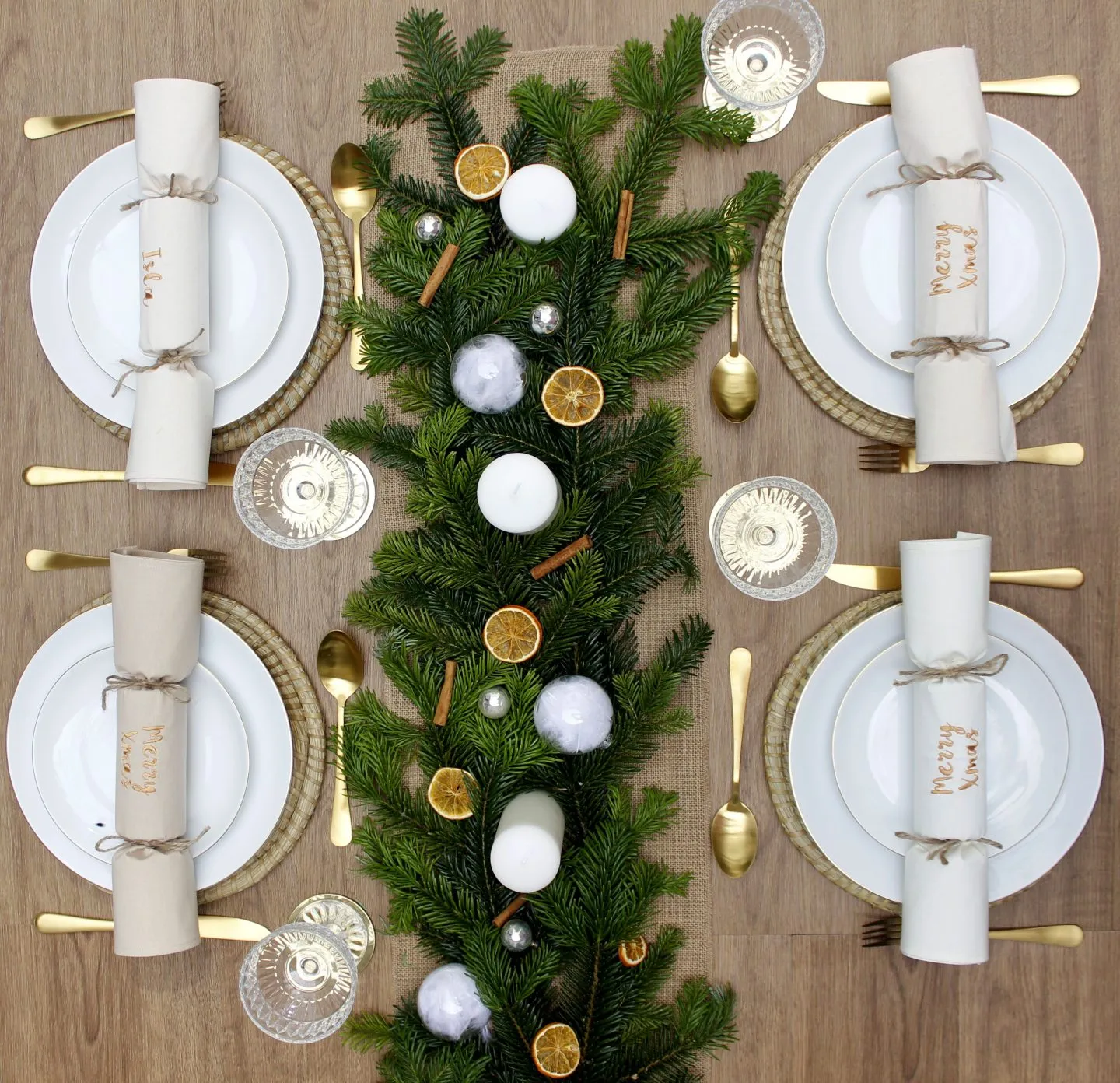 Bring the outdoors in with a nature-inspired Christmas tablescape! This look is all about incorporating organic elements like branches, dried orange slices, pinecones, berries, and leaves into your decor. Add some candles and string lights to create a cosy atmosphere.
If you're looking for some eco-friendly Christmas crackers, these reusable personalised crackers from 2 Green Monkeys are a great option. They can be personalised with the name of each family member, so you can reuse them each Christmas for years to come.
The fabric wrapping also cleverly doubles up as a napkin, making it the perfect addition to your Christmas table decor. They come empty, ready for you to put a gift of your choice inside.
5. Classic Red & Green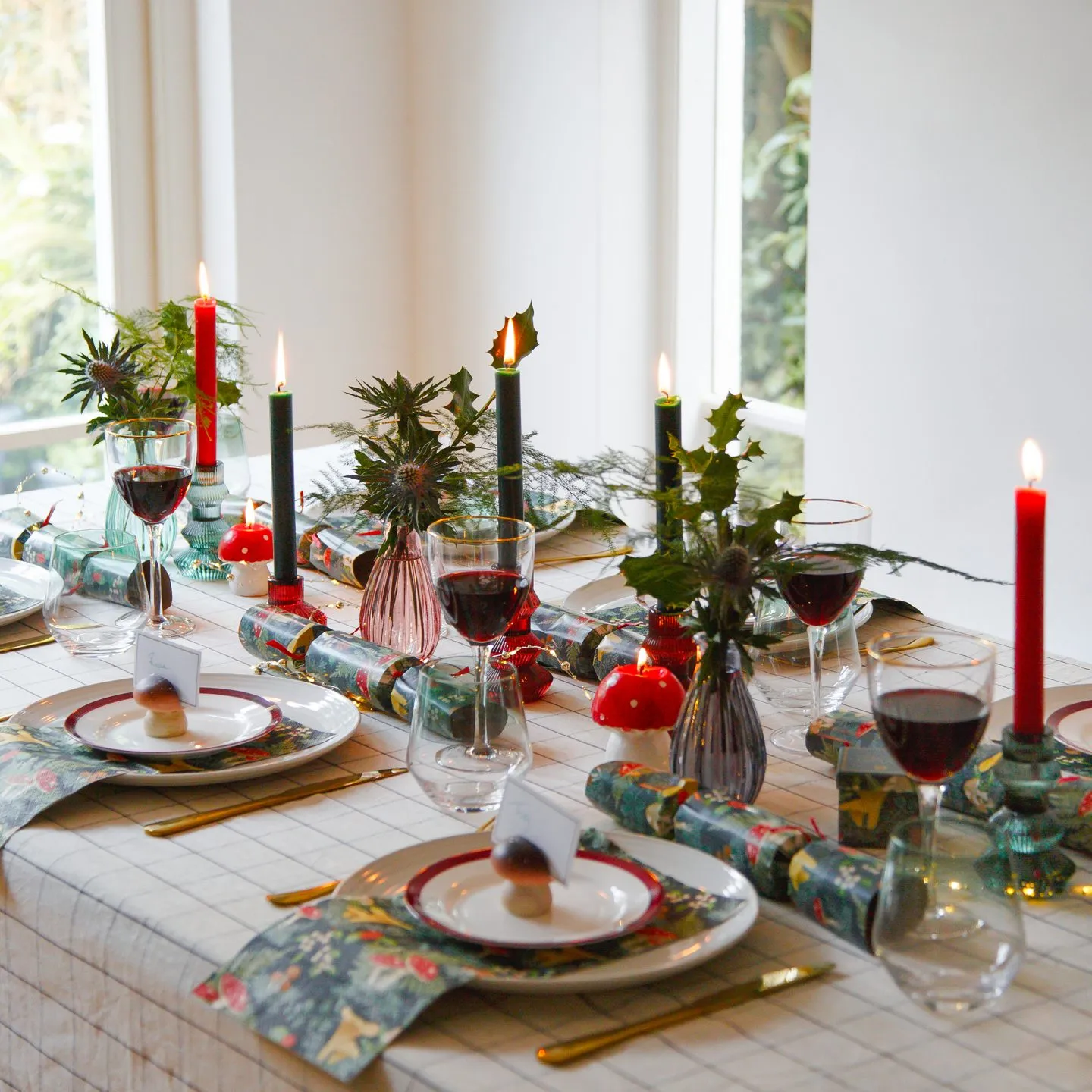 You can't go wrong with the classic red and green colour scheme at Christmas time. It's timeless, cheerful, and always appropriate. For an elegant take on this theme, try adding gold accents such as gold cutlery or gold napkin rings.
6. A Touch of Floral Magic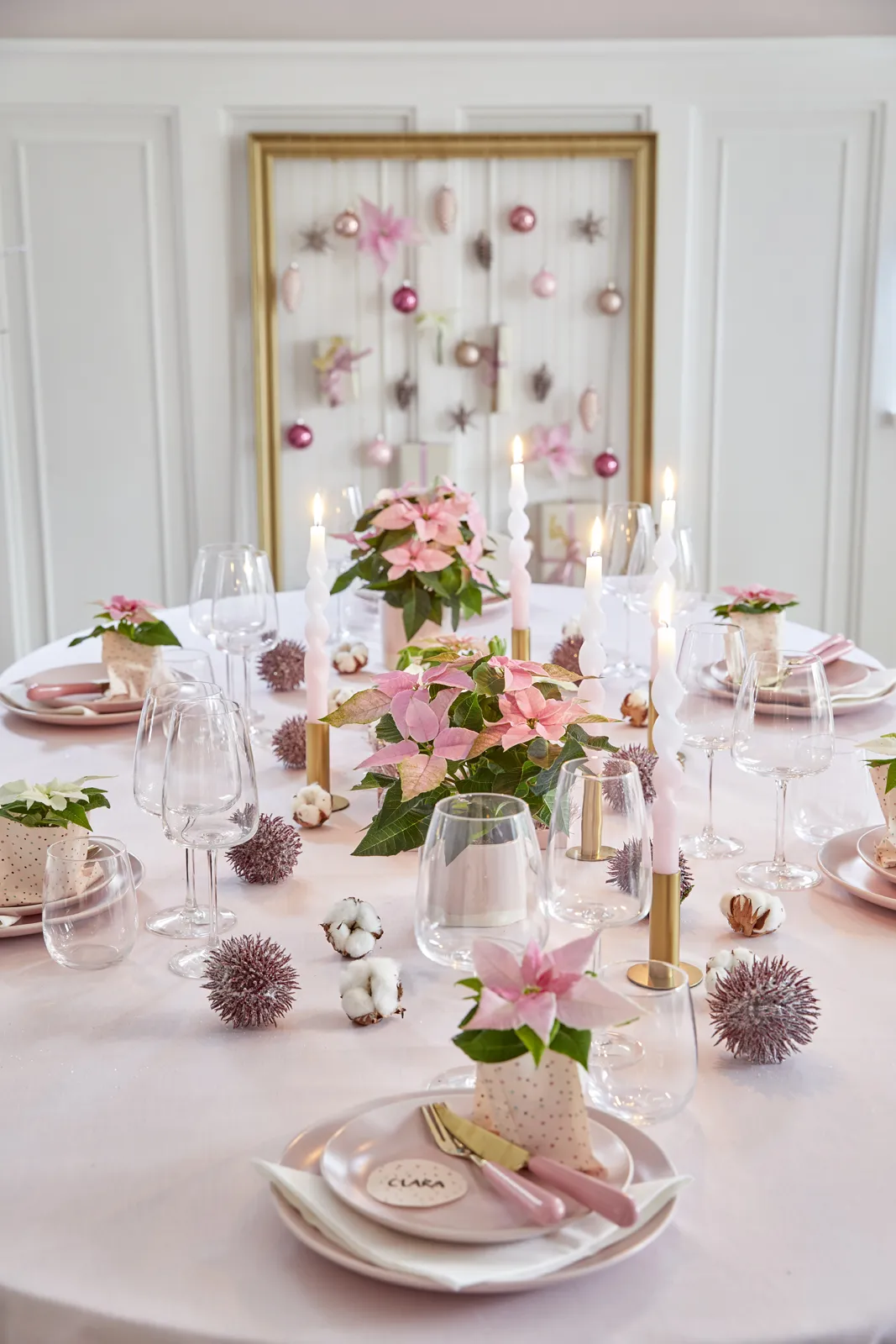 The Christmas Star Flower, or winter blooming poinsettia, is the perfect addition to set the festive mood at the dining table.
Twisted candles accentuate a centrepiece tray of mini poinsettias in handmade paper bags in golden holders, surrounded by cotton balls and frosted rambutan fruits – perfect for a romantic Christmas table setting.
Each place on this romantic, vintage Christmas table has a mini poinsettia in a homemade paper bag; it's the perfect welcoming gesture, and gift all rolled into one.
7. Pattern Play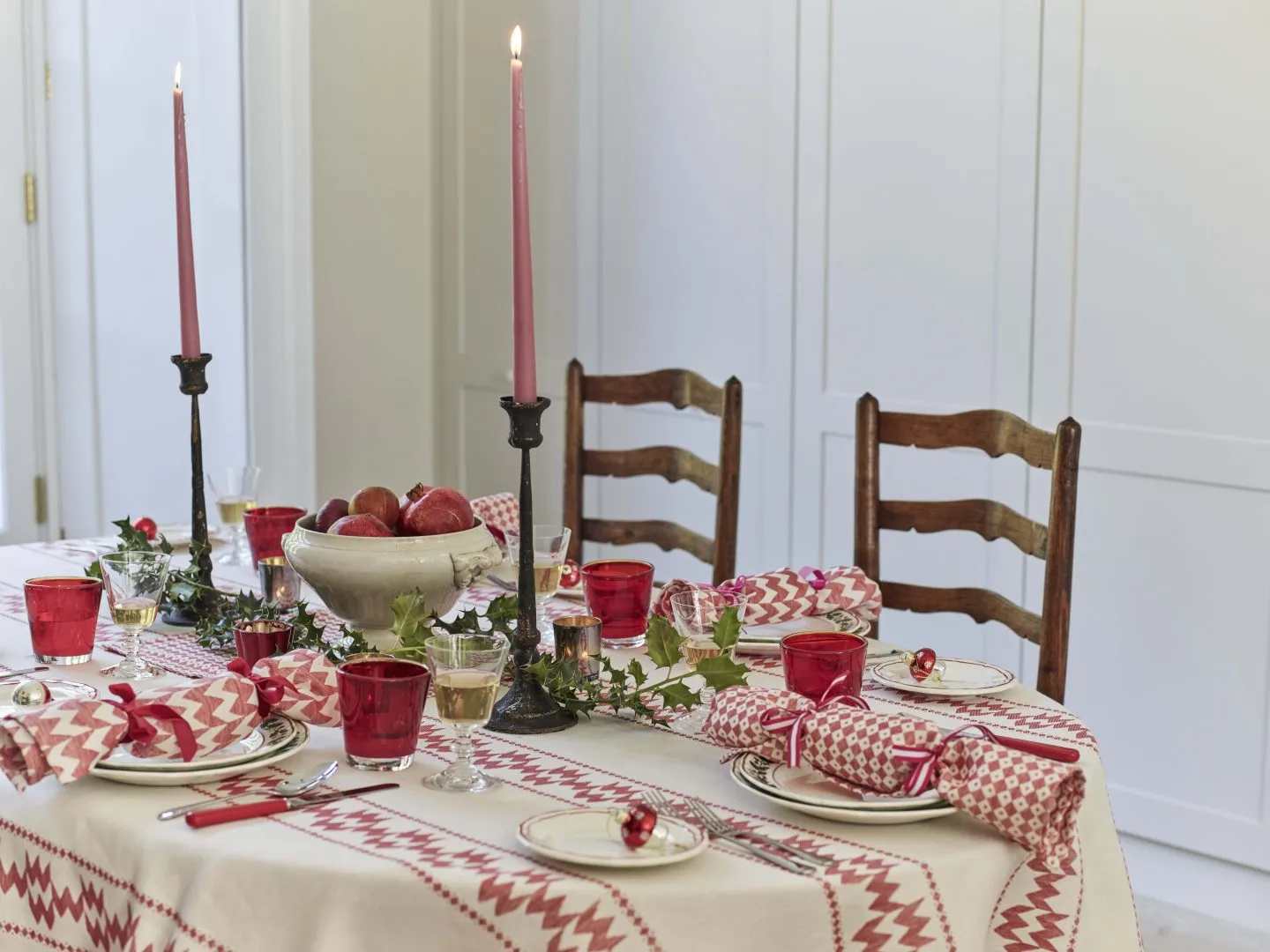 Incorporating patterns into your tablescape is a great way to add visual interest without going overboard on colours or materials. Stick to two or three patterns maximum to avoid things getting too chaotic looking. Try combining stripes with florals or polka dots with plaids for an eye-catching yet harmonious look.
8. Use Rich Colours for an Opulent Look
This stunning Christmas table in a colour palette of blue, teal, purple, and gold decor just oozes opulence. Glass candlesticks and vases in the centre and elegant scalloped bowls and plates decorated with baubles in shimmering green and gold designs create a fun yet sophisticated look that will get even the scroogiest guest into the party mood!!
9. Playful and Colourful Christmas Table Decor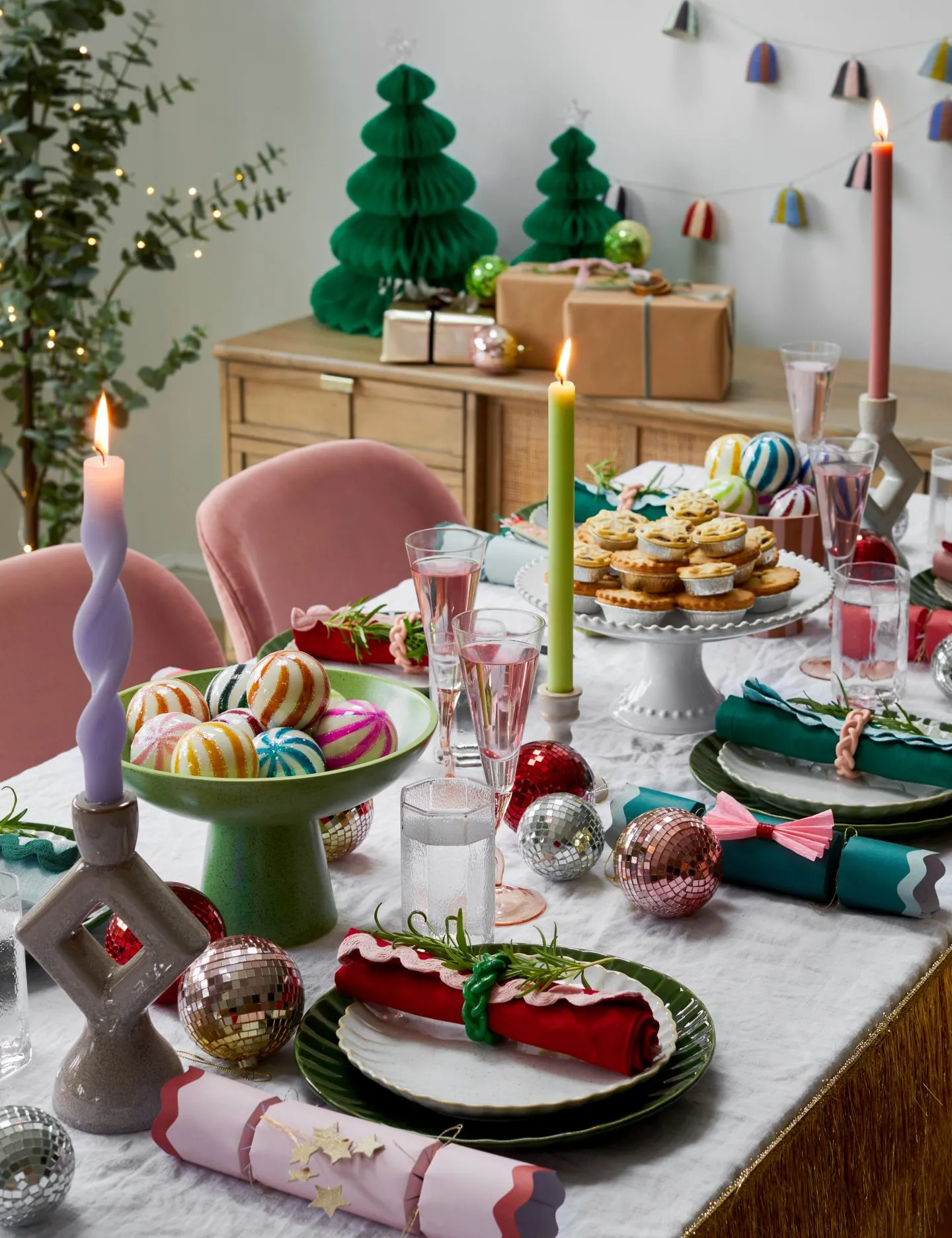 Not everyone wants to play it safe when it comes to their Christmas decor! If you're feeling adventurous, go bold and colourful with your tablescape this year. Whether it's over-the-top glitter, lots of colour, or unexpected materials, just make sure it reflects your personal style! Some people might say less is more when it comes to holiday decorating, but I say go big or go home!
This stunning Christmas table by Rose & Grey exudes fun and happiness—perfect for getting you in the Christmas spirit!
Final Thoughts
These dramatic decorations will most certainly impress your guests this season. After all, 'tis the season to be jolly! Conclusion: Now that you've seen some of our favourite Christmas tablescape ideas, it's time to start planning yours! Get inspired by these looks and then put your own spin on them to create something truly unique. No matter what direction you choose to go in, remember that the most important part of any holiday gathering is spending quality time surrounded by the people you love most!
Wishing you all a very merry Christmas!