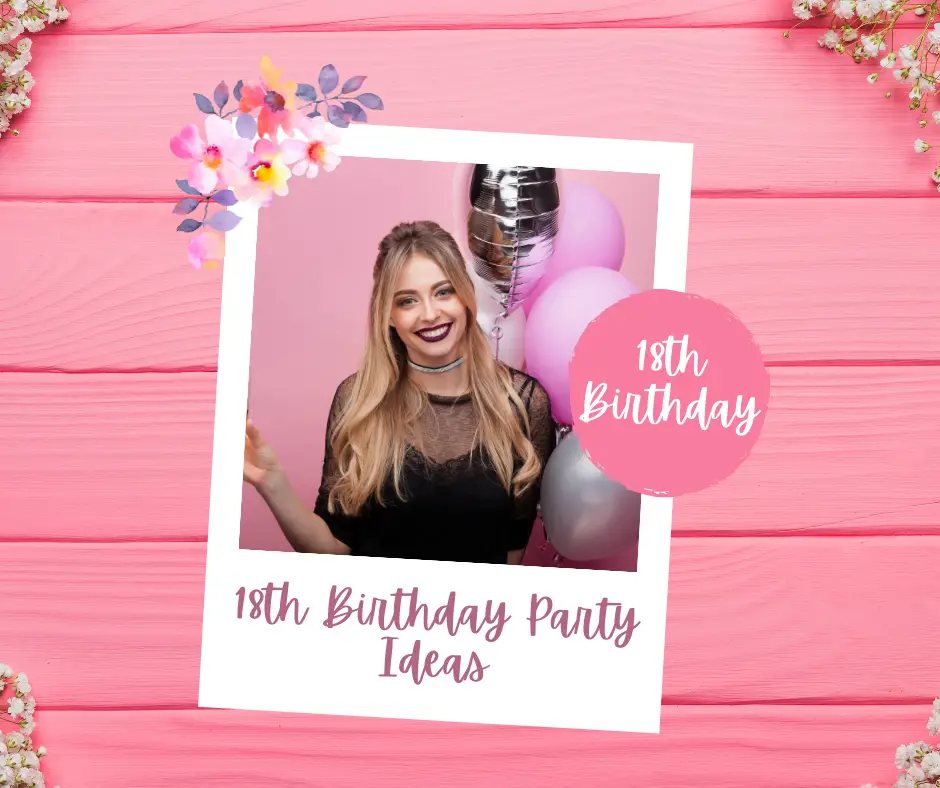 Turning 18 is a huge milestone and there is no better reason to celebrate and spoil yourself (or someone you care about if it's their birthday) than an 18th birthday. You only turn 18 once, so why not throw a birthday party? There are so many different ways to celebrate depending on what you or the person you're throwing the 18th birthday party for. You don't have to do the stereotypical 18th birthday party, but if you're not sure what to do, then keep reading for some unique 18th birthday party ideas!
*This post contains affiliate links, which means if you make a purchase I will earn a small commission at no additional cost to you*
Host a Garden Party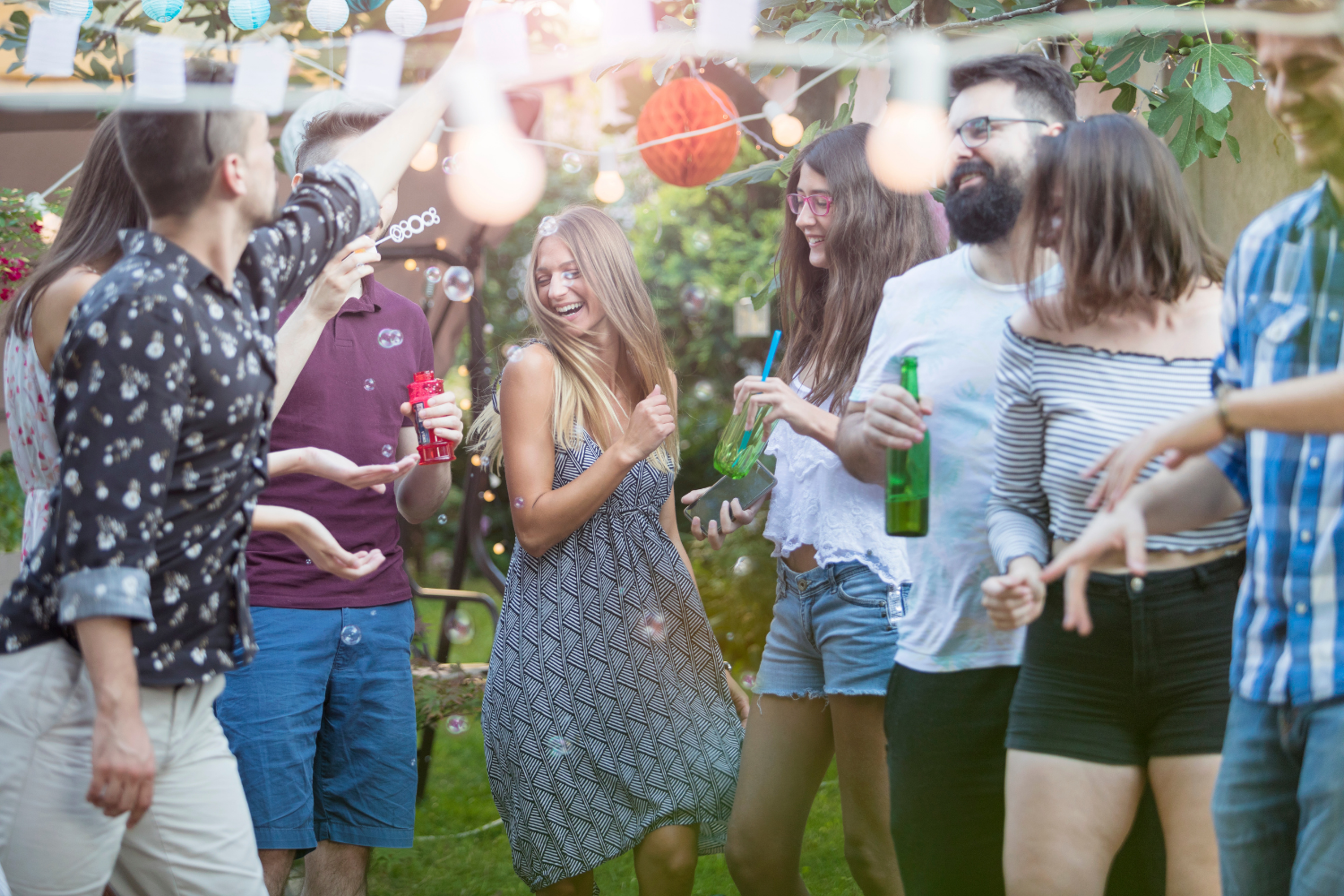 Granted, this option only works if you or a family member have a garden that you can use, but if you do have a garden then it's fairly likely that you're not using it to its full potential. Why not use this time to give your outdoor space a little refresh and decorate it for the perfect 18th birthday party. You could go for more traditional 18th birthday decorations like this stunning rose gold 18th birthday party set from Amazon, or opt for something a little more fun like these tropical-themed party decorations. There are loads of different options so you can choose something that matches the guest of honour's personality, but just make sure that you remember to install some outdoor lighting like these string lights to allow your guests to party into the night!
Throw a Themed 18th Birthday Party
There's nothing wrong with wanting to get a group of your friends together to celebrate with a traditional party, either at home or you could hire a local venue if you don't have enough space at your house. While a standard party would be great, why not mix it up a little and have a theme? It could be your favourite colour, a murder mystery, based on a decade like the roaring 20s, or on your favourite music genre (a disco party could be amazing!). Whatever you choose, really go for it with your theme and you're bound to have a great 18th birthday party experience!
Host or Create your own Photo Booth Experience
Whatever you choose to do for your 18th birthday party, a photo booth is a brilliant addition. Not only does it help to capture amazing memories from your special night, but it's also something fun to do with your friends that gives you an extra thing to laugh about. There are lots of different companies that offer photo booth hire, but if you want to do it yourself it's actually very easy. You can get a ring light that plugs into USB or mains on Amazon for under £20 so you know that the lighting will be good with no effort. Set this up wherever you're having your party, either with a bed sheet or blanket for a backdrop, against a plain wall or with the rest of the party in the background. You can buy a bag of fun photo props for around £10, then either clip a spare phone into the holder on the ring light or guests can use their own phones to take photos and you can swap photos after the party. It's very simple but it's great fun and makes for a really unique way to remember your 18th birthday party.
Make Your own Afternoon Tea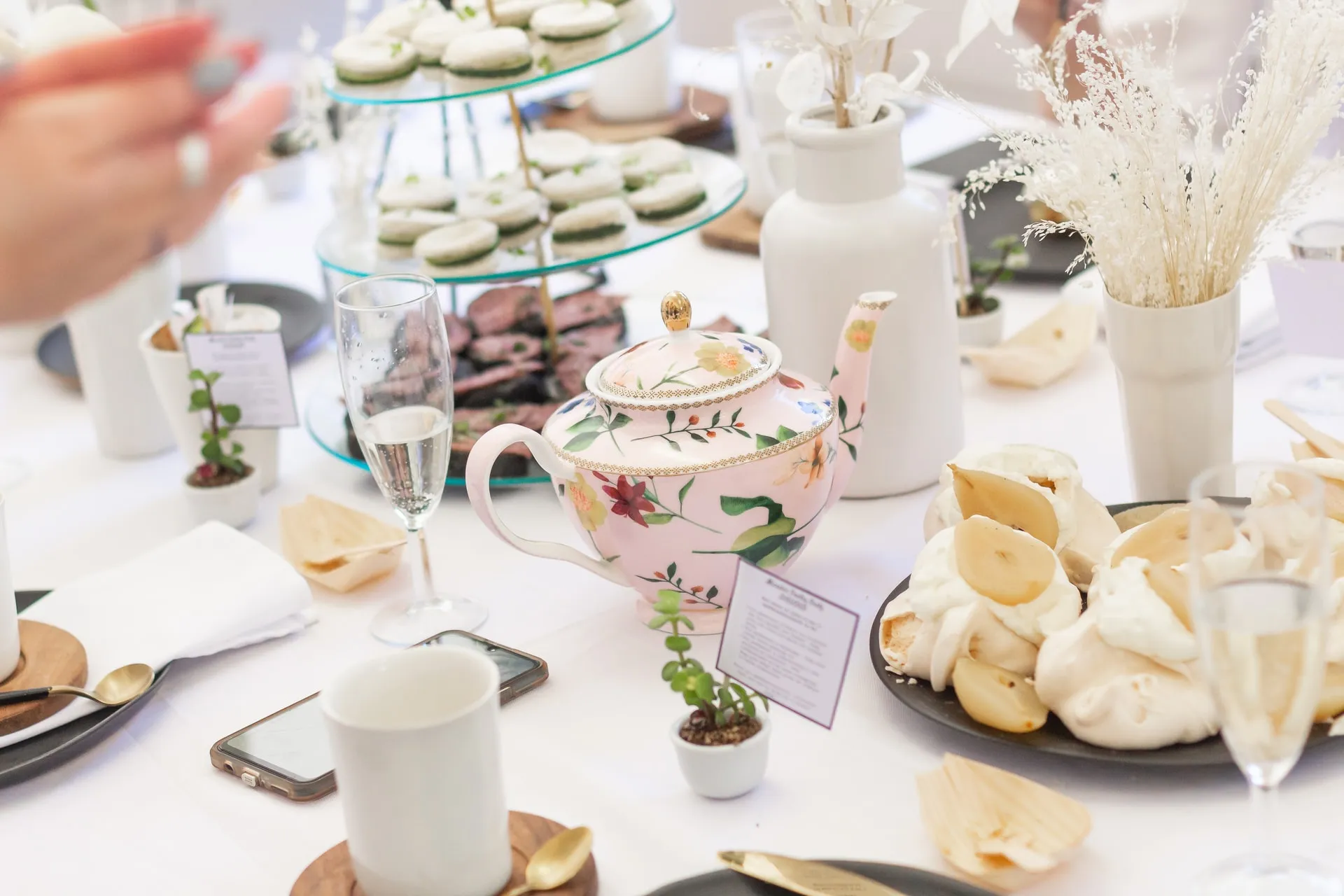 Afternoon teas have long been the perfect way to celebrate a special occasion, so why not host an afternoon tea instead of a traditional 18th birthday party? If you're looking to sit back and relax or you're only planning to invite a few friends then there are some amazing afternoon tea options in top London restaurants to splash out on Last Minute. However, if you're looking to invite a huge group of people or you have some dietary restrictions that you need to cater for then why not make your own afternoon tea at home? While it's a little bit of effort, making your own afternoon tea means you can customise absolutely every part of it. All you need is a cake stand and your favourite ingredients. This is one of my favourite 18th birthday party ideas!
Have a Spa Day
There is nothing better than gathering your friends together for a day to relax and unwind, but most importantly have a catch-up! If you're looking for an excuse then an 18th birthday party is the perfect reason to head to the spa. If you're looking for the treat yourself spa day then have a look on travel websites for deals that include treatments or a meal so you can make the most of your birthday budget.
Try Some fun Party Games
If you're thinking of going down the more traditional 18th birthday party route then why not think about adding a little entertainment to your event with some fun party games? Naturally, at an 18th birthday party, there may be some drinks flowing so opting for something like Trunk of Drunk might be interesting if you're planning a more lively birthday party. If you prefer a more laid back event then "Beat That" is a great family-friendly game that involves doing lots of funny challenges.
Take on the Most Unique Escape Room
Escape rooms have hugely boomed in popularity over the last few years, and with good reason. They make for a really fun and unique activity, but did you know that you can hire your own prison van for the ultimate escape room experience? This experience in Greenwich will lock up you and 7 of your best partners in crime and give you an hour to break yourselves out. It might not be for everyone, but it's definitely a unique 18th birthday party idea that will have your guests talking for months afterwards! This is one of the coolest 18th birthday party ideas, without a doubt!
Camp in your Own Back Garden
If you're a lover of the outdoors then the idea of a camping holiday in a stunning location probably sounds like heaven to you. If you're a fan of the great indoors, however, then parting ways with wifi, running water and electricity might feel like a step too far for you. In that case, why not have the best of both worlds and camp in your back garden? That way you get the fun of being in a tent with your friends, but you can still head inside when you need to use the loo or want to charge your phone. You could either borrow a tent or buy one on Amazon then sell it on Facebook after the party (unless your party has converted you to enjoying camping!).
Host an Indoor Sleepover
If camping really isn't your thing then how about a sleepover inside? Yes, sleepovers are traditionally a thing of early teenage dreams but why not adapt if for your 18th birthday party? You could order your favourite takeaway or cook your favourite food, watch films and have a catch up over a glass of wine. Pick up some sleeping bags or pretty blankets, add some fairy lights and you're all set. This is definitely one of the easiest 18th birthday party ideas!
Host a Surprise Party
If you're throwing an 18th birthday party for someone you care about, then why not keep it a surprise? Showing that you've gone to the effort of throwing a party without asking the guest of honour for any help will definitely mean a lot to them as it shows how thoughtful you've been. Decorate with lots of birthday balloons, pretty table decorations and bunting in their favourite colours as well as a birthday cake in their favourite flavour for the perfect party that shows how thoughtful you are. Invite all of their friends and family and you have the perfect surprise for your loved one's 18th birthday party.
Create Adult "Party Bags"
As kids, goody bags were always one of the best parts of a party and it seems unfair that you have to grow out of leaving with a bag of sweets and fun things that are guaranteed to annoy your family. Of course, for an 18th birthday party, you're going to want to make the goody bags a little more adult. Depending on your budget and the size of your party you could create something really fun and unique. You could include a disposable camera, retro sweets and a photo prop or something fun to wear throughout the evening. It doesn't need to be expensive – there are lots of things that are around £10 for a big pack so if you have less than 10 people coming you could very easily create a memorable party bag for £30.
Create Your own Birthday Fragrance
This is one of my favourite 18th birthday party ideas! If you want to do something memorable and unique then why not book an experience day for you and some friends. There are workshops that guides you through the steps to creating your own fragrance. This would be a brilliant 18th birthday party idea. It's a unique activity that you wouldn't normally get to do and everyone that attends gets to take home their own custom fragrance. This is also a brilliant idea because for a lot of people scents are very strongly tied to memories, so every time you spray your personalised fragrance you'll remember the amazing experience that you had for your birthday. 
Head for the Ultimate "Grown Up" Experience
If you're looking for the ultimate 18th birthday party idea that says "I'm an adult now" then why not choose a vineyard tour followed by a wine and cheese tasting with your closest friends? At around £30 each it is a slightly more pricey option, but it would be an incredible way to celebrate you turning 18. Vineyard tours are usually interesting and full of Instagram worthy moments, and getting to spend time relaxing with your friends with a glass of wine is the perfect way to unwind if you would prefer a more laid back birthday experience.
Host an Outdoor Film Night
Film nights are always great fun, but if you're all sat inside in your pyjamas it might not feel like the most special experience. Why not step the casual film night up a level by taking it outside? It might sound like a logistical nightmare but it's easier than you think. You can either hire a projector or buy one secondhand fairly affordably. Once your projector is sorted all you need is to create your own screen using a white bed sheet or table cloth against a pool or fence, some comfy seating (lots of cushions, rugs or beanbags would be great) and decide what film to watch. It's a really easy 18th birthday party experience that could be paired with afternoon tea or camping to make the ultimate memorable night.
Book a City Break
One of the best things about getting older is being able to travel and experience the world on your own terms, so what better way to celebrate your 18th birthday than to go all out and book a getaway for you and your friends? Granted this is probably the most expensive option on the list, but you only turn 18 once so if you and your friends have the budget then go for it! The type of getaway you choose is entirely dependent on your budget and what you enjoy, but some of the best value holidays are European city breaks.
Try a New Experience in Style
An 18th birthday party is a perfect opportunity to do something that you wouldn't normally do. While that could take so many different forms, if you feel like opting for something a little more luxury then why not head to London for a cruise on the Thames river with lunch on board. This is one of those opportunities that are usually always on the bucket list but there never seems to be an opportunity that justifies spending that amount of money on a day trip. Well, an 18th birthday party is a perfect chance to finally decide to treat yourself or the person you care about.
Host a Giant Picnic in a Park
If you're looking for a unique 18th birthday party idea on a budget then why not host a giant picnic for all of your friends at a local park? While this doesn't sound all that glamorous, have a think about locations near you. Local castles or stately homes with grounds would be the perfect backdrop and you don't always have to pay to enter the grounds – if you live on the coast you could even head to the beach for your birthday picnic (just make sure you take any rubbish with you to keep the beaches clean!). Choose a few Instagram-worthy picnic blankets and picnic dinnerware packs, then if budget allows you could pack food for everyone or go for an "American supper" style picnic and ask everyone to bring something along for everyone so you have plenty to choose from with very little effort. Sadly the sunshine can't be guaranteed, so it might be smart to think of a backup plan if you need to hold a last-minute indoor picnic.
Get Out of your Comfort Zone
If you're looking to go all out for your birthday then why not do something that will really get you out of your comfort zone. After all, what better way is there to celebrate turning 18 than to do something that truly scares you. Things like treetop climbing courses or scrambling through caves are great options if you're a little more adventurous.
Create Your Own Cocktail Bar
If you've been wanting to try cocktails for a while then your 18th birthday party would be a great opportunity. Most cities are flooded with cocktail bars but they're expensive and not as interactive. You could book a cocktail making class, but if you really want to make things fun and interactive then why not buy some ingredients to make your own cocktail bar? If 10 of you all put in £20 you would have a really varied selection of spirits and mixers. You could start with trying a few recipes for traditional cocktails then move onto creating your own with your favourite flavours. Rather than sitting in a bar and waiting to be served you can bring the cocktail experience home and make it interactive. Choose some Instagrammable glassware and straws plus some table decorations and let the fun begin!
18th Birthday Party Ideas
There are so many different options when looking for an 18th birthday party theme that you can't really go wrong. Simply think about what you and your friends (or the person you're planning the party for) really enjoy and go from there. If they prefer to relax then an afternoon tea or picnic would be perfect. If they're more adventurous then opt for an escape room or treetop adventure course. As long as you think about their favourite colours, food and past times then it will be an 18th birthday party to remember.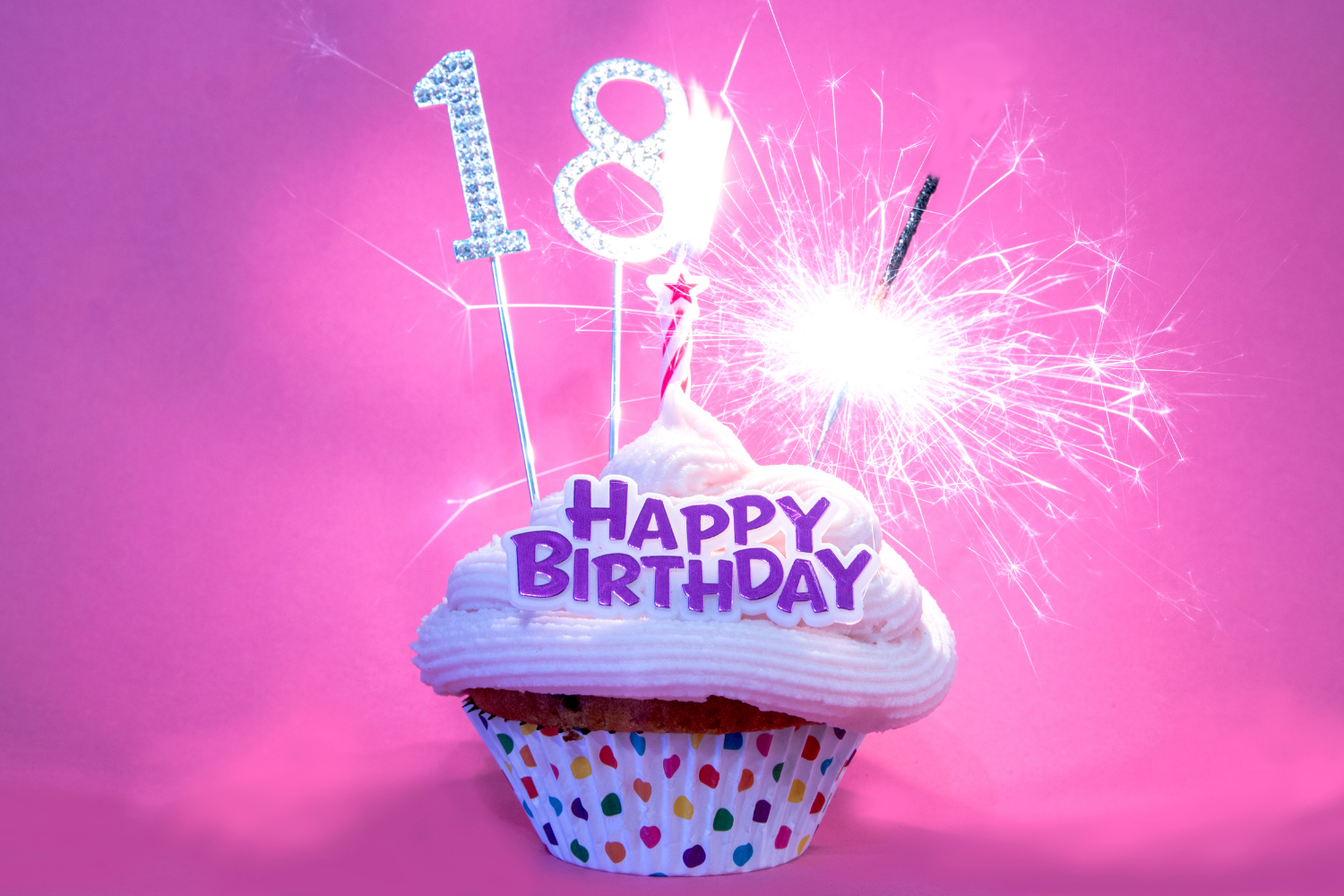 If you enjoyed reading this, you may also like: