We have been in our new house for over 6 months now, and it's slowly coming together. So far we have renovated all 3 bedrooms (updates coming soon), the bathroom, and the living room. But now that Summer is on the way we have a new focus: the Kitchen, Sunroom, and Garden.
The kitchen is going to be the biggest job we have done so far, in terms of both the size and the cost of the job, but it's probably the one I have been looking forward to the most.
Today I am going to share my ideas and inspiration for the new kitchen with you, but first, heres a reminder of what it looks like now.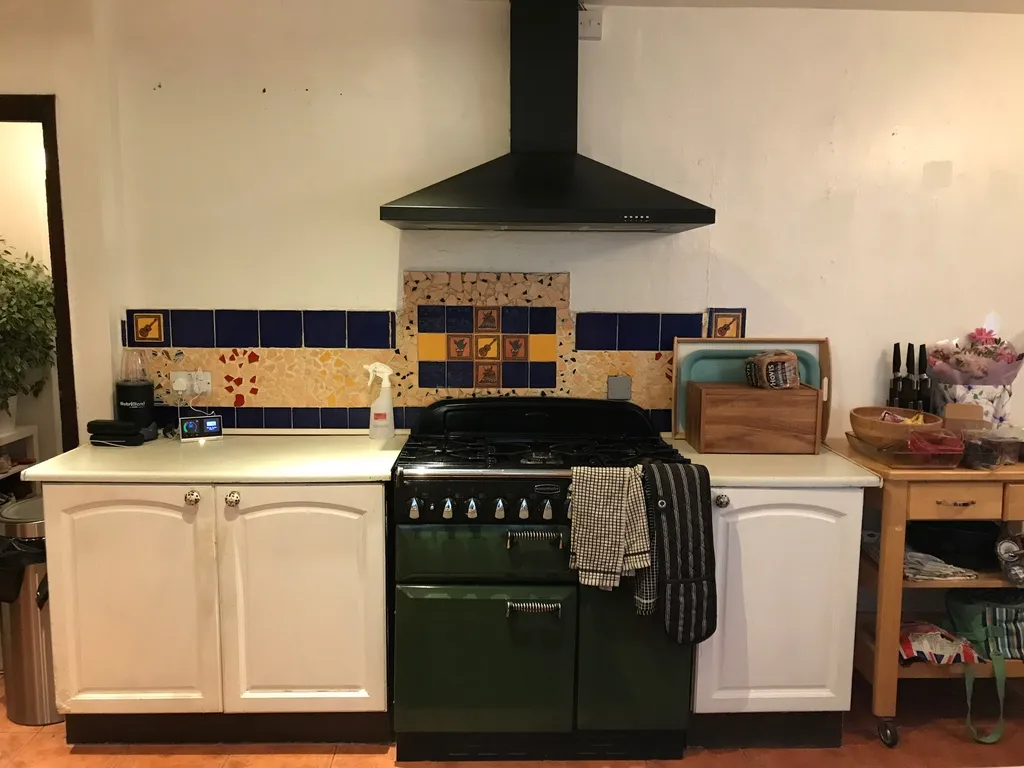 The only good thing in the kitchen at the moment is the Rangemaster oven, which we bagged on Facebook Marketplace for £300, so we are keeping that, but everything else is going!
Inspiration for The New Kitchen
Colour and Style:
The look I'm going for with the new kitchen is 'Light and Bright'. I want to walk in every morning and see crisp clean surfaces, warm wooden flooring and sunlight streaming through the window.
Here are a few gorgeous images that have the vibe I'm going for: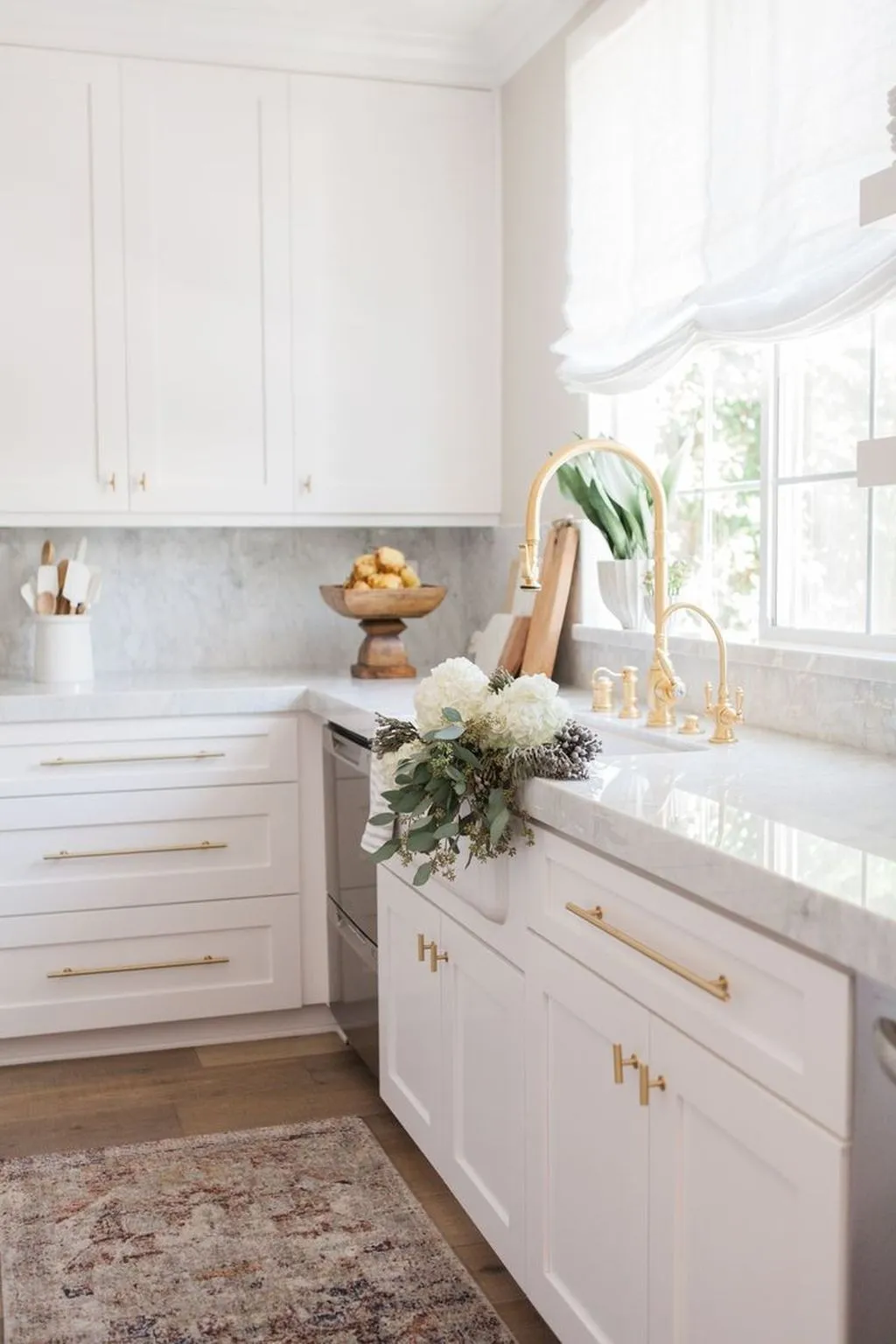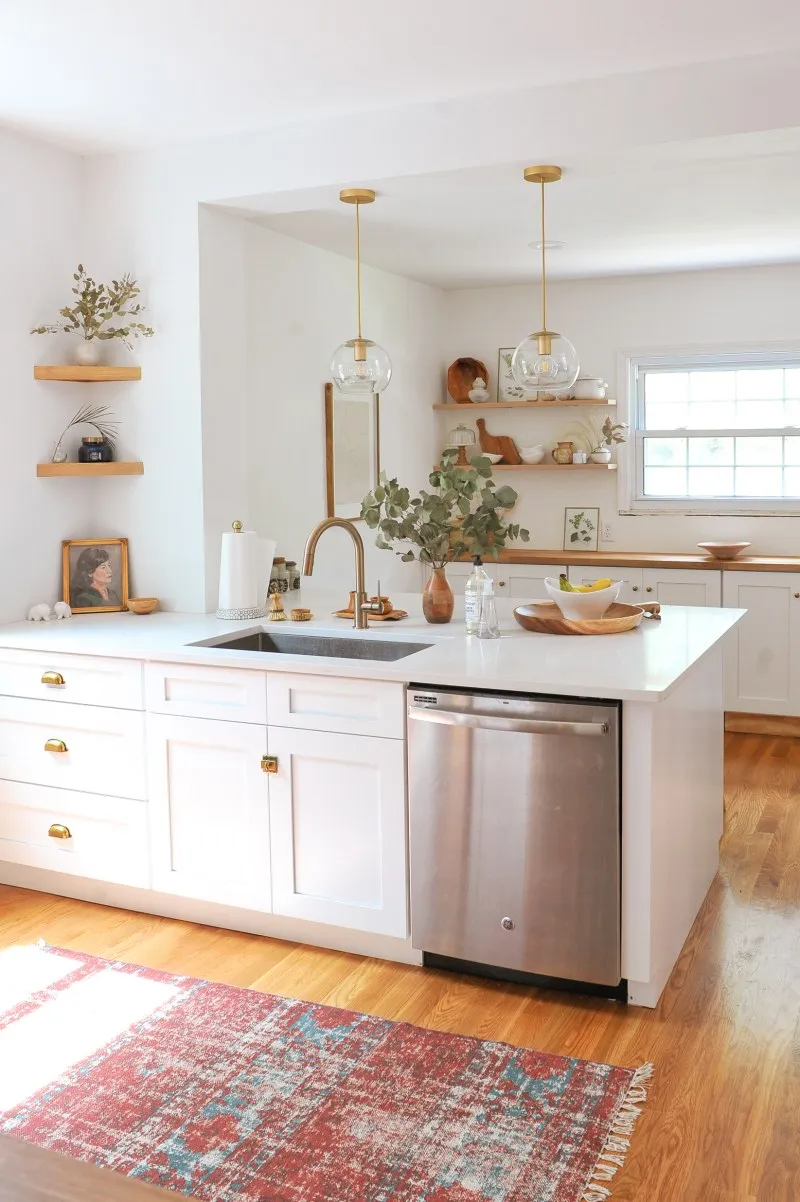 Worktops, Floors and Walls
I REALLY want a solid wood worktop, but I also really want a white stone composite worktop… So I love how the kitchen in the image above has both, This could work really well in our kitchen, as I could use the stone around the sink, which is where you can have problems with wooden worktops.
At the moment the floor is tiled, but I would really like wooden floors in the kitchen. I'm still not sure if I will go for a laminate or real wood,so I need to consider the pros and con's of each of these.
The walls are going to be painted in a very matte white paint. The paint at the moment is slightly glossy, which really shows all the lumps and bumps on the walls- it looks awful.
Furniture
There's plenty of space for a dining table in this kitchen, but I'm still not sure whether to buy a new dining set (I'm thinking chunky pine table with modern chairs) or to spruce up my old dining set. Decisions, Decisions…
Appliances
As well as a fridge freezer I also have my eye on this wine cooler for our stash. We also need a new sink and taps, and I'm in love with this one from Rangemaster, with a tap from British Bathroom Company.
The oven will be our own green Rangemaster, because I love it too much to change it now 🙂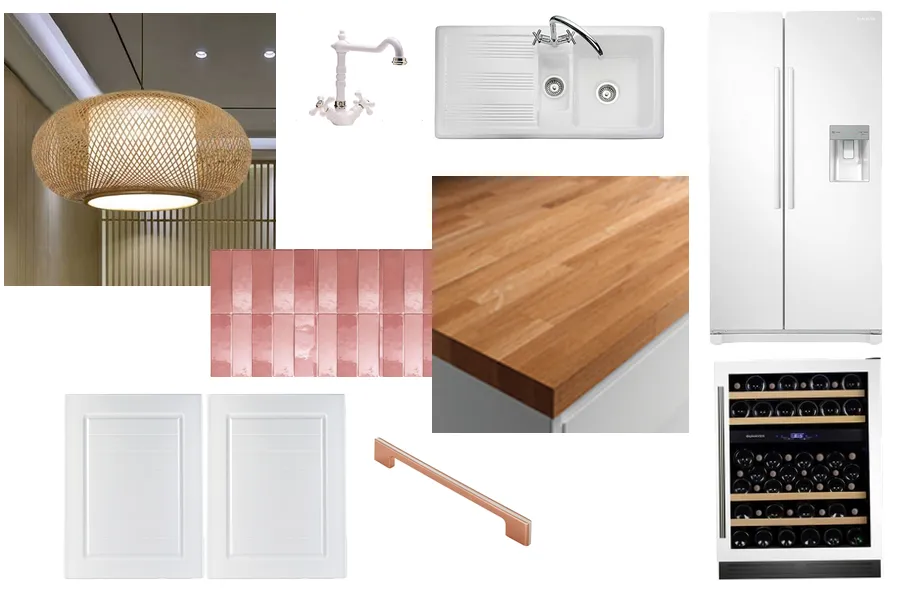 My Shopping list so far: Pink tile backsplash | Cupboards | Wine Cooler | Fridge Freezer | Solid Wood worktop | Rattan Lightshade | Rangemaster Portland Sink | French classic kitchen tap | Kitchen Cupboard Handles
I still can't decide if I want a white tiled backsplash, or these pink tiles shown above- what do you think? Big decisions to be made here guys …