Finding the perfect curtains for your grey walls can sometimes be challenging. From choosing a fabric with the right amount of texture to choosing colours that can help tie together a room, there's so much to consider when it comes to choosing curtains for grey walls.
In this article, I'm sharing some of the best curtains to go with grey walls. Whether you prefer bright pops of colour or more subtle tones, there will be something in this list for you!
What Colour Curtains Go With Grey Walls?
Luckily, grey walls work well with a lot of colours. Some of the best choices include:
Grey or Silver
Sage Green
Teal
Navy Blue
Cream
Pale Pink
Yellow
Purple
It really depends on the shade of grey you have chosen for your walls, though. Read on to see a variety of different examples of how different colour curtains look against grey walls.
Navy Blue Curtains for Grey Walls
These Navy blue chenille curtains are an ideal match for walls featuring a two-colour combination of navy blue and grey.
This style of curtains is particularly effective in enhancing the atmosphere of the room with its visually appealing texture while also providing additional privacy when needed. This type of chenille fabric will remain timeless and elegant for years to come. As you can see, the darker walls and curtains allow the lighter coloured furniture to stand out beautifully!
Silver Curtains for Light Grey Walls
Introducing a sense of elegance to any space, silver crushed velvet curtains create an ethereal, almost magical, atmosphere when paired with light grey walls.
While the light grey is mellow and allows for a calming effect, the silver crushed velvet provides dimension with its texture and can be ideal for reflecting natural light entering through windows. This duo will offer an undeniable charm to any room! If you're looking for a subtle yet unique look in your home, this may be just what you need.
Grey and Yellow Chevron Printed Curtains with Light Grey Walls
Curtains from Terrys Fabrics
Showcase a contemporary style in your home with chevron-printed curtains. These yellow curtains are crafted from luxurious cotton material, with vibrant tones of grey, yellow and white, in a chevron pattern which will work beautifully when partnered with light grey walls. The bold pattern provides a statement look for your home and will create a modern feel that will bring your space to life.
Sage Green Textured Curtains for Grey Walls
Sage Green Curtains from Dunelm
These sage green textured curtains will work really well with light grey-green walls. The beautiful sage colourway provides a distinct contrast that ties in nicely with the timeless herringbone design.
Fully lined with improved insulation and additional privacy benefits, these curtains help make your home an inviting space while creating an elegant atmosphere. These delightful curtains feature a smart pencil pleat header, which helps to create a lovely drape, so you can delight in hanging curtains that are full of gorgeous character and functionality.
Distressed Metallic Velour Curtains for Grey Walls
Curtains from LaRedoute
Distressed metallic velour curtains are a great way to add interest and texture to a grey room. These modern velour curtains look beautiful against a backdrop of grey walls because they create an interesting contrast.
They are sophisticated and stylish, as well as being incredibly soft, thanks to their 100% polyester material. Perfect for any living space, these luxurious and unique curtains will bring the whole room together while making the space feel cosy and inviting.
White and Grey Check Curtains for Grey Walls
Curtains from Dunelm
Grey and white curtains are an age-old classic when it comes to adding effortless style and sophistication to your home. These particular curtains feature a soft brushed wool texture, which gives them a luxurious feel, as well as an eyelet header to create classic folds.
For those winter evenings, you can also rest easy knowing that these curtains come with thermal smart properties that help keep out draughts while blocking out the heat during summer days. And if you're worried about light, then the blackout lining should help reduce any unwanted brightness while you relax in temperatures comfortable all year round.
Silver Geometric Curtains to go With Grey Walls
Curtains from Terry's Fabrics
These stunning silver geometric eyelet curtains provide a stylish way to bring your grey room to life. Their unique design will add depth and modernity to your room, making them the perfect choice for either traditional or contemporary spaces.
The woven pattern catches the light beautifully and creates an intriguing textured finish – ideal for adding the wow factor to your space. The soft velvet fabric gives these curtains a luxuriously understated feel, while the eyelet heading ensures they are easy to install and enjoy that sought-after drape effect. With these curtains, you can instantly transform any plain grey room into something truly spectacular!
Jade Green Curtains with Grey Walls
Curtains from Dunelm
Bring your windows to life with these stunning jade-green velour eyelet curtains. Crafted from a super-soft matt velour fabric, these curtains offer a sophisticated finish in a range of bold and eye-catching colours.
They are fully lined for extra privacy and are designed to block out unwanted light and views into your home so you can always enjoy it in peace. Whether you want to add some pizazz to traditional décor or give modern surrounds a boost, the Jade Green Velour Curtains will create an impact.
Distressed Pink and Silver Curtains with Grey Walls
Curtains from LaRedoute
Adding distressed pink and silver metallic curtains to grey walls is a great way to add contrast and visual interest to your room. This combination offers a timeless look, full of modern glamour that will be sure to wow any guests in your home.
The grey walls provide a neutral contrast against the pops of colour while still keeping the room muted and pulled together. When light shines through these sheer curtains, their metallic finish will make them glimmer in the space, creating a wonderfully unique look that will bring an air of elegance to any living area.
Colourful Geometric Curtains with Grey Walls
Curtains from B&Q
These geometric curtains are the perfect choice if you're looking to add a bit of oomph to your grey walls. Featuring a mustard, navy and spice colour combination, these curtains will bring your grey room to life.
Not only that, but you know you're investing in quality, made from high-quality half-Panama material with an eyelet finish for extra style points. Perfect for those who don't want too much fuss, these curtains are an ideal way to introduce modernity into your home without going OTT.
Mauve Curtains for Grey Walls
Curtains from Terry's Fabrics
Mauve curtains paired with grey walls can provide an elegant and sophisticated statement for any room. Mauve is known for bing one of the most calming bedroom colours, so this combination is a wonderful choice for bedrooms.
When it comes to pairing mauve curtains and grey walls, it's important to find the right balance between the two colours so neither overwhelms the other. By carefully balancing texture, shade, and intensity, you are sure to end up with a beautiful design scheme in your home.
Grey Crushed Velvet Curtains
Curtains from LaRedoute
Transform your home with a refined touch of luxury, featuring lavish grey crushed velvet curtains. For timeless elegance delivered in both style and practicality, these beautiful curtains are fully lined and feature eyelets allowing for straightforward installation.
Made of crushed velvet in an exquisite shade of grey, these curtains will easily complement existing décor.
Blue Curtains With Grey Walls
Blackout Curtains from Dunelm
A great way to give your home a smart and sophisticated look is by adding plain blue curtains on your grey walls.
These curtains are designed to help insulate the interior of your home in all seasons whilst providing additional privacy. The clever thermal coating blocks out external heat in summer and prevents cool draughts in winter, so you can stay comfortable whatever the weather.
Their matt finish and eyelet header provide an elegant touch to any décor style, making them particularly versatile. Blue curtains go particularly well with brown furniture, so this is a great option if you already have brown furniture in place.
Glamorous Curtains to Go With Dark Grey Walls
Curtains from LaRedoute
These grey glitzy curtains are truly eye-catching and are sure to add sparkle and shine to any room, and will look stunning against a dark grey wall.
Embellished with dazzling sequins, their construction also features eyelets for effortless installation. To complete the look, pair the curtains with the perfect matching cushion for a coordinated style that is certain to draw compliments from friends and family.
Purple Curtains With Grey Walls
Curtains from Julian Charles
Purple crushed velvet curtains are a bold yet elegant choice for your living space. This fabric adds a sophisticated aesthetic to any room against neutral grey walls. Not only will your purple crushed velvet curtains make a strong statement, but they are also highly durable, easily cleaned, and have great sound-dampening qualities. This makes them perfect for busy family spaces. No matter the style of the room, these curtains will bring some luxury into it.
Elegant Tree Motif Curtains
Curtains from Furn
These Oakdale curtains are the perfect window accessory for any light grey living room. Their classic design of oak tree motifs will add elegance to your interior, while their robust polyester construction guarantees that they won't stain easily, ensuring they look good as new for longer. A fantastic choice if you're looking for a patterned curtain.
To top it off, these curtains come with stainless steel eyelet holes to make hanging a breeze. Simply fit your curtain pole, and voila! Adding sophistication to any room has never been easier.
Smart Grey Two-Tone Curtains
Curtains from Dunelm
Smarten up your home with these two-tone charcoal grey curtains. Blending a lighter shade of grey with a contrasting border in a darker shade of charcoal, the combination of colours is sure to fit right in any style of the room.
The woven texture and ring top header provide style and versatility that will give your room a timeless look. These curtains are an excellent choice for adding some sophistication and elegance to a grey room.
Teal Abstract Print Curtains
Sheer Curtains from Dunelm
Stylish and versatile, these teal curtains make a bold statement in any room. The 100% cotton face fabric and polycotton lining ensure they drape beautifully, while their eyelet header makes them incredibly easy to hang.
Perfect for a modern home decor scheme, the bold teal colourway has a subtle graphic abstract print which looks stunning against grey walls. Add some quirky home accessories to complete the look!
Soft Green Curtains with Grey Walls
Curtains from Terry's Fabrics
If you're looking to add a hint of colour to a light grey wall, then these beautiful green Woven Curtains are just the thing. The subtle yet vibrant green adds character to any room without taking away from the cool tones of the grey walls. Not only is their eye-catching colour on-trend, but their texture and modern appearance will really bring your space together.
Easy to install with chrome eyelet rings, you can even adjust them back when you want to let more light in. All while maintaining a neat, tidy look. Whether they're open or closed, they'll be sure to become a statement feature in your home.
---
Pin it for Later!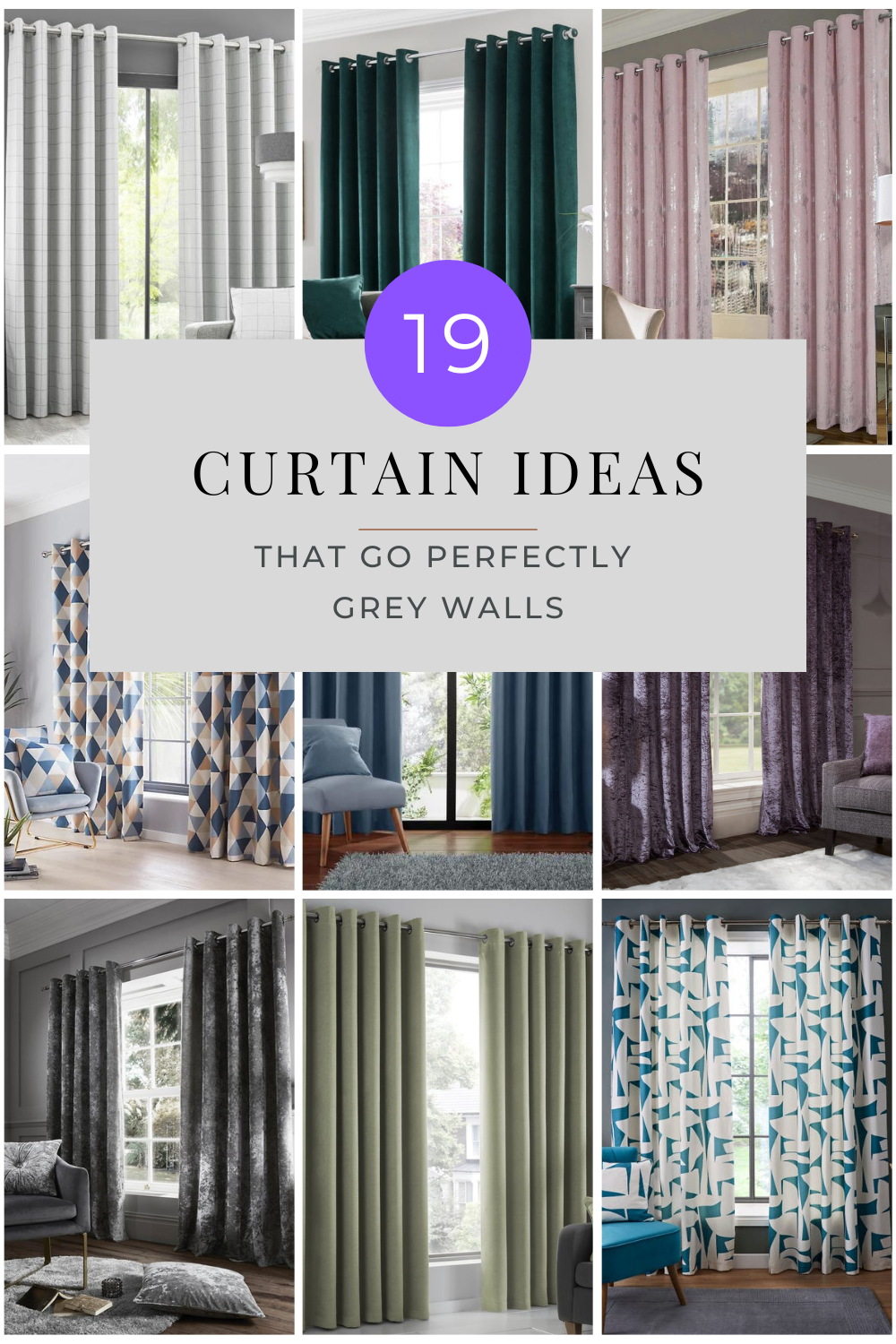 If you're still in the process of designing your space, check out my favourite interior design books for beginners.
You might also enjoy this article on roman blinds vs roller blinds – what's the difference?