If you're in the market for new window blinds, you may be wondering whether to choose roller blinds or Roman blinds. Both have their pros and cons, so it can be tricky to decide which is right for you. In this blog post, we'll take a look at the main differences between Roller blinds vs Roman blinds, and help you decide which is the best option for your home.
What Are Roller Blinds?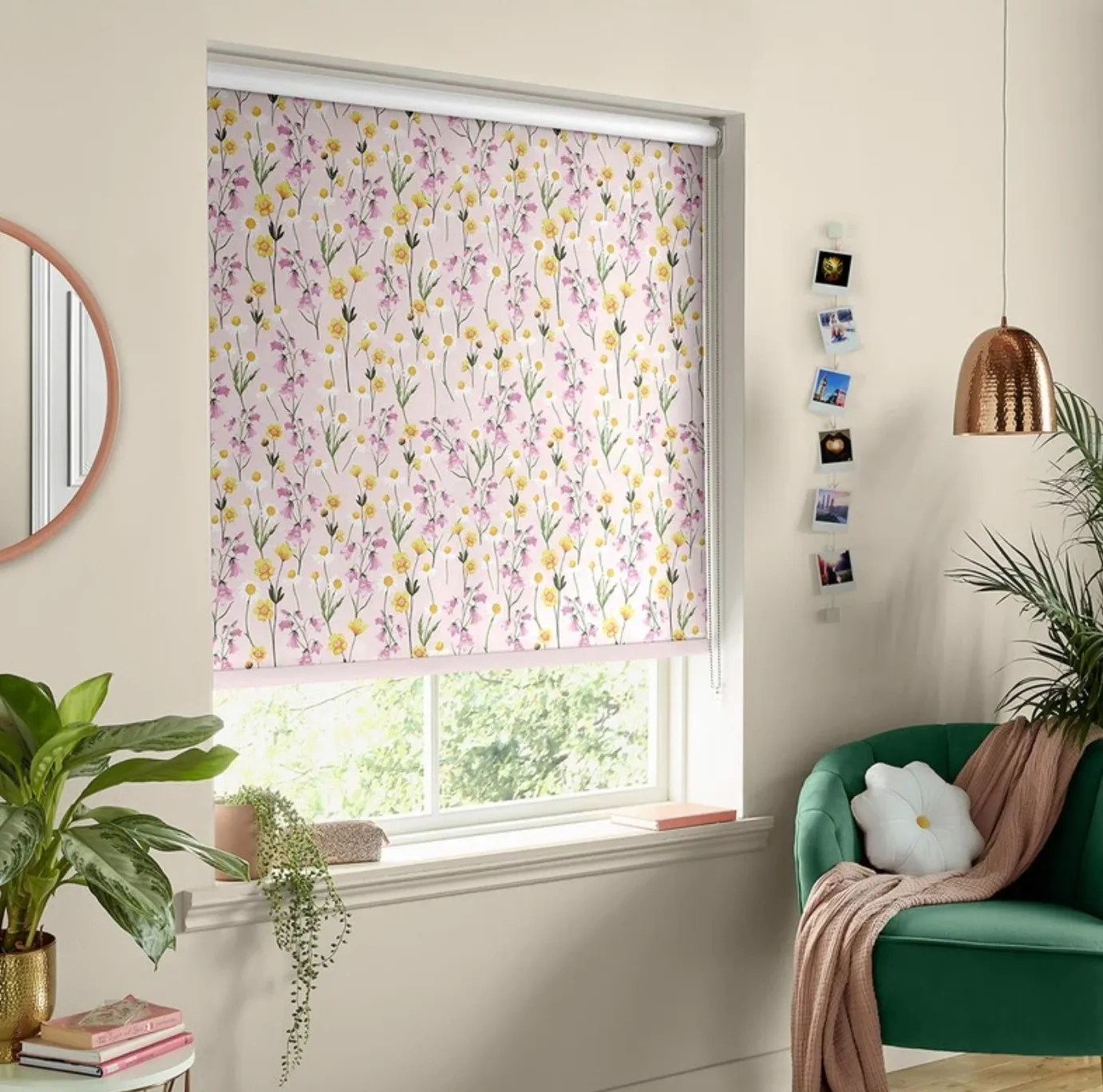 Blinds from Terrys Fabrics
Roller blinds are a type of window covering that consists of a piece of fabric mounted on a roller. The fabric can be made from a variety of materials, including vinyl, polyester, and cotton. Roller blinds are typically operated by a chain or cord, which allows the user to raise or lower the blind as desired. When raised, the blind rolls up around the roller, revealing the window. When lowered, the blind unrolls to cover the window.
Roller blinds are a popular choice for both home and office settings because they are relatively inexpensive and easy to operate.
Roller blinds are very popular because they're simple to use and they can be made from a variety of different fabrics, including light-filtering and blackout options.
The Pros and Cons of Roller Blinds
Pros:
Affordable
Easy to install
Can be cut to an exact size
Available almost anywhere
Available in a huge variety of patterns and designs
Great for kitchens and bathrooms
Cons: 
Can look cheap
Depending on the style, there can be a small gap between the blind and the edge of the window, which can let light in
Children and pets can become caught in the chain if it is not put out of the way
They flap loudly if your window is open when they are pulled down. If you want to open your window you will need to roll the blind up to avoid this
What Are Roman Blinds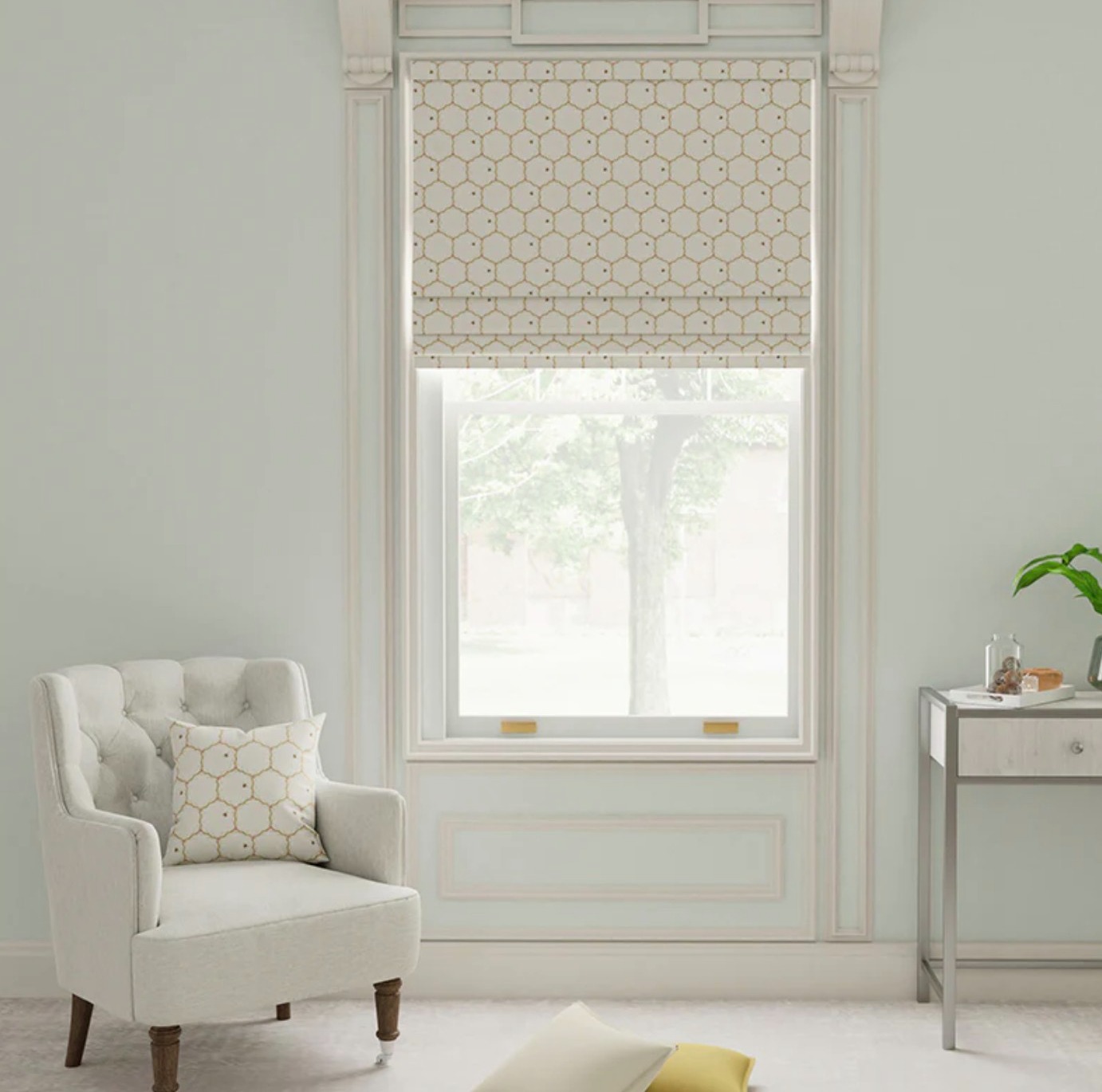 Honeycomb Roman Blinds by Angel Strawbridge
Roman blinds are a type of window treatment that can be used to provide both privacy and light control. Unlike traditional curtains, Roman blinds are made from a single piece of fabric that is pleated into horizontal folds. When raised, the blinds create a stack of evenly spaced folds; when lowered, the blinds hang flat against the window.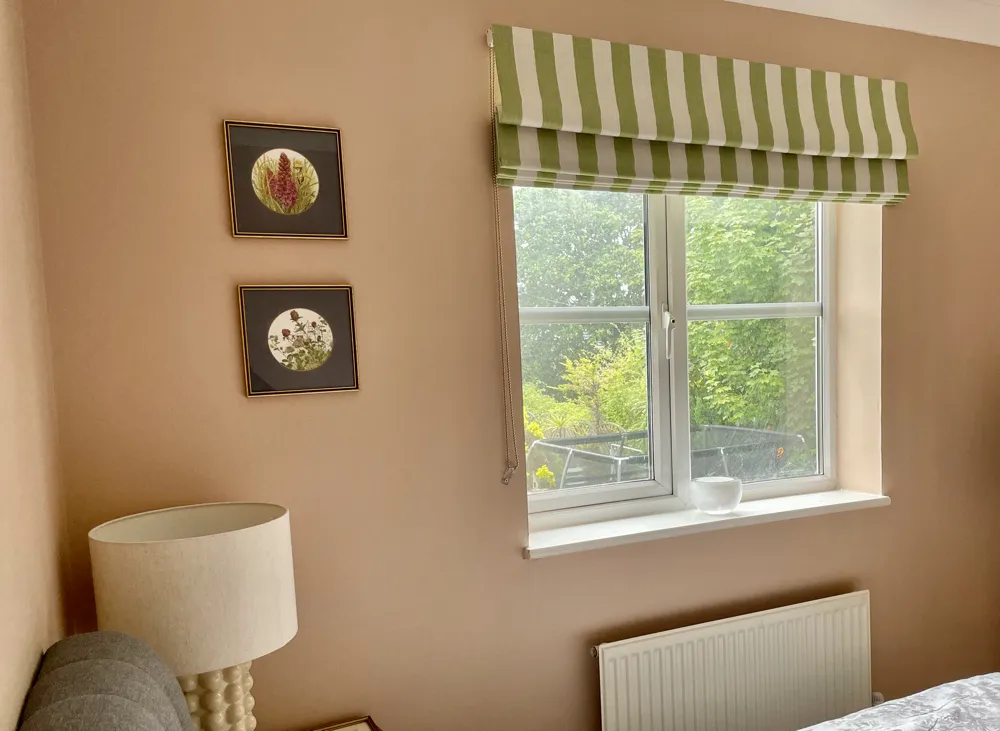 Green and White Striped Roman Blinds from Blinds2Go – Walls painted in Setting Plaster by Farrow and Ball.
Roman blinds can be operated manually or via motorization, and they are available in a variety of fabric options, including light-filtering and blackout fabrics. Roman blinds are a popular choice for bedrooms and other rooms where privacy and light control is desired.
And aside from their practicalities, Roman blinds are a great way to add a touch of elegance to a room.
The Pros and Cons of Roman Blinds
Pros:
Stylish and sophisticated
Available in a wide range of beautiful fabrics
Give your window a smart, tailored look
Made to measure
Great at blocking light
Cons:
More expensive than roller blinds
Harder to clean
So, which type of blind is right for you? Here are some things to consider:
Roman Blinds vs Roller Blinds: Ease of use
Thanks to modern mechanisms, both roller blinds and roman blinds are very easy to use. Most modern roman blinds use smooth pulley system which from a user's point of view, works in almost exactly the same way as a roller blind.
Aesthetics
When it comes to aesthetics, Roman blinds tend to have a more luxurious look. This makes them a great choice for period homes and luxurious modern homes alike. When fully open, Roman blinds will still cover the top section of your window—this means they aren't always a good choice for smaller windows.
Roller blinds, on the other hand, have a more simple modern look. Because they are able to roll up completely, they are perfect for smaller windows, allowing the maximum amount of light into the room. If you love the minimalist look, then roller blinds could be the way to go.
If you're trying to achieve a specific aesthetic in your home, that may be a factor to consider.
Fabric options
Both roller and Roman blinds are available in a variety of different fabrics, so you can find options that suit your needs.
For roman blinds, the best materials are:
Thicker fabrics are less popular, as they won't allow the blinds to fold as neatly. However, if the fabric you have chosen lets the light through, you can always add a blackout lining to your blind to ensure complete darkness when the blind is closed.
For roller blinds, there is a wider choice of fabrics, but most popular choices are vinyl, polyester, and cotton. Softer fabrics like cotton will generally need to be treated with a stiffener to ensure they roll smoothly.
Cost
Roller blinds are usually more affordable than Roman blinds. In fact, you can but them at almost any online retailer and simply cut them to size to fit your window perfectly. This can save a large sum of money compared to a roman blind, which will typically be made-to-measure.
So if cost is a major concern, roller blinds may be the better option.
When it comes to choosing between roller blinds and Roman blinds, it's all about finding the option that best suits your needs and preferences. I hope this blog post has helped you narrow down your choices and make the right decision for you.
Other Things You Need to Know About Roller Blinds vs Roman Blinds
Here are some of the key questions people are asking about Roman blinds. Hopefully, these answers will help you decide whether roman blinds or roller blinds are the right choice for you.
What is the difference between roman blinds and roman shades?
Roman blinds and roman shades are the same things. The term 'Roman Blinds' is used more commonly in the UK and Europe, while the term 'Roman Shades' is more popular in the US.
Why are Roman Blinds so expensive?
Roman blinds can also be quite expensive, with some brands costing hundreds of pounds/dollars. There are a few reasons for this. First, Roman blinds are typically made to order, meaning they are not mass-produced. Second, the fabric used for Roman blinds is often high quality, contributing to the higher price point. Finally, the manufacturing process for Roman blinds is usually much more labour-intensive than for other types of window coverings. As a result, Roman blinds tend to be one of the more expensive options on the market.
Are Roman Blinds worth it?
Roman blinds provide a more elegant look, and they also tend to be more durable than roller blinds. In addition, Roman blinds provide better insulation, as they fit snugly against the window frame. For these reasons, it is generally worth paying more for Roman blinds over cheaper roller blinds.
Can you use blackout lining on Roman Blinds?
Yes, Roman blinds can be made with a blackout lining, making them an ideal choice for bedrooms and nurseries. If you are ordering your blinds online, you will usually be given the option to add this on for a small additional fee.
Can you put Roman Blinds in a Bay Window?
Bay windows are a beautiful addition to any home, but they can pose a challenge when it comes to window treatments. Roman blinds are one of the best options for dressing bay windows, because they can easily be made to measure for each part of the window. This will give your bay window a smart look, and since each blind can be opened and closed independently, they allow you full control of the light coming into your room
Are Roman Blinds Cheaper Than Curtains?
In many cases, roman blinds can work out to be about the same price, or sometimes even cheaper than curtains. Although you will pay extra for a made-to-measure service, you won't need to purchase a curtain pole or rail, which can balance out the cost.
Are Roman Blinds Suitable for Large Windows?
Yes, Roman blinds are suitable for most large windows. However, if your window is over 200cm in width, you may need to order more than one blind to cover it.
Do Roman Blinds Need to Be Lined?
Yes, in almost every case, Roman blinds will need to be lined. Lining helps to give Roman blinds a neat, tailored appearance. It also helps to block out light, reduce noise, and helps to prolong the life of your Roman blinds by protecting the fabric from exposure to sunlight and dust.
Are Roman Blinds Suitable for Kitchens?
Yes, Roman blinds can be used in the kitchen. However, it's worth noting that they can be more difficult to clean than roller blinds, and grease and dirt can build up on them over time. For this reason, vinyl roller blinds or vinyl window clings are a better option if you need privacy in your kitchen.
---
If you enjoyed this article, you might also enjoy reading: