Pink is one of the most popular wall colours at the moment with colours like Calamine and Cinder rose becoming a popular choice for living rooms and bedrooms alike. Choosing the perfect curtains for pink walls isn't always easy though, so I've curated a list of some of my favourite choices to give you some ideas!
What colour curtains go with pink walls?
Pink can work well with a variety of different colours, but there are a few colours that are pretty much guaranteed to look great!
The best colour curtains for pink walls include:
Blue (Particularly Navy, Turquoise and Teal)
Grey
Neutrals
Red and Pink
Gold
These are some of my favourite curtains for pink walls.
Navy Blue Floral Curtains for Pink Walls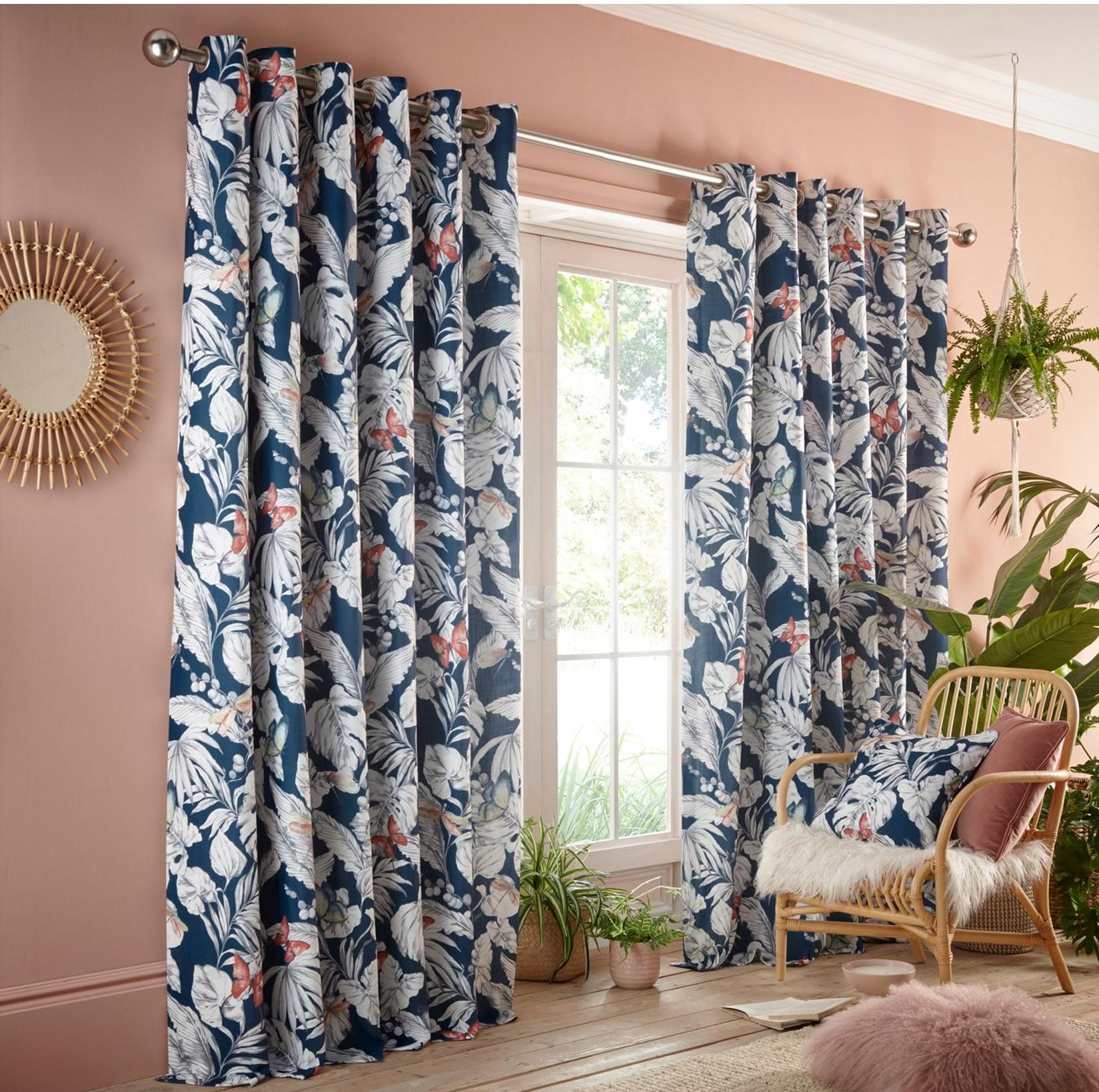 These are my number one choice of curtains for pink walls, and I'm thinking of buying them for my own living room! The navy blue works perfectly with this dusty pink shade. These curtains have an eyelet header which gives them a modern look, and also enables them to hang in beautiful straight lines.
Luxe Vibrant Velvet Curtains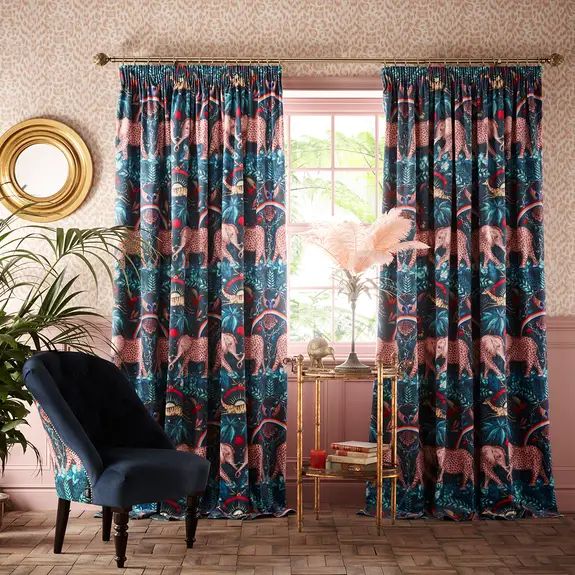 If you love eclectic interiors, you're going to love these curtains by Emma J Shipley. The design is hand drawn by Emma, and is inspired by her travels to Botswana. Featuring a range of animals and birds in pink and teal on a navy blue background, these curtains are sure to make a statement in your room. They have a pencil pleat header and come ready to hang. Just gorgeous!
Deep Wine Red Curtains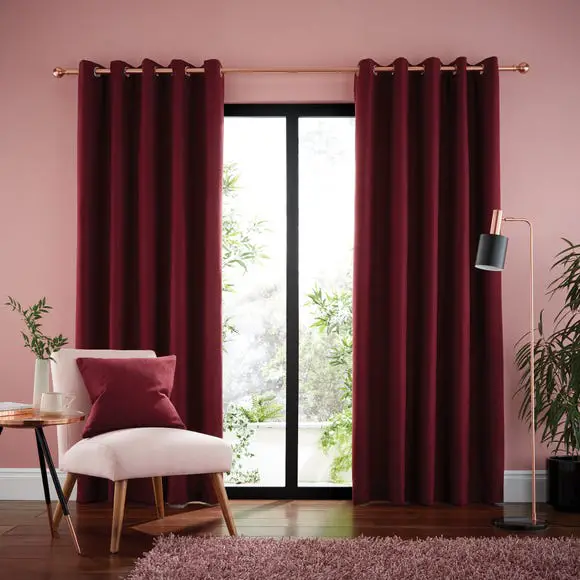 Choosing velvet curtains in a deep wine red is the perfect way to add a touch of opulence to your space. These curtains come in a deep merlot red which will look amazing against pink walls. They have an eyelet header for easy installation, and are also thermally lined to help keep your home cool in the summer and warmer in the winter.
Striped Pink and White Curtains for a Pink Room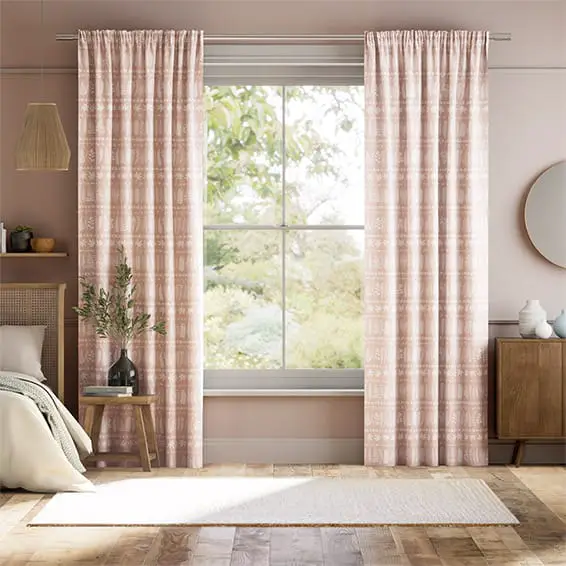 These gorgeous patterned curtains feature a nature inspired print of stripes of different leaves. The pattern is printed in white on a blush pink background. This muted pink colour will work well with similar shades of pink.
This will create a monochrome look which will allow the pattern to stand out and take centre stage. To complete the natural relaxed look, try and use lots of natural materials and textures like natural wood and natural fibre rugs. These curtains are also a great choice for boho bedrooms!
Teal Palm Leaf Curtains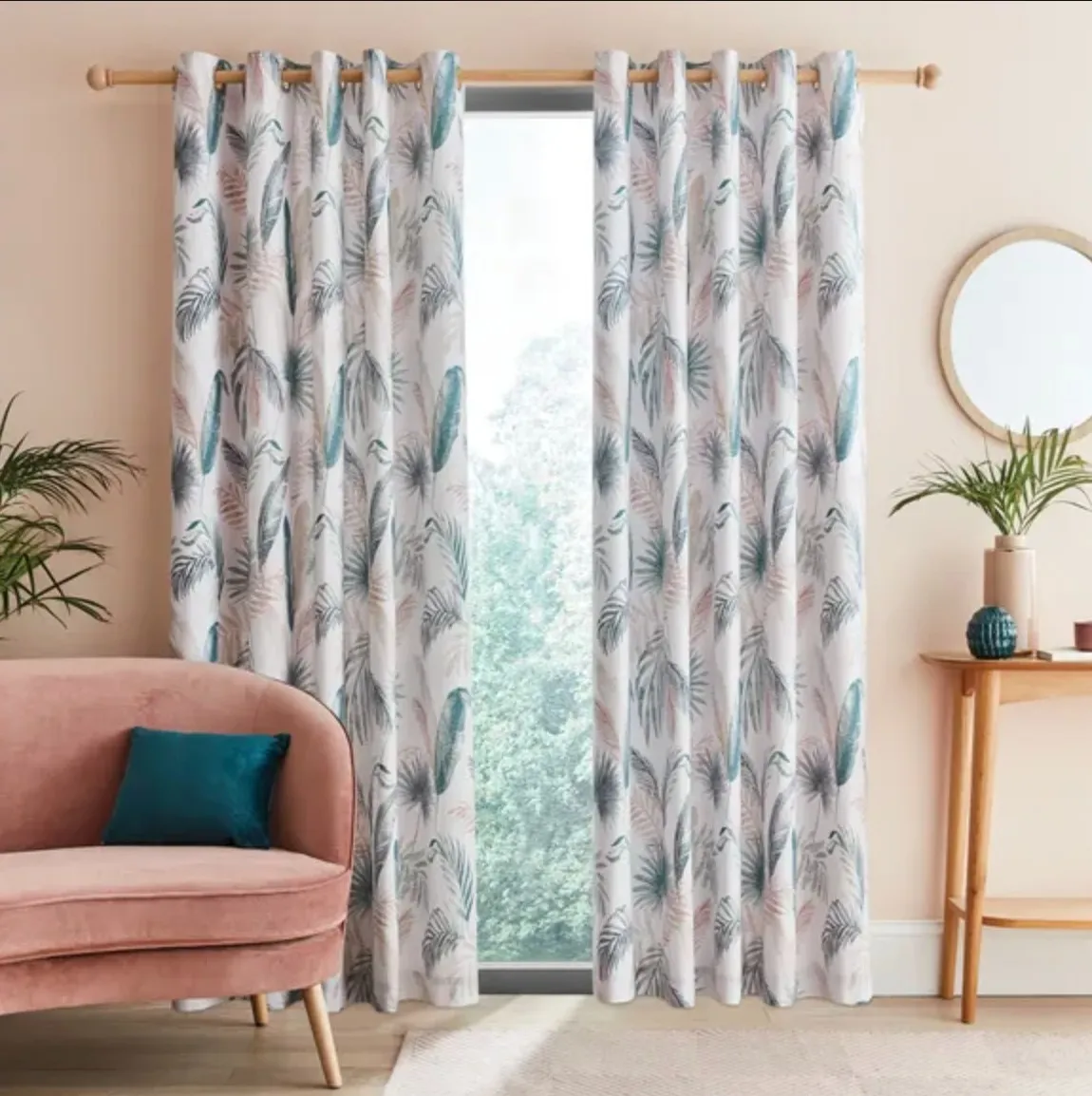 These beautiful curtains feature a palm leaf print in a soft palette of pink, grey, and teal on a white background. They are made from 100% cotton, which gives them a lovely natural texture, and they are also fully lined. An eyelet header gives them a contemporary look which will work well in most modern homes.
Go Monochrome with Pink on Pink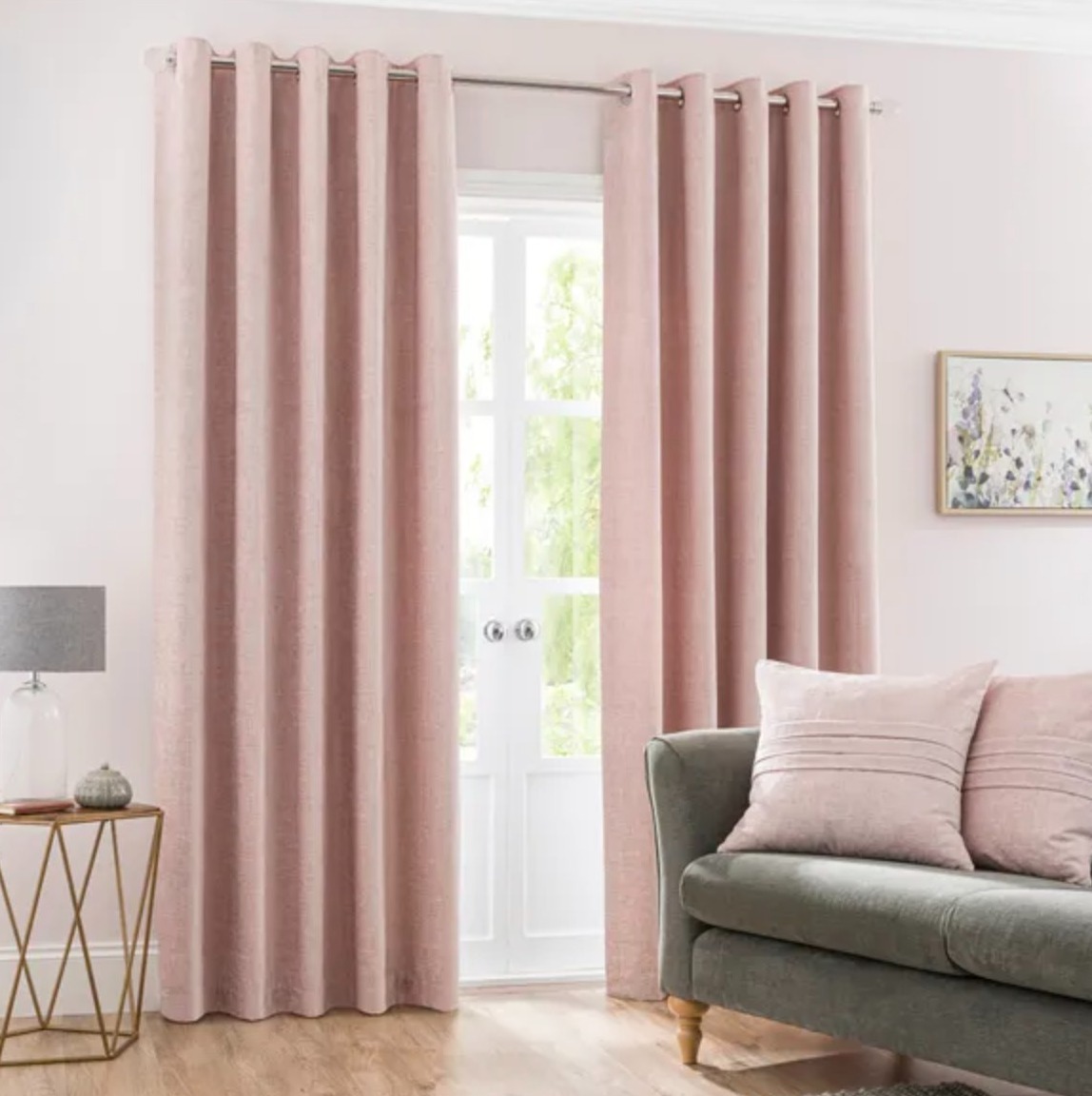 If your walls are a lighter shade of pink, choosing blush pink curtains can create a really elegant modern look. The pink of the curtains is ever so slightly darker than the pink wall, allowing the curtains to stand out and frame the window beautifully.
These curtains are made from a wonderfully soft chenille fabric, which has a slight sheen to it. They are fully lined, and hang beautifully thanks to the eyelet header.
Teal Dragonfly Curtains for Pale Pink Walls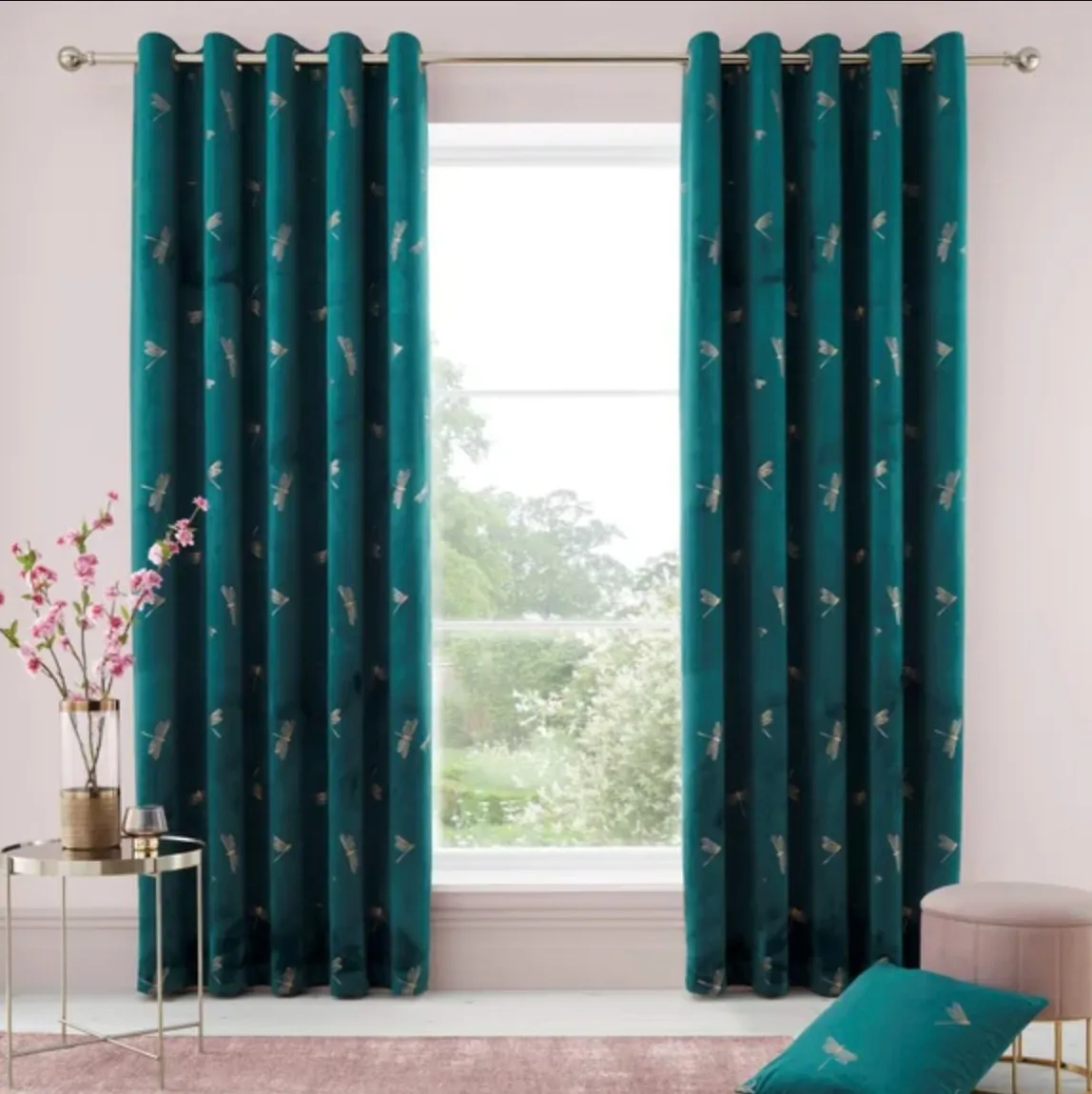 Delicate dragonflies in gold foil adorn these teal blue curtains, which are perfect for adding a touch of whimsy and charm to your living room! Complete the look with some matching throw pillows which are also available from the same store.
The teal green curtains are made from a luxurious velvet style fabric, with a 100% recycled polyester lining. They have an eyelet heading so they can easily be hung on almost any curtain rod, and are available in a range of sizes to suit your space.
Geometric Gold Curtains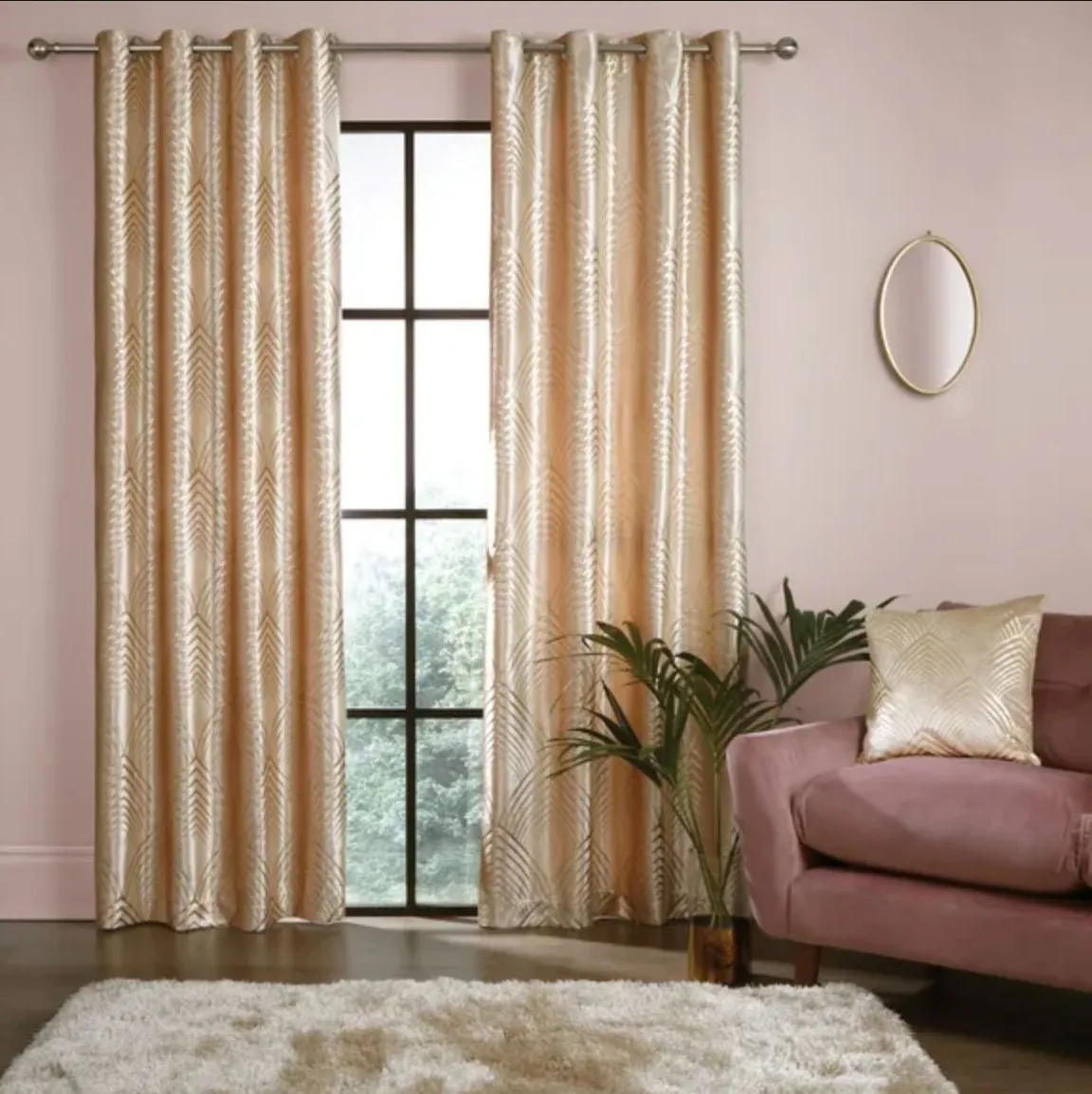 If you want to inject some art deco inspired glamour into your living room or bedroom, then a combination of pink and gold is the way to go. These gorgeous curtains feature a subtle geometric pattern in a soft champagne gold, which is perfect for adding a touch of luxe to your space. The curtains have a smart eyelet heading, and are also fully lined.
Silver and Grey Curtains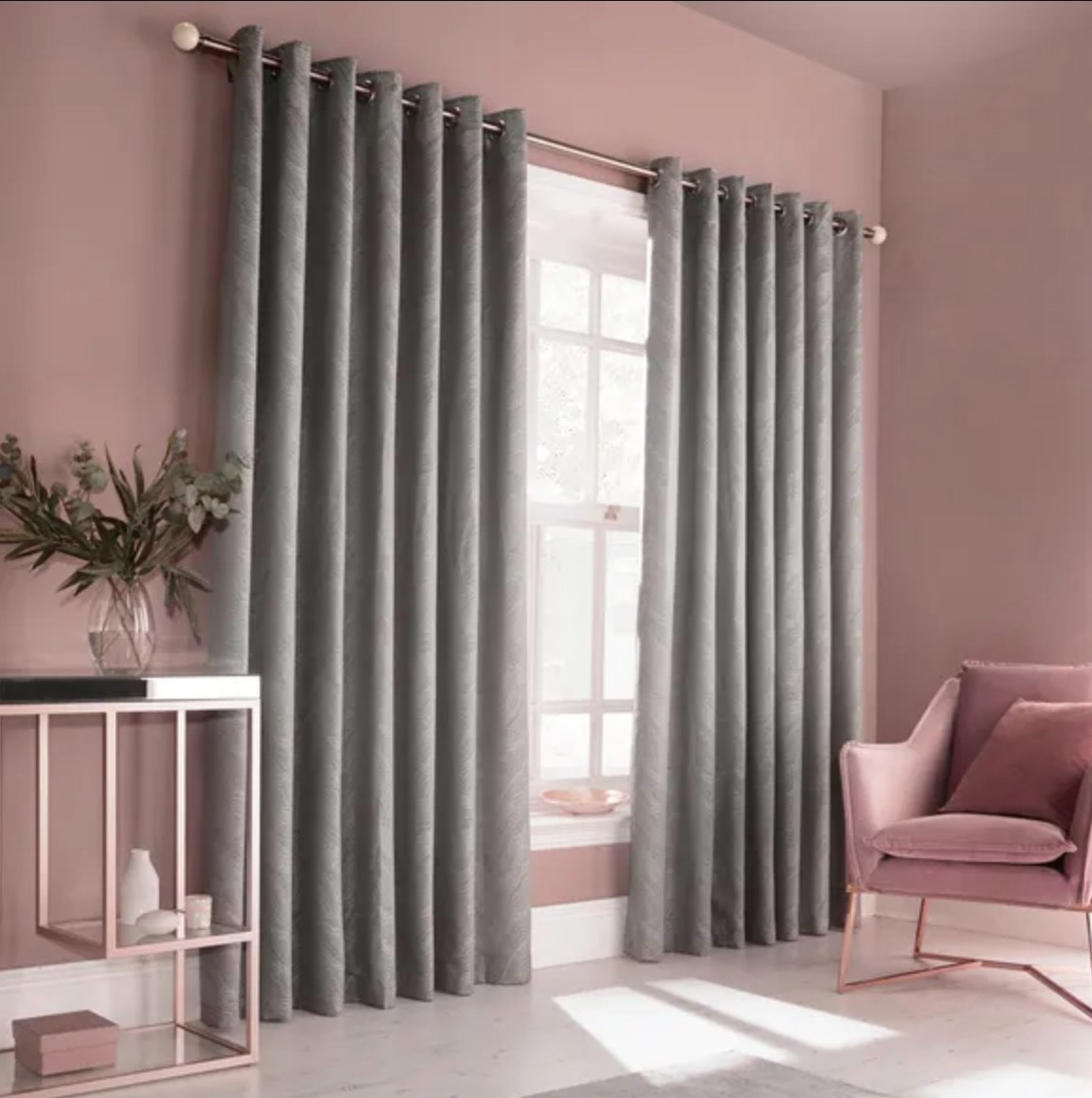 Grey or silver curtains against dark pink bedroom walls can create a sophisticated and glamorous look. From a distance, these curtains are fairly unremarkable. However, upon closer inspection a beautiful subtle jacquard pattern becomes visible. This is perfect for bringing a new element of texture to your room, and will also work well against a light pink wall.
These gray curtains are made from 100% polyester, which makes them a durable choice that is perfect for busy households. They are also fully lined for warmth, and feature a smart eyelet heading.
Geometric Gold and Teal Curtains for Bright Pink Walls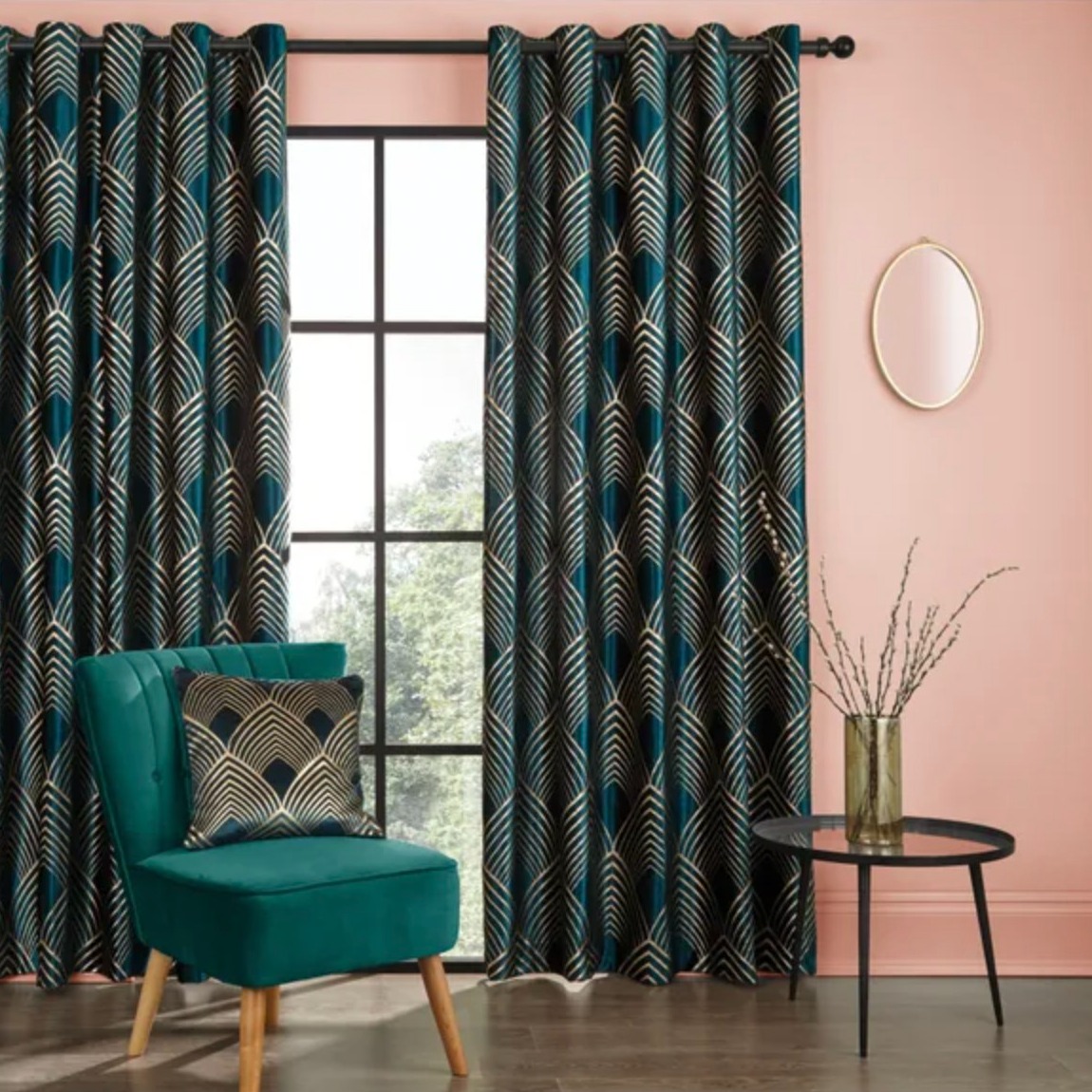 The art deco inspired design on these curtains is perfect for making a statement in a pink living room or bedroom! The bold teal colour will work well with almost any shade of pink, creating a wonderful contrast that will frame your window beautifully.
The gold foil pattern stands out well against the teal background too, creating a stunning effect. These curtains come with a durable eyelet header, and are also fully lined with a 100% recycled lining. These curtains will look best with black curtain rods.
Summing it up…
Hopefully these ideas have inspired to you! Choosing the perfect window treatments is a crucial part of any interior design scheme. Pink is one of the best colours for living room walls. And, as you can see, there are lots of great design ideas out there that will work well with pink walls. Texture, and pattern are just as important as colour, so before deciding which curtains to choose, think about the overall look of your space, and how you want it to feel.
If you want a smart modern look, then choosing a plain curtain in a shade of pink or grey will work well. Alternatively, if you prefer more of a boho look, keep an eye out for florals and other exciting patterns.
It's also a good idea to consider the amount of natural light you have in the room you are decorating. If you have a small window you might want to consider choosing a sheer curtain, rather than a blackout curtain. This will allow natural light to filter through.