In this 247 Blinds review, I'm delving into my experience with a blind I purchased recently from 247 Blinds. I'm going to share everything from the ordering process to how easy it was to fit and the quality of the material used.
I'm a huge fan of Roman blinds. I love the way they fit the window perfectly and elevate the look of a room. The only downside to Roman blinds is that they can be considerably more expensive than roller blinds and curtains. Because of this, I spent a lot of time looking for the perfect Roman blinds at an affordable price, and I decided to give 247 blinds a try.
So if you're thinking about ordering Roman blinds from 247 Blinds for your own home, keep reading!
Get The Best Deals on Blinds from 247 Blinds
247 Blinds Review [TLDR]
In a rush? Don't worry; here's what you need to know.
Overall, I am super happy with my purchases from 247 Blinds. The quality was great, and they look great on the windows too. I searched long and hard for the most affordable Roman blinds (without compromising on quality), and I would definitely recommend these to anyone.
Keep reading for the full 247 Blinds review!
Ordering Experience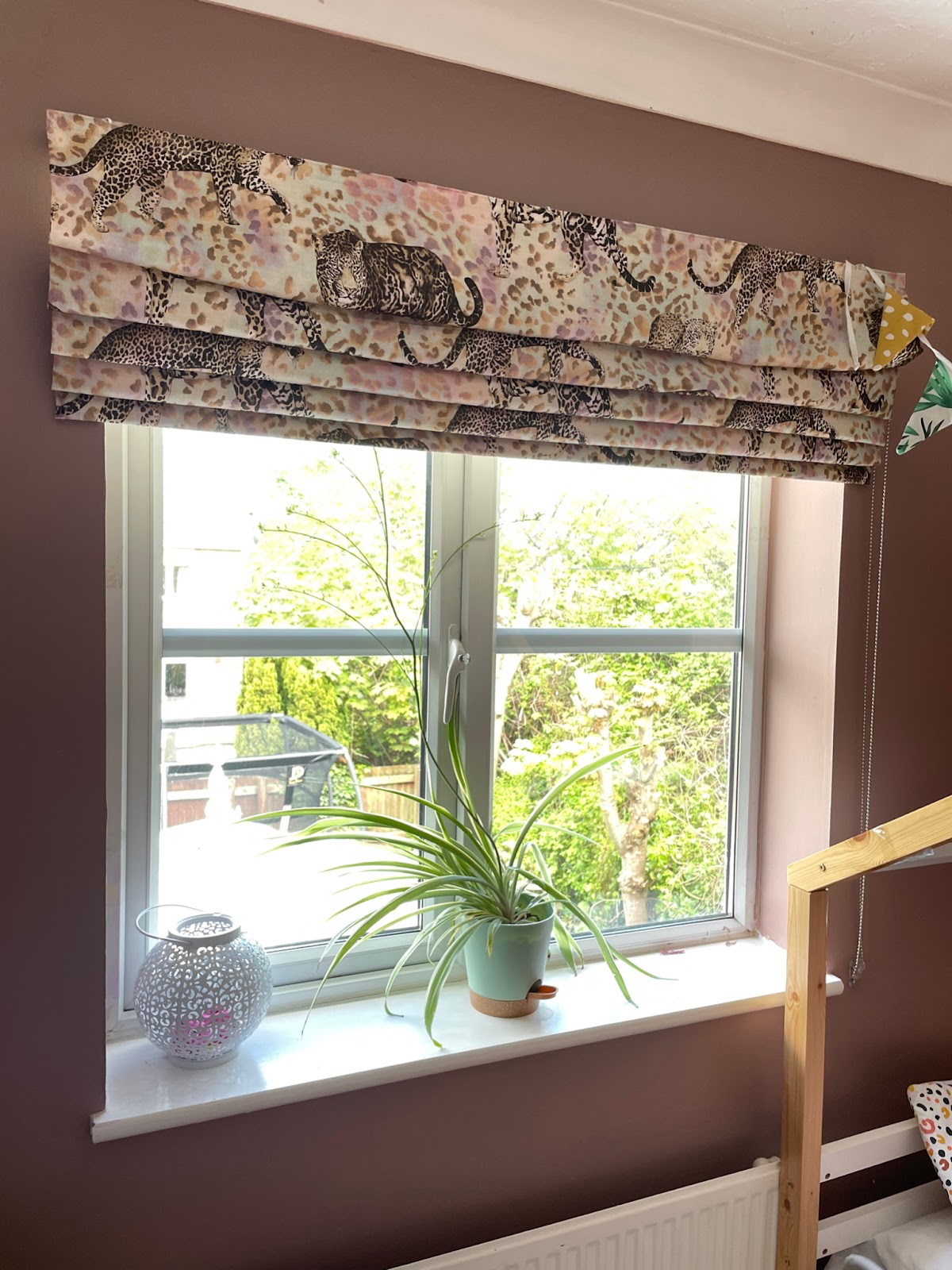 The ordering experience was actually much easier than I thought it would be. The website is really user-friendly, and it provides clear instructions on how to measure your blinds, depending on the fit you want.
There are two ways to measure Roman blinds:
Inside the recess of your window
Outside the recess of your window
I opted for an 'exact' measurement to fit outside the recess of the window and opted for an overlap of 5cm on each side.
It was really easy to navigate through the extensive collection of blinds on offer too, and I found the perfect blinds for my home. In the end, I found the perfect Roman blind featuring an adorable pink and beige leopard design for my daughter's room.
The delivery was prompt too, and the blinds were well-packaged and damage-free on arrival.
Installation
The installation process was easy—much easier than installing a curtain pole! The blinds came with installation instructions, and we just needed a drill, a screwdriver, and a tape measure.
It took about 20 minutes to install the blind. All we had to do was attach the brackets to the wall and then attach the headrail and velcro the blind on.
The blind came with a wall clip to attach the cords to. This keeps the cord tight and held close to the wall, reducing any strangulation risk to children or pets. It also looks much neater than a long cord flapping around!
The mechanism allowed for effortless raising and lowering, and the cord control provided precise adjustment for light control and privacy. I appreciated the functionality and ease of use that these blinds offered, making them a practical choice for everyday living.
Quality and Durability of the Roman Blinds
The blind exudes quality craftsmanship. The fabric is thick, and the stitching is impeccable. I would say that the quality of this blind elevates the look of the whole room—I'm in love!
It really impressed me with its quality and durability. I was pleased with the blind overall. It's definitely built to last!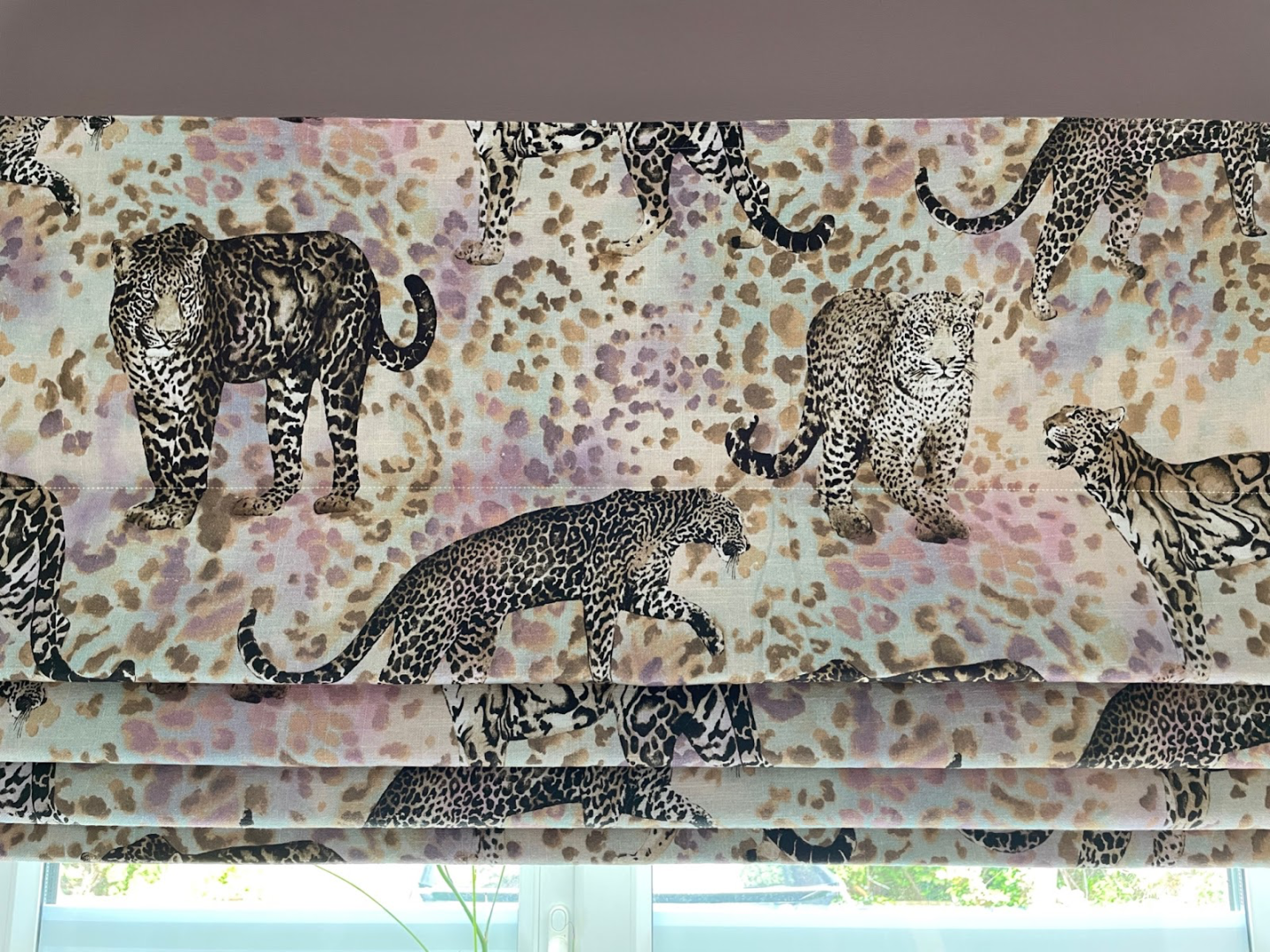 Design and Aesthetic Appeal
The green and white striped blind brought a fresh and modern vibe to my spare bedroom. The walls are painted in Setting Plaster by Farrow and Ball, and I wanted something that would stand out against the pink, uplifting the space and making it feel playful and fresh.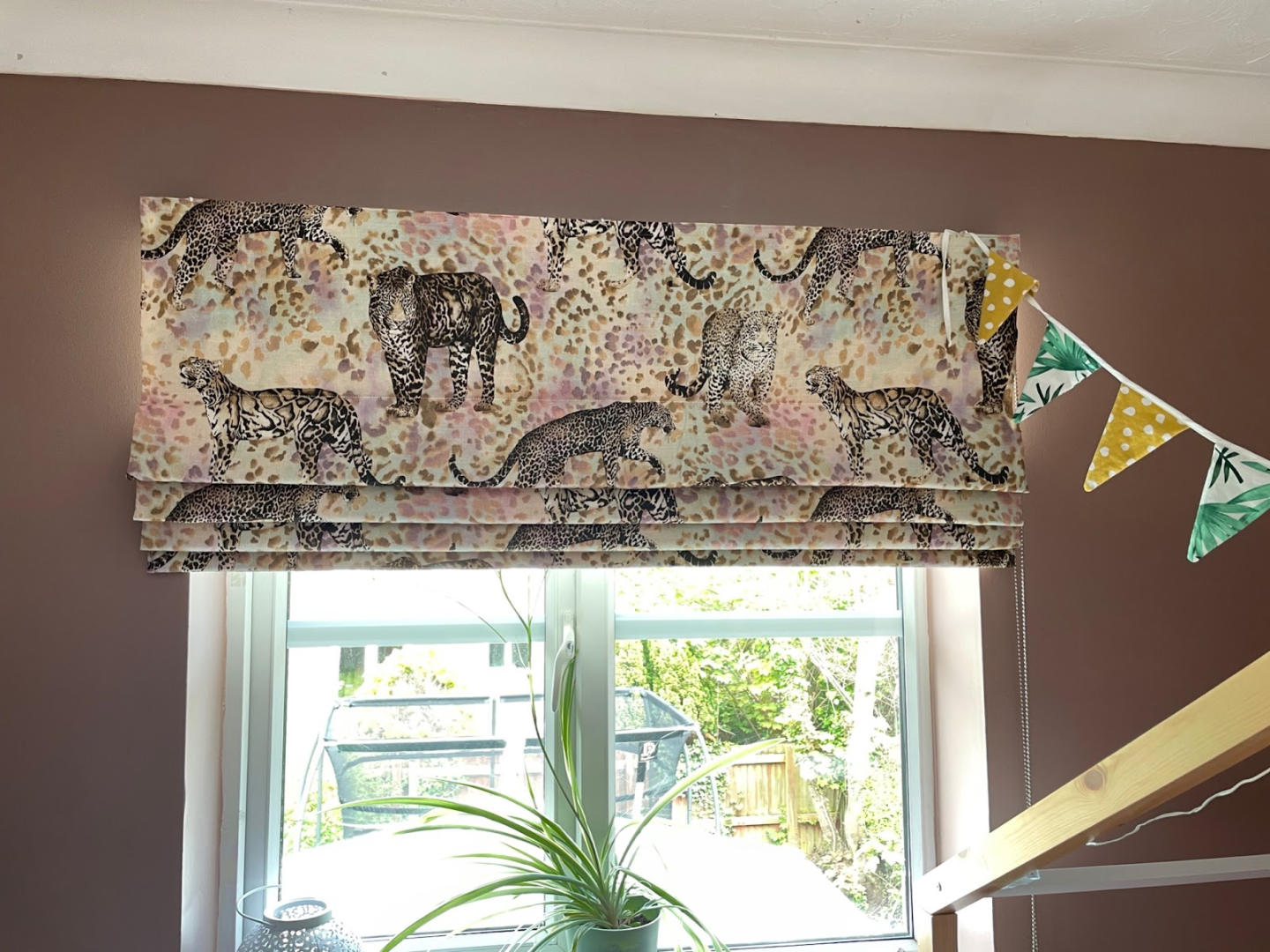 My daughter's room is painted in Sulking Room Pink by Farrow and Ball, so it was important to me that the blind complemented this colour. 
I chose the Nairobi Print in Pastel, 
I think it's safe to say that it's perfect, injecting a playful touch into the space. Its unique pattern added a focal point, instantly drawing attention to the window area and adding a touch of pattern to the room.
The Blackout Lining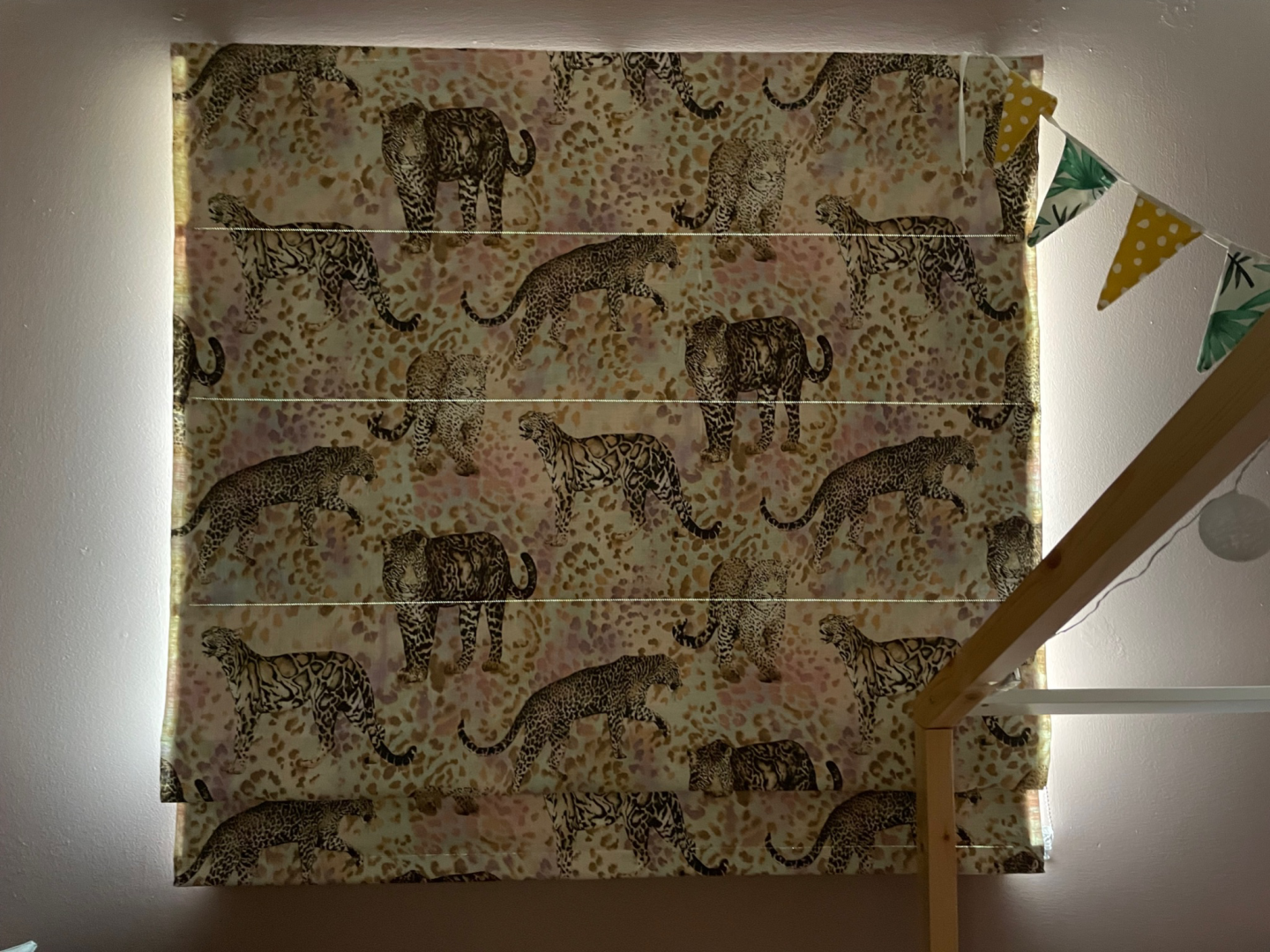 I ordered my blind with a blackout lining in an effort to get a longer lie-in in the mornings. The image above shows how the blind looks on a bright sunny afternoon with the sun shining directly at the window. As you can see, light shows through the stitching and through the gaps on either side, so it won't provide you with complete darkness on a bright sunny day.
That being said, it does a good job of blocking out most of the late evening and early morning light. If you want complete blackout, you could consider using a blackout roller blind hidden behind the roman blind. You will probably also have more darkness if you measure you blind to fit inside the recess of your window, as in this case, there would be no gap at the front.
Further reading: Roman Blinds vs Roller Blinds: What's the Difference?
247 Blinds Review: Value for Money
Considering the quality, design, and overall experience, I feel that 247 Blinds offer excellent value for money. The pricing was competitive, especially when compared to similar blinds available in the market. The durability of the blinds, coupled with their appealing designs, justified the price paid.
Investing in these blinds felt like a worthwhile decision.
Customer Satisfaction and Reviews
Although I didn't require any customer service assistance, I've heard positive feedback from others who've had excellent interactions with the company's helpful and knowledgeable support team.
247 Blinds has garnered positive feedback from customers, and honestly, my experience aligns with those sentiments.
It's easy to see why they're rated so highly on Trustpilot! They have an impressive score of 4.8 out of 5 stars on Trustpilot from a whopping 56,725 reviews at the time of this review.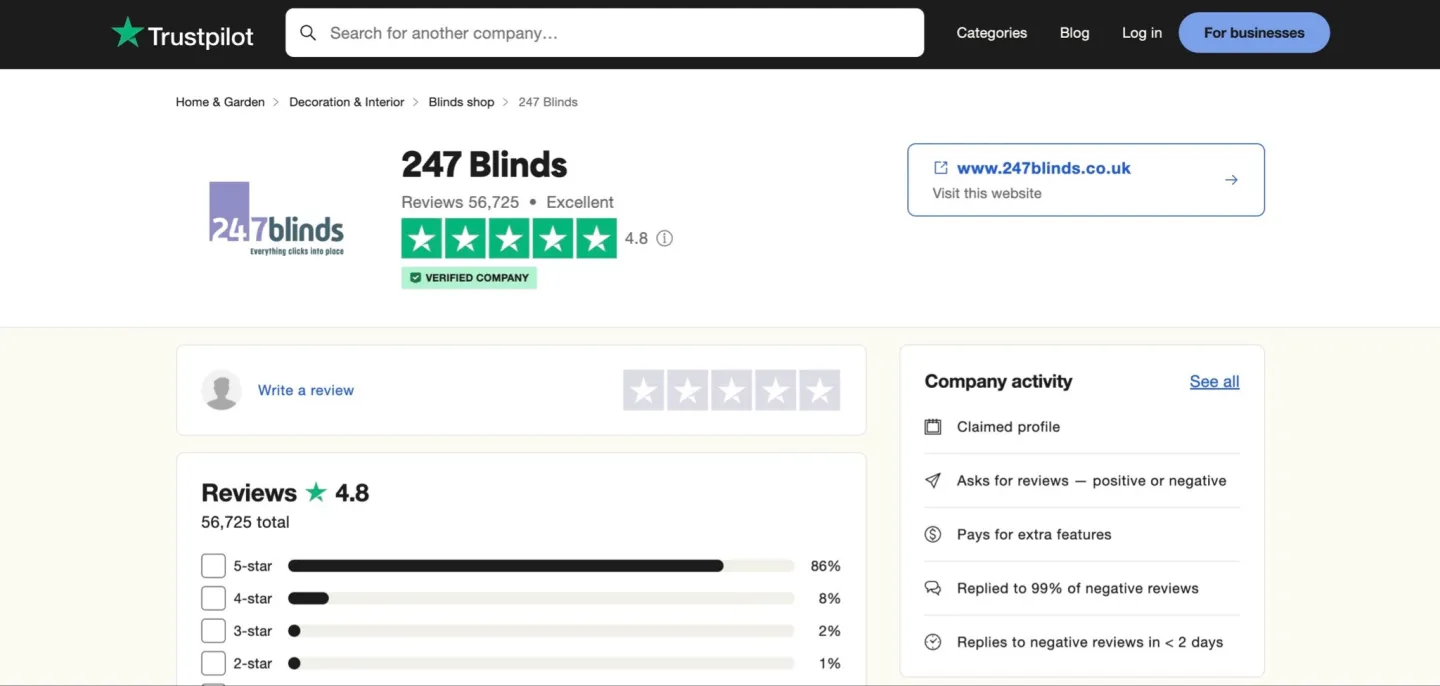 The brand has received praise for its exceptional quality, extensive range of styles, and outstanding customer service. Many customers appreciate the affordability and durability of the blinds, making 247 Blinds a top choice for window treatments.
247 Blinds Pros and Cons
Pros:
Beautiful quality
Easy to install
Lots of fabric and pattern choices are available
Blackout lining options
Fast delivery
Cons:
There's really nothing I didn't like!
Conclusion
In conclusion, my experience with 247 Blinds and the Roman blinds I purchased was great. The ordering process was smooth, the blinds displayed impressive quality and durability, and their designs added a touch of personality to my windows.
If you're thinking of ordering roman blinds for your home, I would definitely recommend giving 247 blinds a go.