Choosing the right curtains to complement your green-painted walls can be a difficult task. From the perfect shade of sage to a more daring emerald, there are so many options when it comes to selecting curtains that will both stand out and complement your walls at the same time.
In this article, I'm sharing ten stunning curtain styles that will go perfectly with green walls. Whether you're aiming for an understated look or something with a bit of glamour, I've selected options guaranteed to meet any aesthetic. So grab a cup of tea, and let's take a look!
Luxury Teal Living Room Curtains for Green Walls
Curtains from LaRedoute
If you're looking for something special to enhance your green walls, then these luxurious dark teal curtains should be at the top of your list. This combination of fabric and line makes these luxurious dark teal curtains perfect for creating a contemporary yet opulent look.
They're made from quality woven slub chenille for a touch of luxury, with the perfect drape and weight provided by weighted corners and a soft touch dyed lining.
These quality thermal-insulated curtains also block out light, and help to keep the room temperature at a comfortable level. Curtain rings allow them to be hung with ease on your existing poles.
Grey Faux Suede Curtains to go with Sage Green Walls
Curtains from Terrys Fabrics
These grey faux suede curtains are the perfect way to dress up and complete your green wall. Their subtly luxurious feel and modern cut will bring a contemporary charm to any room, while the natural grey hue complements the soft grey-green tones of the walls.
Whether you're making a statement in your home office, or adding a distinct air of sophistication in a bedroom, these eyelet curtains with matching lining are sure to make an impression.
Natural Beige Curtains for Green Walls
Curtains from Dunelm
Featuring an elegant and natural finish for either the living area or bedroom, these Bondi Natural curtains are the ideal choice for pairing with green walls.
Weaved, fully lined and available in an array of different colours, this neutral curtain colour provides an understated, natural look. The eyelet headers also add a modern touch to any interior with their brushed steel eyelets. A wonderful choice if you're looking for affordable, versatile, and chic curtains.
Summery Sunflower Curtains to go With Green Walls
Curtains from Terry's Fabrics
Give your room a burst of life with these cute sunflower curtains from Skinnydip. These retro style white and yellow curtains are perfect to add color and brightness to your home in a fashionable way.
The custom made-to-measure fabric is ideal for windows and doors as it comes in a variety of sizes, fitting the exact dimensions of your space. These vibrantly patterned curtains are the perfect antidote to plain furnishings!
A Mystical Winter Garden Design
Curtains from Dunelm
These beautiful, hand-painted floral curtains feature a winter-inspired botanical design, embelished with intricate embroidery for an added touch of elegance.
The stunning colour palette of pink, green, and navy blue will look amazing against forest green walls. Crafted from high-quality 300 thread count cotton sateen, these curtains will add a touch of luxury to your space in an instant.
Blackout Curtains to go with Green Walls
Curtains from Terry's Fabrics
Cream or off white curtains are the perfect addition to any green wall, creating a subtle and timeless look. These curtains, made with pencil pleat detailing, are a great alternative to custom-made drapery, as you enjoy all the benefits without the higher price tag.
Not only do these cream curtains look beautiful, but they also provide thermal and light blocking qualities. This is thanks to their triple weave blackout material. The have a 100 percent polyester composition and amedium heavy weight design. Perfect for creating a comfortable atmosphere in your bedroom or living room.
Watercolour Curtains for Green Walls
Curtains from Dunelm
These beautiful watercolour trees eyelet curtains are a wonderful way to bring a refreshing and tranquil feel into your living room. The beautiful green colour scheme will effortlessly coordinate with most decor styles, making it suitable for various rooms in your house.
Crafted from quality materials, these sheer curtains are 100% cotton on the face, with a lining of polycotton that features an attractive striped design. Easy to install and hang, these eyelets just slide onto any curtain rod, there's no need for clips, rings or hooks! Make any room in your home more inviting with these stunning green and white curtains.
Retro Curtains For Olive Green Walls
Curtains from Terrys Fabrics
Orla Kiely's iconic Multi Stem design is the perfect way to add a modern, eye-catching touch to any room. Featuring bold, graphic prints that are designed to be both retro and modern, they will go perfectly with olive green walls.
This patterned curtain set guarantees quality with a face composed of 100% cotton and a luxe 50/50 cotton and polyester blend for the lining. Printed designs for the subtle detailing of the lining give you one more opportunity to express your style in the room, creating a beautiful bedroom or living space with ease.
Duck Egg Blue Curtains for Light Green Walls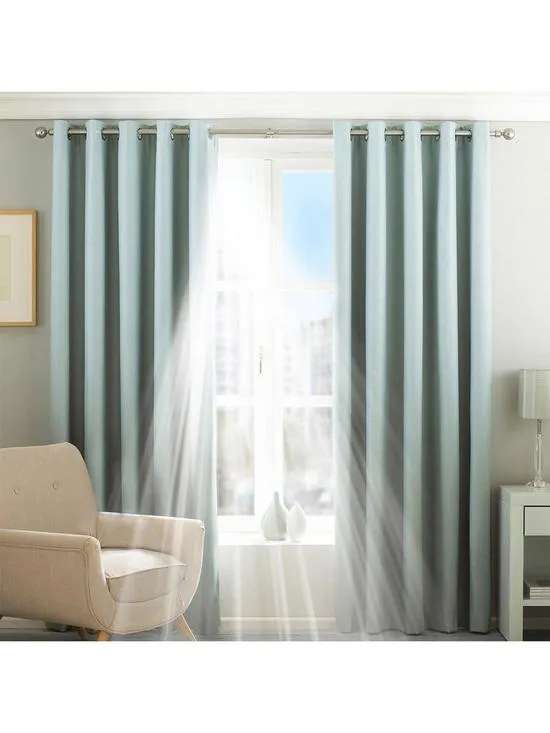 Curtains from Very
Duck egg blue curtains are the perfect accent color for light green walls. The muted, pastel hues of both colours create a subtle harmony in any room, from the kitchen to the dining area.
The light mint green walls allow the slightly different shade of the curtains to stand out, while still providing a rather calming and serene atmosphere.
Duck egg blue also pairs nicely with neutral shades such as white or grey, allowing furniture or decor pieces in those colors to complete your colour scheme. Make sure to measure your windows carefully when purchasing new curtains to get the perfect fit!
Charcoal Grey Curtains for Green Walls
Curtains from Terrys Fabrics
Charcoal grey curtains are great way to give your dark green walls the perfect contrasting frame. The deep, muted tones of charcoal are ideal for emphasizing the warm earthiness of your green room. While lighter greys can look a bit harsh and stark against a green wall, charcoal's darker hue ties everything together for an incredibly stylish and modern overall aesthetic. Perfect for adding a touch of smart sophistication to your green walls!
If you still haven't selected the shade of green for your walls, check out my article on the best sage green paint colours for some inspiration!
You might also enjoy this article on the best colour curtains for blue walls.