What makes the perfect bedroom? Is it the colour scheme, the bed or something else entirely? Everyone has their own ideas about what makes the perfect bedroom, which has helped to make bedroom décor big business. A two-colour combination for bedroom walls is a great way to bring a bolder colour into your room, because it allows you to break up the colour. One colour on all four walls of a bedroom can sometimes be overpowering.
Today I'm sharing some of the best two-colour bedroom colour schemes to inspire you to be bold and brave with your own wall colour!
The Best Bedroom Wall Colour Combinations
Whether you are looking for ideas for your master bedroom, or you are looking for the perfect palette for decorating a nursery, there will be something for you here!
1. Teal and White
Photo by Devon Janse van Rensburg on Unsplash
A Teal and White colour scheme is ideal for anyone who wants their master bedroom to be a calm and relaxing space yet still have a strong colour scheme so it doesn't feel too plain.
Teal can be dressed up or down, depending on the look you want to go for. Gold accents work particularly well with teal, adding a touch of elegance and femininity to what could otherwise be quite a dark, masculine colour.
2. Navy Blue and White
Photo by Andrea Davis on Unsplash
Navy blue and white are a classic bedroom wall colour combination. This palette will work well in a master bedroom as blue is typically associated with peace and tranquillity which are needed for a restful night's sleep.
The navy blue paint could be used to make a striking feature wall that would create a focal point for the bed or you could opt for something more complex, such as painting the bottom half of the room blue and the top half white and finishing with a dado rail.
Navy blue is also the perfect way to make a bedroom feel masculine without the need to resort to monochrome. Use all white furniture and bedding to complete the room and really make a statement.
3. Coral and Warm White
Photo Thistlewood Farms
Coral and warm white work together to create a relaxed vibe with a fantastic pop of bright bright colour. Coral is often associated with beaches, so this two-colour combination for bedroom walls would work perfectly at a seaside property.
The white bedding and lamp make this space feel clean and fresh – perfect after a day of breathing in the sea air.
4. Coffee and Cream

Photo by Jonathan Borba on Unsplash
If you're thinking about choosing a coffee-based colour for your bedroom then you're making a great choice. Did you know that dark brown tones naturally remind our bodies of the earth and can in fact aid sleep?
Coffee comes in a range of shades, encompassing everything from deep, rich espresso to warm and neutral latte. Just as stirring cream into your morning coffee tastes great, these two colours work perfectly together as a combination too.
Keep the colour theme going with chestnut or deep mahogany furniture and by adding bedding and other soft furnishings in cream.
5. Terracotta and Stone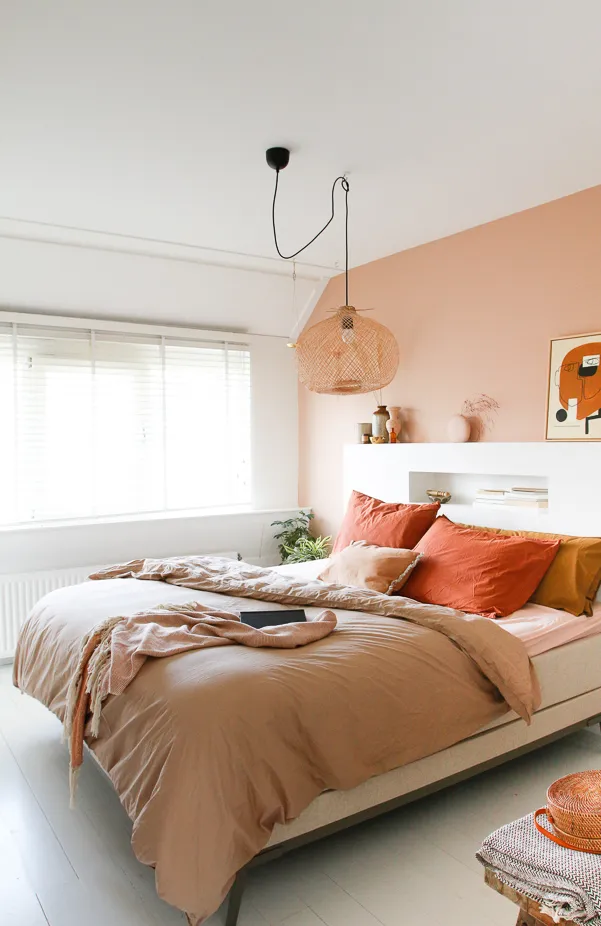 Do you want to feel like you're on holiday every time you walk into your bedroom? Pairing earthy Terracotta with a light Stone shade of grey will give your bedroom a lovely Mediterranian feel, reminding you of holidays and sunshine every time you set foot into the room.
Terracotta has rich, warm and earthy vibes which exude calm especially when paired with natural materials such as wood, cotton and linen. For an extra touch, add plenty of houseplants which will keep the air clean and can help reduce stress levels. Just don't forget to water them!
6. Pink and Light Grey
Image canva.com
Pink and grey in a bedroom is simple yet elegant and can easily be incorporated into the furnishings to really tie everything together.
While Grey can sometimes feel a little dull on its own, adding a light shade of pink can really brighten it up with a layer of chic femininity. This two-colour combination for bedroom walls would be perfect for a little girl who doesn't want her room to be over the top girly but still likes pink.
Finish by adding small touches like fairy lights, clever storage and an over bed canopy for a fairytale come true bedroom for your little one.
7. Pink and White
Photo Cherished Bliss
If you're looking for a two-colour combination for bedroom walls that is chic without being bland, this might be the duo for you. The blush shade of Pink allows the room to feel pretty and feminine as the neutral white helps ground the room and adds some elegance.
If you'd like to brighten things up with some pops of colour then pastels such as Mint Green, Pale Lemon and Luscious Lavender all work well as accent shades for accessories.
8. Mint and Rose
Photo Pinterest
If you like pastels, then mint and rose are two ice cream colours that work together in perfect harmony. While they would look lovely as a bedroom wall colour for someone of any age, they do make a beautiful combination for the nursery if you're looking for colours rather than plain white.
Mint and Rose look great with grey, yellow and lilac so it's really easy to add another colour should you need to.
9. Teal and Mink
Image Adore Magazine
Teal and Mink is a colour combination that works together beautifully in any room, but especially in the bedroom where it feels both modern and chic yet calm and cool, especially when paired with all-white furnishings and accessories.
If you're worried about your bedroom walls looking too neutral when using lighter stone shades such as mink, then teal is perfect for adding a little pop of colour without going over the top, keeping your bedroom the calm and restful place it needs to be for an excellent night of peaceful sleep.
10. White and Grey
Photo by Jean-Philippe Delberghe on Unsplash
Is there anything more beautiful than this bright and light bedroom? Choosing this light colour combination for bedroom walls only enhances a space that already has lots of natural light shining through. That's why Grey and White work so well here.
The natural wood flooring stops the room from feeling too bland and grey light shade really ties everything together. You'd certainly get a good night's sleep with this bedroom colour scheme, which feels calming yet chic at the same time.
11. Red and White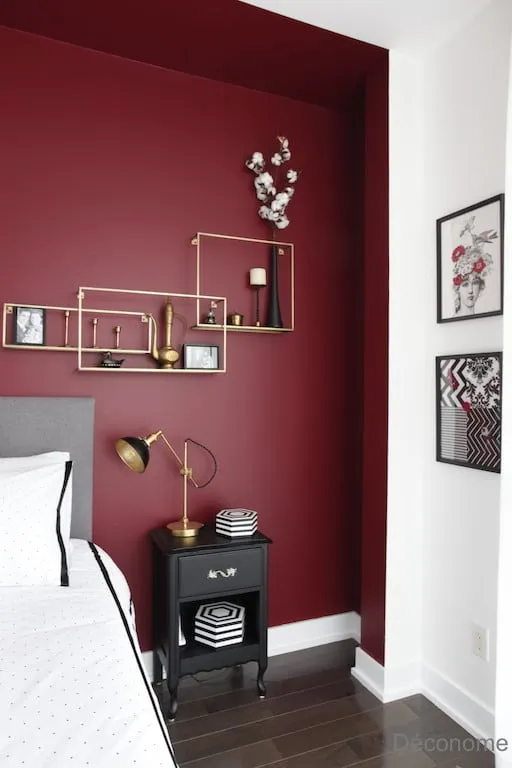 Image Deconome
White and Red are shades that you might not automatically put together in a bedroom, but when done right they just work!
The cool white gives the room a calm and relaxing feel while the red shade adds a deeper pop of colour that will really make the space sing.
Accessories that compliment are in the middle of the two colours – try using gold and gray.
12. Classic Black and White
Photo Bright Green Door
Painting your bedroom walls black will make a bold statement and there's no colour that pairs better with black than white.
Monochrome works best when there's not much else going on – so keep all other colours to an absolute minimum and try to eliminate any clutter too. Bedding can be alternated between all black or all white, so no worrying about matching in other shades.
While it might be tempting to paint every wall black, especially if you like things very dark to get a good night rest, keep in mind mostly black walls can make the room feel smaller than it actually is!
13. Turquoise and Buttermilk
Image Pinterest
Finding the best two-colour combination for bedroom walls can be tough. How do you know you're making the selection? One way to find out is by choosing a neutral colour and matching it with something brighter as an accent wall. If it turns out not to be to your taste, then one wall is easy to change.
If you find beige and magnolia a little on the boring side for neutrals, try something warmer, such as this beautiful buttermilk shade which looks lovely when matched with one bright colour – in this case, a vivid turquoise.
Traditionally, turquoise actually pairs well with bright yellow, but yellow walls can be too bright for a bedroom, so this is a great way to tone things down a bit while still using that classic combination of colours.
14. Pale Gray and Slate
Photo Little House of Four
There are many different shades of gray, but the trick is to find two that actually compliment each other, rather than shades so alike they are lacking in contrast.
Having a contrast between the colours is what creates interest and that's why slate and pale gray are the perfect fit. The dark slate is elegant and sophisticated and is instantly lifted by the lighter gray. This can be carried over into any fixtures and fittings – a silver framed mirror to reflect and add light, and a velvet headboard in silver to add a touch of luxury.
15. Forest Green and Taupe
Photo by Andrea Davis on Unsplash
Forests are often associated with peace and tranquillity and what could be better than bringing a touch of that calm into your bedroom with a beautiful shade of green?
Imagine lying on your bed and feeling that sense of peace and restfulness wash over you as you fall asleep. The colour green also has other qualities, such as being linked to good health, rejuvenation and new beginnings.
As this shade of Dark Green is such a bold choice for bedroom walls, pair it with something a little more neutral such as Taupe or Ivory. Bring the forest feel into your room further by adding hardwood furniture, wood flooring and plenty of house plants.
16. Chocolate and White
Image Pinterest
You should feel calm and relaxed as soon as you set foot in your bedroom and using a chocolate shade of brown is one way to achieve that.
As an earthy colour, brown can help us relax in both body and mind. To prevent the brown from making the room feel too dark, use white for furniture and bedding and add lamps for cosy low lighting. Bright colours should be avoided when it comes to accessories, instead choose cream, beige and other neutral tones.
17. Ivory and Silver
Photo by Albert Vincent Wu on Unsplash
Bold colour choices in the bedroom aren't for everyone and sometimes a subtle and subdued look is more to our tastes. These two colours just scream classic elegance and chic style when paired together for a room that feels light and airy but relaxed at the same time with the smallest hint of luxury.
Ivory is the perfect shade to use when white is too bright but anything else feels too dark. Silver then adds a shimmer which really takes the room to the next level. Classic styling, such as the studded headboards and crisp white linens gives this bedroom a timeless look that will never go out of fashion.
18. Gray and Navy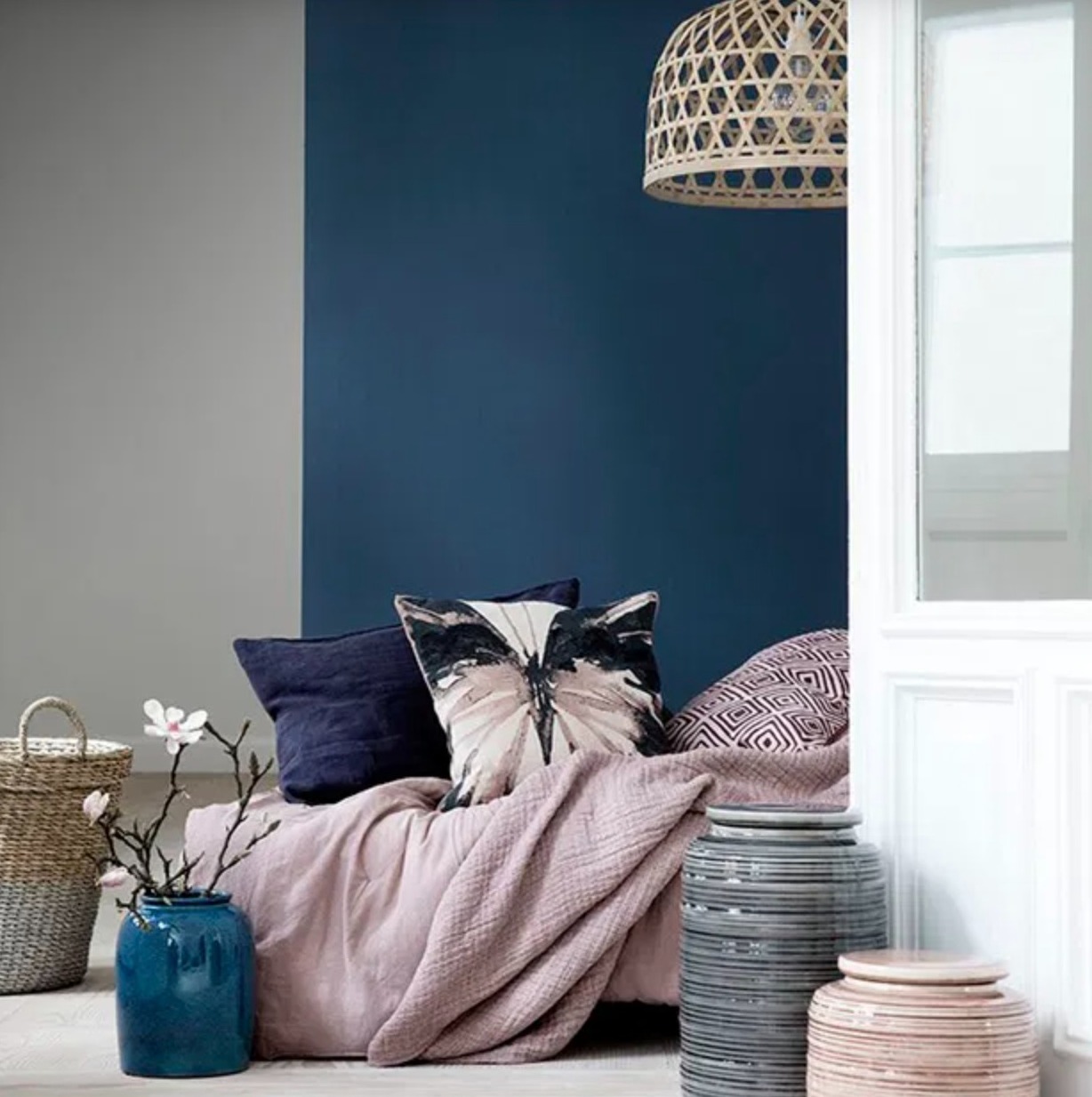 Image These Four Walls
If you think that Navy and White will be too bright for your tastes, then choosing Navy and Grey is a very classy alternative. One of the great things about this bedroom colour combination is that it can feel either chic and modern or classic and elegant, depending on how you style it.
The colour Navy can be associated with both unity and stability, and can instantly make a room feel cosy while the dark shade can help you settle into a good night's sleep.
Metallic elements in either silver or gold should complete the look along with crisp white bedding and sheets.
19. Cranberry Pink and White
Image sfgirlbybay
Cranberry is a rather underused shade and one which is just lovely when used in a master bedroom. It's beautifully feminine without being cutesy and exudes elegance, style, and fun.
Paint the wall behind your bed in Mulberry for the biggest impact and keep other colours paired back. Finish with an over the top chandelier to give the room a super luxe feel and use luxury fabrics such as velvet and to complete the look.
20. Emerald Green and White
Dark colours will always work well in the bedroom as long as they aren't too overpowering which can make the room feel small. This Jewel shade of Emerald green works well as an accent wall and like all shades of green is perfectly complemented by the wood around it.
Pairing with white keeps things clean, simple and bright, just what you need for a good night's rest and gentle morning wake up as the sun shines through.
21. Burnt Orange and Ivory
Photo The Deco Journal
If you want to add a splash of bold bright colour to your bedroom then burnt orange is the way to go! It's more subtle than classic orange which means it won't keep you up at night and is perfect for one accent wall and bright quirky accessories like pillows.
To tone the burnt orange down, team with classic Ivory and keep everything else natural, with wood flooring, house plants and hessian, which will give your bedroom a boho look. Lamps are perfect for making a room this colour feel cosy in the evenings.
22. Blue and Blue
Image City Farm House 
While you might be of the mind that it's not a good idea to pair the same colours together, it does work as long as you pick the right shades.
Royal blue is a popular shade of blue and is slightly brighter than the midnight blue shade which has darker undertones. If you'd like to go with blue colours throughout your bedroom this is a great way to break them up. Almost all shades of blue work well with gold, which can be added with light fittings, mirrors, cushions and other accessories.
23. Sage Green and Grey
Image Oakland Furniture
It's said that when we fall into bed at night we should be able to fall asleep within seven minutes. Having the right colour combination in your bedroom can really help with that!
This calming sage green has a relaxing effect on the body and mind. The dark grey adds interest and contrast without being overwhelming. Pair them together and you'll be falling asleep in two minutes flat.
24. Peach and White
Photo Pinterest
Peach and white is an interesting color scheme that is both feminine and beautiful. This warm two colour bedroom combination works best when paired with light floaty fabrics. Think voils on the windows that will blow in the breeze and fresh-cut rflowers to make the room smell amazing.
White is brighter than cream and looks much cleaner and more crisp when it comes to bedding other materials within the room.
25. Mustard Yellow and Grey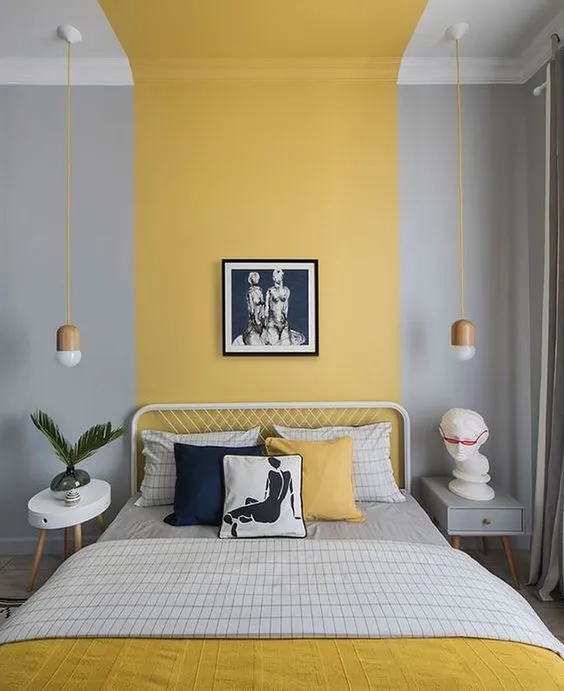 Image Chloe Dominik
If you follow any home decor accounts on Instagram you'll be well aware that Grey has been the colour du jour for a few years now. In fact, this colour combo is Pantone's colour of the year, 2021! One of the reasons Grey remains so popular is that it's very easy to pair with other colours.
This can be an advantage if you find yourself getting bored with your bedroom decor choices quickly. With Grey you can easily change the chosen accent colour without needing to fully redecorate.
Mustard Yellow and Grey is a great colour combination for bedrooms as well as pretty much any other room in your house. Mustard tones can represent both diversity and creativity and the colour palette is bright enough to add colour while still being soothing enough for the bedroom.
For the perfect balance, paint one wall in your bedroom Mustard and the remaining three in Grey, but add lots of mustard accessories such as cushions, throws and window dressings.
The Best Two-Colour Combination for Bedroom Walls
When it comes to finding a two colour combination for bedroom walls, there is so much to choose from. I hope this look at some of the two-colour decor ideas that have caught my eye helps to inspire you for the next time you decorate your bedroom. Just remember, a bedroom is your own personal space, a little safe haven and therefore whatever style you wish to go for – it's up to you!
You can of course look up decor ideas and trends on Pinterest to see what other people are doing, but whatever two colour combination you go for, make sure it's something that you love with all of your heart, after all, you're the one that will be spending all your time there.
Next, check out my article on the best paint brands to find the perfect paint for your next project.