As everyone can agree, moving house is no easy feat. It's undoubtedly one of the most stressful and daunting tasks we all encounter at one point or another. What seems like a never-ending to-do list can feel overwhelming, but there are plenty of useful tips to help you stay organised and make your moving day a total breeze. Below I'll be sharing my Moving House Checklist, which includes a few absolute must-do's, to help you plan ahead and beat that unwanted stress!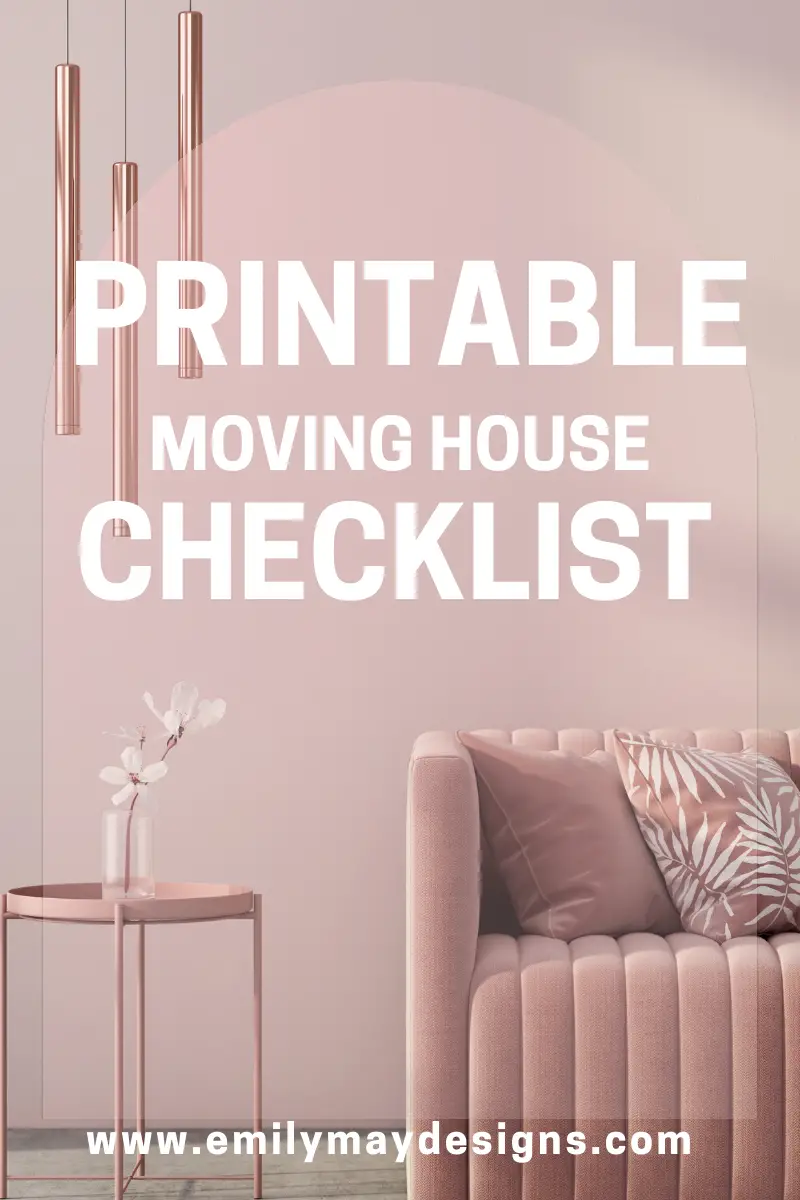 Download the Printable Moving House Checklist PDF
In a rush? Don't worry, you can simply download this Printable Moving House Checklist PDF.
Preparing for Moving Day
It's important to allow plenty of time to prepare for the big day. The last thing you want is to find yourself scrambling to complete tasks in the final days leading up to your move. To avoid the last-minute rush, make sure to allow at least 8-10 weeks for ample preparation time.
Here are some important steps to help you get started:
1 – Order Packing Materials
First things first, you'll need to order your packing materials.
Cardboard boxes
Bubble wrap
Tape and tape dispenser
Packing paper
'Fragile' tape
Labels
Black markers
Make sure you order enough of each item, depending on your specific requirements and the volume of items you have to pack
2 – Start De-Cluttering
Use this time early on as an opportunity to declutter and clear out any old items that no longer serve you. Spend a couple of days going through all of your belongings, and don't be afraid to say goodbye to those items you've been hanging on to for a little too long!
3 – Order Furniture for Your New Home
When it comes to buying furniture for your new home, it's best to start researching at least 3 months ahead of your planned move. Make sure you've taken delivery dates into consideration. If your items don't arrive in time, you'll definitely need a few basics to make the first couple of days more bearable. Think camping chairs, a collapsible table, an inflatable mattress and bedding!
4 – Order Soft Furnishings for Your New Home
Don't forget about your soft furnishings, especially window dressings. Will there be curtains or blinds in the property when you move in, or do you need to organise this ahead of time?
Depending on the size and type of windows, you may be able to order a standard size off the shelf, but in some cases, you'll need made-to-measure. It's also important to consider whether installation services are included or if you're prepared to do a little DIY yourself.
Ideally, you don't want to be hanging make-shift curtains over your windows in a frantic attempt for privacy, so I'd recommend looking into your options as early as possible. Keep in mind, certain made-to-measure window dressings can take up to 10 weeks.
5 – Book a Moving Company
Maybe you have a couple of willing friends who are happy to help you move house in exchange for a takeaway after a hard day's work! However, if it's within your budget, I would personally recommend employing a moving company to make sure you have enough hands on deck and to avoid any unnecessary pressure or stress on the day.
Start researching moving companies as early as possible to ensure there is plenty of availability for your preferred moving date. Aside from the standard booking information, make sure your movers are made aware of any additional details that may be helpful.
This could include specific parking instructions, whether a packing service is required, or prior notice of extra heavy items, such as a free-standing bath or hot tub!
6 – Start Running Down Your Freezer
If you don't like waste, it's a good idea to consider how much food you currently have in your fridge and freezer. Avoid buying too many perishable or frozen items in the days leading up to your move and try to consume anything that may spoil in transit. This might mean a few mishmash dinners in order to use up the contents of your fridge, but who doesn't like to try a new, innovative recipe?!
Speaking of food, you'll want to make sure you are fully stocked when you arrive in the new property. It's a great idea to place an advance grocery order to arrive on your moving day. Make sure to place the order as early as possible to guarantee your preferred time slot and don't forget to include any key essentials to get you through the first few days. 
7 – Make Childcare Arrangements for Moving Day
Lastly, if you are moving house with a baby, children, or pets, don't forget to make any necessary arrangements for their travel and comfort before the big day. Depending on their ages, this might mean planning a sitter or playdate for the kids, so they can be kept out of the way whilst you're busy getting moved in.
Otherwise, if they are going to be with you on moving day but are not quite old enough to help out, make sure they have distractions available. This could include:
Books
Toys
Colouring supplies
Tablet
Hand Held Videogames
For animals, a kennel service or pet transport may be required as well – this is definitely something to consider, depending on your needs. 
Practical Packing Tips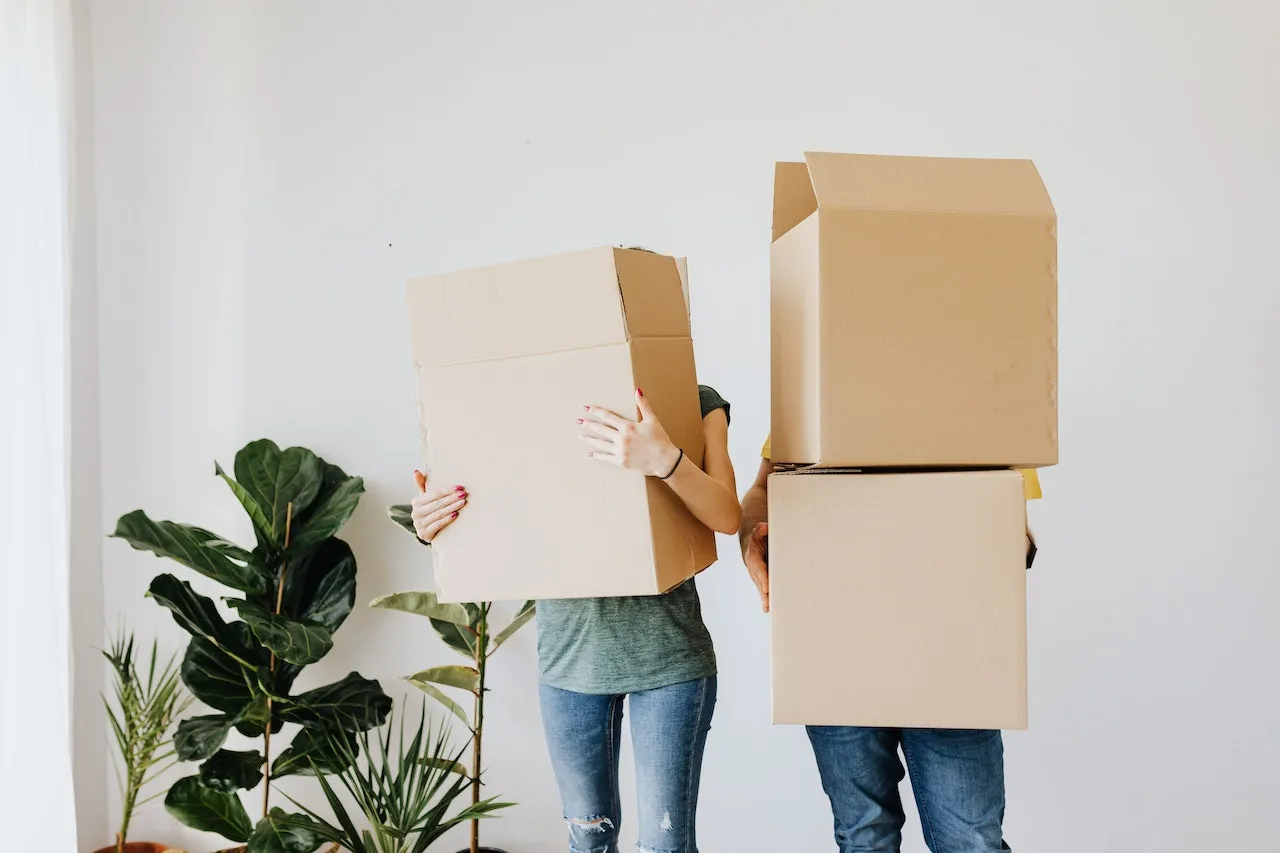 Let's face it, no one likes packing! It's not unusual to feel so overwhelmed that you let yourself procrastinate until it's too late. It's wise to start packing at least three weeks before you move house. By this time, you should already have your packing boxes and materials ready to go.
Being organised when you pack is so important, as you'll want to be able to find things easily once you're in your new home. Below you'll find a few valuable hacks to make packing a whole lot easier.
1 – Categorise Your Packing Boxes
It's extremely helpful to categorise your packing boxes according to the room they're destined for and the type of itemsinside. Make sure to clearly label the outside of each box with the room name and a list of its contents. If there is more than one box for that particular type of item, I also like to number each box in that specific category. 
Where possible, stick to the same type of item in each box and don't integrate too many different items belonging to separate rooms. For example, try not to combine clothes, cutlery, and electronics all in the same box. This will make unpacking a bit of a nightmare! 
2 – Keep a Notebook of What You've Packed
As a backup, I also like to keep a notebook containing a list of each box and its contents. If you're looking for a specific item quickly, this is much easier to refer to than sifting through multiple boxes. As before, categorise the notebook the same as you would the boxes, according to room, box number, and the type of items inside.
3 – Pack Efficiently
There are a number of useful time-saving techniques which can also help to maximise space.
First of all, be sure to fill each box all the way up to the brim; this will reduce the number of boxes used overall and prevent them from being dented or damaged when stacked on top of one another.
Another great way to avoid wasted space is to roll your clothes instead of folding them, as this takes up less room. Where possible, use large receptacles instead of boxes. For example; suitcases, backpacks, and laundry baskets can all be used to contain smaller belongings. 
Before you get started, make sure each moving box is lined with appropriate packing material. Cushioned packingmaterial is especially important for boxes containing breakables. Any fragile items should also be individually wrapped. You can even reuse old newspapers or magazines to save on costs. Don't forget your 'fragile' labels, so your movers know to take extra care.
4 – Pack a Separate Overnight Bag
There are certain items you'll almost certainly want to use on the first night in your new home. This includes:
Toothbrush
Essential toiletries
Pajamas
A change of clothes for the next day
Make sure you know exactly where these items are packed so you can find them easily. You'll probably want to keep these in a separate suitcase or overnight bag, which can be packed the night before moving day. 
Tying up loose ends
Now for the boring admin bits! These key tasks should be checked off your to-do list before moving into your new home.
1 – Give Notice to Your Landlord
If you're currently renting, you'll need to make sure you serve notice to vacate the property in line with the terms of your tenancy agreement. Ensure your check-out date aligns with your planned moving date.
2 – Redirect Your Mail
Be sure to change your forwarding address so that you don't miss any mail! Perhaps not too soon – it's best to get this set up approximately 48 hours before you're due to move.
You can do this through the Royal Mail website. You will need to do this at least 5 days before you move.
3 – Contact Your Service Providers
Next, you'll need to contact your TV and Broadband providers to either cancel or move your account over to your new property. It's best to do this as soon as you know your moving date. Double-check your contract first, as there may be a cancellation fee if you're not planning to stick with the same provider.
4 – Council Tax, Home Insurance, and Utility Companies
Don't forget to close your council tax account and open a different account for your new property. Again, it's best to get this sorted as soon as you know the date you'll be moving into your new home. Your local council will then issue you with a final bill, calculated on a pro-rata basis.
It's important to take your final meter readings and close or transfer all of your utilities accounts. Usually the main suppliers will be gas, electric, and water. Just make sure this is done at least 48 hours prior to your set moving date. 
Whilst you're completing all of these admin tasks, you may as well use this opportunity to change the postal address on any other accounts you hold.
Your bank
Credit card company
Mobile phone provider
Streaming services
Shopping accounts
There's no need to do this too soon, however. Perhaps wait until the day before you move or shortly after you've moved in.
Moving Day
The day is finally here! I'm sure you're experiencing both nervousness and excitement, but by this time, hopefully, you're also feeling prepared, having planned ahead. Below are just a few more key points to help you achieve a smooth and successful moving day.
The Final Checks
On the morning of moving day, carry out one final sweep of your property to ensure you haven't forgotten anything important. Almost everything should be packed into boxes at this point, lined up and ready to go into the moving van. Check that you have your overnight bag, with all of your essentials, packed and ready to take with you to your new home.
Brings Snacks and Drinks
As well as an overnight bag, you may wish to pack a small supply of food and drink to sustain you until your grocery order arrives at the new place. Moving is hard work and snack breaks are a must! Don't forget to check that your fridge/freezer is switched on as soon as you arrive – you'll want to ensure your celebratory bottle of bubbly is chilled for later that evening, and any perishables you have are kept fresh. Make sure your food & drinks bag also includes any necessary drinking receptacles, plates, and cutlery you'd like to use on the day.
Bring a Bag of Cleaning Products
Hopefully, you won't find any unwanted surprises when you move into your new home, but you can never be too cautious! If a professional cleaning has not been arranged by the outgoing tenant, you could potentially find your new home in a not-so-pleasant state. It's a great idea to pack a bag of cleaning products just in case. Make sure they're easily accessible so that you can get a head start on cleaning as soon as you arrive. If you have a few people helping you move, it's even worth one person arriving earlier in the day to start cleaning, whilst the others stay back to pack the boxes into the van. 
Once you're in
The hard part is over. You're finally in your new home! Now you can start to get settled and begin to enjoy your new surroundings. There are just a few more things to keep in mind…
I personally prefer to get unpacked and organised as quickly as possible after moving into a new property, as living amongst boxes can be quite stressful. Patience is key, as there is still so much to do in the days, and even weeks, after you move in. Make those to-do lists, schedule your time carefully, call in a friend or family member to help, and make sure you also find time to have fun and enjoy yourself. 
Explore your new area! As well as the more practical tasks, such as telling friends and family your new address, registering with your local GP and Dentist, take time to explore the neighborhood – parks, shops, local activities, and events. You may even get to know some of your neighbours along the way! 
Hopefully, this article has left you feeling confident and motivated for your upcoming move. Maybe you'll feel inspired to put into action some of the tips you've learned today. Let me know if you have any of your own ideas to share. I'd love to hear!
Don't forget to download the free printable moving house checklist here.