When it comes to retail design, the shop counter is one of the most important elements. The counter area is a large part of the customer experience and will often be one of the last areas your customers see before leaving the store. It can influence how customers feel about a store and can even affect how much money they spend! In this article, I'm going to be sharing some of my favourite shop counter design ideas to help inspire you for your own retail design project.
By paying attention to detail in their interior design, businesses can create an enjoyable shopping experience that will keep customers coming back. So whether you're looking for a timeless classic design, or something modern and innovative, there will be something to inspire you here!
Fun and Playful Shop Counter Design
This gorgeous shop counter was designed by Design4Retail; a retail design firm in Leicester famous for their showstopping retail interiors.
It's the perfect mix of playful and practical, with plenty of storage space at the front for products and a well-hidden cashier's area behind. This fun design adds to the customer experience by making sure that even the checkout process is engaging and on-brand.
Blending Old and New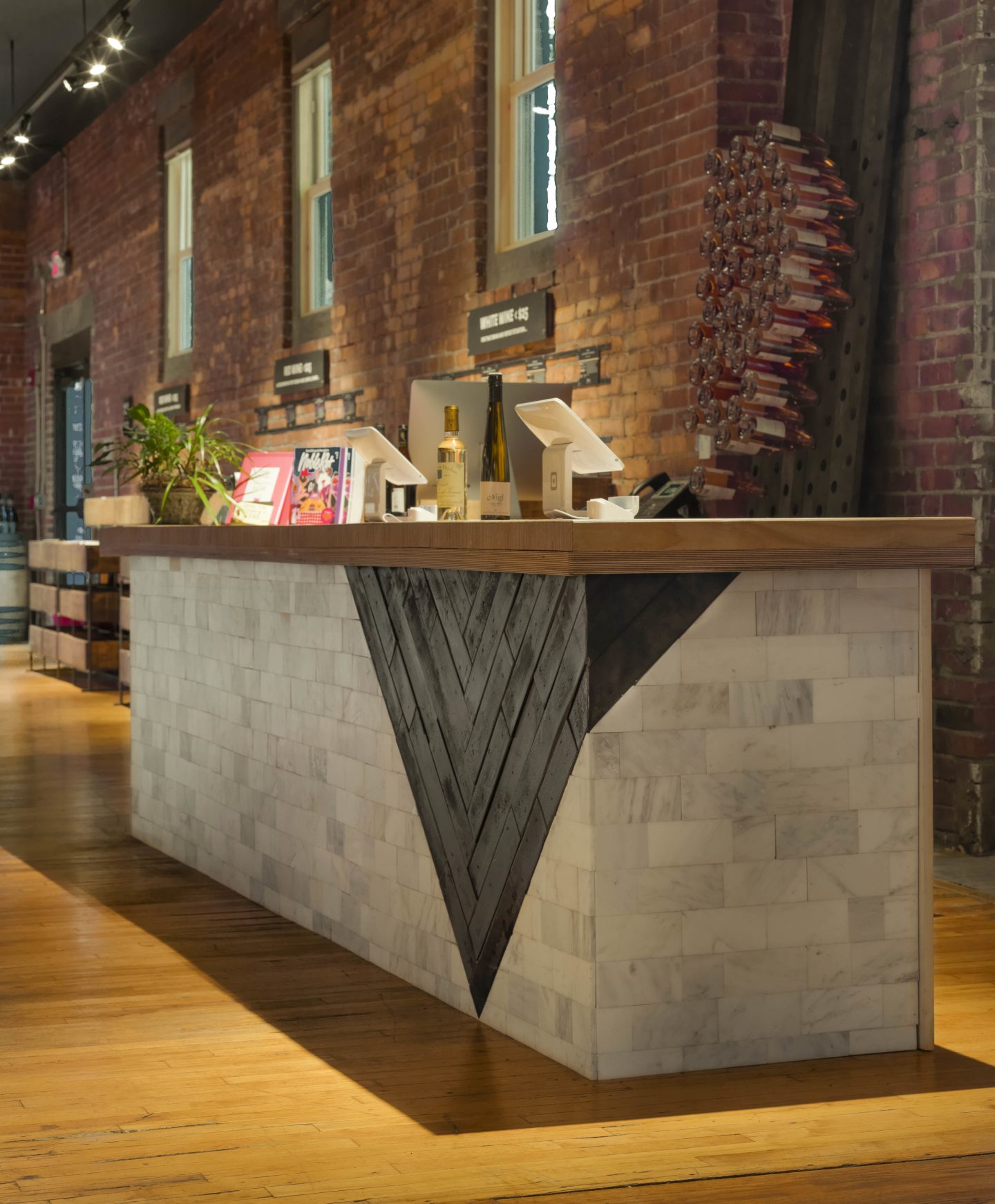 Interior Design by IMHOTEP
The juxtaposition of old and new materials works beautifully in this wine shop counter design.
The main body of the counter is made from white marble tiles in a brick-bond formation which adds a touch of luxury to this largely industrial space.
A v-shaped accent made from wood in a jet black finish provides a wonderful contrast and helps the counter stand out as a unique feature within the space. The chunky wooden countertop finishes it off and ties it in with the overall rustic-industrial look of this wine shop.
Simple Shop Counter Design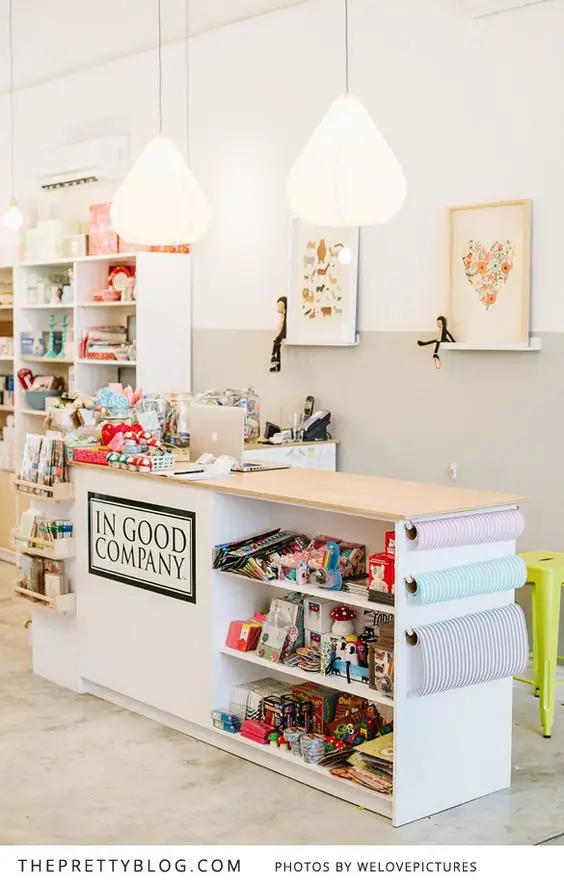 Image via Pinterest
The L-shaped cash counter of this gift shop is simple yet functional. It has a spacious area for the cashier to stand in and plenty of space for displaying merchandise, including three large shelves at the front of the counter. The paper rolls on the side are a practical and thoughtful touch, ensuring the cashiers always have everything they need for gift-wrapping at hand.
Curved Wooden Shop Counter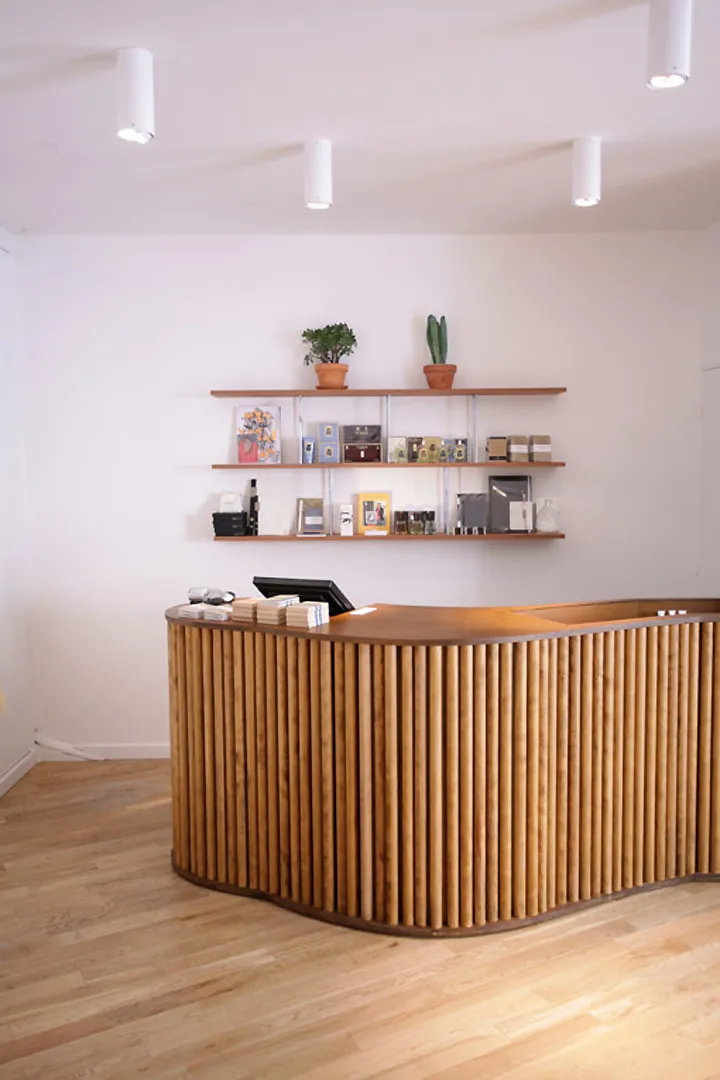 Image via Retail Design Blog
With a stylish curved front, this unusual shop counter stands out from the traditional rectangular designs. This simple yet effective design would be quite easy to recreate if you want to do something similar for your own shop.
Rustic Wooden Shop Counter Design With Glass Display Case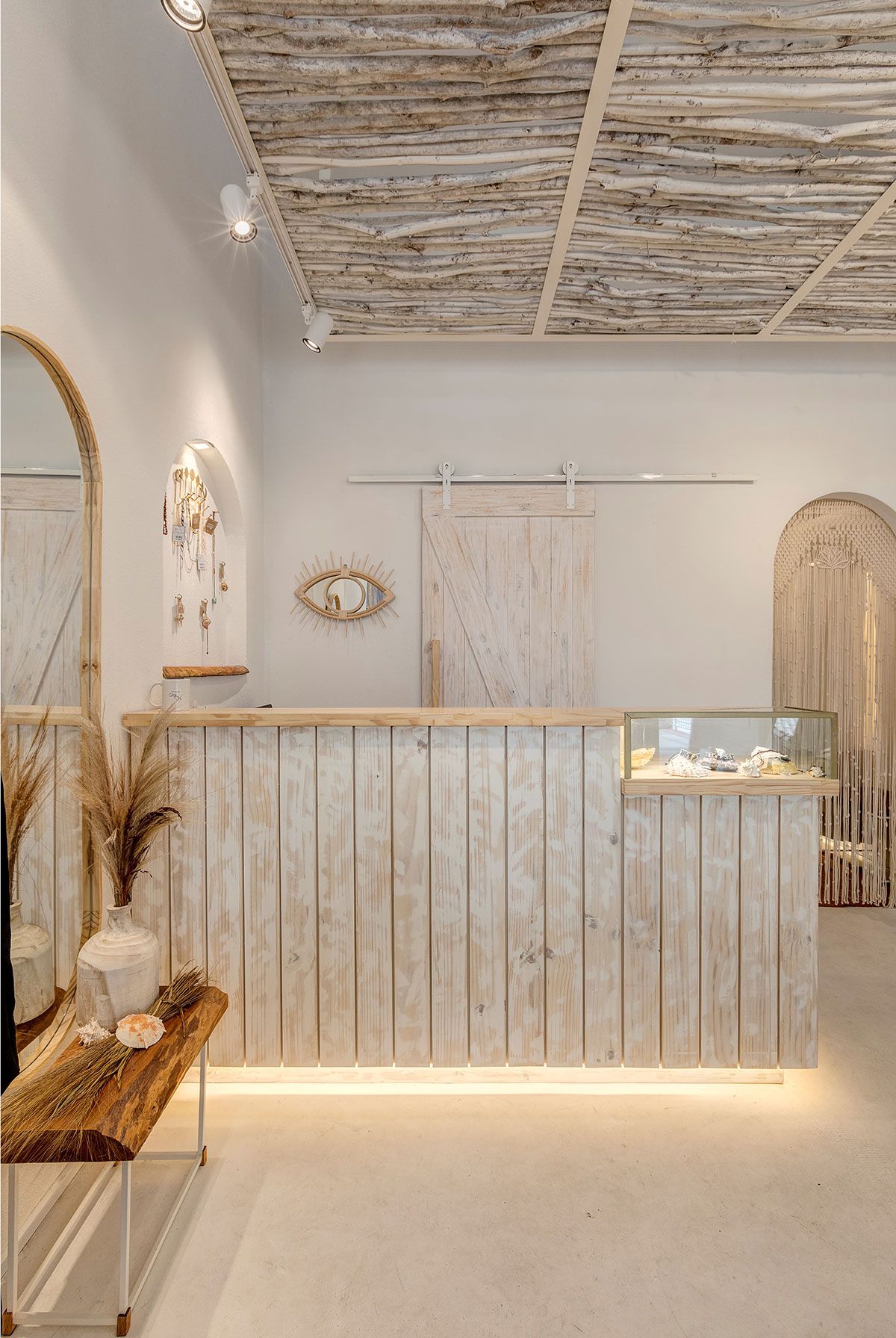 Image via Casa di Valentina
A combination of rustic and modern elements creates a unique and stylish design. The rustic wood used for the front of the display counter features a distressed whitewashed finish. This allows some of the natural wood to show through and gives the counter an effortlessly relaxed, boho look that fits in perfectly with the rest of the shop.
The glass case adds a touch of sophistication and provides an ideal space to display valuable items such as jewellery. This counter design would be perfect for a boutique retail store or clothing shop.
Rustic Neutral Tiled Shop Counter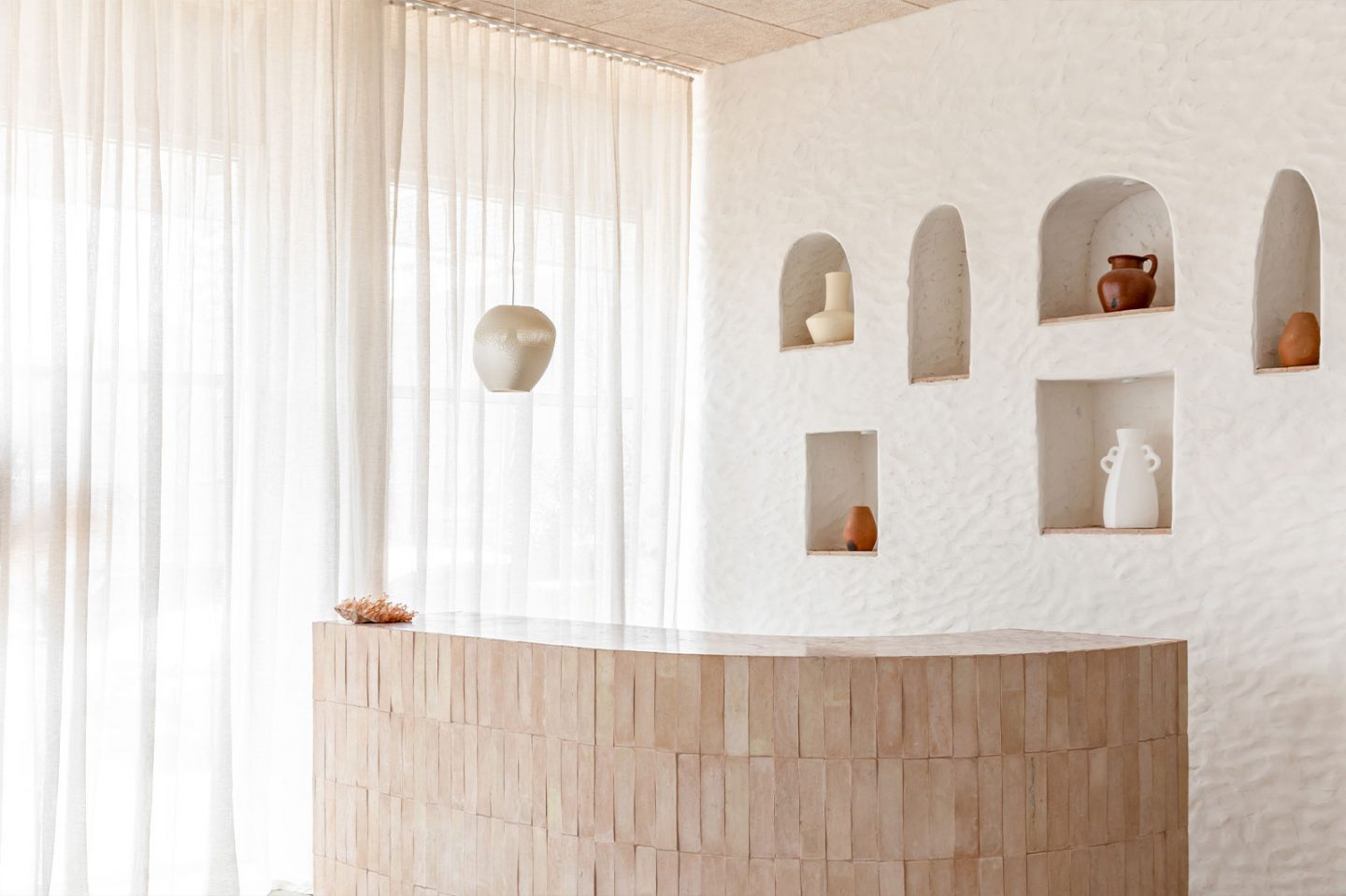 Design by Triibe
With a tiled curved front in an earthy terracotta-coloured hue, this simple salon reception counter is what dreams are made of. The design is perfectly in keeping with the relaxed Mediterranean vibe of the rest of the salon. It also compliments the polished concrete floors and natural walls.
Sweet Shop Counter Design Concept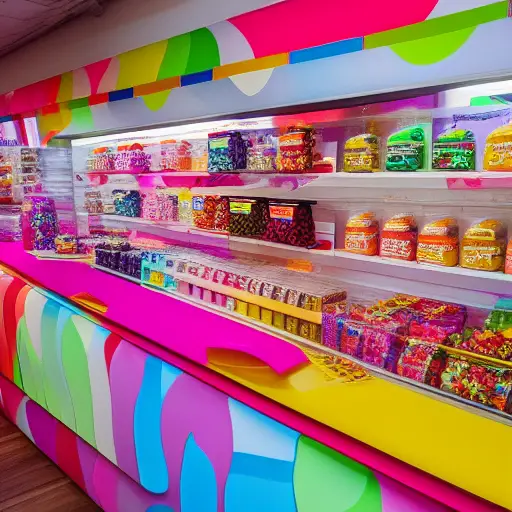 Bright and bold, this sweet shop counter is both practical and eye-catching. Made from durable plastic, the countertop can easily be wiped clean between customers—an important feature, particularly if you are serving food items. The bold, colourful design will be very attractive to the target demographic of this store.
Colourful Modern Retail Counter Design Concept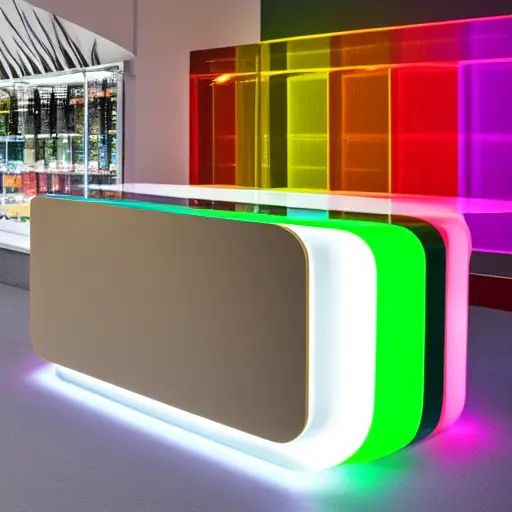 This modern and colourful shop counter is made from coloured perspex, which allows the light to shine through each section creating an unusual look. It would be ideal for a shop that sells technology with fun branding aimed at the younger generation.
Pizza Shop Counter Design Idea
Like many pizza shops, this space features a round counter where customers can be served. The area beneath the counter has been designed to look like the edge of a pizza. This is a fun touch which adds to the atmosphere without taking up any additional floor space in the shop.
7 Things to Take Into Account When Designing a Shop Counter
Designing a store counter yourself? Here are a few things worth noting as you go through the design process:
The counter should be large enough to fit the products that you sell.
It should have a smooth, solid surface that is easy to wipe clean.
The shop counter design should be eye-catching and also in keeping with the overall aesthetic of the store.
It should be sturdy and strong and able to hold a significant amount of weight.
There should be space to store all the necessary products that are required in the checkout area.
It should have no sharp or rough edges to avoid injuring customers or snagging clothes.
There should be ample electrical sockets for POS, card readers, lighting, and other electronic equipment.
If you want to display products on top of the counter, ensure there is a dedicated space for this that won't get in the way of the checkout process.