When it comes to designing your home, it's important to be as eco friendly as possible. Not only to minimise the impact on the environment, but also for your own health and wellbeing. There are lots of new products available to us now, so it's important to do your research, especially if you are planning on living with it for the next 10 years. Here are some great eco friendly flooring options:
1. Bamboo Flooring
Bamboo flooring is a brilliant alternative to wood flooring. It looks amazing, it's hard-wearing, and its production is sustainable as it grows so quickly- bamboo plants only take 3-5 years to grow fully, whereas trees can take around 20 years or more, depending on the type! Bamboo flooring is up to 3 x harder than wood flooring, meaning that it is great for high-traffic areas in your household, particularly if you have children or pets.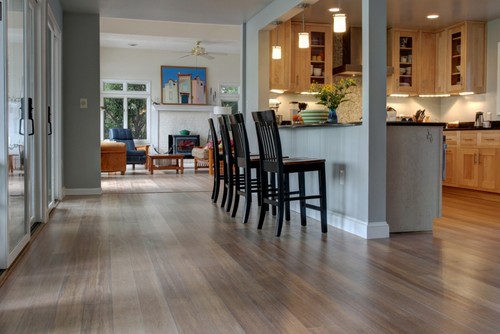 2. Polished Concrete
I posted here a couple of weeks ago about how beautiful polished concrete floors can be, and you may be surprised to know that it is also a great sustainable flooring option, as you can use existing slabs, or your existing concrete floor under your floorboards or carpet to avoid the consumption of new materials. The floor can be polished, sealed and coloured to your requirements, and even given the appearance of marble. Concrete is long lasting, very easy to clean, and doesn't need to be replaced or removed as you can always put other flooring option over the top at a later date.
Photo by Gelotte Hommas Architecture – Discover contemporary family room design inspiration
3. Wool Carpet
As wool is a natural fibre, it is a great option for carpet, and can feel really luxurious under your feet in the winter. It's naturally flame retardant, meaning it doesn't have to be coated with any additional chemicals, and its easy to clean off surface dirt with soap and water, although dark stains are harder to remove, and over scrubbing can damage the carpet- not too good if you have messy pets or children.
Photo by VKV Visuals – Discover farmhouse bedroom design inspiration
4. Reclaimed Hardwood
If you do decide to go for hardwood floors, then a sustainable option is to use reclaimed hardwood, but do make sure you buy from a reputable company, and be sure to check what the wood has been treated with. If the wood has been treated in the past it could contain pesticides and toxins, and if it hasn't been treated it could contain pests. However, all this aside, you can find some great quality hardwood, and reclaimed wood has plenty of added character from it's past life.
Photo by Summerour Architects – Browse modern dining room photos
5. Cork
Cork flooring is another lovely option, it feels great under the feet, and is still quite unusual. Cork is a great insulator, and also quite soft, so its great for households with children or elderly people, as it gives a slight bit of cushion to any falls. It is easily renewable, as it can be harvested without harming the tree, and more importantly, biodegradable.
Image via Duro design