Although you can find plenty of interior inspiration online on Pinterest, design blogs, and Instagram, there's nothing quite like sitting down and relaxing with a good interiors magazine. Thankfully, there's no shortage of inspiring British home decor magazines to choose from. In this post, I'm going to be sharing the best interior design magazines in the UK to help you find the right one to suit your style.
The Best Interior Design Magazines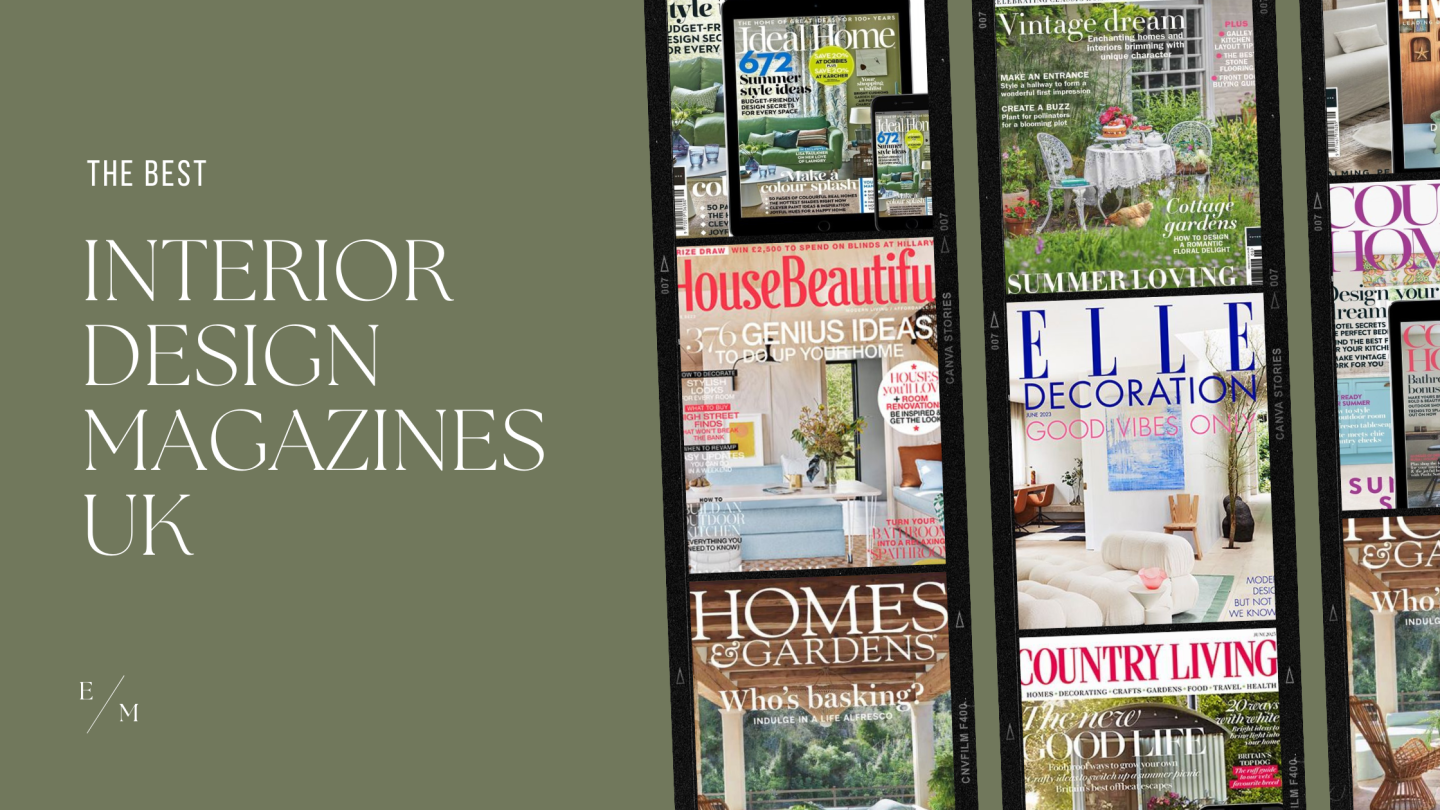 These interior design magazines are all available in most UK newsagents and supermarkets. However, if you find one you like, you can save quite a lot of money by signing up for a subscription and having it delivered to your door every month.
House Beautiful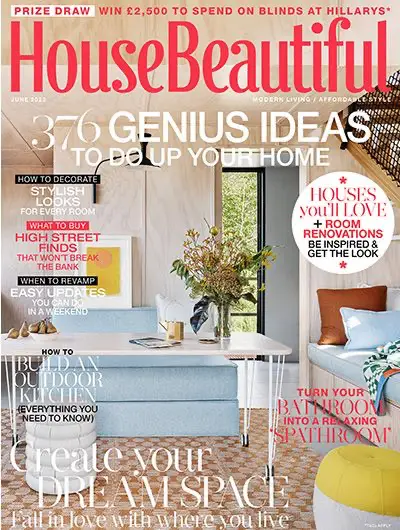 House Beautiful is undoubtedly one of the best interior design magazines available in the UK today. With its impeccable blend of inspiring content and expert advice, it has established itself as a go-to resource for all things home decor.
House Beautiful's combination of visually stunning features, expert guidance, and inclusivity makes it an exceptional magazine that caters to the diverse needs and aspirations of its readers. It continues to reign as one of the best interior decor magazines available in the UK, providing inspirational ideas to countless readers and creating beautiful and personalized living spaces.
Get up to 72% off a House beautiful Subscription Here
Country Living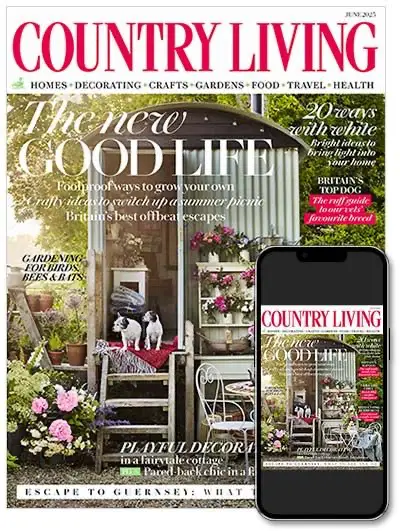 Country Living offers its readers a treasure trove of practical advice and inspiration for creating a cosy and welcoming home. From interior design tips that emphasize comfort and functionality to DIY projects that bring out the creativity in every reader, the magazine provides a wealth of ideas and solutions that resonate with those seeking to create the quintessential country home.
One of the standout features of Country Living is its commitment to showcasing the beauty of the countryside and all it has to offer. The magazine's pages are adorned with breathtaking imagery of idyllic landscapes, charming homes, and picturesque gardens, providing readers with a visual feast that transports them to a beautiful and more serene world.
By highlighting the simple joys of country life, sharing personal stories, and nurturing a sense of community, Country Living creates a warm and inviting space for its readers. It offers a refuge from the fast-paced modern world and inspires individuals to cultivate a sense of tranquillity, authenticity, and appreciation for the natural world around them.
Save 80% on Your Subscription Here
ELLE Decoration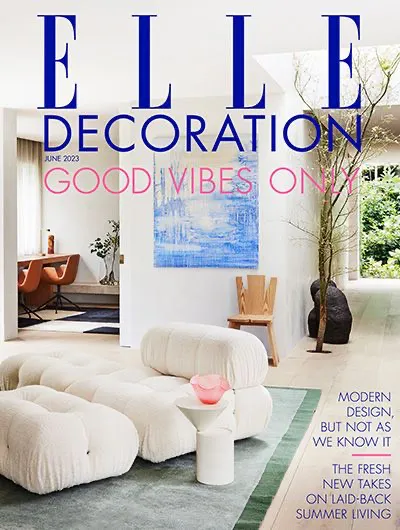 ELLE Decoration is a magazine that stands out in the realm of interior design and home decor with its distinct style, sophisticated content, and global perspective. Its ability to seamlessly blend high-end luxury with practical inspiration makes it a go-to resource for design enthusiasts seeking a refined aesthetic.
From luxurious residences to chic city apartments, the magazine offers a glimpse into the world of high-end design. It provides readers with a visual feast of stunning spaces adorned with impeccable craftsmanship, exquisite materials, and meticulously curated details.
Beyond the visual inspiration, ELLE Decoration sets itself apart by offering in-depth features and interviews with renowned designers, architects, and tastemakers. These insights provide readers with valuable industry knowledge, practical tips, and a deeper understanding of the design process. This enables them to elevate their own living spaces with confidence and finesse.
Going beyond interior design trends, Elle Decor explores the intersection of design with art, fashion, and lifestyle. The magazine delves into the latest trends in art and culture, offers style advice for creating cohesive and curated spaces, and provides glimpses into the homes of influential personalities.
Save up to 71% on Elle Decor Subscriptions
25 Beautiful Homes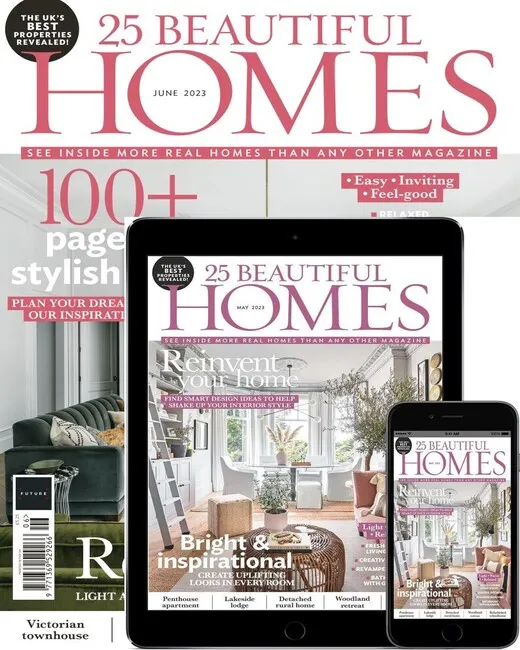 25 Beautiful Homes is a magazine that distinguishes itself by focusing on real homes that exude beauty, warmth, and personal style. Its dedication to showcasing a diverse range of homes, from charming cottages to contemporary residences, offers readers a glimpse into the lives and design choices of real people.
The magazine also captures the essence of lived-in spaces, celebrating individuality and authenticity. It offers readers an abundance of inspiration and practical ideas for creating their own beautiful homes. The stunning photography showcases the unique details and personal touches that make each home special.
With a focus on accessible design, 25 Beautiful Homes presents achievable interior styles that can be adapted to suit different tastes and budgets.
Save up to 50% on a 25 Beautiful Homes Subscription Here
Country Homes & Interiors
Country Homes & Interiors is a writing interior design magazine that captures the essence of rustic living and celebrates the charm of country homes. With its rich content and captivating storytelling, the magazine offers readers a glimpse into idyllic rural retreats. It showcases beautifully designed interiors that blend timeless elegance with a cosy, lived-in feel.
From farmhouse kitchens to charming bedrooms, Country Homes & Interiors provides inspiration and practical tips for creating a warm and inviting home. Its focus on authentic, country-style decor, combined with insightful features on gardening, crafts, and seasonal entertaining, makes it a must-read for those seeking to infuse their living spaces with classic British style and understated sophistication.
Save 49% on a Country Homes & Interiors Subscription
Homes & Gardens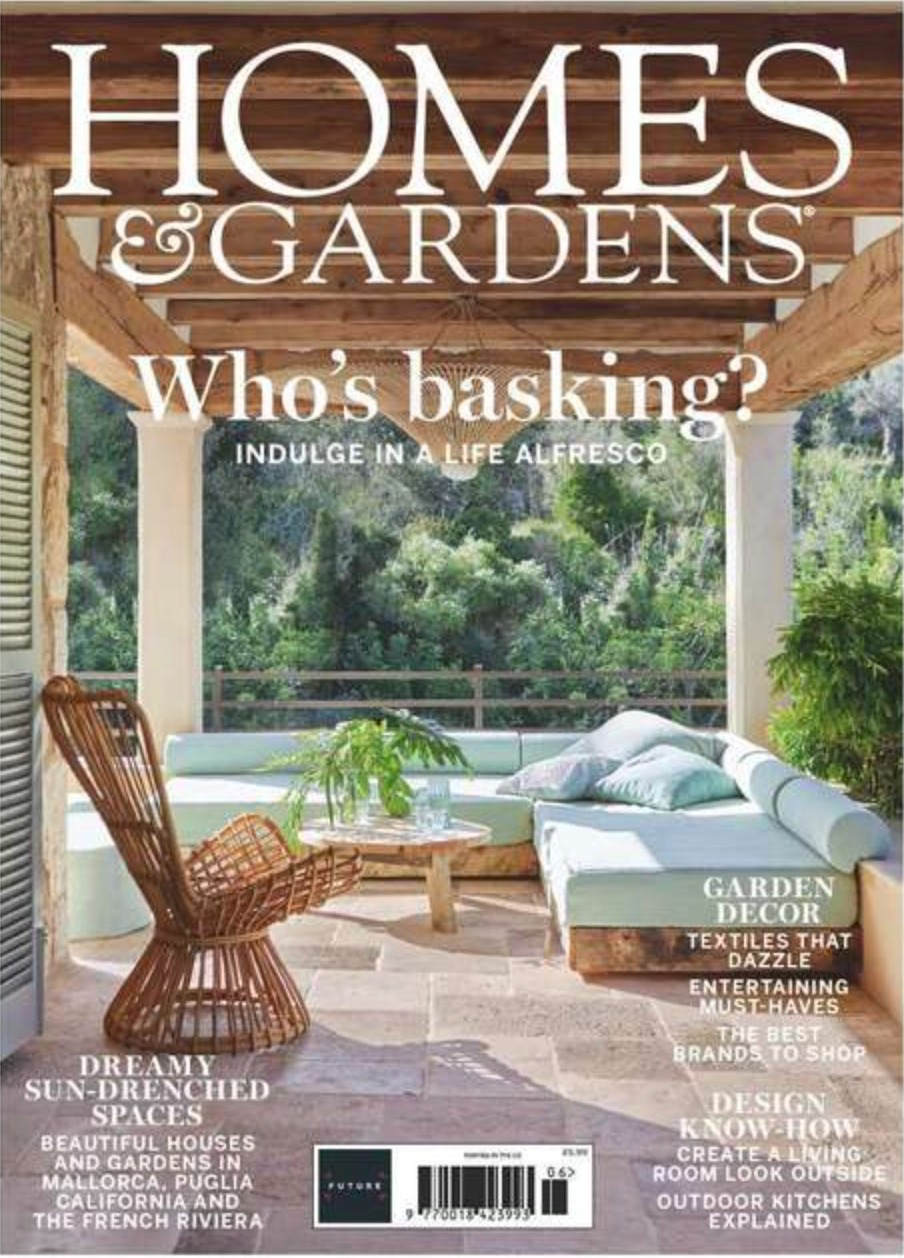 Homes & Gardens is a prestigious British interior design magazine that effortlessly combines sophistication and practicality. With its impeccable taste and insightful content, the magazine offers readers a curated selection of exquisite homes, luxurious interiors, and expert advice from renowned designers.
Homes & Gardens showcases the latest design trends, from classic elegance to contemporary minimalism, while also providing practical tips for creating beautiful and functional living spaces. Its emphasis on quality craftsmanship, attention to detail, and refined aesthetics makes it a trusted source of inspiration for those seeking to transform their homes into havens of style and comfort.
Save up to 28% on Homes & Gardens
Ideal Home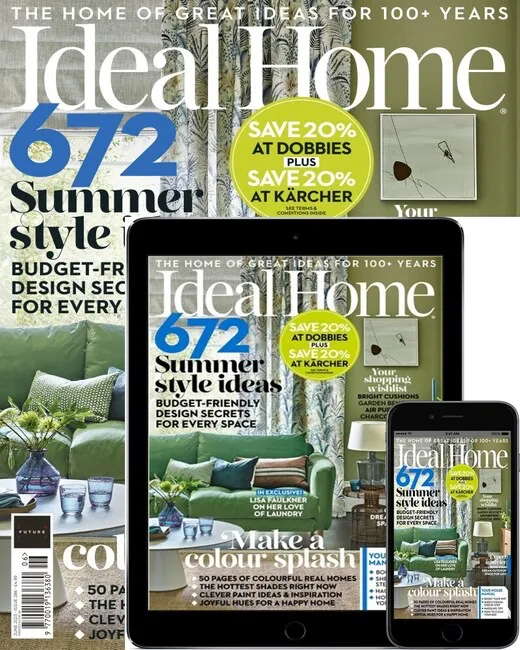 Ideal Home is a leading British interior design magazine that caters to individuals seeking inspiration and practical solutions for creating their dream homes. With its accessible and relatable approach, this glossy monthly magazine offers a wealth of ideas, tips, and advice for every aspect of home design and decoration.
From budget-friendly makeovers to high-end luxury, Ideal Home covers a wide range of styles and budgets. This ensures that readers can find inspiration that suits their individual tastes and needs. With its engaging features, expert guidance, and real-life home transformations, Ideal Home continues to be a go-to resource for those looking to make their living spaces truly ideal.
Get a Discount on Your Subscription Here
Livingetc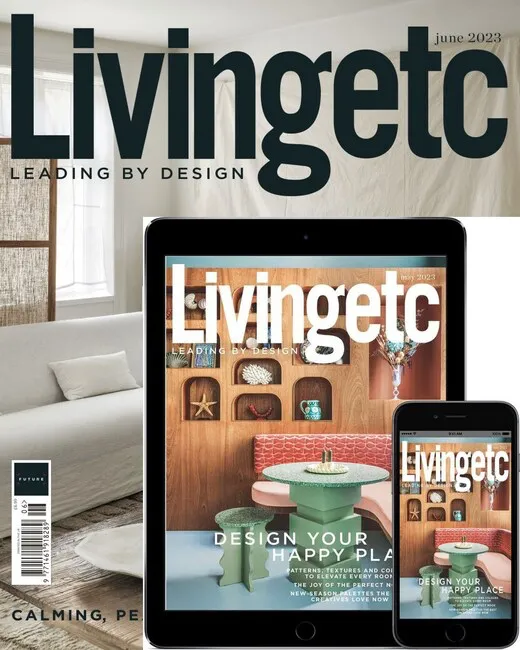 Livingetc is a renowned British interior design magazine that exudes contemporary style and cutting-edge design. With its bold and innovative approach, the magazine pushes boundaries and inspires readers to embrace modern aesthetics.
Livingetc showcases exceptional homes, from sleek urban apartments to stunning architectural marvels, providing a glimpse into the world of design trendsetters. It offers a mix of aspirational and attainable ideas, highlighting the latest interior trends, furniture, and decor accessories. With its emphasis on modern living, unique spaces, and original design concepts, Livingetc is a must-read for design enthusiasts seeking to create stylish and forward-thinking interiors.
Save up to 50% of a Livingetc Subscription Here
Period Living
Period Living is a distinguished British interior design magazine that celebrates the timeless charm and character of period homes. With its passion for heritage and traditional design, the magazine offers readers a wealth of inspiration for restoring, decorating, and renovating historic properties.
Period Living showcases beautifully preserved and lovingly renovated homes, providing valuable insights into period architecture, furniture, and decor. From elegant Georgian townhouses to cosy Tudor cottages, the magazine combines informative features, expert advice, and stunning photography to transport readers into the world of classic style and timeless elegance. It's an essential read for those seeking to embrace the character and history of their period homes while adding their own personal touch.
Get The Best Deal on a Subscription Here
Choosing the Best Interior Design Magazine for You
As you can see, there are plenty of inspiring Interior Design magazines to choose from in the UK. However, they are all quite different from one another, ranging from luxe interiors to rustic country homes, so the right magazine for one person might not suit another. Consider the aesthetic you want to achieve for you home. Are you going for classic British country style, or do you prefer a more clean, contemporary style? Whether you're an Interior Designer looking for design ideas for your next project, or you're a homeowner looking for interior design inspiration, hopefully, this list has helped you find a magazine that showcases the style you're after!
Looking for more interior design inspiration? You might enjoy these articles: