If you're looking for the perfect paint colour to create a calm and serene mood in your home, Eau de Nil is a wonderful choice. This pale green-blue hue has a timeless elegance to it and is often associated with traditional luxury and elegance. With luxury brands like Fortnum and Mason using the colour in abundance across their range, it's easy to see why been gaining popularity in recent years!
Read on to find out more about this beautiful paint colour and discover some of the best Eau de Nil shades to try out yourself.
What is the meaning of Eau de Nil?
The name Eau de Nil comes from the French phrase "Eau de la Nile," which literally means "water of the Nile." The colour is said to have been inspired by the cleansing waters of the river, which was an important factor in the ancient Egyptians' religious beliefs. Today, Eau de Nil is commonly used in interior design, fashion, and graphic design. It evokes a sense of peace and calm, making it an ideal choice for bedrooms and bathrooms. Whether you're looking to create a serene oasis or a stylish statement, Eau de Nil is a versatile colour that can help you achieve your desired look.
What colour is Eau de Nil paint?
Eau de nil paint is usually a light green-blue colour. It gets its name from the French phrase "Eau de Nil", which means "water of the Nile". The colour is meant to evoke the clear waters of the Nile River, and it has become a popular choice for home décor in recent years. One advantage of Eau de Nil paint is that it can appear either cool or warm, depending on the other colours in the room. For example, pairing it with white can create a calm and serene atmosphere, while adding gold accents can give the space a more luxurious feel. Ultimately, Eau de Nil is a versatile and stylish colour that can be used in a variety of ways to create beautiful traditional and contemporary spaces.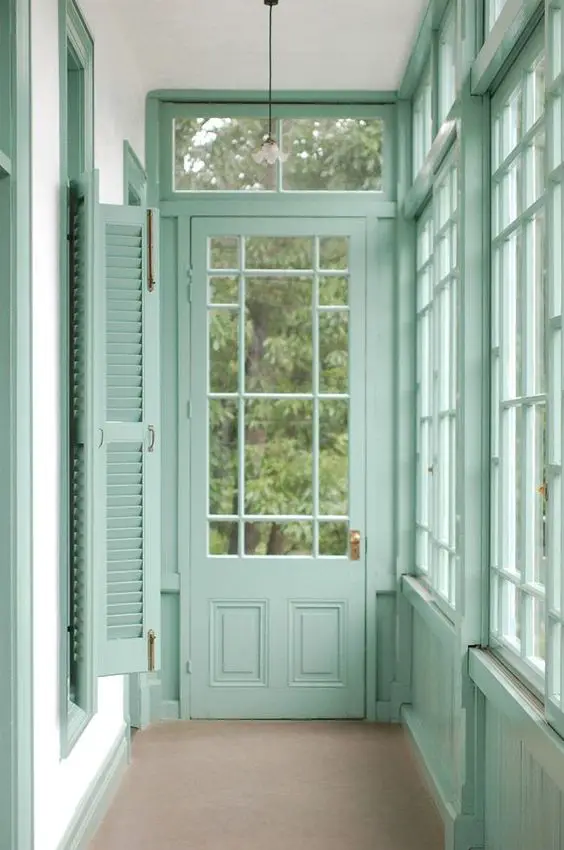 Image via Pinterest
The Best Eau de Nil Paint Colours
There are a few different paint brands offering Eau de Nil paint, but they are not all created equal. As the colour Eau de Nil is subjective, it can vary quite a lot between different brands. Before making a decision, it's worth ordering samples to see how the colour looks in the space you're planning to decorate.
Eau de Nil Paint, Laura Ashley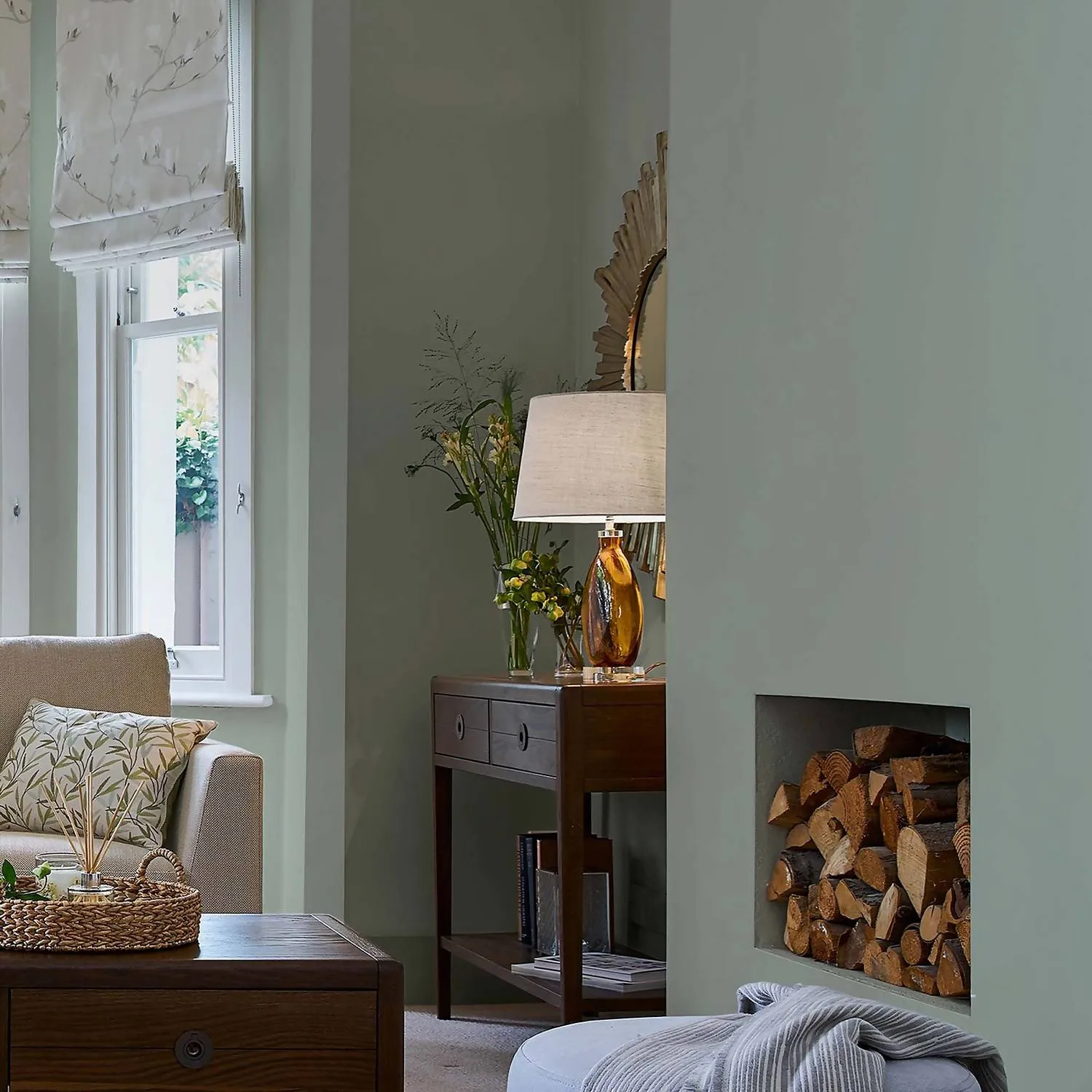 Laura Ashley's Eau de Nil is one of my favourite shades. This light green colour has blue undertones, and it works brilliantly to create a soothing and serene space. As you can see from the image above, this colour will work well in period homes with large windows and lots of natural light. It's also one of the best choices if you're looking to create a calming bedroom colour scheme.
You can buy Laura Ashley Eau de Nil paint here.
Designer's Guild Eau de Nil Paint
The Eau de Nil paint by Designer's Guild is one of the palest shades on this list. It's a very soft shade of green-grey with blue undertones, and is available in a variety of different finishes for all areas of the home. It looks wonderful paired with bright white, and lighter shades of cream.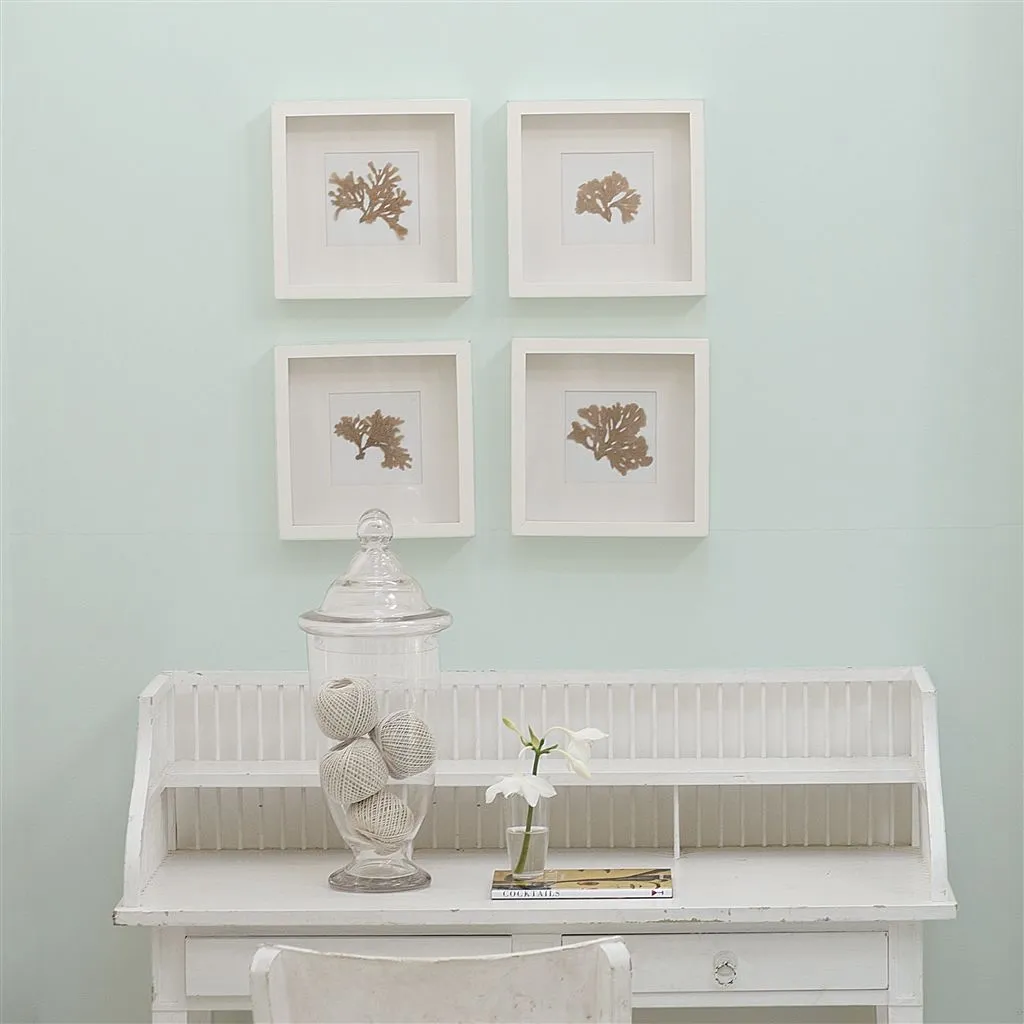 When used in larger spaces, it brings energy to the room, whilst remaining sophisticated and elegant—an ideal choice for period homes with high ceilings.
You can buy Eau de Nil no. 77 by Designer's Guild Here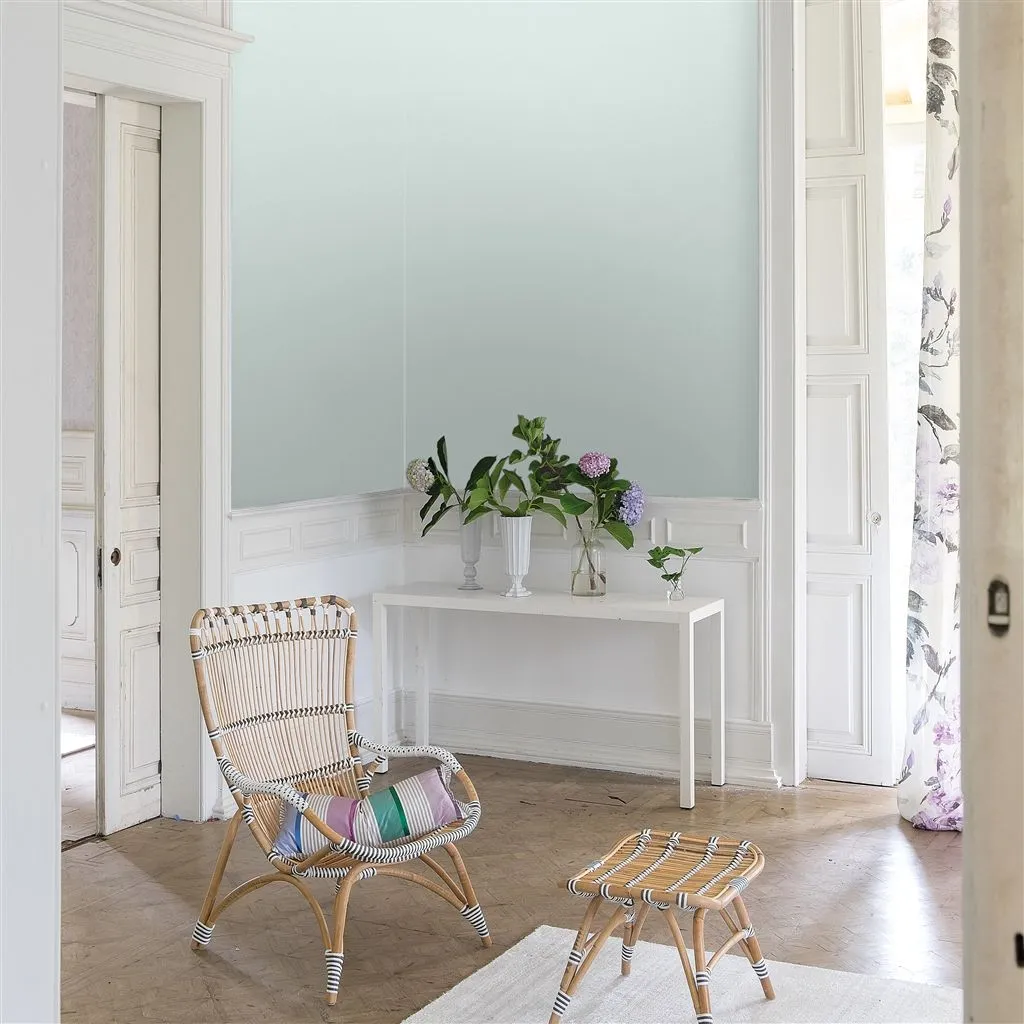 Eau de Nil – Wallpaperit – Garden Collection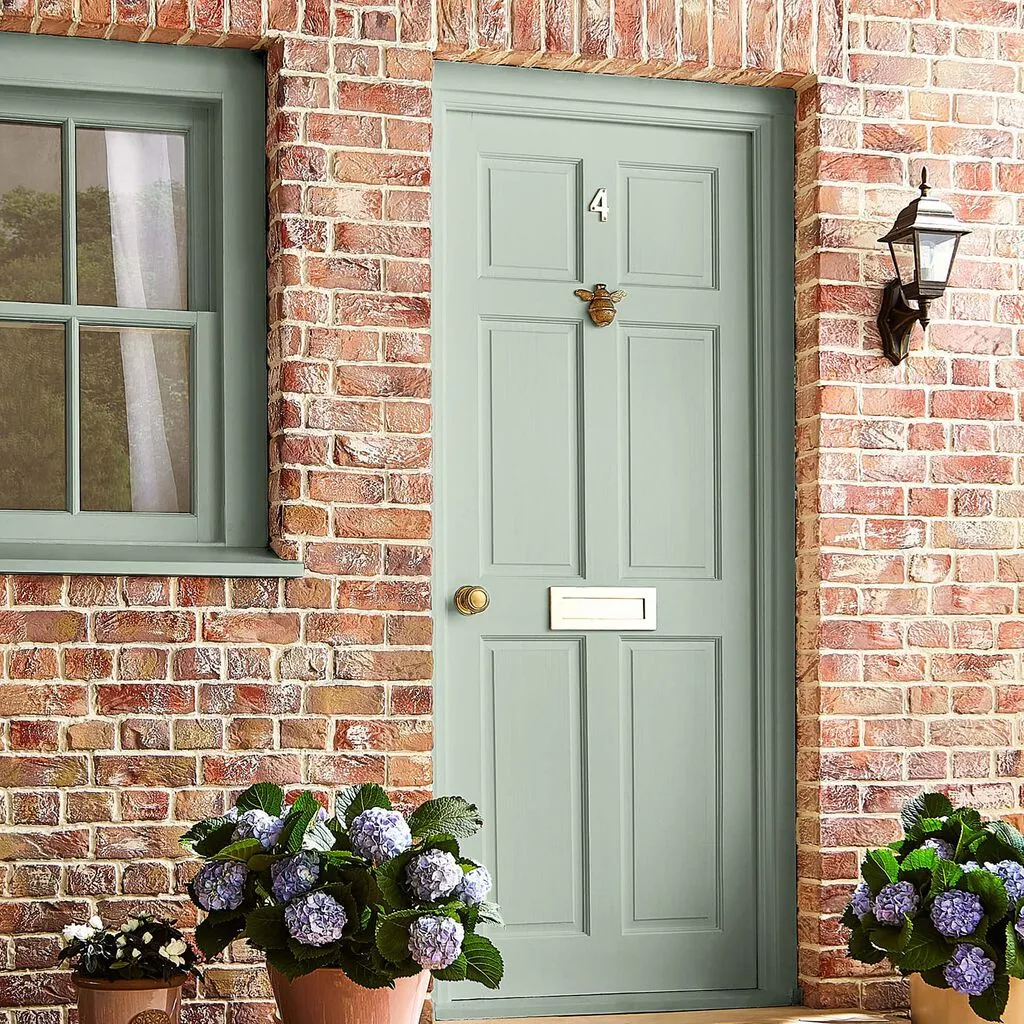 Eau de Nil Garden collection from Wallpaperit is licensed by Laura Ashley, but mixedby Wallpaperit. This means that although the colour is very close to the official Laura Ashley paint, it's not identical. That being said, their Garden Collection is good quality with great coverage, so an excellent option if you're looking to paint any exterior areas of your home, such as a garden shed, front door, or even a beach hut.
Shop the collection here.
Marina Matt Emulsion – Graham & Brown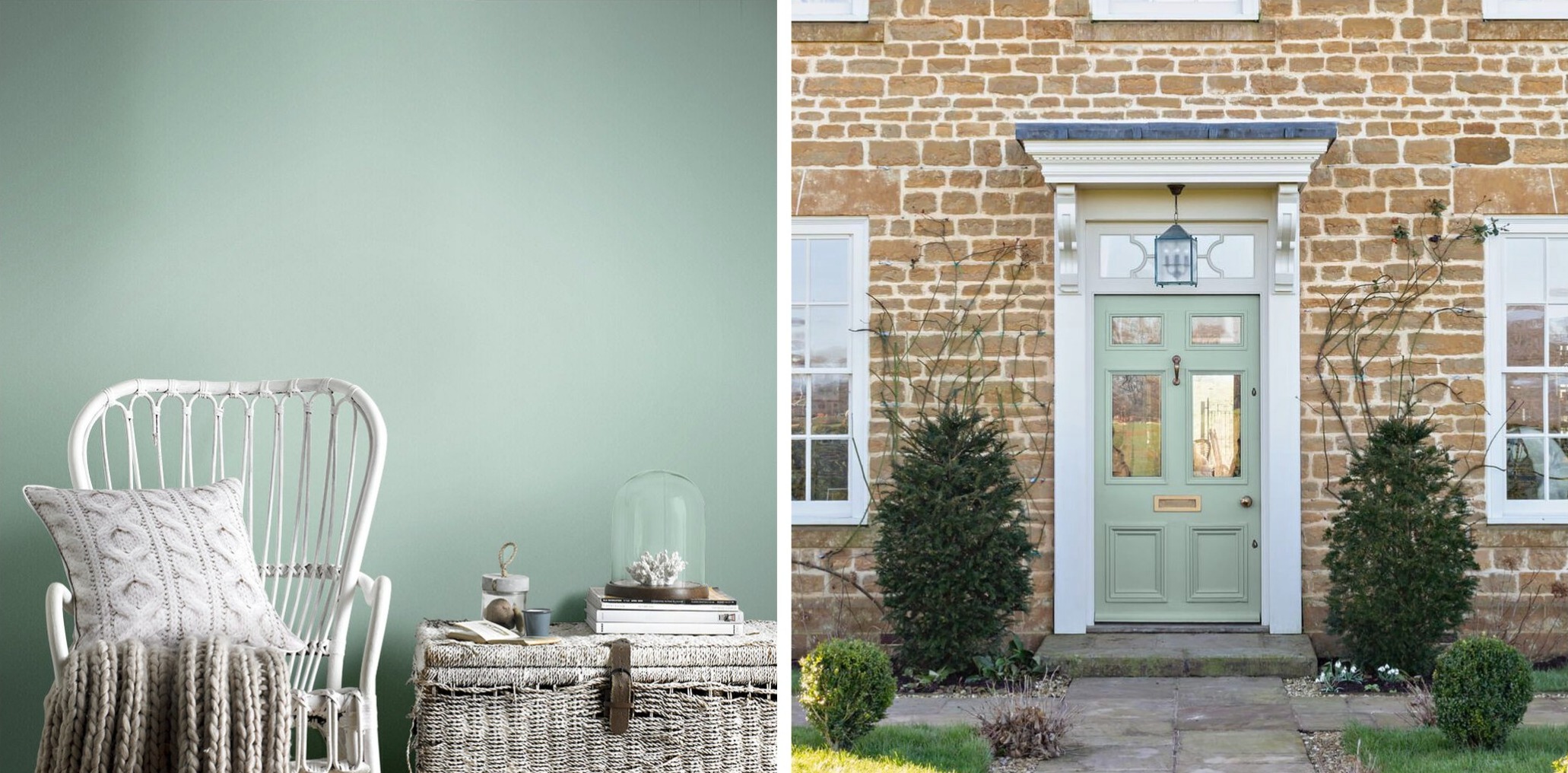 Although this paint isn't called Eau de Nil, It's a great option for anyone looking for a deeper shade of Eau de Nil. This stunning blue-green colour will look great in all areas of the home!
Order samples here
Do Farrow and Ball do Eau de Nil Paint?
No, Farrow and Ball do not currently offer an Eau de Nil paint colour. However, they do offer a similar colour called "Teresa's Green" which is a good alternative if you already love using Farrow and Ball Paints. Eau de Nil is typically a very light green or blue colour, and Teresa's Green is a similar light-to-mid blue-green shade.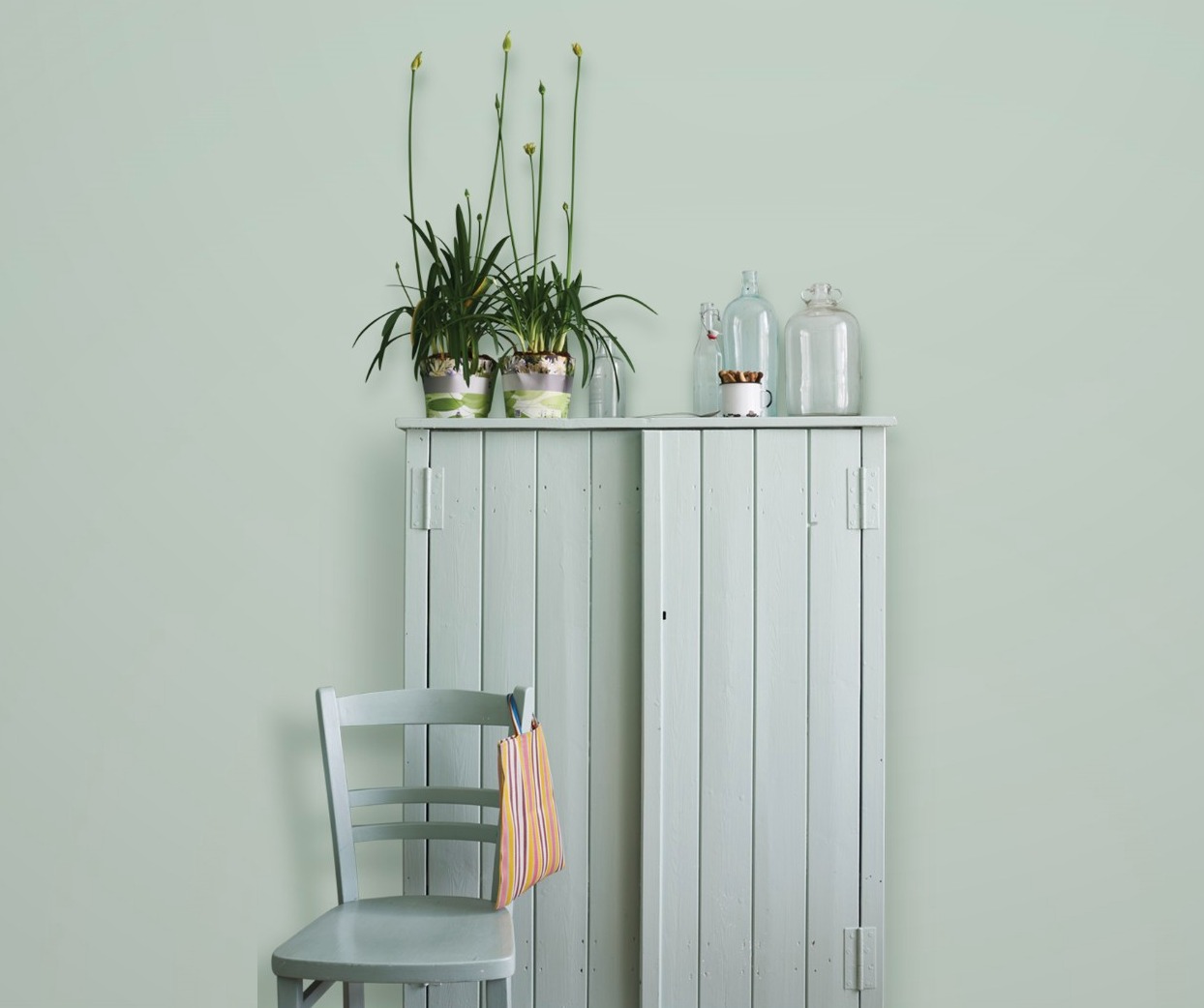 Teresa's green pairs beautifully with Pavilion Blue, and Pale Powder. It also looks stunning against All White, which really allows the colour to stand out.
What colours go well with Eau de Nil?
Although it's fairly pale, Eau de Nil stands up well on its own. One of the best colour combinations is Eau de Nil and white. This allows the soft green-blue to take centre stage and is perfect for creating a space that looks fresh and bright, as well as elegant and timeless.
Aside from white, other colours that look great with Eau de Nil include:
Gold
Rust
Beige
Pink
Coral
Grey
Rust reds and oranges are perfect for creating a high-contrast look
Does Eau de Nil go with grey?
Yes, Eau de Nil works beautifully with grey. If you are considering painting your walls in Eau de Nil, adding in some grey fabrics or upholstery is a great way to create a sophisticated look. For example, a grey upholstered headboard will look wonderful in a room painted in Eau de Nil.
Don't forget to add some white in too, though. This will ensure your space still looks fresh and bright. You can add white accents by painting your woodwork and trim, or simply by adding some crisp white bedsheets to your bed.
Is eau de nil blue or green?
The big question: Is Eau de Nil blue or green? Eau de nil is generally a light greenish grey colour with blue undertones, but it can vary from brand to brand. In general, though, it's slightly more green than blue.
Final Thoughts
If you're considering using Eau de Nil in your home, you've made a good choice. Eau de Nil by Laura Ashley is undoubtedly one of the most popular colours around. However, there are lots of other good options out there too. Designer's Guild's Eau de Nil is perfect for creating a bright and airy space—it works particularly well in larger living rooms and bedrooms. Farrow and Ball's Teresa's Green is another good choice. It's a little darker, but it can work wonders in smaller bedrooms to create a luxurious, yet relaxing space.
As I mentioned earlier, it's important to get paint samples before purchasing your paint to see how it looks in your space.
I hope you've enjoyed this selection of colours. Let me know if the comments if you have any questions!