Having a designated guest bedroom for you to host friends and family is a real luxury. However, if you can only afford a one-bedroom home you shouldn't have to miss out on having family and friends visit. If you don't have a second bedroom or even the space for a full-size sofa bed, it can be really frustrating to feel like you have no option but to use air mattresses. The good news is that there are plenty of practical and stylish sofa bed alternatives that could work perfectly for your small space.
These aren't limited to people who want to host their friends either!
If you live in a studio flat then these sofa bed alternatives are definitely something you should look at. Swapping your bed for a sofa bed alternative can make a space much more multi-functional, allowing you to have a full living room during the day.
Armchair Beds
If you want your space to look like a full living room during the day when you have a studio flat, or you simply want to maximise the amount of sleeping space in your guest bedroom, then an armchair bed is a great option. It gives you the best of both worlds.
Armchair beds come in a variety of different style options. They look great and are very comfortable during the day. When nighttime comes it's easy to set up the single bed which provides a comfortable but space-efficient place to sleep.
This stunning love seat sofa bed from Loaf is a great option, and it comes in several different colours. Being a love seat, it's slightly larger than a typical armchair. This is perfect if you don't have space for a sofa and an armchair or you only have space for armchairs.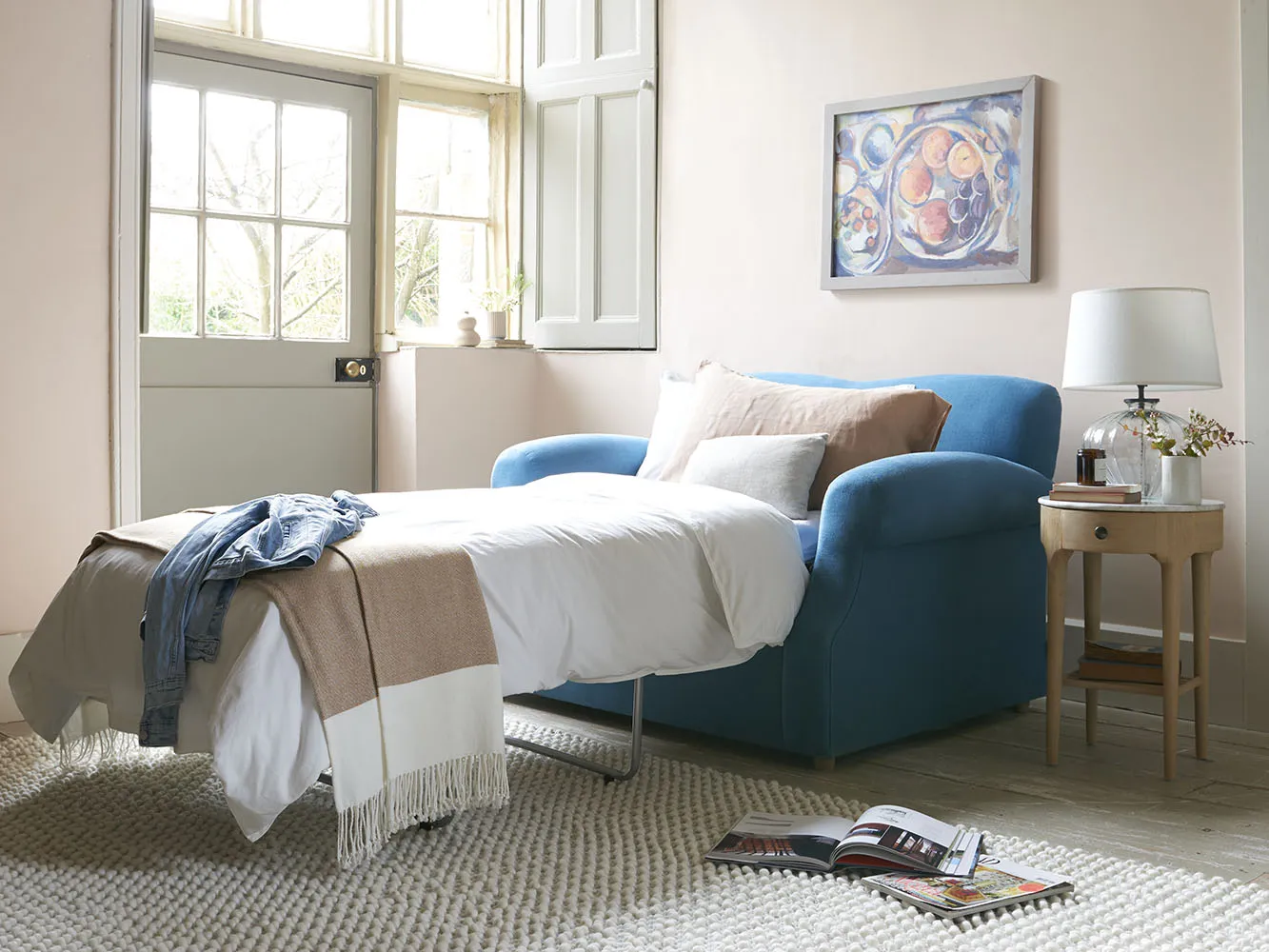 This means that not only is it more comfortable to curl up on during the day, but it also gives you a good-sized single bed to sleep in at night. Instead of a sofa, try placing two of these love seats in your lounge. This way you can maximise the number of guests you can have sleeping in your home as well as make the room feel larger.
If you did decide to buy two armchair beds then you could place a coffee table in the middle with a lamp behind to create a cosy space to relax in the daytime. At night time it will easily convert into a comfortable twin bedroom for any guests who come to visit.
Single Sofa Beds
Single sofa beds have become hugely popular over the last few years for good reason. A single sofa bed is like a fully padded thick mattress with proper legs, but it folds up into a very comfortable chair. Most single sofa beds look very modern when folded up, so it's a great option if you like a minimalist modern style of decor. Single sofa beds are a great option if you want to maximise sleeping space when you have a small home.
This velvet single sofa bed from Made is the best sofa bed for those who love colourful pieces and unique textures. It comes in brighter tones of orange and gold, as well as more earthy tones like darker greens, greys, or dusky pink.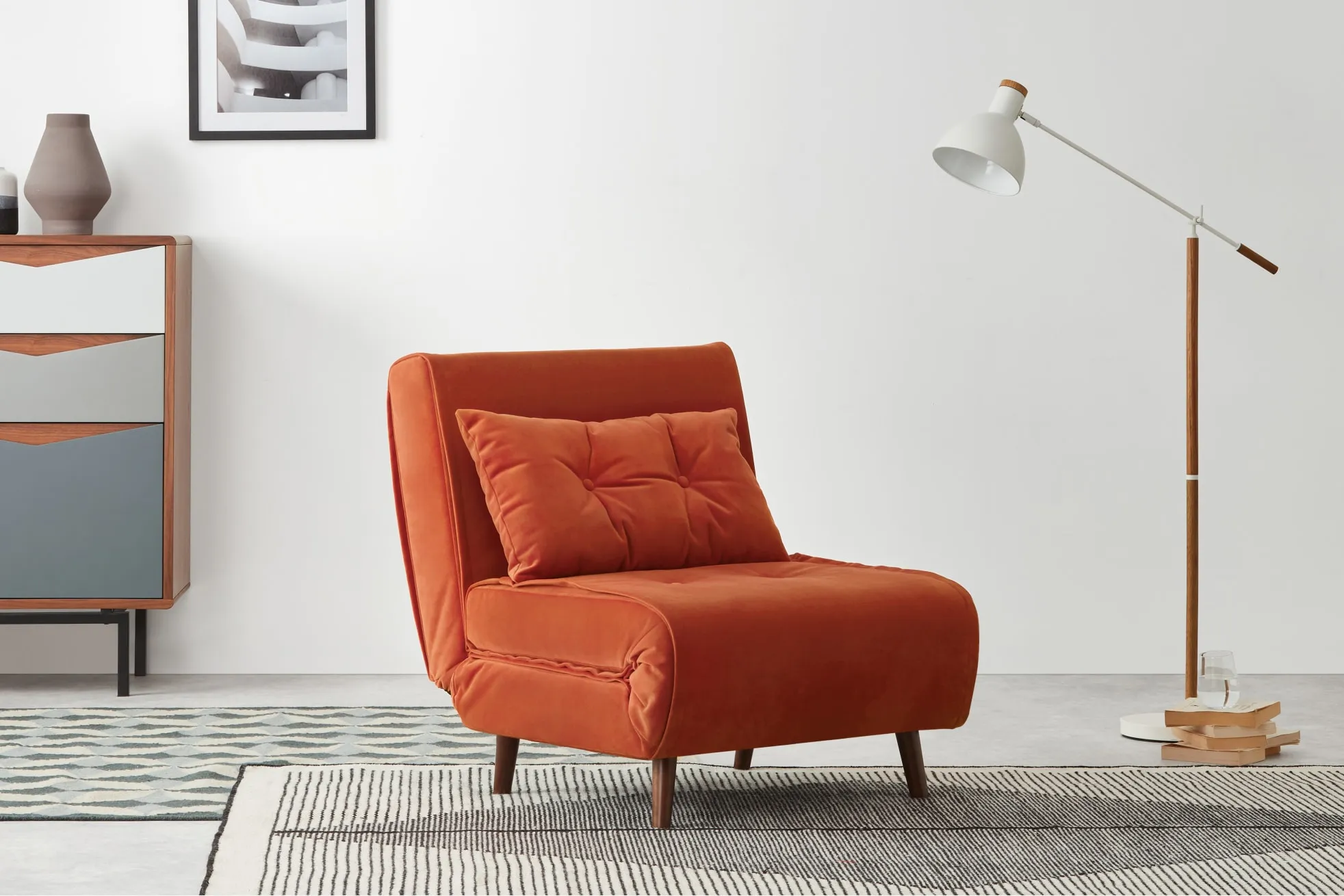 This single sofa bed would fit perfectly into a light, bright and modern home with lots of plants around. It would be great in addition to a standard sofa. Alternatively, if you're really pushed for space you could have two of these single sofa beds. You could use this single sofa bed to create a cosy reading nook with a lamp that converts into a cosy bedroom area for overnight guests when they visit.
Loveseat Sofa Bed Alternatives
Most love seats are smaller than a two-seater sofa but larger than an armchair. This in-between size makes it a perfect option for people who are more space-conscious but still want the look of having a sofa in their lounge. Love seats are a particularly good option for people who live in studio apartments because they will give you the appearance of a normal living room but will also give you a larger and more comfortable bed.
Bromley Loveseat: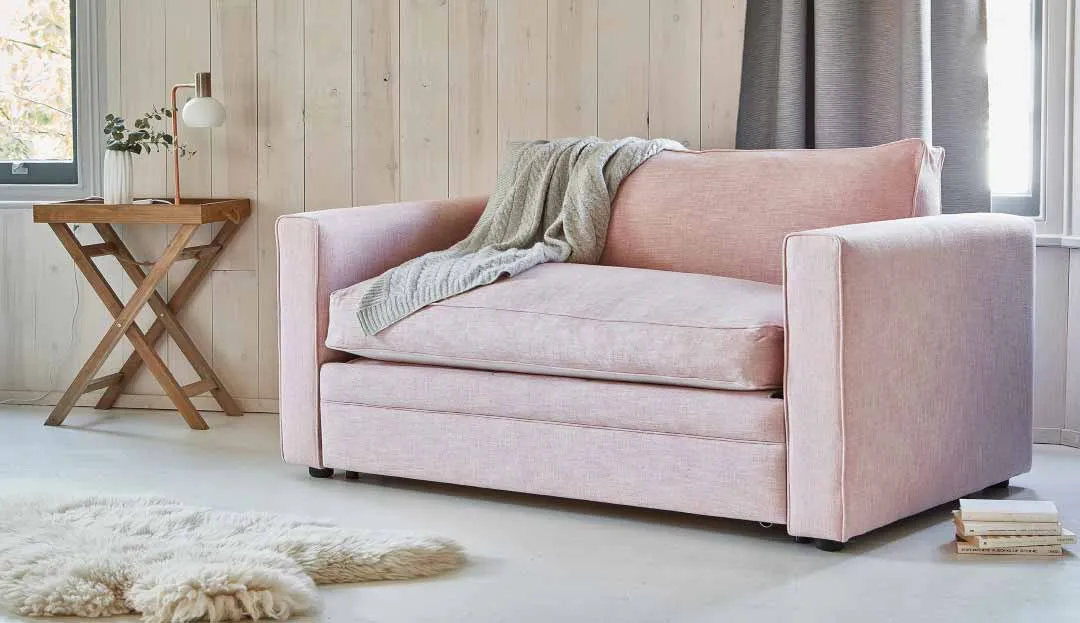 The Bromley loveseat from Darlings of Chelsea is a great option if you want something more bespoke. The overall shape is modern but comfortable so would suit most homes. There are lots of different colours and fabrics to choose from, you can choose the type of filling your sofa cushions have and the kind of mattress you prefer. If you want a basic design that's highly customisable you should choose this one.
Helston: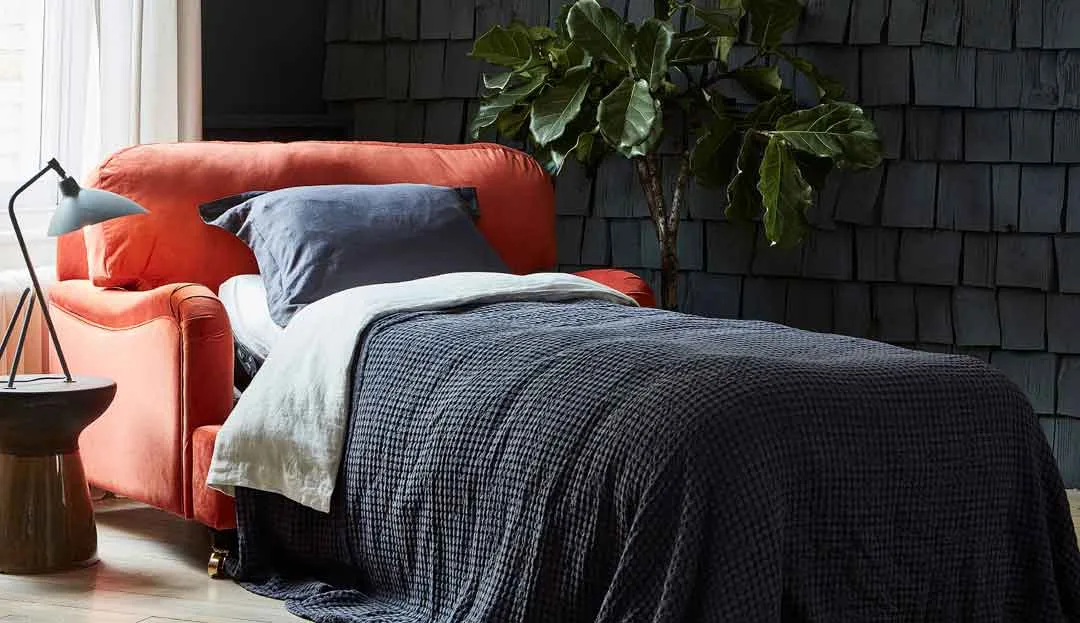 If you prefer a traditional look then the Helston loveseat is the best choice for you. This sofa bed alternative has more antique-shaped arms and extra-filled cushions. There are plenty of colours and fabrics to choose from, and this design is even more customisable with a choice of foot colour, removable arms to make the bed more comfortable and different mattresses.
Either of these sofa beds would be perfect to help you create a cosy lounge in a smaller home. In a kitchen/lounge/diner you could place this by a window or use a sofa bed to section off the open space. If you combine this with the fold-up ottoman below this could help you to create a really comfortable space that will allow you to host multiple guests. In a studio apartment you could use this love seat to create a cosy space, and use this loveseat as a bed alternative – this will allow you to create a more multi-purpose space that will feel larger than it actually is.
4-in-1 Ottoman Folding Chair bed
Amazon might seem like an unlikely source for furniture, but it's actually a great place to find sofa bed alternatives. One of the most unique bed alternatives for small spaces comes in the form of an ottoman sofa bed. This ottoman sofa bed folds out from a small unit into a full-size single bed. This sofa bed could replace a coffee table and add an extra space to sleep – just put a tray on top. This ottoman sofa bed alternative could even provide extra seating when people visit you. The ottoman folds out into a chair, a lounger, a bench or a bed, making it one of the most multifunctional alternative bed options around.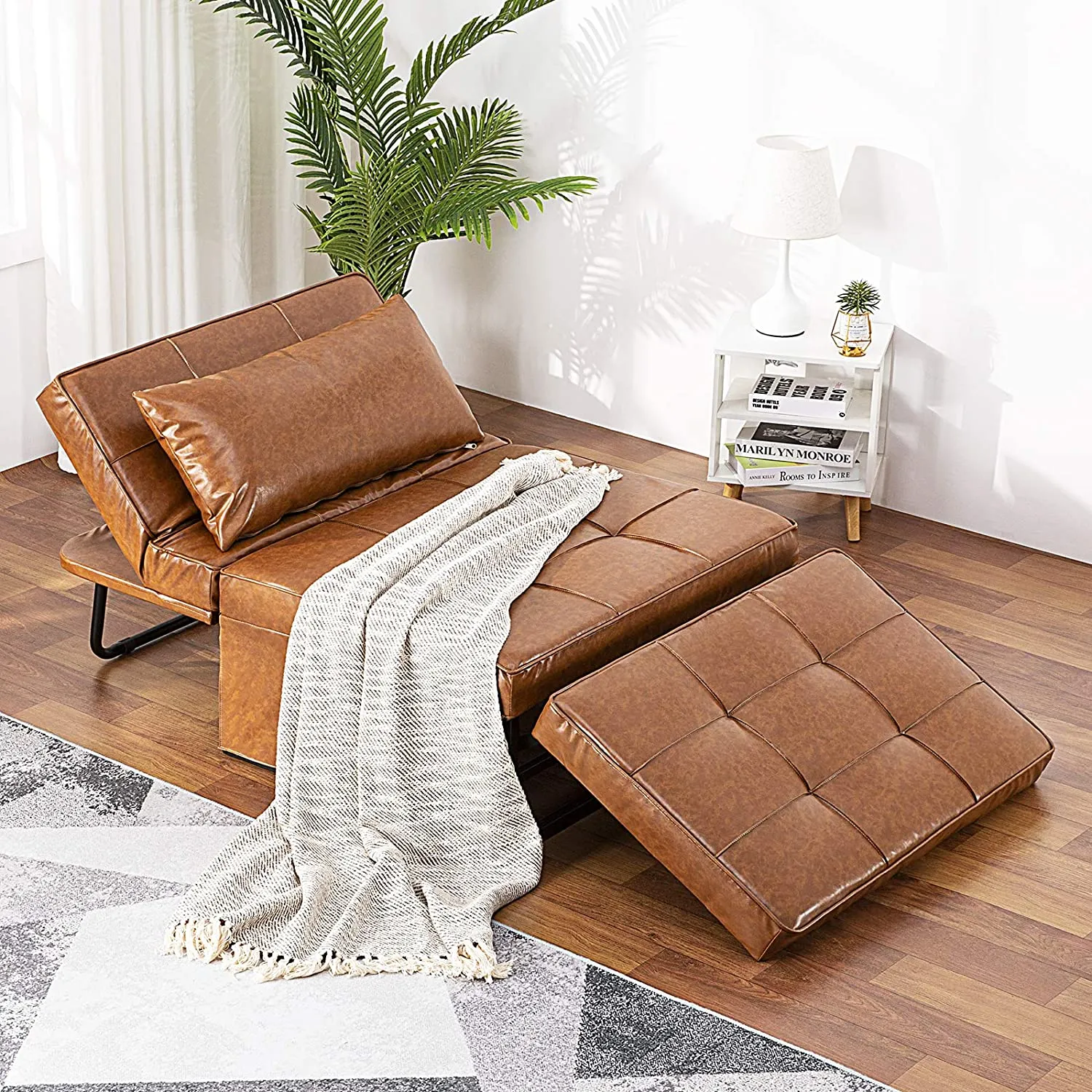 If you have a small space then this ottoman would be incredibly helpful. In particular, this would be a great option for a studio apartment. You could use this as a bedside table or extra seating and then unfold it to create a guest space if you have a friend come to stay. It also doubles as an attractive piece of furniture that would look great in a modern or mid-century inspired home. In a slightly larger home, this could be used as an extra seat, a footstool or a coffee table in the lounge. This could also be used in your bedroom if you only have a one-bed apartment, or in the guest room if you're lucky enough to have one, to further expand the number of people that you're able to host at any one time.
Folding Bed with a Deep Sprung Mattress
While multi-purpose furniture is great, you might not necessarily want or need an extra piece in your space. If you are lucky enough to have a large storage cupboard or a wardrobe then a fold-up bed could be a great solution. In particular, if you have one guest bedroom but want to be able to host more people then this folding bed is the perfect alternative to a sofa bed. You could keep the bed folded up in the closet of your guest bedroom, and then bring it out if you have a family staying.
This folding bed from Amazon has a deep sprung mattress which will be much more comfortable than a sofa bed with a thinner mattress if you have the space to store it. It's also much more space-efficient than having an extra piece of furniture in your lounge if you're happy with how your home looks already.
Ottoman Sofa Bed Alternatives
If you like the idea of an ottoman that doubles as a sofa bed alternative, but you don't like the idea of something inspired by leather then this ottoman sofa bed from Made could be a great option for you.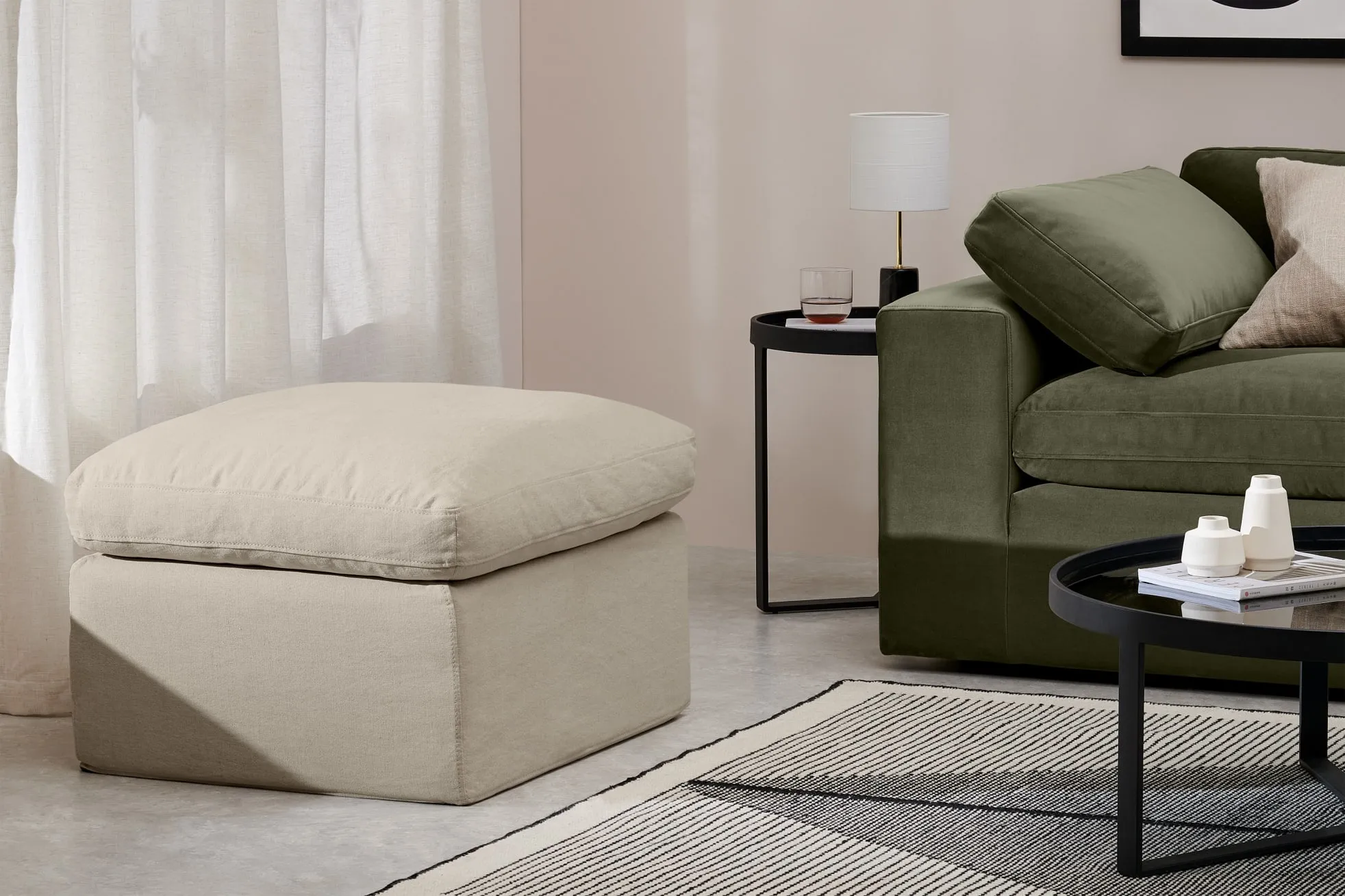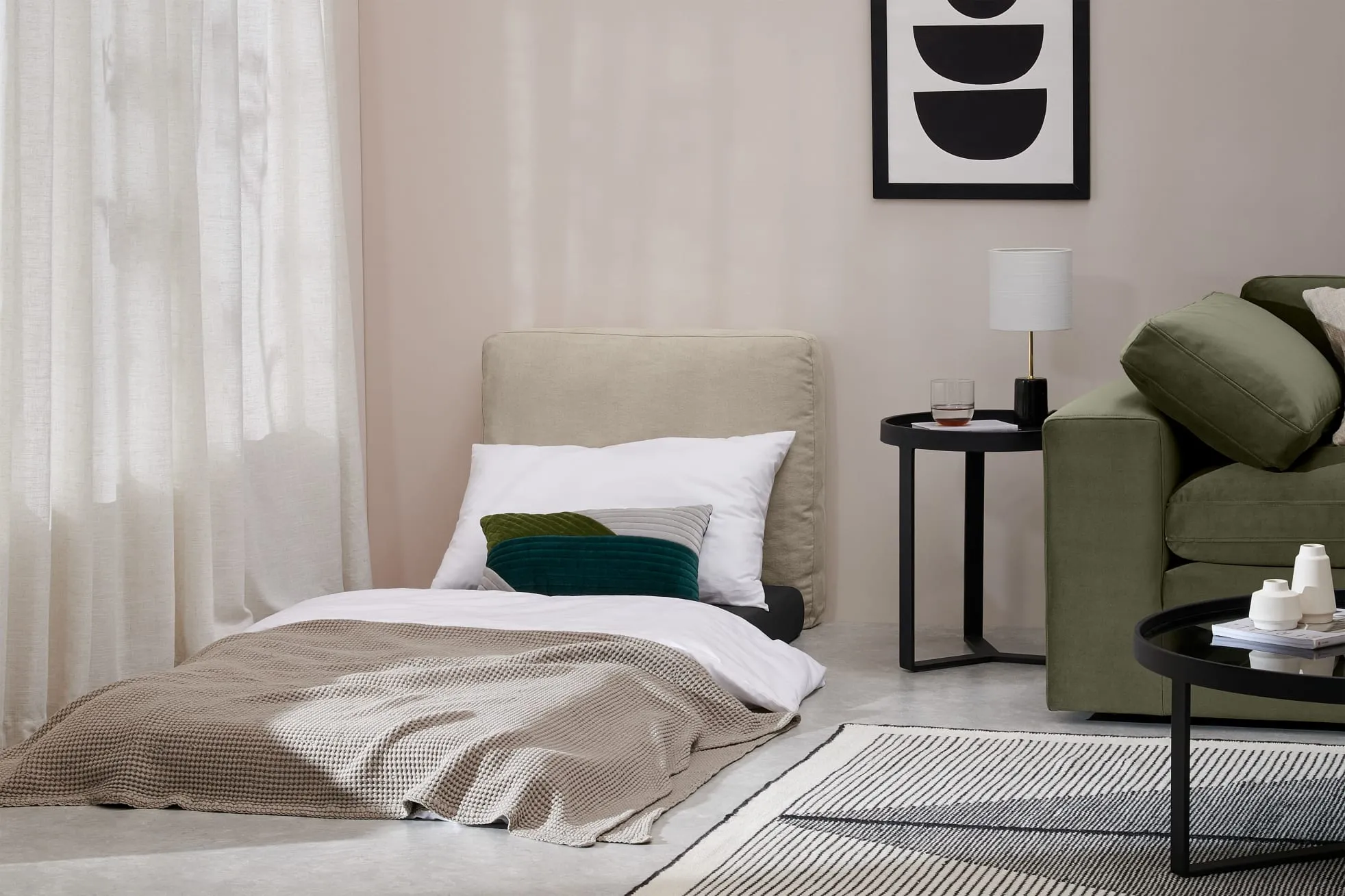 This sofa bed is made from a soft fabric and has a very soft top seat. It doesn't turn into a seat, but it can be used as a footrest, a seat as it is, or a coffee table if you put a tray on top.
Rather than a traditional sofa bed which has a mattress on a base with legs, this is more of a mattress on the floor. The ottoman folds down flat into a thick mattress pad. It's not as luxurious as sleeping on a proper sofa bed, but it's a great way to add extra space for guests without needing to buy a new sofa or completely redesign your space. This sofa bed alternative would also be great for people who live in studio apartments – as long as you're able to create some floor space then this would make for a comfortable extra seat as well as an extra bed for your visitors.
Glamorous Single Sofa Bed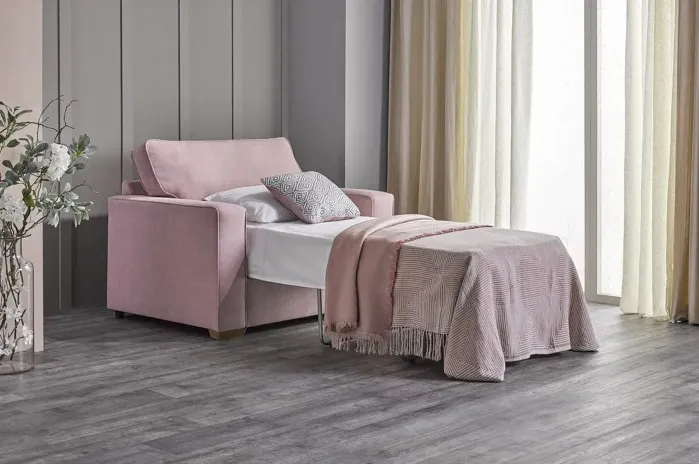 Sofa beds are often thought of as being uncomfortable and small. However, there are many modern alternatives now that look great and provide comfort. This armchair bed from Oak Furniture Land provides a comfortable armchair that doesn't take up too much space. It also offers a full-size single sofa bed with a thick mattress to give your guests a comfortable night's sleep.
The Texas armchair bed is a simple boxy design that comes in lots of different colours. This style will look great most living rooms, whether you prefer a modern style or something a little more traditional. The material is polyester that feels like a luxurious brushed fabric, making it the perfect material to have as your guest's headboard.
This armchair bed would be great for a guest bedroom to enable you to host an entire family, but also to give your guests a comfortable place to sit during the day in their own space. If you have a studio apartment then you could style your room like a hotel bedroom, giving you space for a bed and an armchair that will allow you to have guests. Otherwise, you could have more of a living room space and use this as your bed alternative for a small space.
The Best Sofa Bed Alternatives
It can feel like you don't have many options that enable you to host your friends or family when you have a smaller space, but that's not the case at all. If you have a lounge space you could buy a loveseat instead of a sofa to create the illusion of a larger space or choose two armchair beds to maximise your hosting capacity.
If you don't want to completely change your furniture then an ottoman bed is a great addition to your space. This could be placed in your lounge instead of a coffee table, it could be used as a footrest or it could be placed in your guest bedroom to provide a place to sit as well as an extra bed. Finally, if you're lucky enough to have a storage cupboard or large closet then you could simply opt for a fold away bed instead of adding a new piece of furniture to your space.
There are so many great options when it comes to bed alternatives for small spaces. Buying one of these sofa bed alternatives means you won't need to cram loads of furniture into a studio apartment or try to squeeze a sofa bed into a small lounge. There are plenty of different styles, colours and materials to choose from so you're guaranteed to find something that will suit your space and your style perfectly.
If you enjoyed this, check out my article on the best calming bedroom colours. If you're decorating your home, check out the best interior design books for beginners to give you some inspiration!