In this article, I'm sharing some of my favourite pink wall colour ideas, their unique characteristics, and how to incorporate them into different rooms of your home.
From soft blush tones to vibrant magentas, pink offers a wide range of options to suit any style or mood, so if you're looking to add a touch of charm, playfulness, or sophistication to your space, pink is the perfect colour choice. Whether you're aiming for a romantic bedroom, a cheerful living area, or a chic office space, get ready to discover inspiring pink wall paint ideas that will transform your interior into a delightful sanctuary.
7 Perfect Pink Wall Colour Ideas
These are my all-time favourite Pink wall colour ideas, I hope you like them!
Setting Plaster
Image via @sansdoute_interieur | Website: Sans Doute Interieur
Setting Plaster is one of the most popular pink paint colours offered by Farrow and Ball. This captivating and versatile shade exudes a sense of casual elegance. Inspired by the traditional plasterwork found in historic homes, this hue perfectly captures the essence of timeless beauty.
Setting Plaster's subtle pink tone strikes a balance between softness and sophistication. This particular shade of pink has a remarkable ability to adapt to various lighting conditions, appearing different throughout the day. Under natural light, it takes on a fresh and airy quality, while artificial lighting brings out its warmer undertones, creating a cosy and intimate ambience.
This beautiful colour could almost be considered a neutral—it pairs well with a wide range of colours, making it a versatile choice for interior design. It can be complemented by softer neutrals, such as whites, and creams, for a subtle and harmonious palette. It also works beautifully alongside deeper hues like blacks or navy blues for a captivating contrast.
Order a Sample or get a Free Farrow and Ball Colour Card Here
Calamine
Designed by @atelierstudioco
Calamine is a cool pink paint colour by Farrow and Ball. This soft and muted hue evokes a sense of tranquillity and vintage charm. Inspired by the delicate shade of the medicinal lotion, Calamine offers a timeless appeal that is both soothing and romantic.
This light pink paint colour carries a subtle grey undertone, lending it a unique character and creating a gentle and calming ambience wherever it is used. Its soft nature allows it to be versatile and adaptable, making it well-suited for a variety of interior styles and design schemes.
Calamine's vintage charm makes it an ideal choice for creating a nostalgic atmosphere or adding a touch of sophistication to contemporary spaces. It pairs beautifully with soft neutrals, such as creams and whites, enhancing its muted elegance. It can also be paired with bolder accent colours, such as deep greens or blues, for contrast. As you can see from the image above, it works really well with the slightly muted green colour on the kitchen cabinets, creating a contemporary, balanced look.
Order a Sample of Calamine or get a Free Farrow and Ball Colour Card Here
Pink Ground
Image Credit India Hares – @ourhouseedit
Pink Ground by Farrow and Ball is a pale pink paint colour with yellow undertones. This delicate hue brings a gentle warmth, creating a soft and inviting atmosphere. Pink Ground is known for its versatility, as it effortlessly pairs with various colour schemes and design styles. Its understated charm makes it suitable for both traditional and contemporary interiors.
This pale pink shade can be used as a main wall colour or an accent colour, and it makes a fantastic backdrop for showcasing artwork and furniture.
Order a Sample of Pink Ground or get a Free Farrow and Ball Colour Card Here
Soft Stone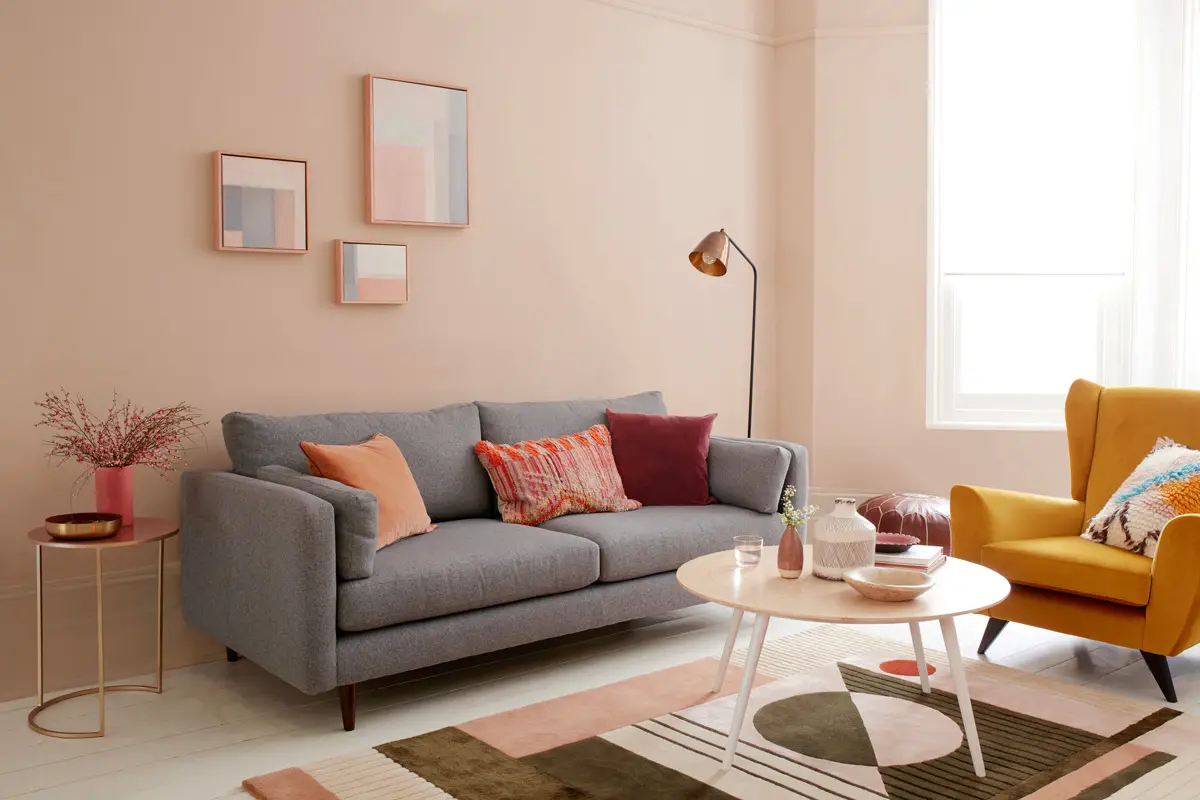 This warm neutral by Dulux has just a touch of Pink in it, so it's a great option if you're looking for a pink wall colour that doesn't look too… well, Pink.
The soft tones are perfect for creating a warm welcoming space that isn't too 'in your face'. Try using it in living rooms and bedrooms to create a modern, calming space. It will also look great on kitchen cabinets with white work surfaces.
Cinder Rose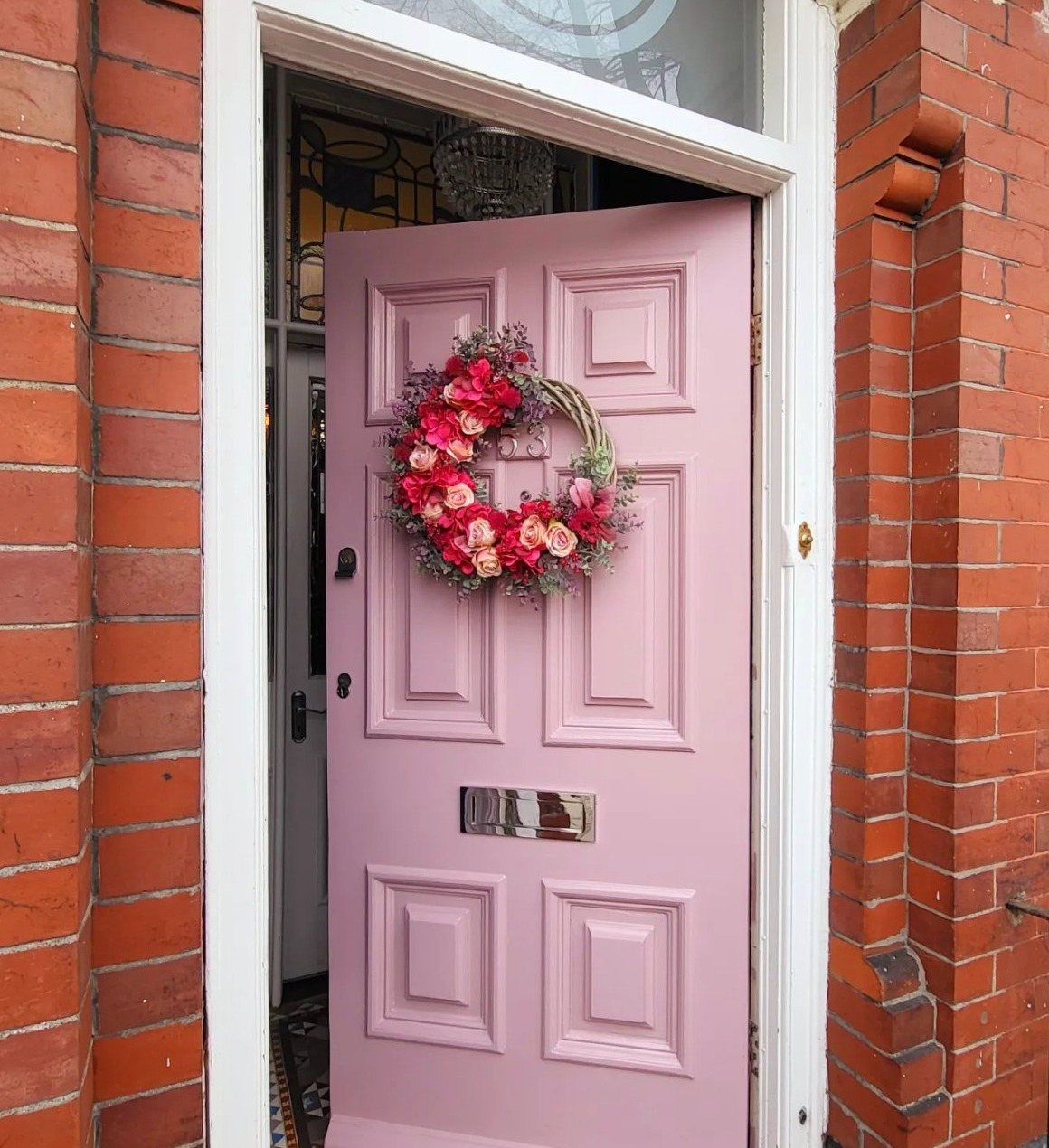 Image Credit: @clairedouglashome
Cinder Rose, a romantic rose pink paint colour by Farrow and Ball, exudes an air of elegance and sophistication. This captivating hue adds a touch of refinement and serenity to both traditional and rcontemporary interiors. Whether used as a main wall colour, a focal point, or as an accent, Cinder Rose brings a sense of romance and charm to a room.
Its versatility allows it to be paired with various colour palettes, from neutrals to deeper shades. With its understated beauty and timeless appeal, Cinder Rose is a popular choice for those seeking a touch of grace and elegance in their interior design.
Order a Sample or get a Free Farrow and Ball Colour Card Here
Pressed Petal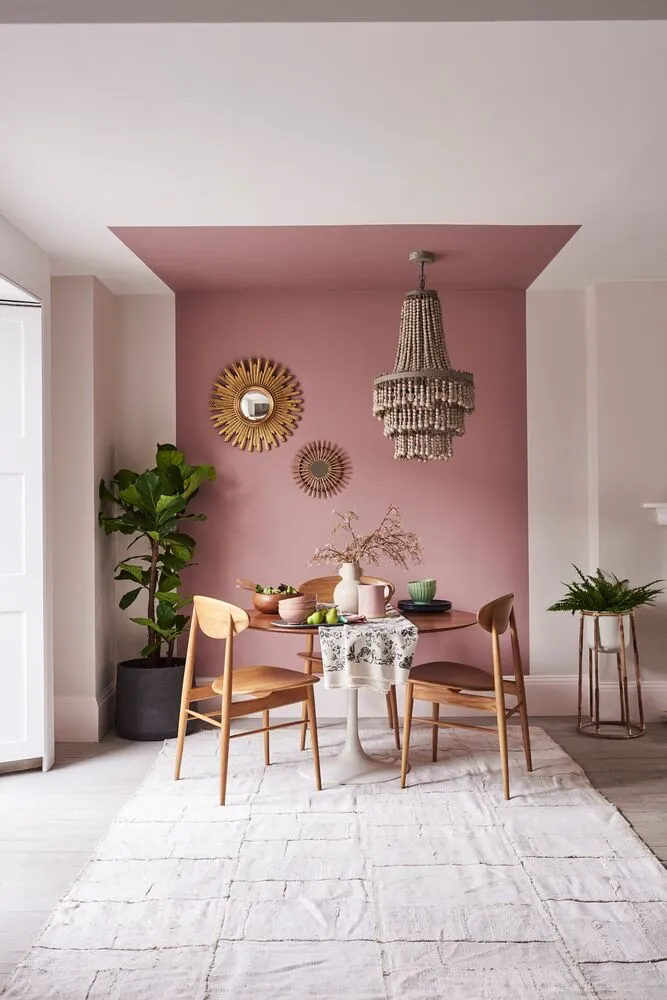 Pressed Petal by Dulux is a beautiful deep dusty pink. It's just a touch lighter than Farrow and Ball's Cinder Rose, but with a touch more brown in it. As you can see in the image above, it's perfect for adding warmth and life to living and dining areas.
Sulking Room Pink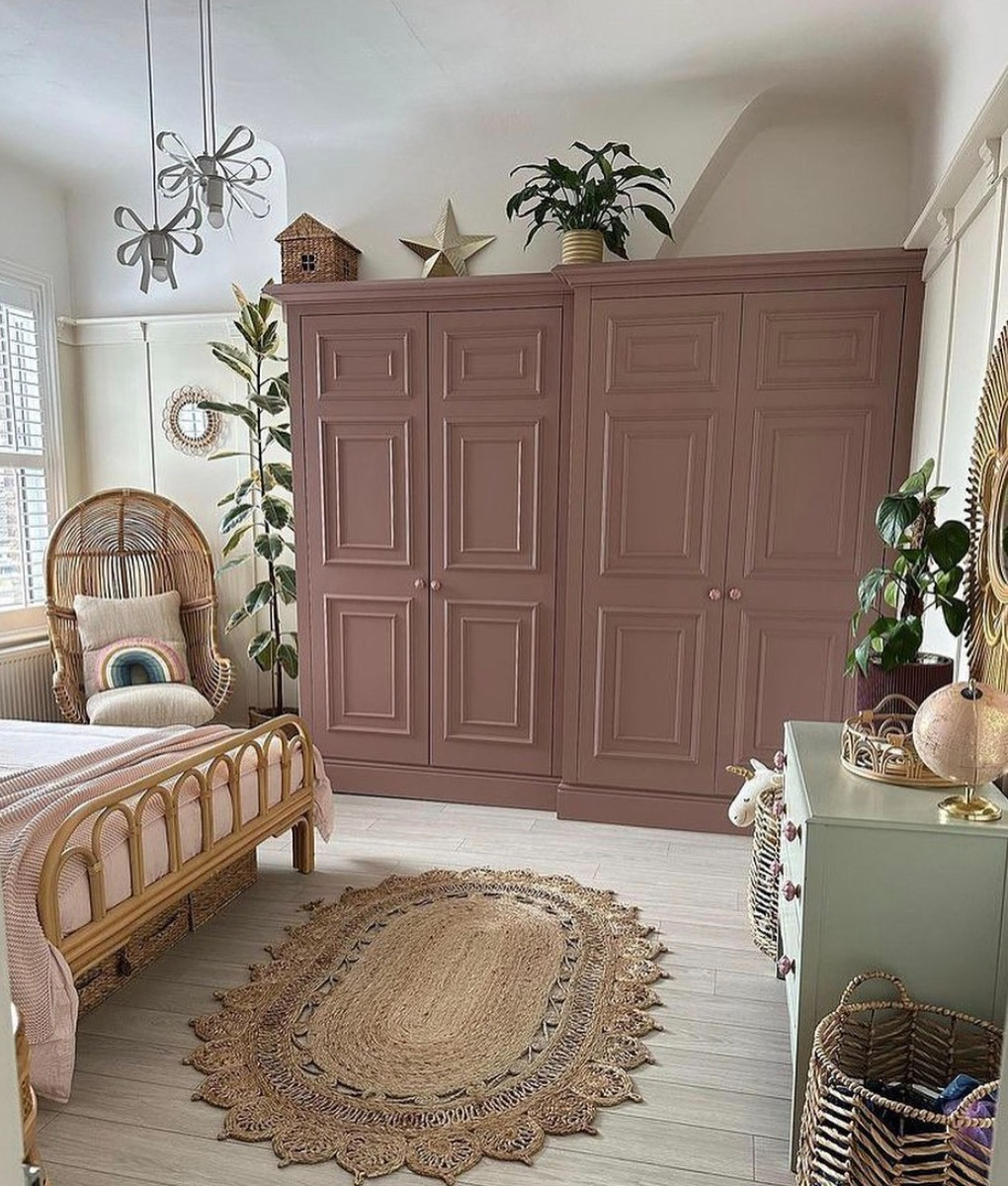 Image via @myliverpoolhouselove
Sulking Room Pink is a muted rose pink paint colour by Farrow and Ball. It exudes a subtle and contemplative charm. This unique hue carries a sense of tranquillity and introspection, making it an ideal choice for bedrooms and bathrooms. Sulking Room Pink effortlessly blends with a range of colour palettes, from neutral tones to deeper shades, allowing it to adapt to various design styles.
Whether used as a main wall colour or as an accent, Sulking Room Pink adds a touch of sophistication and elegance to any room. Its muted and understated beauty creates a serene atmosphere, making it a popular choice for those seeking a tranquil and contemplative interior aesthetic.
Order a Sample or get a Free Farrow and Ball Colour Card Here
Choosing the Right Pink Wall Colour for Your Space
The pink colour that's right for you will depend on your space. If you have lots of natural light, then Muted pinks like Setting Plaster and Pink Ground will work well. For smaller spaces like bedrooms and smaller living rooms, deeper pinks like Sulking Room Pink can work particularly well.