Sulking Room Pink is one of Farrow and Ball's most popular shades. This beautiful deep dusky rose hue can be used in a variety of ways to subtly to create a warm and welcoming space, and it can work just as well in kitchens and living rooms as it does in bedrooms. If you're looking for ways to use this lovely colour in your home, read on! I'm sharing some of my favourite ways to incorporate pink into your decor without making your space seem childish or overdone.
Sulking Room Pink Kitchens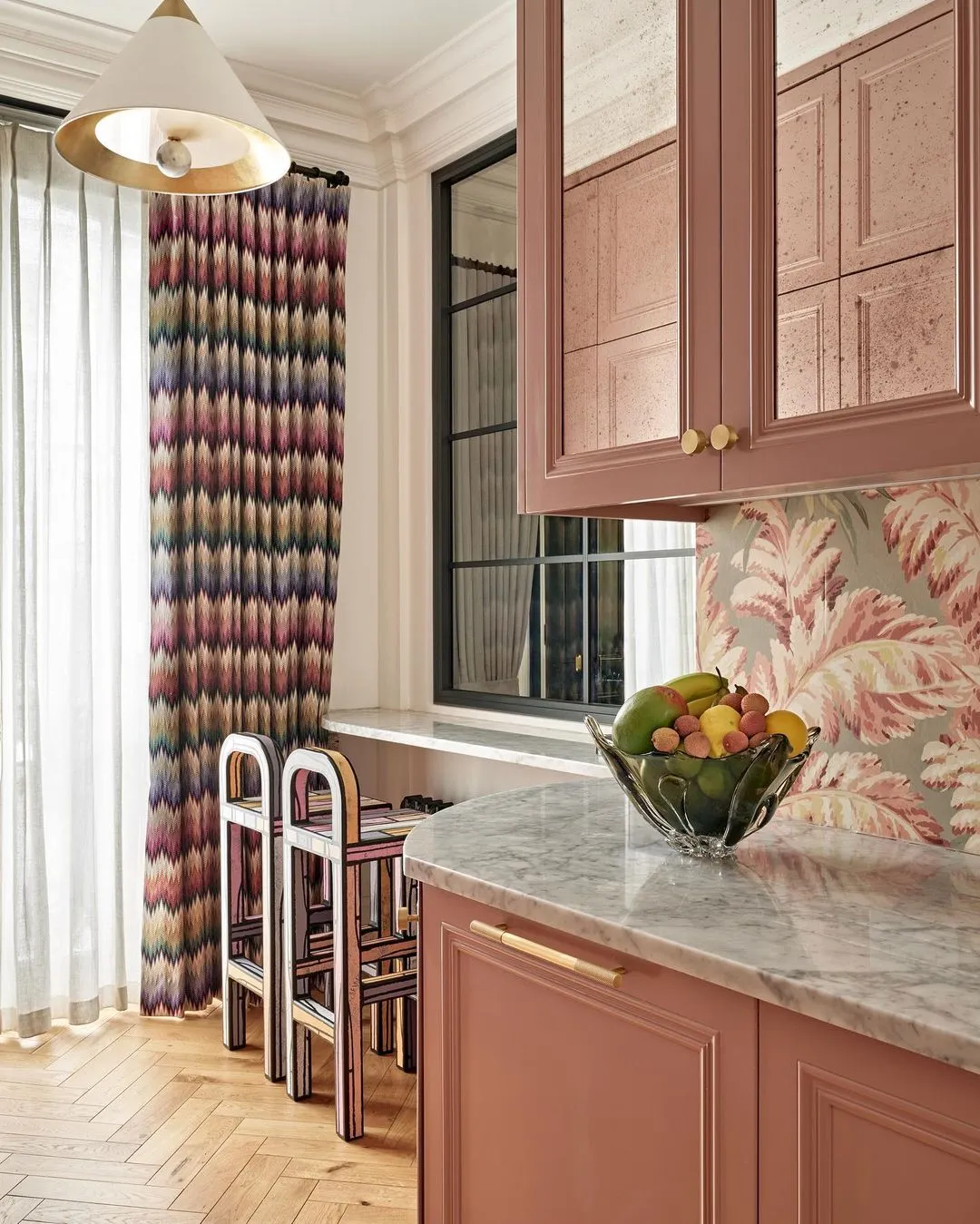 Image source: @ameliacarterinteriors
This kitchen design by Amelia Carter is a perfect example of how to use colour to create a mood. The cabinets are painted in pink, with beautiful gold door handles. This combination gives the space a sense of modern luxury and sophistication. The marble worktop adds to this feeling, while the colourful zigzag curtains add a touch of fun and personality. It is warm and inviting, yet still modern and stylish. Overall, this kitchen is a great example of how to use Sulking Room Pink in a more contemporary space.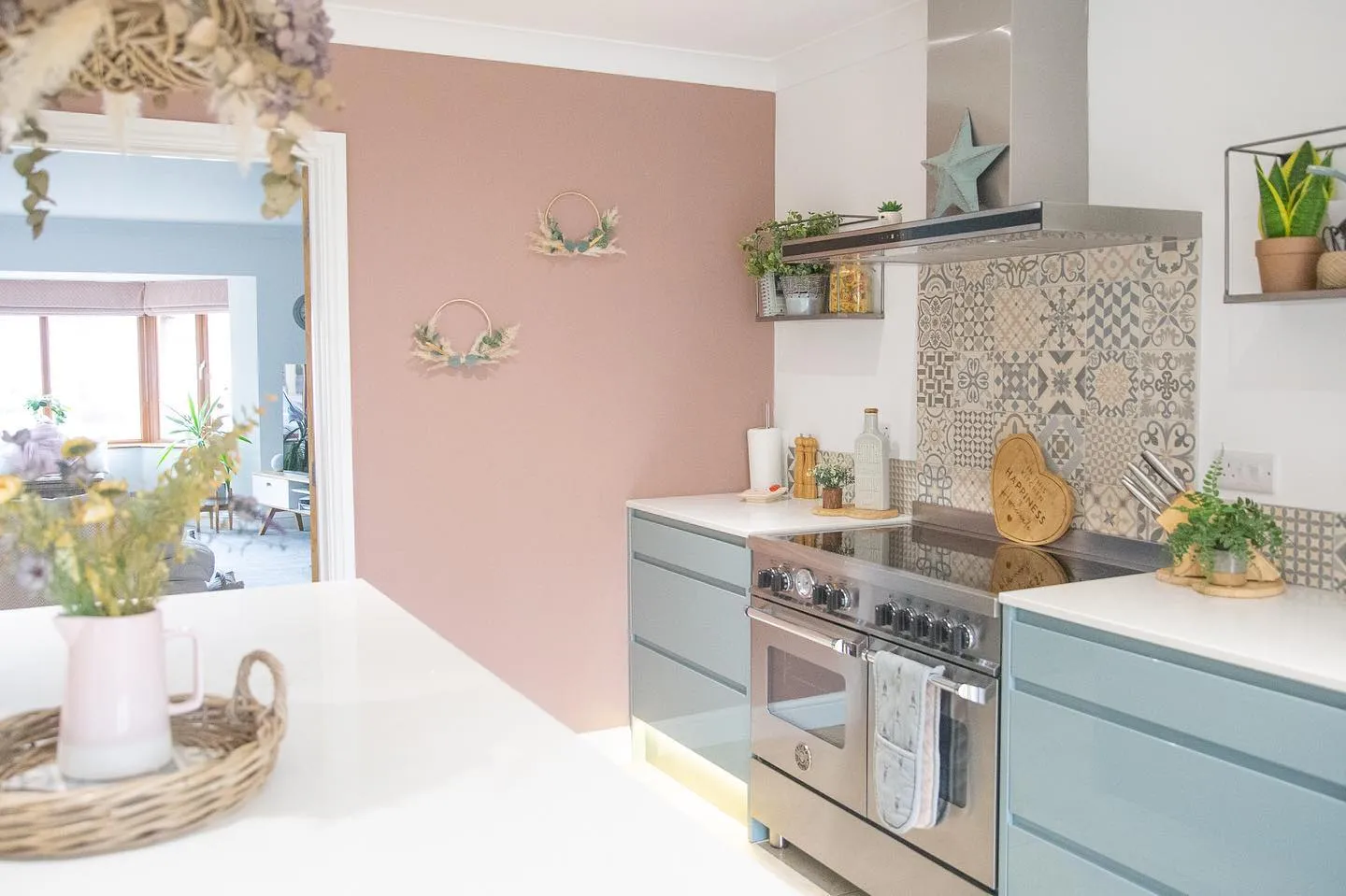 Image source: @snap_happy_home
This is another great example of how wonderful Sulking Room Pink can look in modern spaces. It works really well with the crisp white of the walls and worktop, and complements the blue of the kitchen cabinets perfectly.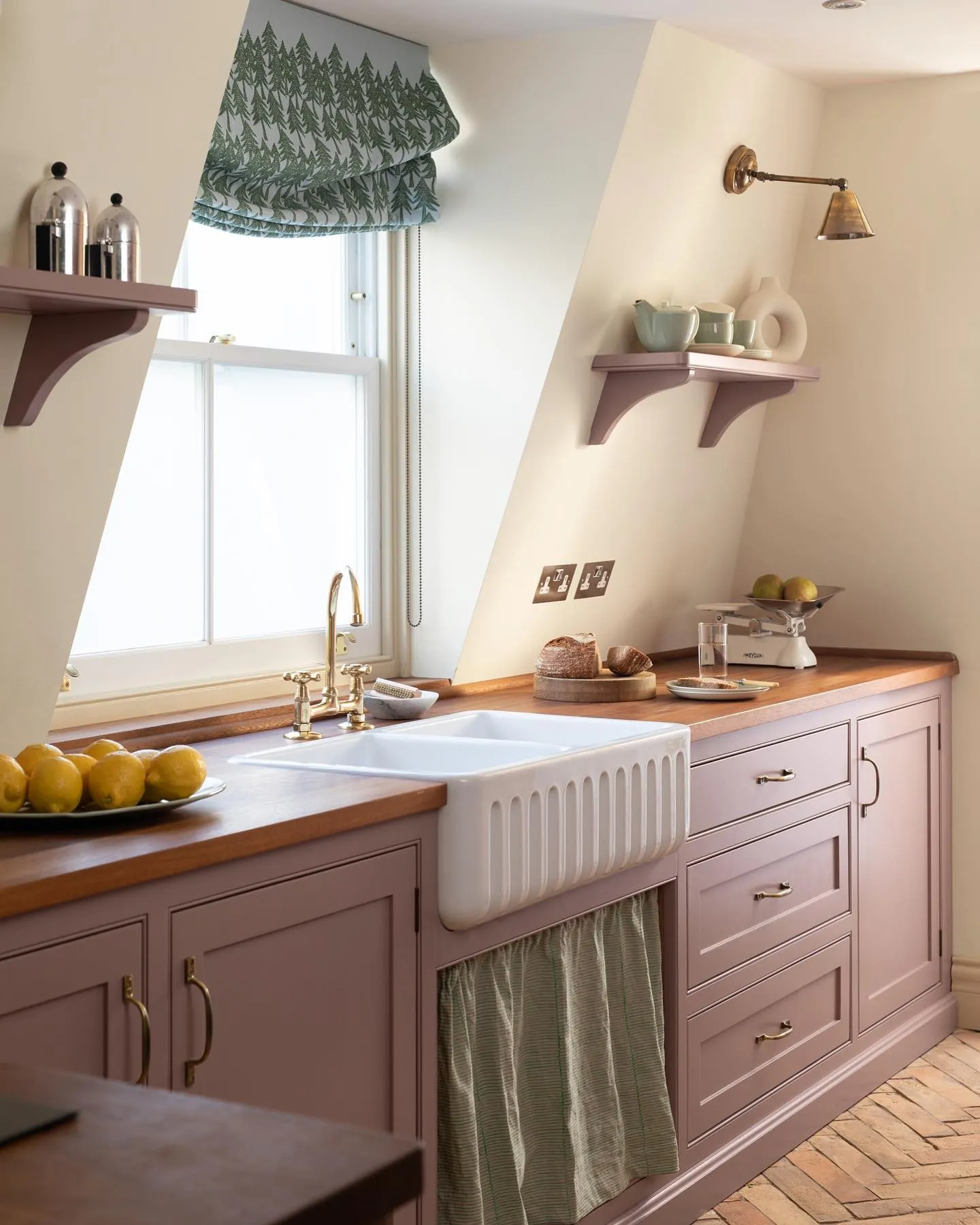 Image source: @home_at_brookes | Brooke Copp-Barton
This beautiful kitchen features cabinets painted in Sulking Room Pink, with a traditional wooden worktop. I love home the pretty sink and the curtain below create a charming country-inspired look It's just beautiful!
Sulking Room Pink Kids Bedrooms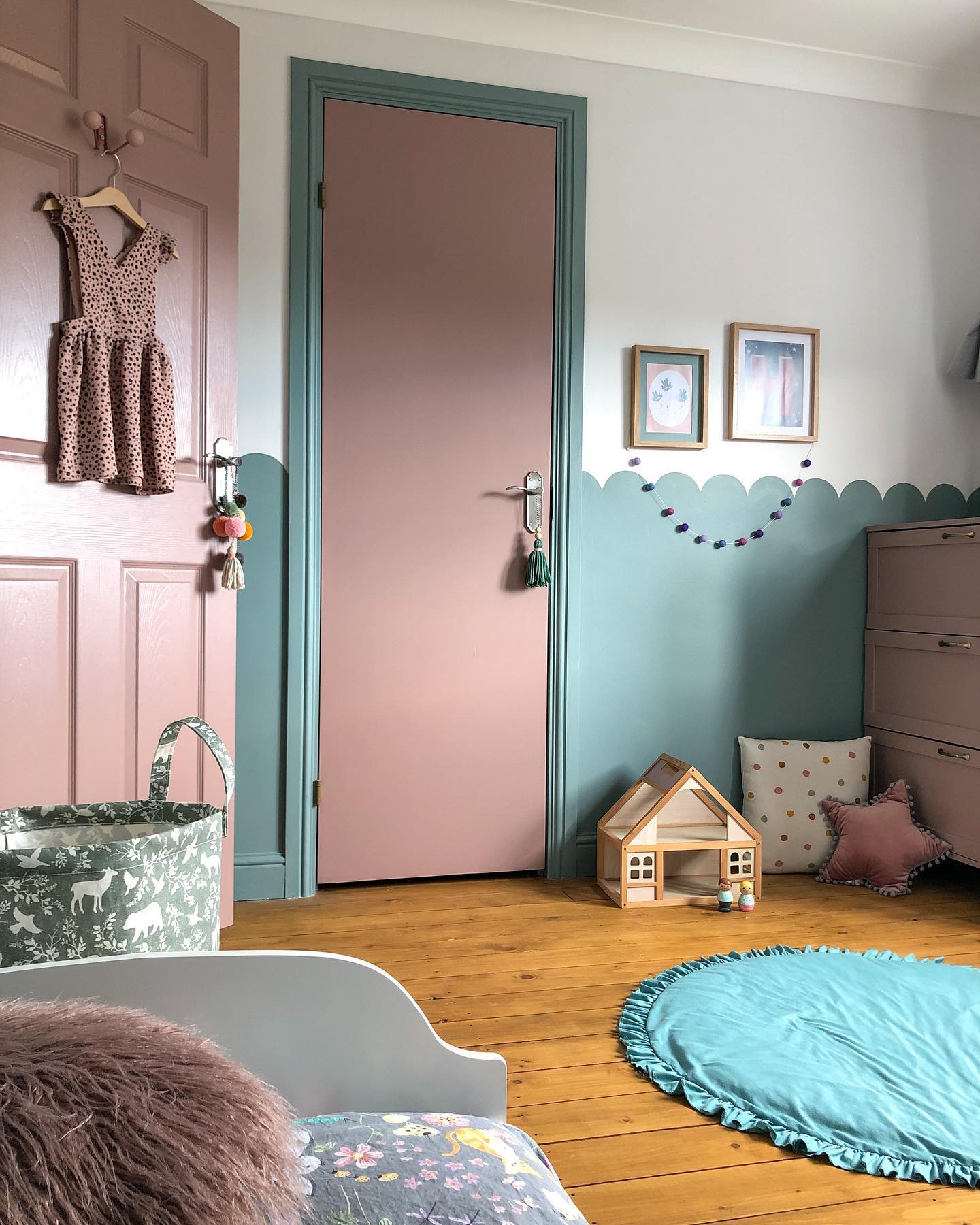 Image source: @athomewiththeraines
This children's bedroom is a cheerful space with scalloped half-painted walls painted in Oval Room Blue and Wevet by Farrow and Ball. The doors and dresser are painted in Sulking Room Pink, which contrasts with the blue on the walls to add enormous warmth and create an inviting atmosphere.  The overall effect is one of playful elegance, making it a perfect space for a child to grow and learn.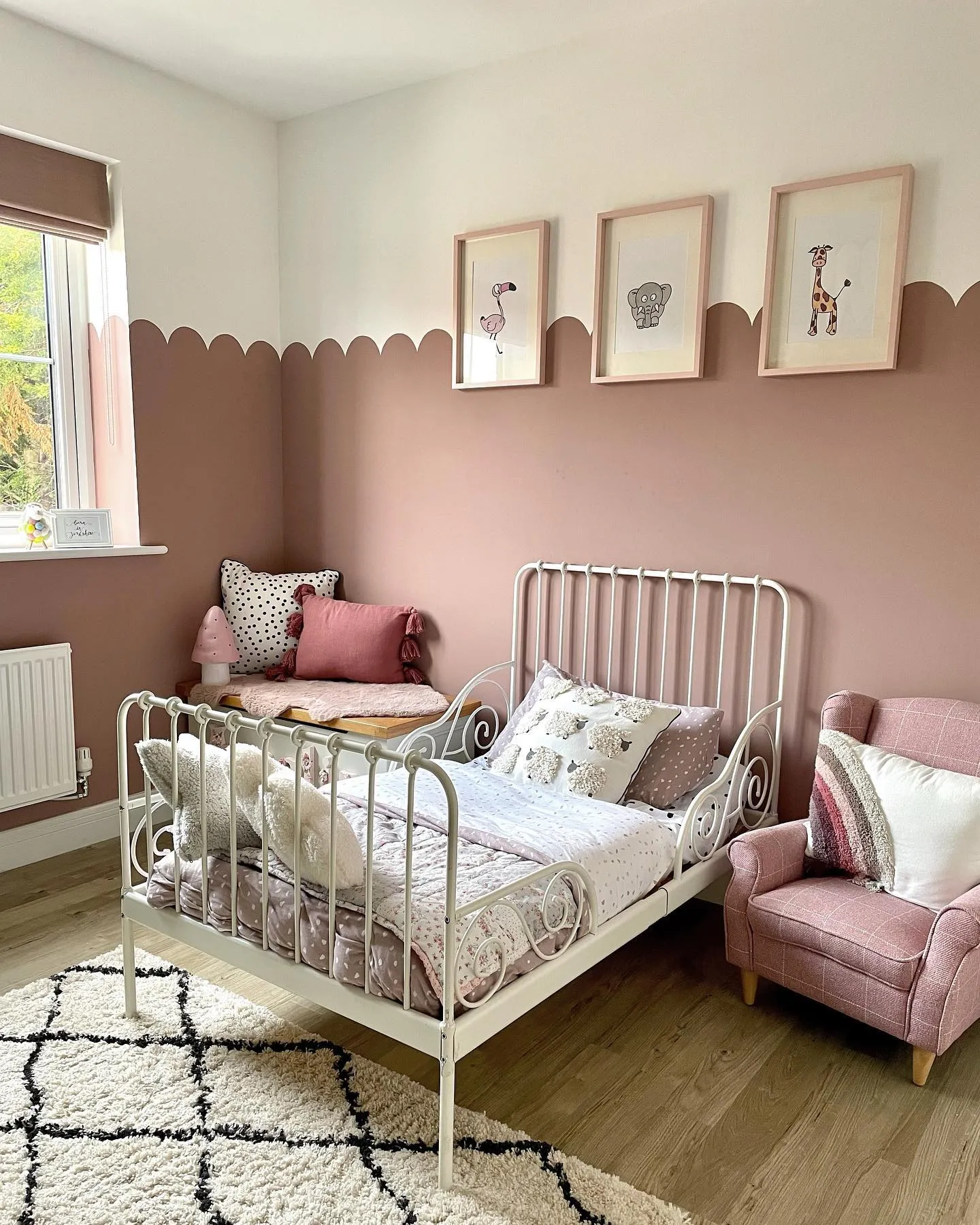 Image Source: @beth_wray13
Another gorgeous kids room with scalloped walls! I'm a big fan of this look, it's so cute and playful, an a great way to add interest to a family simple bedroom design. Although the design is fairly simple, it's incredibly effective. The pink walls make the perfect backdrop for the lovely Ikea bed frame, while the bedding, cushions, and chair all work together to create a warm and cosy colour scheme.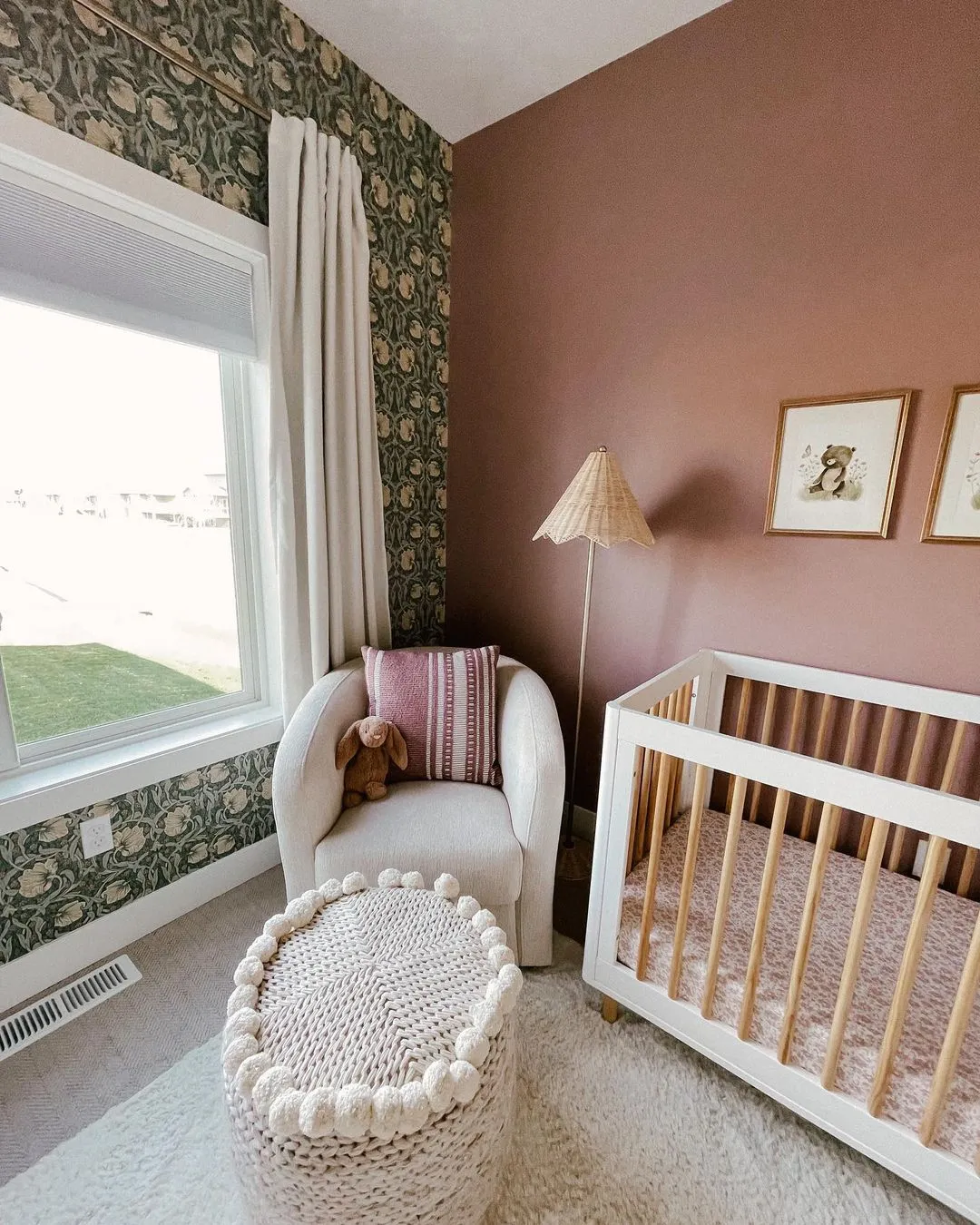 Image Source: @britney.vanwyhe
If you're thinking about painting your nursery in this gorgeous colour, this is a great example of how great it can look. The muted greens of the wallpaper work together with the pink walls to create a balanced look that could work just as well in a nursery as it would in a master bedroom. It just goes to show how timeless this colour is! A light coloured carper, footstool, and shaggy rug keep the space feeling fresh and bright—a wonderful combination!
Sulking Room Pink Furniture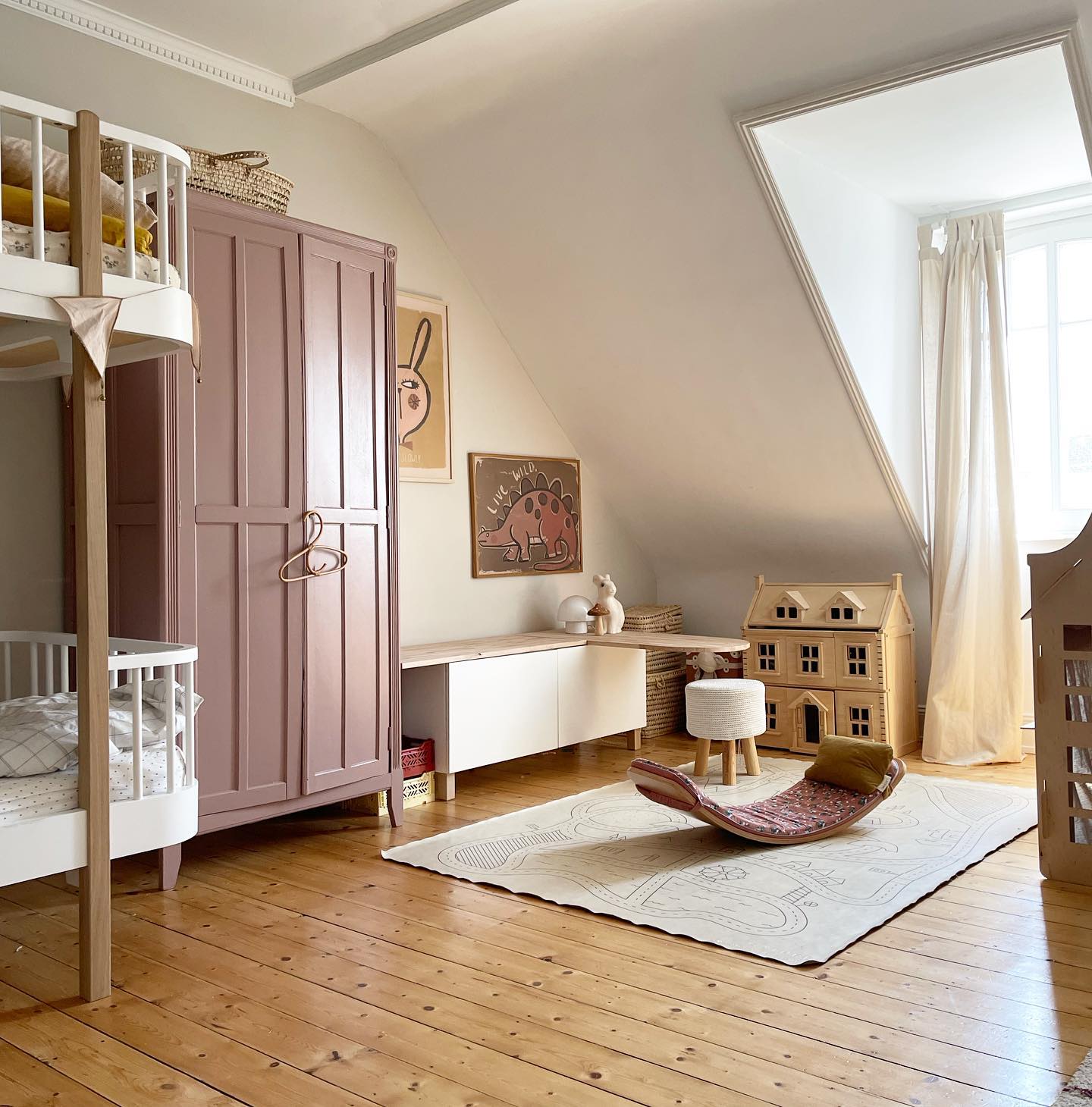 Image Source: @lunettesetsalopettes
If you're not sure about painting your walls pink, you can always use it in smaller amounts such as on the woodwork and trim or even the furniture. This beautiful bedroom adds a splash of pink with the Parisian armoire, adding warmth and personality to the otherwise neutral space.
Sulking Room Pink Front Door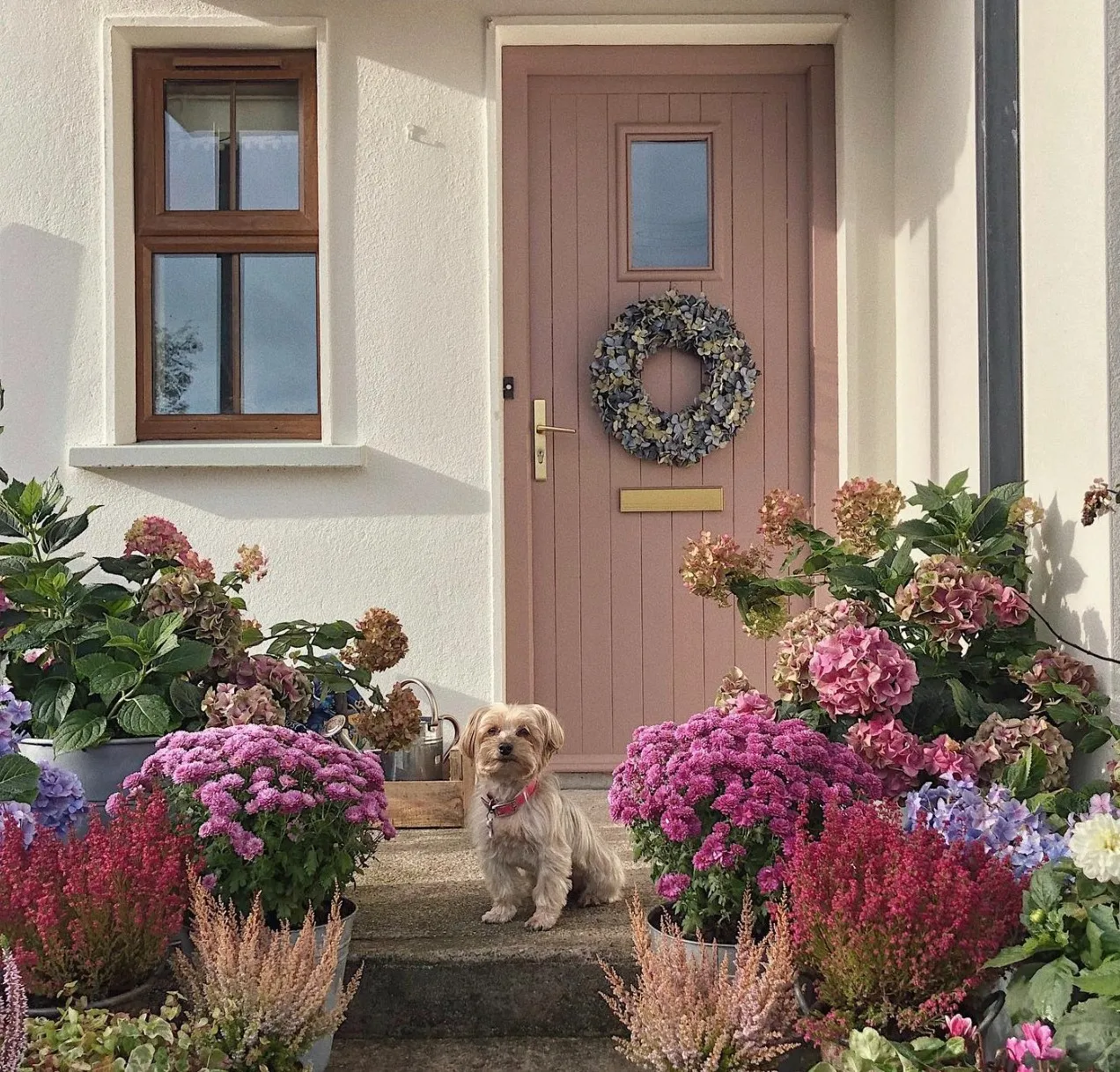 Image Source: @peoniesandpoodles
Your front door shouldn't be forgotten either! If you have a wooden front door, adding a lick of fresh paint can work wonders. It's one of the easiest exterior home improvements you can do, and it can make a big impact on the curb appeal of your home. Sulking Room Pink can work really well on a front door, creating a wonderful first impression and a warm welcome for any guests to your home.
Sulking Room Pink Bathrooms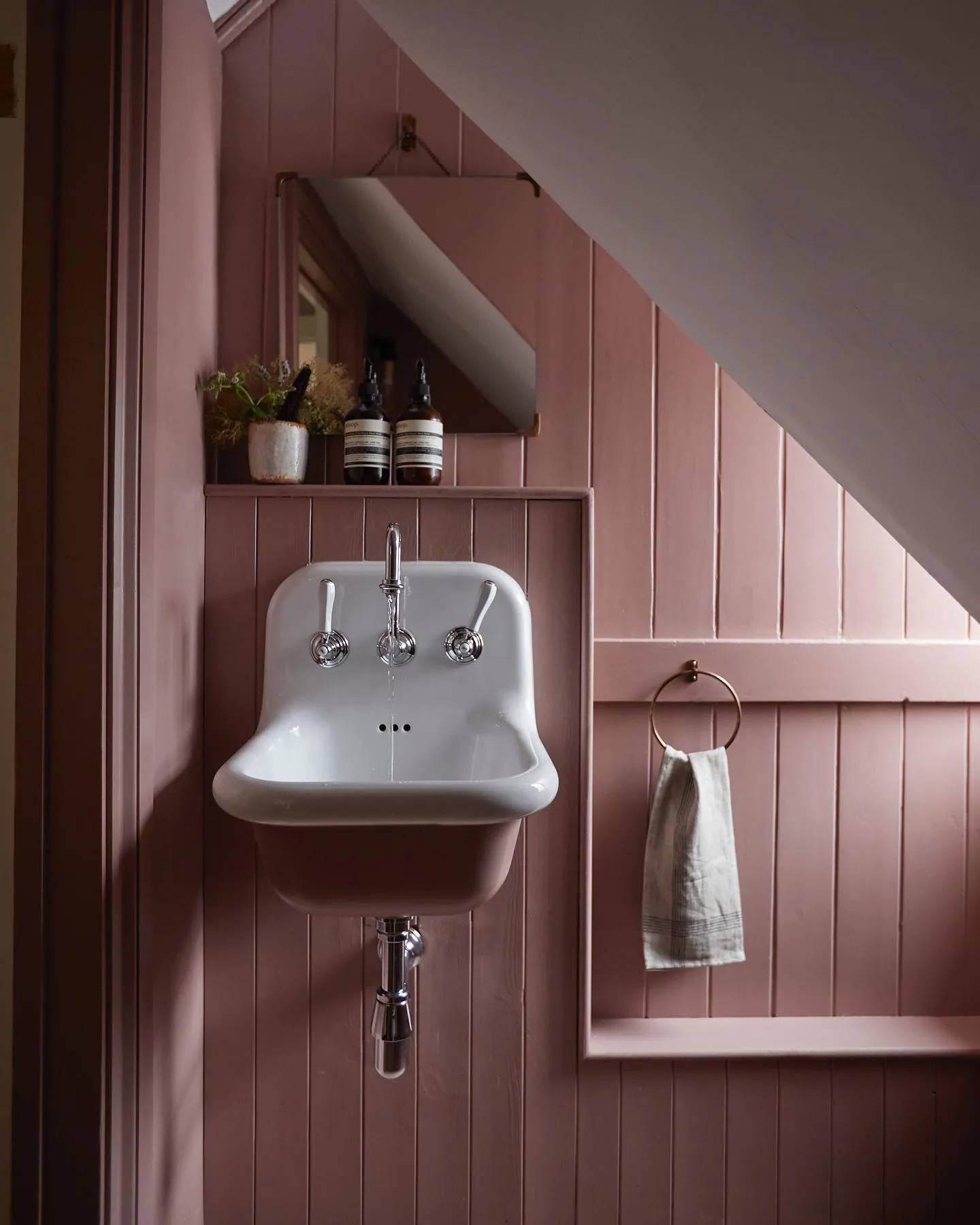 Image source: @lauren_caisley
Using a rich colour like Sulking Room Pink in your bathroom is a great way to create a feeling of luxury, no matter how big or small the space is. It can be used on the bath tub, on the walls, and even on the radiator and wood work to create a unique and impactful design.
Moles Breath and Pink Bathroom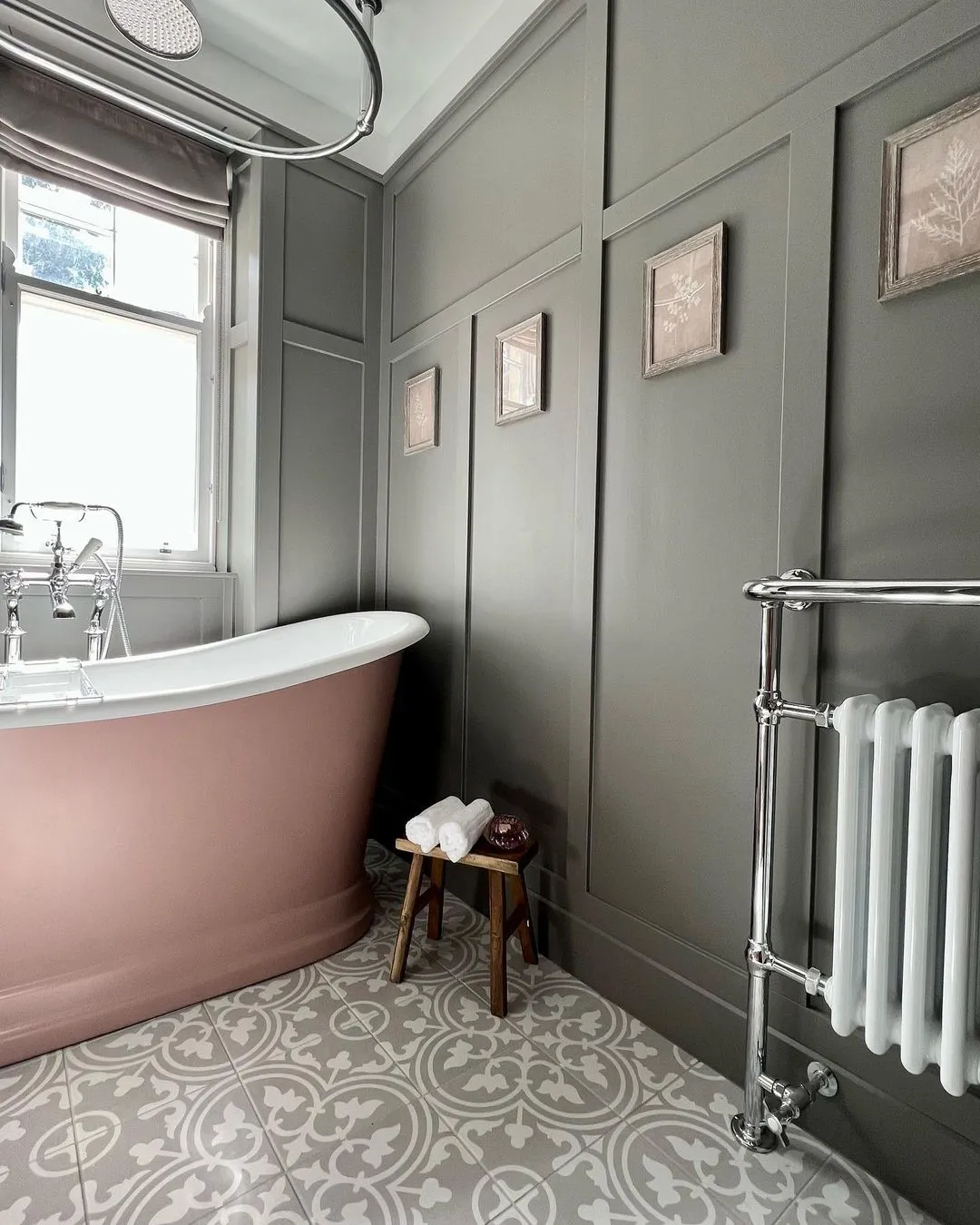 Image source: @maxs_manor
Sulking Room Pink has been used on the bathtub, along with Moles Breath on the walls to create a traditional bathroom design that just oozes personality. It works really well on the bathtub here, adding warmth and colour to balance out the moody grey of Moles Breath.
Sulking Room Pink Master Bedroom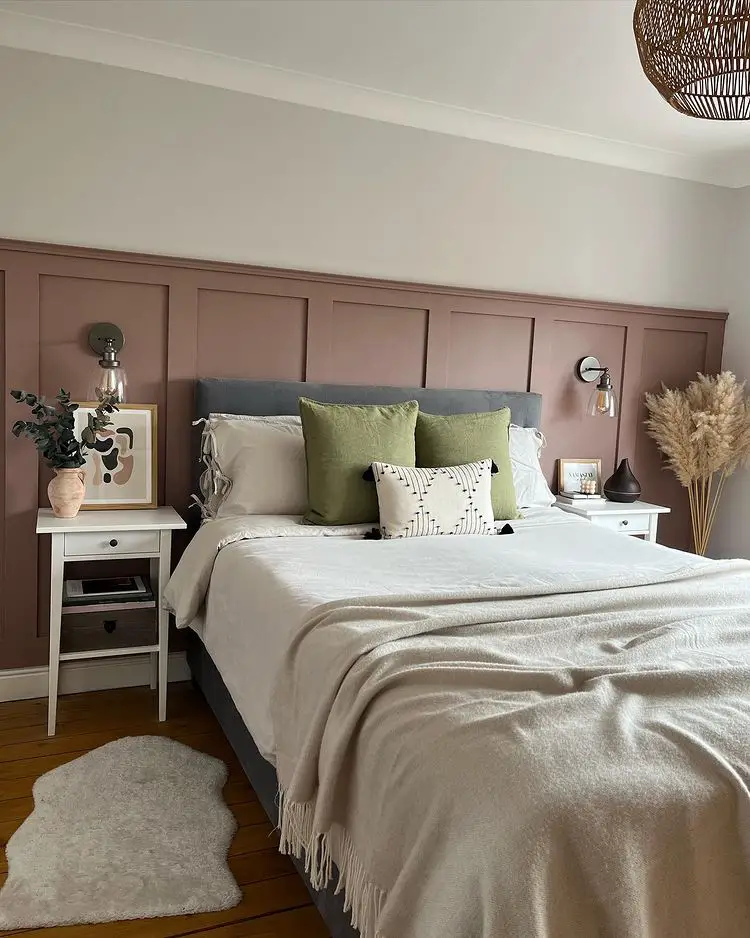 Image source: @athomewiththeraines
If you're looking for warm bedroom paint colours, this beautiful moody Pink is a great option. This beautiful master bedroom features half-panelled walls painted in pink, with the tops of the walls painted in Great White. The grey headboard works well against the pink walls, keeping everything grounded.
Purbeck Stone and Sulking Room Pink Bedroom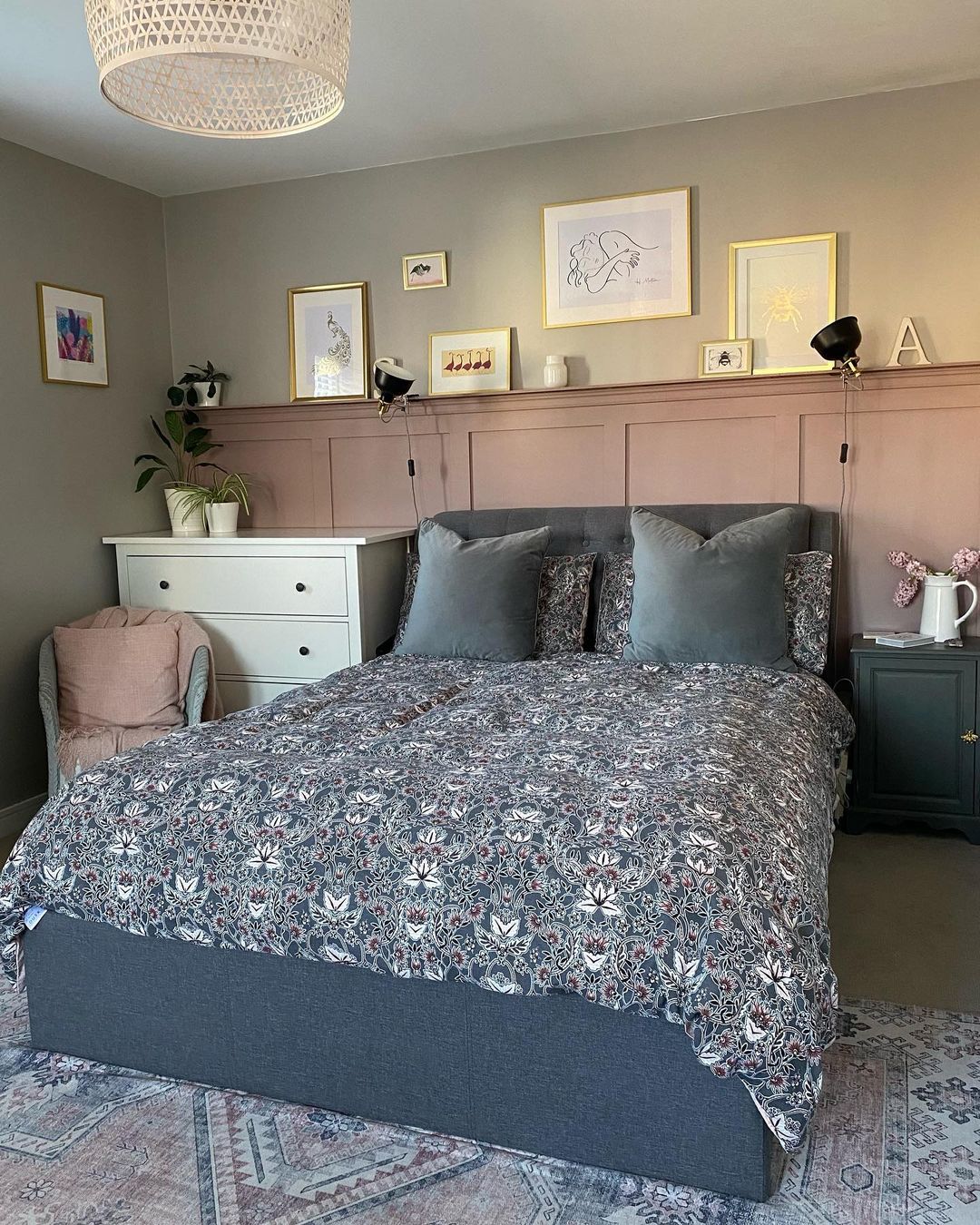 Image Source: @styling_my_room
If you're looking for another colour to use on your walls alongside Sulking Room Pink, Purbeck Stone is a great option. This warm mid-grey complements the pink well, and is a great alternative to white if you're looking for a slightly darker colour scheme.
What Colour Goes With Sulking Room Pink?
Sulking Room Pink is a surprisingly versatile colour that works particularly well with whites, blues, greens, and greys. Some of the best colours to pair it with include:
The best blue colours to pair with Sulking Room Pink are:
Sulking room pink complementary colours
Complementary colours are pairs of colours that are opposite each other on the colour wheel. When used together, they can create a striking contrast that can be very eye-catching. If you're looking for a complementary colour to go with Sulking room pink, then a slightly muted grey green colour is your best bet. Some of the best options include:
If you're looking for something a little brighter, try these:
Yeabridge Green – This bright green is a great option if you're looking to create a fresh bright space that is full of life.
Bancha – A beautiful olive green that is perfect for creating more grounded colour schemes.
The Best Sulking Room Pink Dupes
If you love the Farrow and Ball colour range but aren't able to stretch to the price point, there are some great dupes and alternatives available. Firstly, you can get a Sulking Room Pink colour match made up at your local decorators centre. Another option is to choose a Dulux alternative. Wild Mushroom 2 is a very good Sulking Room Pink Dulux alternative—it's almost perfect. Valspar also have a pretty good dupe available called An Unfound Door.
Where to Buy Farrow and Ball Paint
If you're ready to order, the best thing to do is order directly from Farrow and Ball, and have it delivered straight to your door. Delivery is free on orders over £100.
You might also be able to buy Farrow and Ball paints in your local decorators centre or DIY store, but it's worth checking before making the trip as not everywhere stocks it.
Farrow and Ball interior paint is available in a variety of finishes, including:
Modern Emulsion and Estate Emulsion – Perfect for interior walls
Modern Eggshell and Estate Eggshell – Ideal for Interior Wood and Metal surfaces
It's also recommended that you use the Farrow and Ball Primer for the best finish.
Ordering Samples
You can order small sample pots of Farrow and Ball paint for £4.95 from their website. It's definitely worth ordering samples, as colours can look drastically different depending on the light in your room. Use your tester pot to paint a patch on each wall of your room and see how it looks in different lights.
Get a Free Farrow and Ball Colour Card
If you're still undecided, you can get a free colour card from Farrow and Ball. Colour cards are available for all of their ranges including the new colours of the California collection. Having the colour cards is a great way to see how different colours will look next to each other without having to order too many paint samples.
Final Thoughts…
I hope you have found this article helpful. I always like to see how other people are using Farrow and Ball paint colours in their homes. It's a great way to get new ideas of colour schemes that you might not have thought of yet!
If you're just getting started in Interior Design, or if you're planning on decorating more areas of your home, check out my article on the best interior design books for beginners for more inspiration!