Have you ever started painting a piece of furniture only to find that the paint doesn't stick well and there are visible brush marks? That typically happens when you try painting with a brush or paint roller – but when you get a paint sprayer, you'll have a completely different experience.
Paint sprayers used to be luxurious tools that only professionals could afford, but that's no longer the case. Many manufacturers produce high volume, low pressure (HVLP), pneumatic, and airless paint sprayers to give anyone the best painting experience. 
To assist you with your DIY goals, I've reviewed five of the best paint sprayers for furniture. Keep reading if you want to learn more about these awesome spray painters and see if you should consider investing in one for your next DIY project!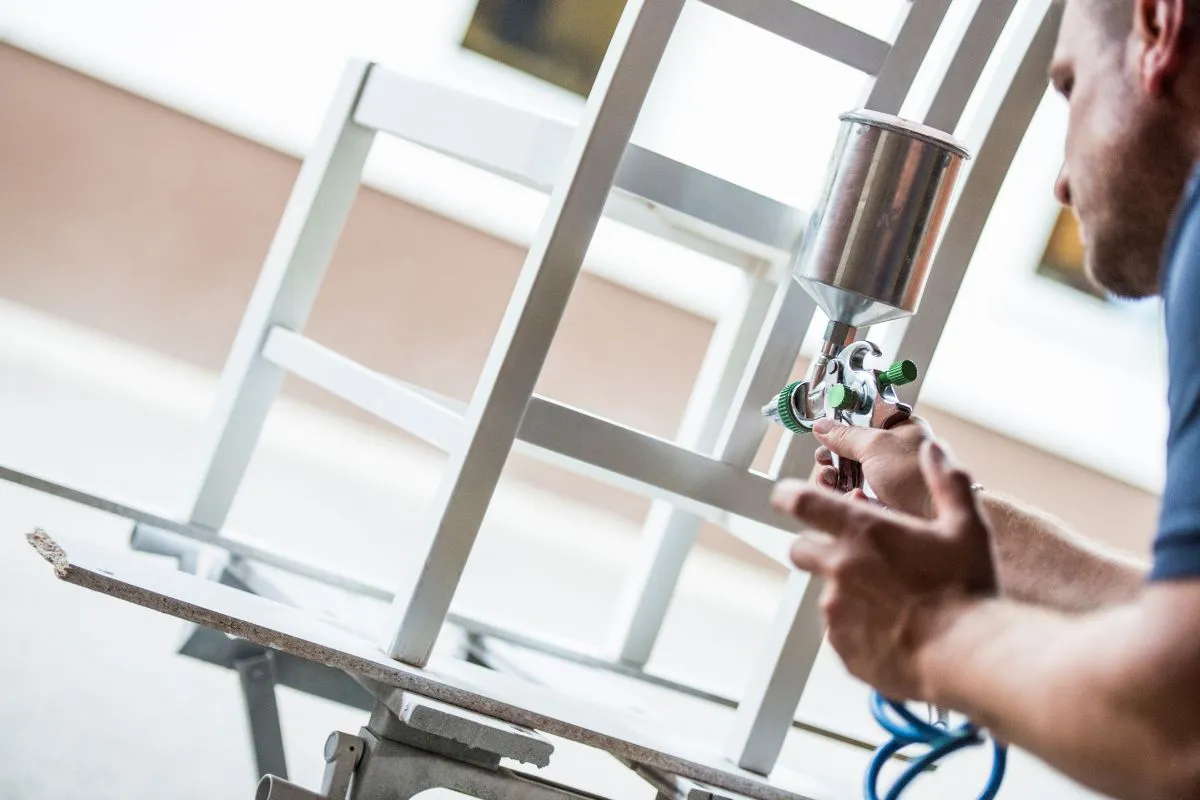 Top 5 Best Paint Sprayers for Furniture: Reviews
This guide will focus on five of the best paint sprayers for furniture created by some of the leading manufacturers in the world. Let's get right into the detailed reviews and learn more about them!
NEU MASTER HVLP Electric Spray Gun for Home Interior and Exterior
The Neu Master paint sprayer is the most expensive spray paint gun on my list, but with good reason – this is an amazingly capable spray gun suitable for beginner painters looking to finish a quick project. It might not be the best for professionals working on demanding projects, but its 1,200ml paint bucket is enough to finish a piece of furniture with a single fill.
This is a versatile tool with four nozzles and three spray patterns, which means you can easily switch between horizontal, round, and full-coverage spraying depending on your needs. You can also use it with latex paint, stain, chalk paint, varnish, sealer, and other paint types.
The tool also comes with ten strainers that you can quickly mount and dismount. Be sure to clean each accessory after every use to avoid a deterioration in quality. If you have any problems with the tools, contact the company, and they will provide a direct replacement.
Pros:
Comes with many accessories
Three spray patterns 
Lightweight and compact design
Suitable for beginners and smaller projects
Great flow control
Avoids wasted paint
Cons:
Not suitable for larger projects
There might be some dripping during the paint job
While this might not be the most professional spray painter, it's ideal for beginners who only need to do occasional painting projects. It's also a great choice for a first-time paint sprayer, considering it is easy to master and suitable for use with various types of material.
WAGNER Wood and Metal Paint Sprayer for Varnishes and Glazes
This paint sprayer from Wagner has amazing capabilities. While the plastic design doesn't make it the most durable sprayer, it does make it portable, affordable, and easy to use.
There are two containers included, so you can choose the one you want to use depending on your project size. Keep in mind that the sprayer is not suitable for use with thicker paints, so you may have to thin the paint before using it.
As with the first paint sprayer on my list, this one also has an adjustable nozzle with three spray patterns to choose from. It's suitable for adding a quick coat of paint on furniture, but it might not give you a flawless, professional-looking finish.
Pros:
It doesn't require an air compressor to function
Affordable and beginner-friendly
Adjustable pattern and thickness
Two containers with different sizes are included in the price
Cons:
Not suitable for use with thicker paints
It may not always give you the perfect finish
Considering the low price, I am not surprised that the material is made from plastic, and the tool is not the most durable. Still, I can overlook that because it gets the job done. You can't go wrong with this if you want a beginner-friendly HVLP paint sprayer.
GLORITY HVLP Spray Gun with Cleaning & Blowing Joints
The Glority spray gun is an effective HVLP handheld sprayer. The design is compact and lightweight, and it can be controlled using a trigger. This makes it easy to control when the paint comes out and when it stops, but it takes a while to get used to how the trigger works.
What I like most about this furniture paint sprayer is that you can use it with various materials since it has material-specific nozzles. For example, the 1.0mm nozzle is best for stains, dyes, and varnishes that you would put on cabinets or shutters. The 3.0mm nozzle is best for walls and when using latex paints that you need for painting a house exterior. 
Along with the spray gun, you also get copper nozzles and a whole set of cleaning supplies. Use the cleaning supplies after each use if you want to avoid clogging the nozzles and having paint splotches the next time you use it.
Pros:
High-speed motor for faster results
Lightweight and compact design 
Four nozzles included in the price
Spraying is controlled with a trigger press
Cons:
May leave paint splotches on furniture
Must use a specific nozzle depending on the type of paint
Some users have reported that this HVLP paint sprayer is more suitable for exterior use than interior painting. However, it can give you a consistent paint flow when painting furniture, with no splatter.
Huepar Tools SG550 HVLP Electric Paint Spray Gun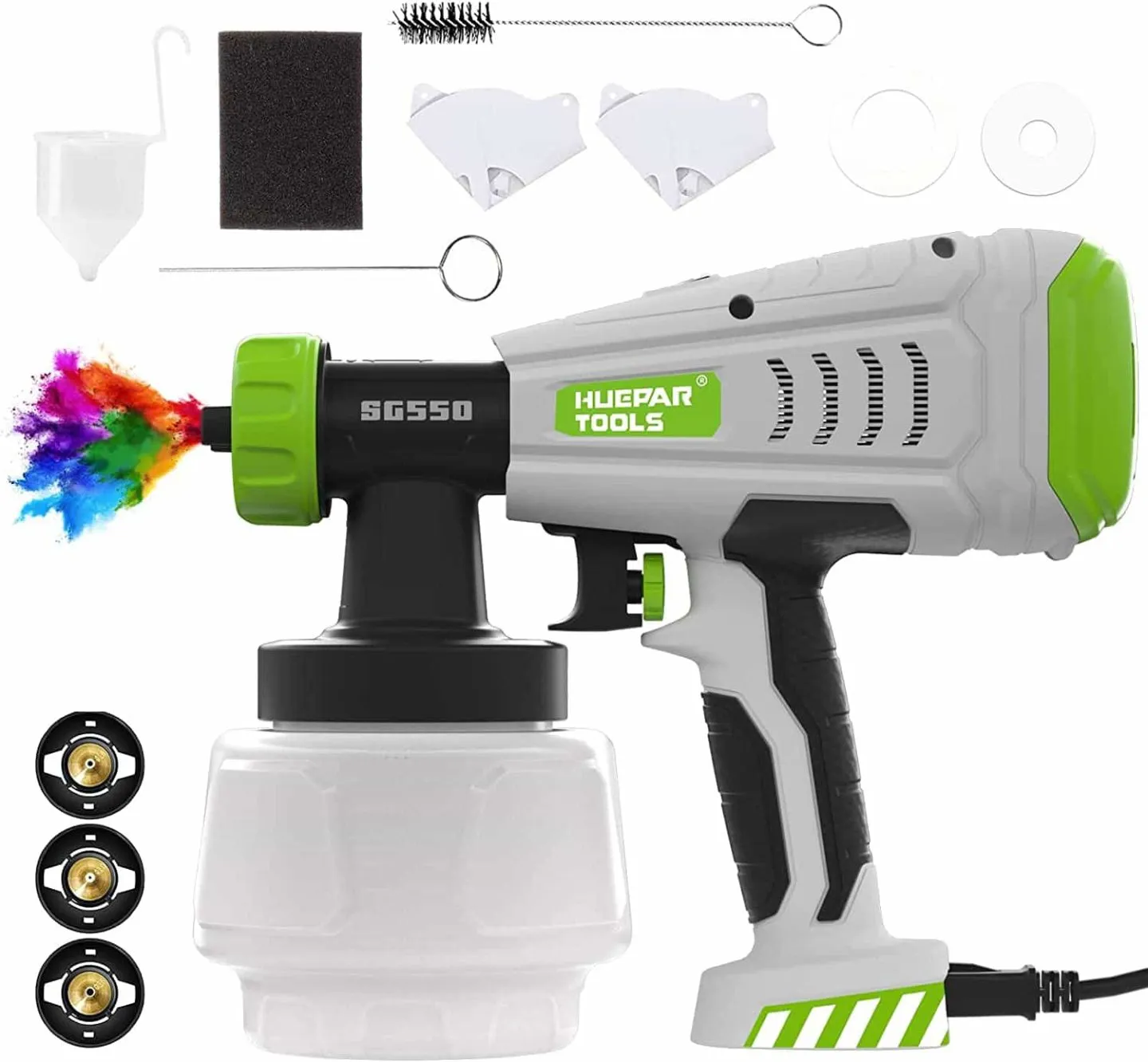 With a similar design to the others I reviewed so far, the Huepar is another HVLP spray gun you can use for furniture painting, as it's suitable to use with various paints. It works best with paint that has a viscosity below 100din/sec, so I recommend using this spray gun with thinner paints.
This handheld paint sprayer has a pressure control dial, adjustable pattern spraying, four nozzles, and four strainers, all included in the price. The only thing I don't like is that there's only one container of 1,000ml, so you can't switch it according to your needs. 
The manufacturer recommends filling the container only up to 800ml, which means the tool is unsuitable for larger projects.
Still, all parts are straightforward to clean and maintain, and the overall design is quite durable and ergonomic. As long as you follow the company's spraying tips, you should be able to get consistent painting and a smooth finish from this tool.
Pros
Adjustable flow rate 
Three painting patterns
Easy to clean and maintain
Anti-slip, ergonomic handle
Cons
Comes with only one paint container
Can't be used with paint that has a viscosity over 100din/sec 
Even though this is not the most versatile tool, it does come with various accessories and several great features, considering its price. With a compact design and comfortable handle, you can paint for hours without straining your hand.
THINKWORK Premium Paint Sprayer
Don't let the lower price fool you into thinking that this paint sprayer is not a good investment. On the contrary, it's more than just a spray paint gun – it's a spray painting kit with masking papers, paintbrushes, glasses, gloves, a filter funnel, and a storage bag. And if that is not enough, it also gives you nozzles that you can easily switch between depending on your needs.
I recommend this paint sprayer over others because it's made from durable and sturdy material. Most other models I reviewed were built from plastic, whereas with this one, you get brass nozzles that are less prone to clogging. That means the paint gun is easier to clean and maintain, which is always good!
The copper nozzles are suitable for various paint types – even double-layer insulation materials used for outdoor projects. Whether for exterior, interior, or furniture projects, you can be sure that this HVLP sprayer has you covered.
Pros
Adjustable flow rate
Five copper nozzles and adjustable spray patterns
Lightweight handheld sprayer
Anti-clogging nozzles and easy maintenance
Cons
This is a corded tool that must be plugged in
It might overheat after a while
I love the build and capabilities of this tool, and the low price makes it a suitable sprayer for everyone. I highly recommend this sprayer for beginner and experienced painters alike.
How to Choose the Best Paint Sprayers for Furniture
Considering their growing popularity over the years and the number of people doing DIY projects nowadays, there are many paint sprayers to choose from. The right one for you will ultimately depend on your needs and preferences, but here are some of the things to consider before making the final purchase decision:
Size: Choose the size of the spray painter based on the size of your project. For smaller projects, go with a handheld sprayer with a single container of 1000ml or similar. For larger projects, you will need a larger sprayer with a powerful nozzle, a large cup, and possibly a separate air compressor for added power.
Type: There are HVLP, pneumatic, and airless paint sprayers. The former is easier for beginners, whereas airless sprayers are recommended for professionals. Pneumatic sprayers are also a great option as they make it effortless to do more detailed painting jobs.
Material: Although you will encounter many plastic sprayers, I recommend buying one with copper, metal, or stainless steel parts. When it comes to accessories, you should choose ones made from sturdier materials.
Space: Consider the space you have to store the paint sprayer and the surface area you need to cover with it. Sprayers with air compressors are difficult to store as the compressor is large, heavy, and difficult to transport, but they are great for painting large spaces quickly. Handheld sprayers are easier to store but cannot be used for large projects.
Cost: Always consider your budget. There are great paint sprayers in each price category. Make sure to read professional and customer reviews before making any purchase.
Best Paint Sprayers for Furniture: The Top Brands
Investing in a good, reliable brand that will give you good value and a high-quality tool is extremely important. Here is some information about the companies reviewed above:
Neu Master
Neu Master first appeared on the global market in 2018 and quickly attracted attention because of the wide variety of tools they manufacture. Currently, the company creates numerous hand tools, accessories, and power tools such as staplers, nailers, heat guns, paint sprays, and more. 
Wagner
Wagner went from a small company that opened in 1947 to a global presence with five manufacturing facilities that make tools worldwide. 
The company focuses on tools needed for painting – paint sprayers, stain sprayers, surface prep tools, spray tents, and a wide variety of heat guns, disinfectants, rollers, etc. There are paint and stain sprayers for small, medium, and large projects, so you can get whatever you need for a successful paint job.
Glority
Glority is a company that makes paint sprayers and many other tools you can use around the home. They don't have an official website, but you can always visit their Amazon store to see more of their available products, prices, and features.
Huepar
Working as a contractor and engineer for many years, Lynn Li Who saw the need for affordable and easily accessible laser measuring tools, so he decided to start Huepar. 
The company quickly rose to fame because of its amazing and inexpensive tools and then began to diversify its offering. The brand now offers several types of electric sprayers, leaf blowers, rotary tools, wood moisture detectors, and more.
Thinkwork 
Thinkwork is a company based in Shenzhen, China. It currently makes paint sprayers and other products, and is slowly expanding into the global market. Its products are sold across all continents and are trusted by many users. The quality is always there, while the price is lower than ever, making for an attractive offering. 
FAQ
Can I spray paint furniture without sanding?
Yes, you can spray paint furniture without sanding it first. However, if the piece of furniture you are painting has a rough surface it's better to sand it first if you have time.
Your project will be more successful with a good paint sprayer, giving you a consistent flow and a perfect finish. However, always test it on a small section of the furniture before spraying over the larger spaces, just to be sure.
How many coats of spray paint are needed on furniture?
I recommend two coats of paint to ensure full coverage and a smoother finish. However, a superior, more professional-looking finish is only possible when you sand in between spraying coats of paint.
Will spray paint dry in 2 hours?
The amount of time it takes for paint to dry depends on the type of paint. If you need the paint to dry quickly, make sure you get a quick-drying solution instead of regular paint. Also, expose the furniture to wind and mild sun if you want the paint to dry faster.
Wrap Up
I hope you learned a lot of valuable information about the best paint sprayers for furniture, their features, and what to look out for when buying your next paint spray gun. 
Remember that the NEU MASTER HVLP Electric Spray Gun for Home Interior and Exterior is undoubtedly one of the best furniture paint spraying guns currently available on the market, whereas the THINKWORK Premium High Power HVLP Spray Paint Gun is the best paint sprayer for people on a tighter budget.
If you are still unsure of which paint sprayer to get, go over the educational part of this guide to learn which features to focus on when selecting the right tool for your needs.
If you have experience using HVLP paint sprayer guns or any other paint sprayers, do not hesitate to tell us all about it in the comments. Also, look into some of my other painting guides to learn more about the science behind choosing the right colors for your house!