In this article, I'm reviewing Desenio, a popular print, poster, and frame company that make it easy to order affordable art for your home online. In this Desenio review, I'm sharing everything you need to know about the order process, how easy the prints are to frame and hang, and of course, the quality. I'll also share some of the pros and cons, and the pricing, so you can decide for yourself if ordering your art from Desenio is right for you.
**Important note: I was gifted three prints and frames from Desenio to review. All the opinions in this article are my own, and I will provide a 100% honest review**
Desenio Review – About Desenio
Desenio is an online print and poster shop that offers a range of beautifully curated prints. They offer prints in a wide range of sizes, so whether you want a large statement print or a gallery wall of smaller pictures, you should be able to find what you need.
Along with their prints, Desenio also sells frames. This makes it super easy to order everything you need in one place, safe in the knowledge that your frames will fit your prints perfectly.
Desenio Gallery Walls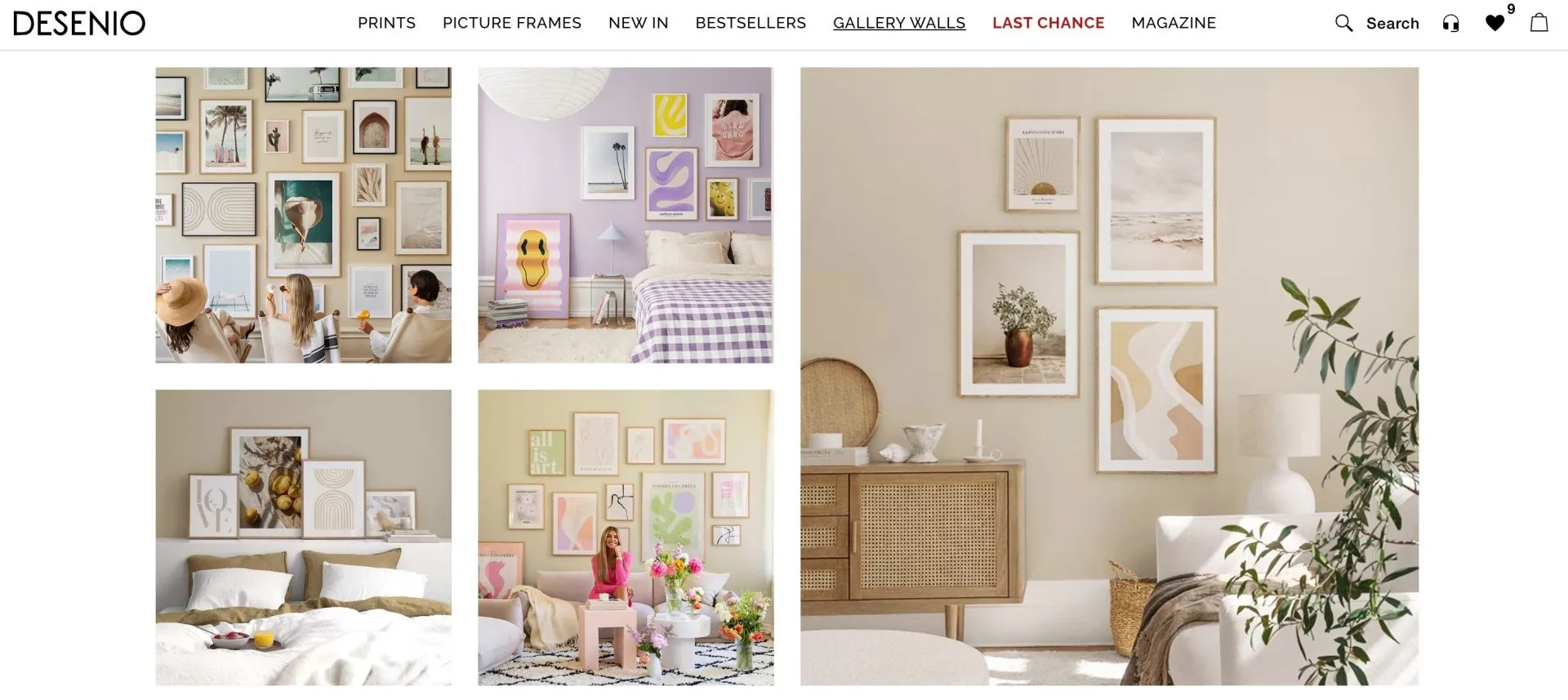 One of the best things about Desenio it makes choosing art for your home effortless. If you're not sure where to start when it comes to ordering art, you can simply check out Desenio's inspiration gallery, or their Gallery Walls page. Here you will find a beautiful range of curated prints designed to create the perfect gallery wall.
All of the colours in each set are chosen to complement each other, so you will have the perfect gallery wall ready to go as soon as it arrives.
Once you have found a pre-made gallery wall you like, you can click on it and you will be taken to a checkout page where you can see all of the prints and frames that are included, along with the total price. You can add them all to your basket with one click, and check out when you're ready.
Desenio Frames

You can order prints by themselves, or order Desenio frames to go with them. Being able to order frames from the same website is especially useful! Not only can you be sure that they will fit your Desenio prints perfectly, but they will be delivered all together in the same package once you order.
Desenio frames are available in:
Black Wood
White Wood
Natural Oak
Brown wood
Dark Wood
Metal frames are also available, and you can choose from:
Gold
Rose Gold
Silver
Black
You also have the option to order Moebe frames, which are a great option for lovers of modern and minimal interior design. These cool frames consist of two panes of Acrylic inside a wooden frame. Simply frame a smaller print inside, allowing the clear acrylic to create a mount effect around your print.
You can even put other things in the frame such as pressed flowers, photos, ticket stubs, or anything else that's flat. It's such a cool idea!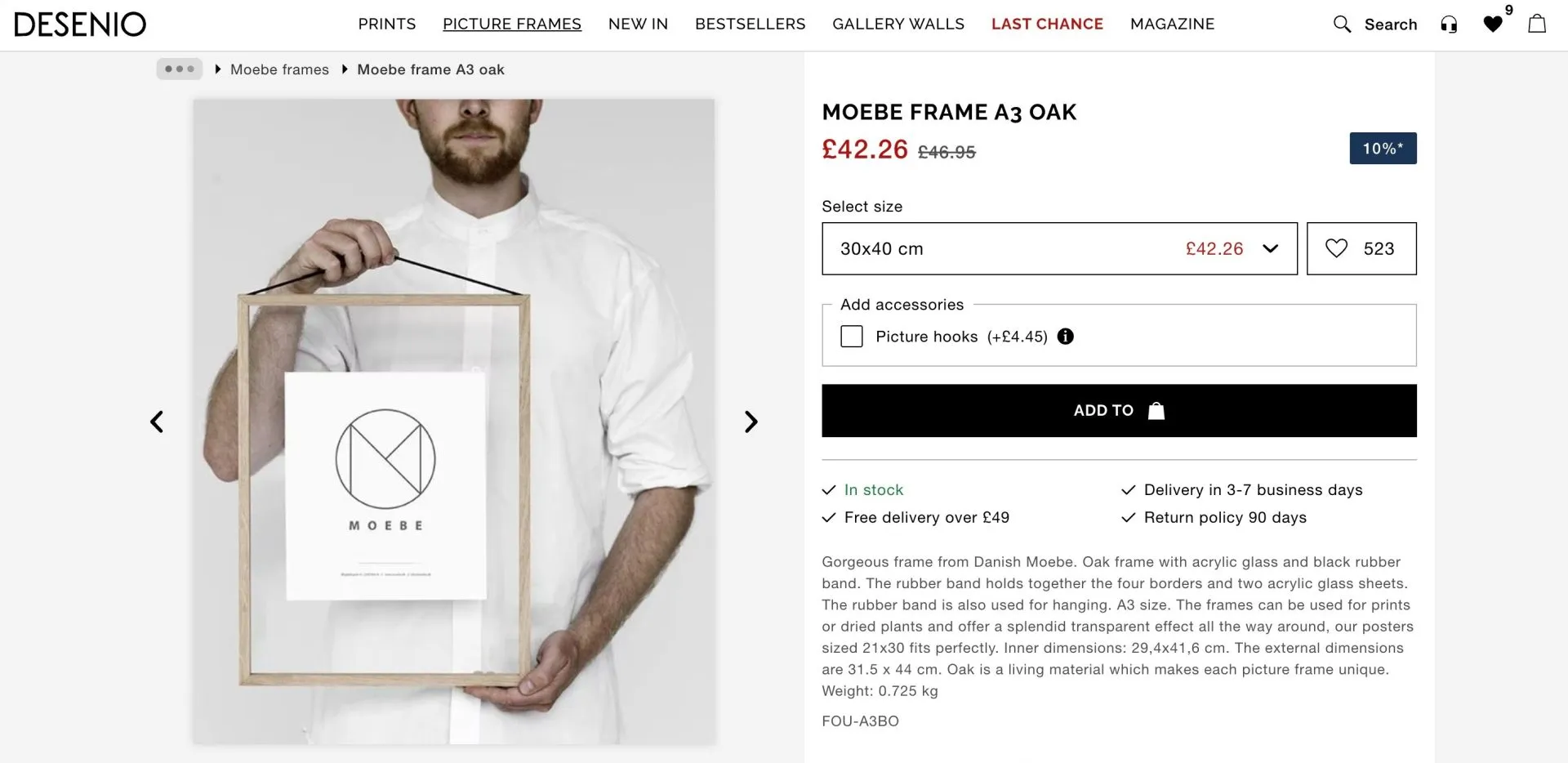 Choosing My Desenio Prints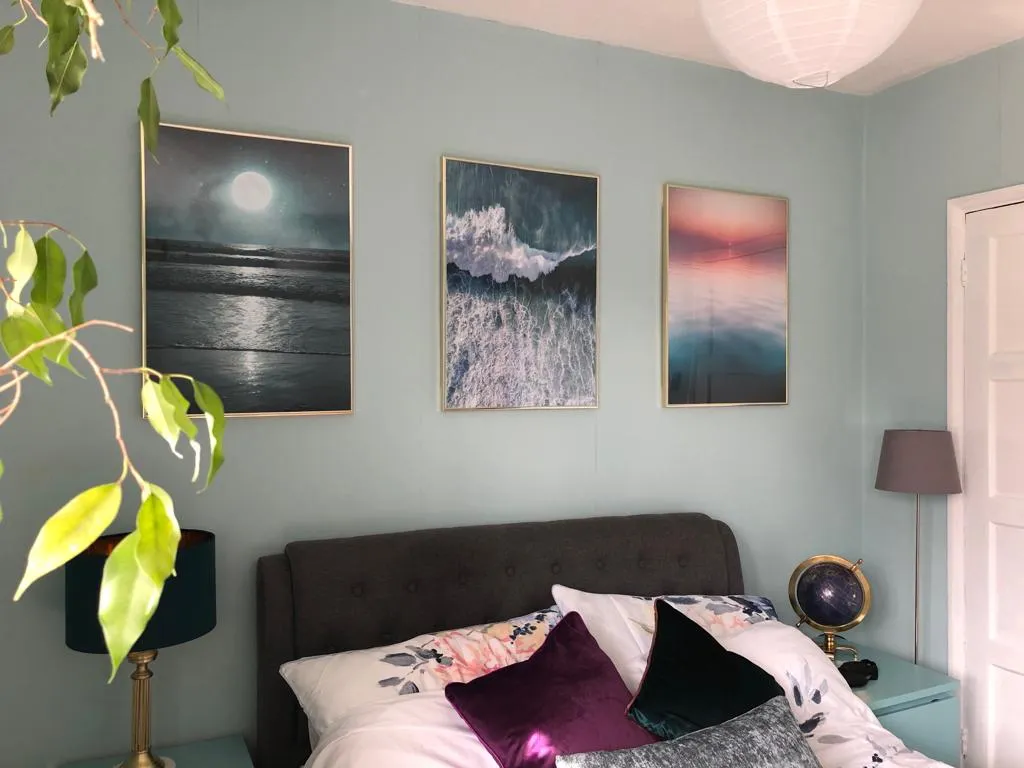 I decided to use the prints in our master bedroom. The aim is for the bedroom to be somewhere clean, bright, calm, and relaxing. Somewhere we can completely switch off at the end of each day.
The first steps we took were to re-line the walls and painted them a beautiful calming blue colour. We also bought a lovely soft, thick carpet!
After this, we moved our furniture in, and then the next step was to accessorise the room. My favourite part! Having art on the walls is really important to me, there are not many things I dislike more than bare walls. It drives me nuts seeing people's houses on TV with plain white empty walls. Art gives a room its soul!
I collaborated with Desenio, and they kindly sent me a voucher to choose some prints and frames on their website. Their website is FULL of gorgeous prints in lots of different styles, and they all come with the option to order with frames, which makes things so much easier. All you have to do is select your favourites and create a shortlist, and then you can experiment with layouts and frame styles on the Desenio website until you are happy, and then you just need to place your order and they will be delivered to your door- easy peasy!
I definitely prefer to have a few larger prints than lots of small ones when it comes to hanging art, so I chose three huge photographic prints of beach and sea scenes that remind me of being on holiday- I love them! The prints I went for in the end are:
and I also chose another print called Planets in Sky, which will be going up in the nursery when we get started on that.
How Easy is It To Frame and Hang Desenio Pictures?
It was surprisingly easy to frame my Desenio prints. I didn't need to use any tools. Simply slide the clips out of the back of the frame, remove the back, and place your print inside. Once you have done this you can clip the back on again.
One important thing to note is that dust can easily get between the print and the frame. It's really annoying if you discover this after you have put it together, as you will need to take it apart again to remove the dust. Before putting your print inside the frame check for dust and dirt, and wipe clean with a dry microfiber cloth.
I opted for gold frames, as I knew they would look beautiful with the shade of blue I had chosen for the walls. They also match the other gold mirrors and accessories we have in the room already.
For hanging, I used command hanging strips. The edge of the gold Desenio frames is very thin, but the command strips still worked well and hold the frames securely to the wall.
Here's another picture of how they look hanging up.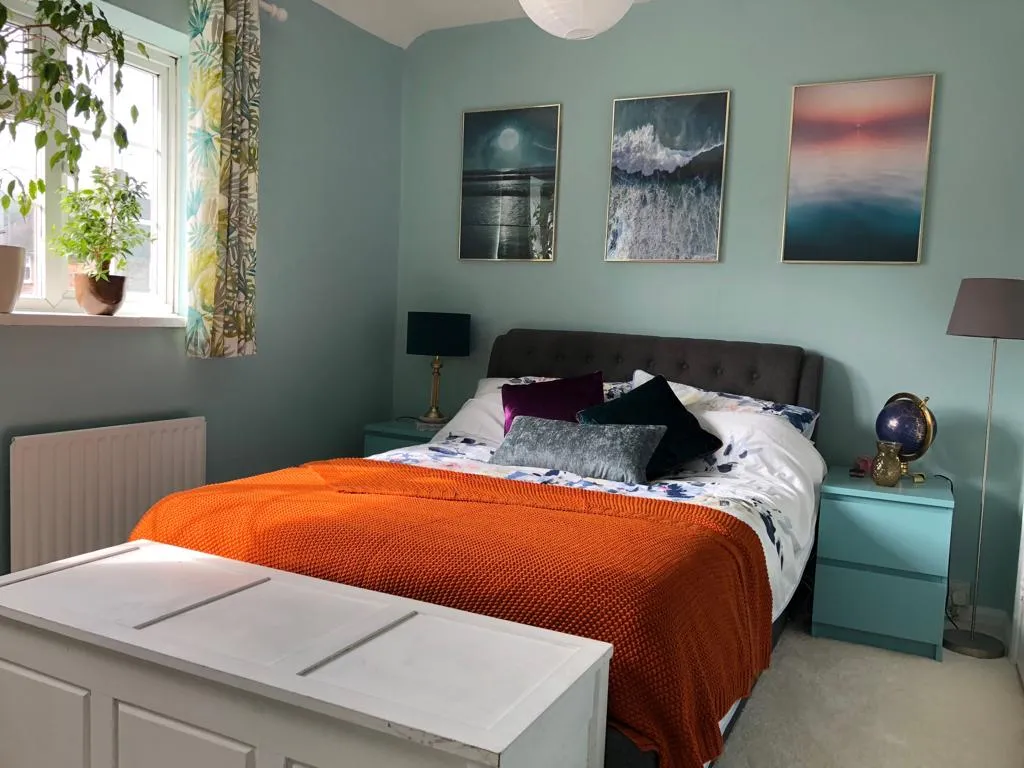 What do you think? I am so happy to finally have a room in my house where I can truly relax- every time I walk in I get that holiday feeling!
Desenio Review: Are Desenio Prints Good Quality?
Overall, yes. I am very pleased with the quality of the prints I received. The colours are vivid, and the prints look great. The only downside is the paper is slightly thinner than I would have liked. I say this because there is a slight gap between the perspex and the back of the frame, and one one of the prints I can see it bending slightly behind the frame. Thicker paper wouldn't do this.
Desenio Review: Pricing
Desenio receives 10/10 for pricing for me. There aren't many places where you can buy framed art for this sort of price, let alone entire gallery walls.
Prints start from as little as £5.97, and frames start from £5.81. This really is excellent value in my opinion!
Desenio Pros and Cons:
As with all things, Desenio has its own pros and cons. It's up to you to read through these and decide if anything is a dealbreaker before making a purchase.
Pros:
Great value
Huge range to choose from
It's easy to order affordable frames to go with your prints
Delivery is quick
They use perspex glass in their frames, so no risk of breakage
Choice of beautiful pre-designed gallery walls to choose from
Cons:
The print paper is not as thick as I would like
Would I Recommend Desenio?
Overall, I would definitely recommend Desenio to friends and family. I can't think of anywhere else that offers such good value for money. Their prints are beautiful, and there are so many to choose from. I have already ordered a range of other prints of my children's bedrooms which I have paid full price for—I'll share them soon!
I hope this Desenio review has been useful if you have been on the fence about buying frames and prints from Desenio.
If you have created a gallery wall of your own, please feel free to share a link in the comments section below. I would love to see!
This blog post was in collaboration with Desenio, I was not paid for this but wall art was provided free of charge. This post was written by me and all opinions are my own 🙂