Ammonite is among Farrow and Ball's most popular colours. Named after the Ammonite fossils found along the Dorset coast, it's the perfect neutral: a very gentle warm grey that will work well in almost any area of the home. Some might even say it's the ultimate grey colour – but that's for you to decide. In this article, I'm sharing some of the best examples of how to use Farrow and Ball Ammonite in your home.
Don't forget to order your completely free colour card from Farrow and Ball here.
Let's take a look.
Farrow and Ball Ammonite Living Room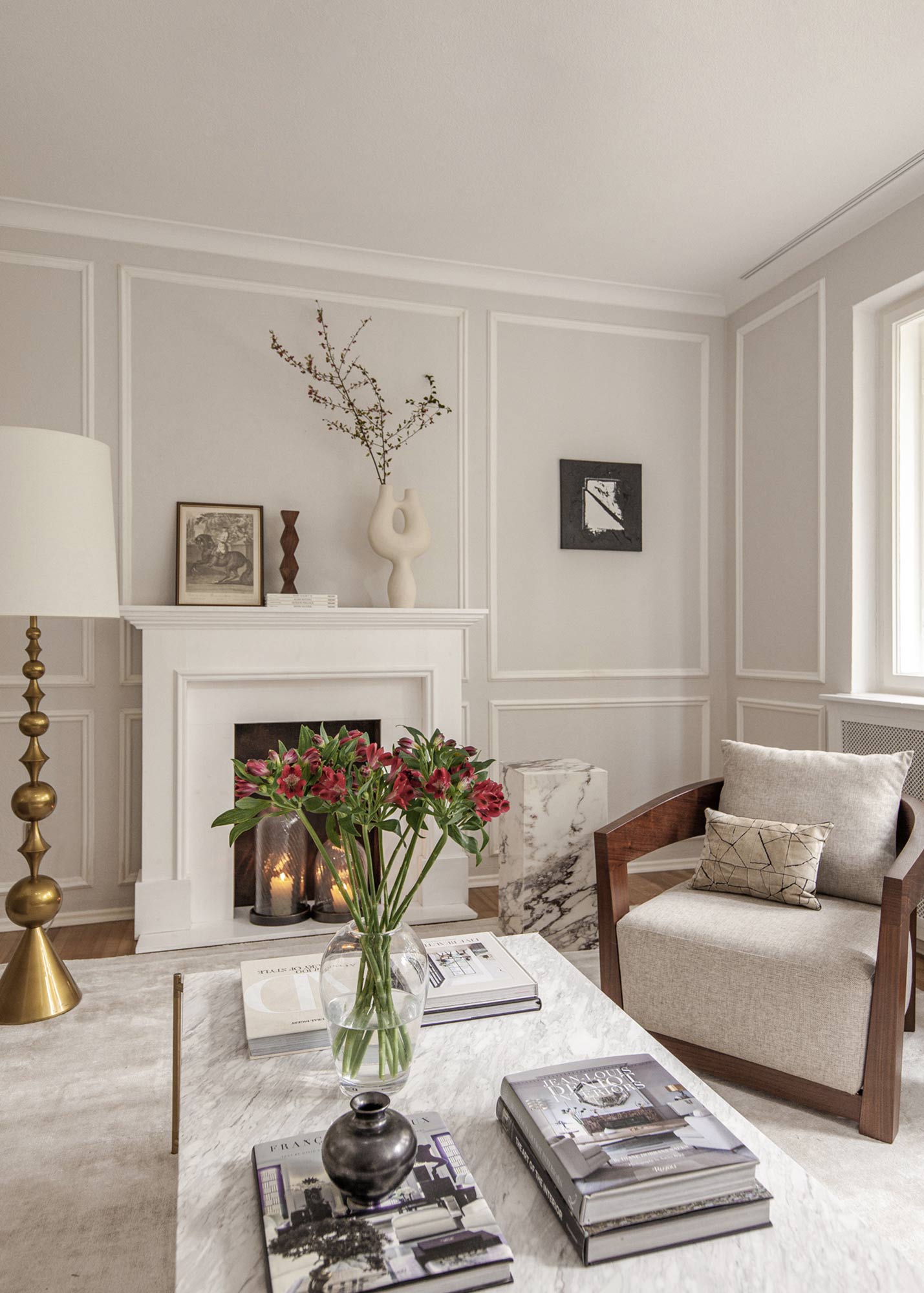 This stunning living room designed by Katie Fischer from Edition Noire uses Farrow and Ball's Ammonite on the walls. Everything about this space works beautifully. As you can see, the design is fairly neutral, with a focus on high-quality materials like marble, brass, and natural wood. Black accents help to add contrast, while the unusual lamp base adds a touch of fun and elegance.
Perfection *chefs kiss*.
Farrow and Ball Ammonite Hallway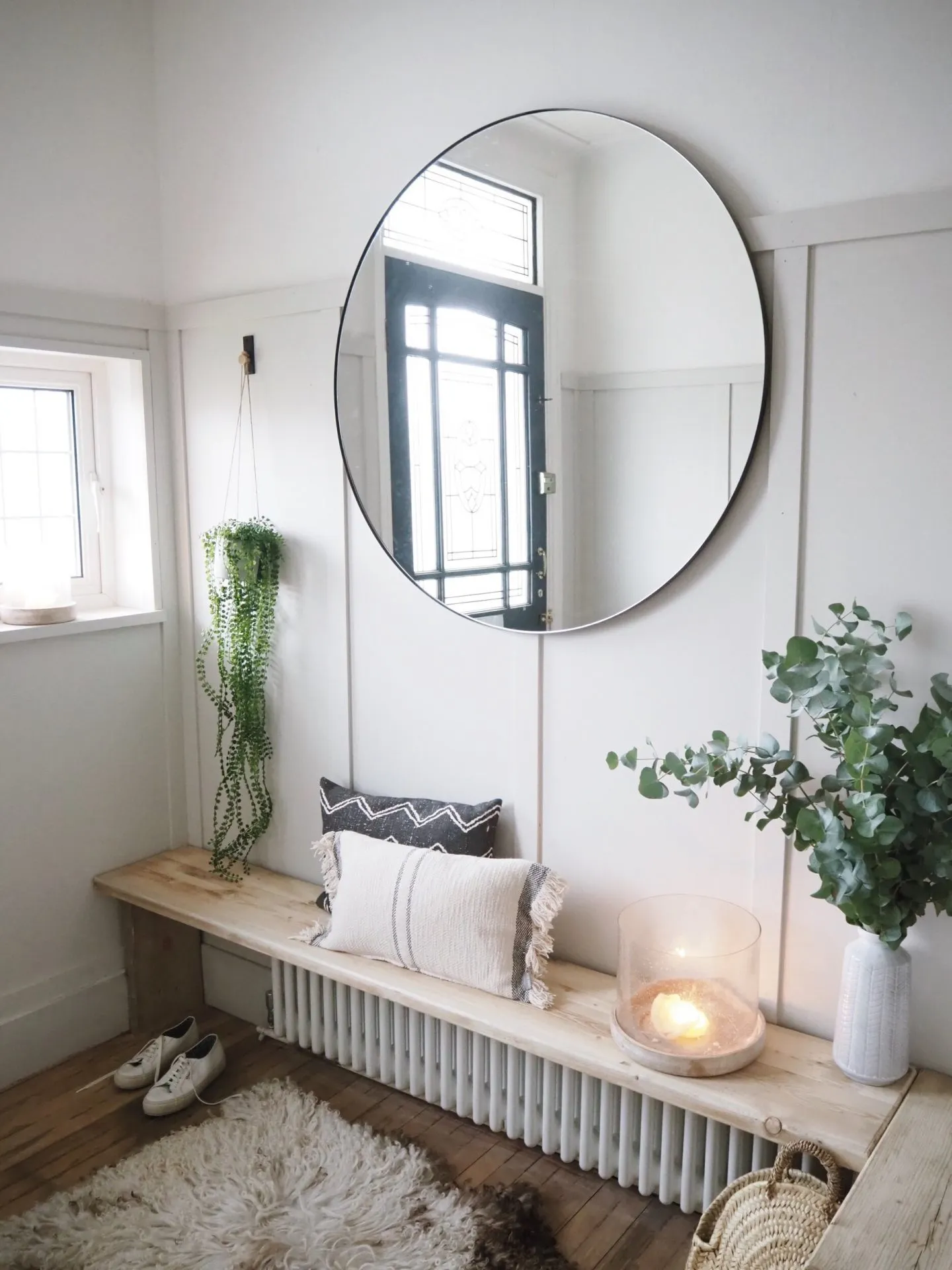 If you've been thinking of using Farrow and Ball's Ammonite on panelling or walls in your hallway, this is your sign to do it. This gorgeous hallway design by Malmo and Moss works beautifully. The space feels bright and airy, but also very welcoming—exactly what you want from a hallway.
Bedroom Walls Painted in Ammonite by Farrow and Ball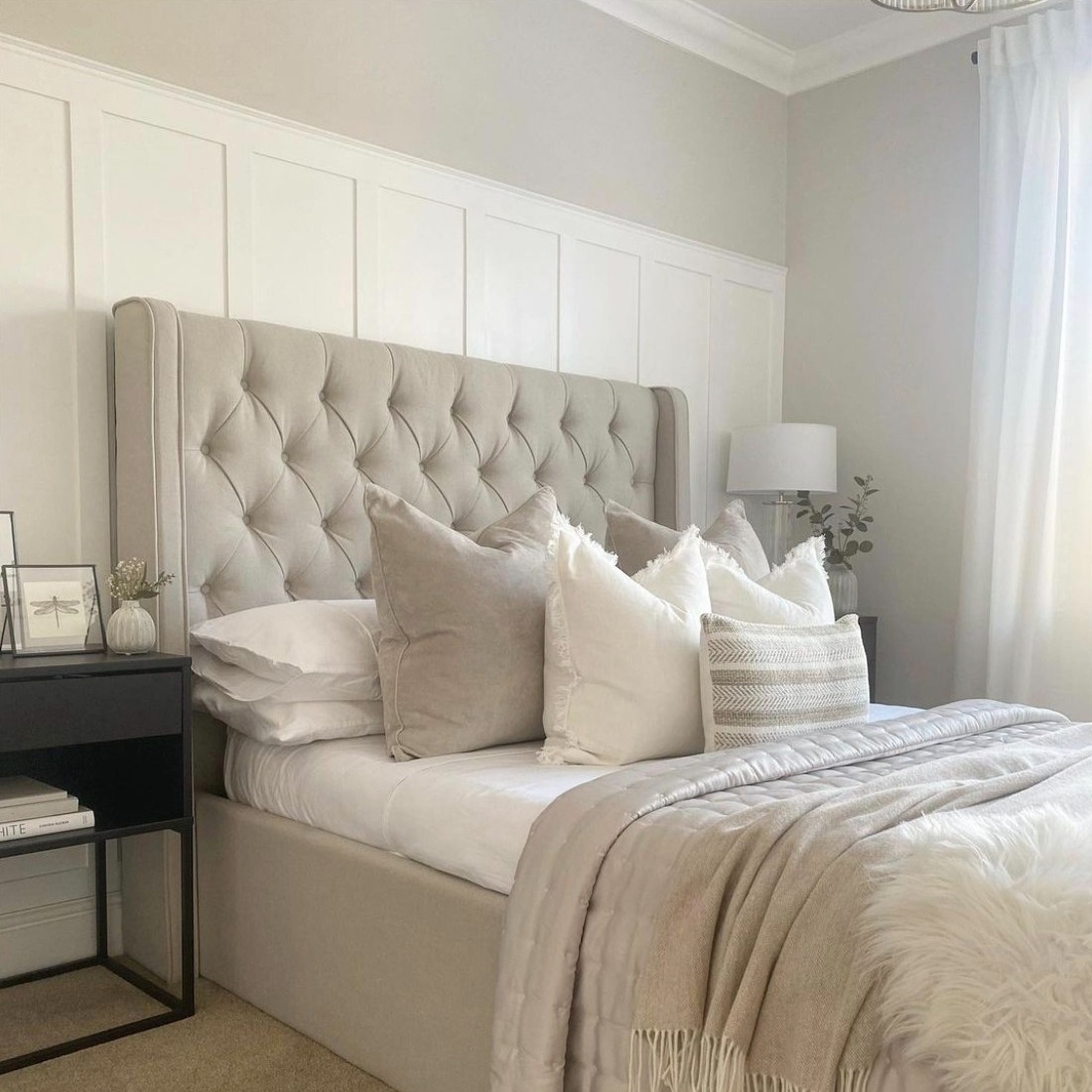 This neutral bedroom design by @athomewiththelloyds is painted with a colour match of Farrow and Ball's Ammonite. I love how it matches almost perfectly with the upholstered headboard. This is a wonderfully calming colour scheme for a bedroom, and makes it the perfect place to retreat to at the end of a long day.
Timeless Ammonite Living Room Design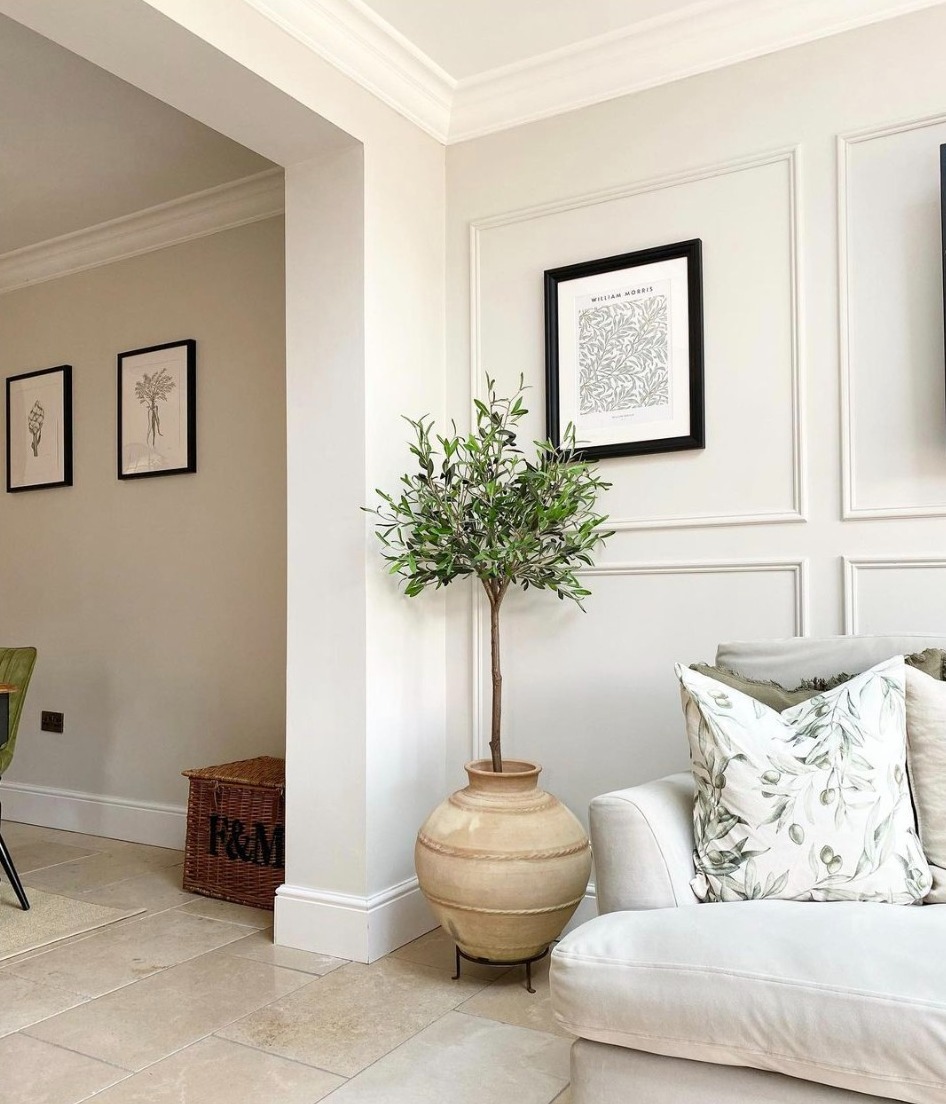 This living room design by @1930s_doer_upper on Instagram is just sooooo gorgeous! This wall colour works perfectly with the stone flooring, and is further complemented by the beautiful pottery pot. The black framed prints on the wall look amazing against the Ammonite wall paint, which shows how effective this high-contrast look can be.
A Stunning Mediterranian Veranda
This stunning veranda makes me want to run away to the Mediterranean. This cottage renovation by @centifolia_provence has used Ammonite on the exterior of the property. Just look at how gorgeous this veranda looks! It looks beautiful with the accents from the terracotta coloured tiles and the grey-green shutters, which are painted in Pigeon by Farrow and ball (get samples and a free colour card here)
Victorian Living Room Painted in Ammonite by Farrow and Ball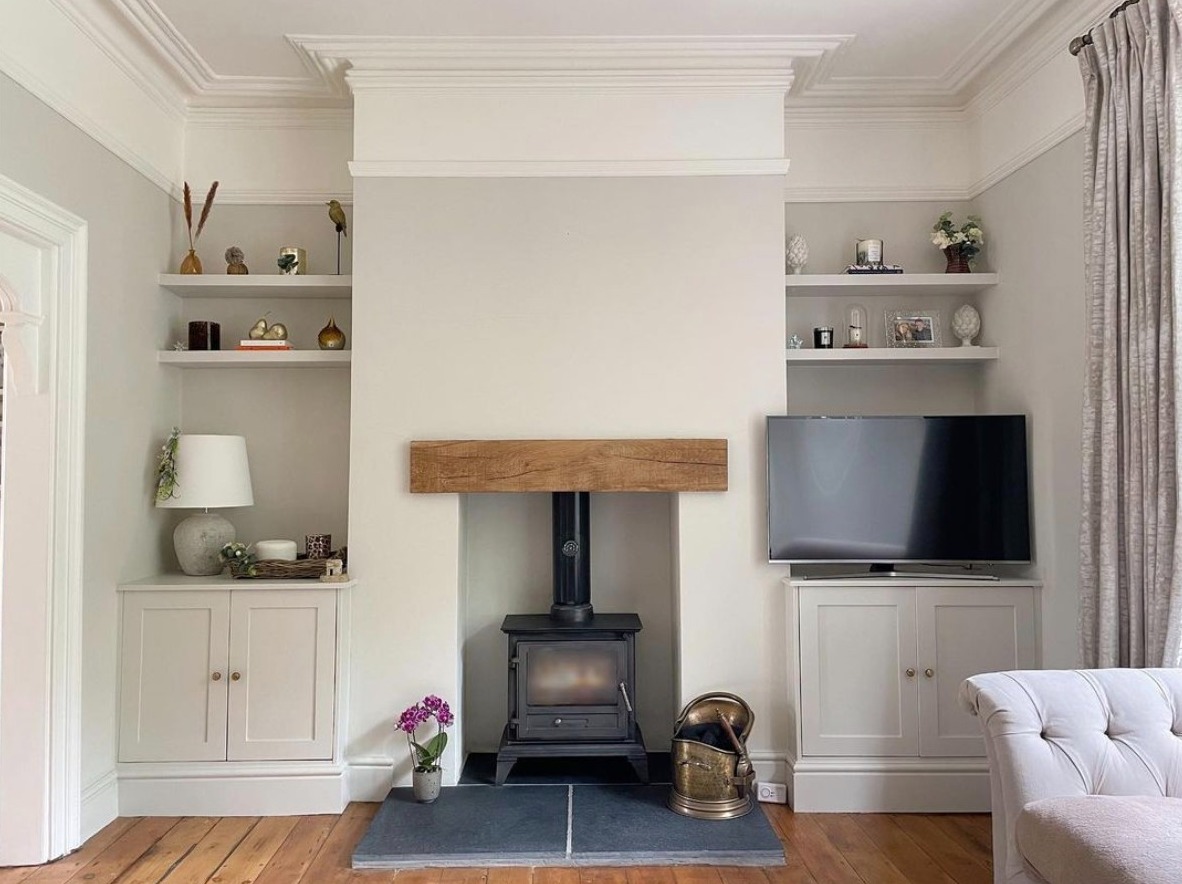 This traditional living room by @_thefoxhome_ is painted in Ammonite by Farrow and Ball. Again, you can see how the black accents of the wood-burning stove and slate floor tiles stand out against the Ammonite paint.
Ammonite Walls with White Panelling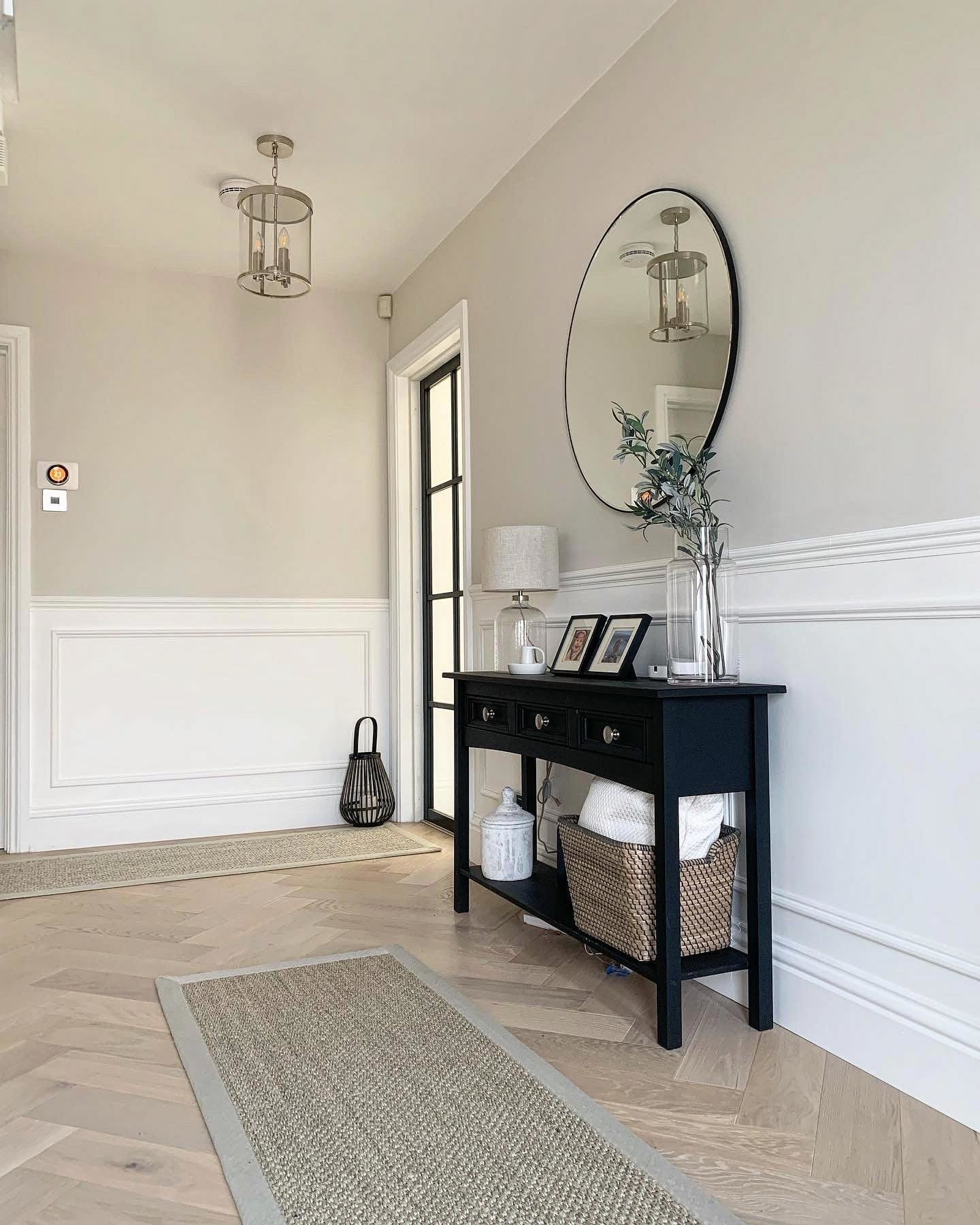 Image Credit: Farrow and Ball
If you've been thinking about using Ammonite above your paneled walls, this is a great example of how good it can look. Here, we have Ammonite above the white paneling with light coloured wood floors and black accents. A fab combination!
What Colour Compliments Ammonite?
Ammonite is a very light grey colour, so it can be considered a neutral. Because of this, it will work well with most colour schemes. If you're looking for contrast, you can't go wrong with Railings. This soft black has blue undertones, which make it perfect for adding a touch of drama to an otherwise neutral space.
Ammonite also works really well with:
You can order paint samples and a free Farrow and Ball colour card here.
Is Farrow and Ball Ammonite Grey or Beige?
Ammonite is a soft grey with a slight hint of beige. It would be considered a grey colour, rather than a beige.
What Undertones Does Farrow and Ball Ammonite Have?
Ammonite has beige undertones, which is why it appears warmer than most greys. This makes it one of the most popular colours for living rooms and dining areas.
Is Farrow and Ball Ammonite a Warm Colour?
Yes! Ammonite is a warm colour, thanks to its soft beige undertones.
Which Blue Goes Best With Ammonite?
If you're looking for a blue paint colour to go with Ammonite, you can't go wrong with Stiffkey Blue!
Does Purbeck Stone go With Ammonite?
Yes, Purbeck Stone goes well with ammonite. It's a little darker and will work well on the trim and doors to create a soothing colour scheme.
What's the Best Farrow and Ball Ammonite Dupe?
Looking for a dupe for Farrow and Ball's Ammonite? There are two great options to choose from. If you're in the US, then Windfresh White by Sherwin Williams is a fantastic option. And if you're in the UK or Europe, then Sunday School by Crown Paints is also an excellent match.
Where to buy Ammonite Paint by Farrow and Ball
You can buy Farrow and Ball paints online or from your local DIY store. Shopping online is normally easier, though, as you can have the paints delivered straight to your door, saving time and money.
You can order online from the official Farrow and Ball website. You will also be able to find free colour cards, and order samples from here too!