Farrow and Ball are renowned for their incredible quality paints and their stunning selection of colours. One of the most popular colours at the moment is Farrow and Ball's Hague Blue. The beautiful deep tones bring the perfect cosy feel to any room whilst simultaneously making it feel more elegant and luxurious. Dark colours can feel a little daunting but it's easy to incorporate them once you know how. Keep reading to see some of the ways that Farrow and Ball Hague Blue has been used to create Pinterest worthy rooms across the world.
Farrow and Ball Hague Blue Living Room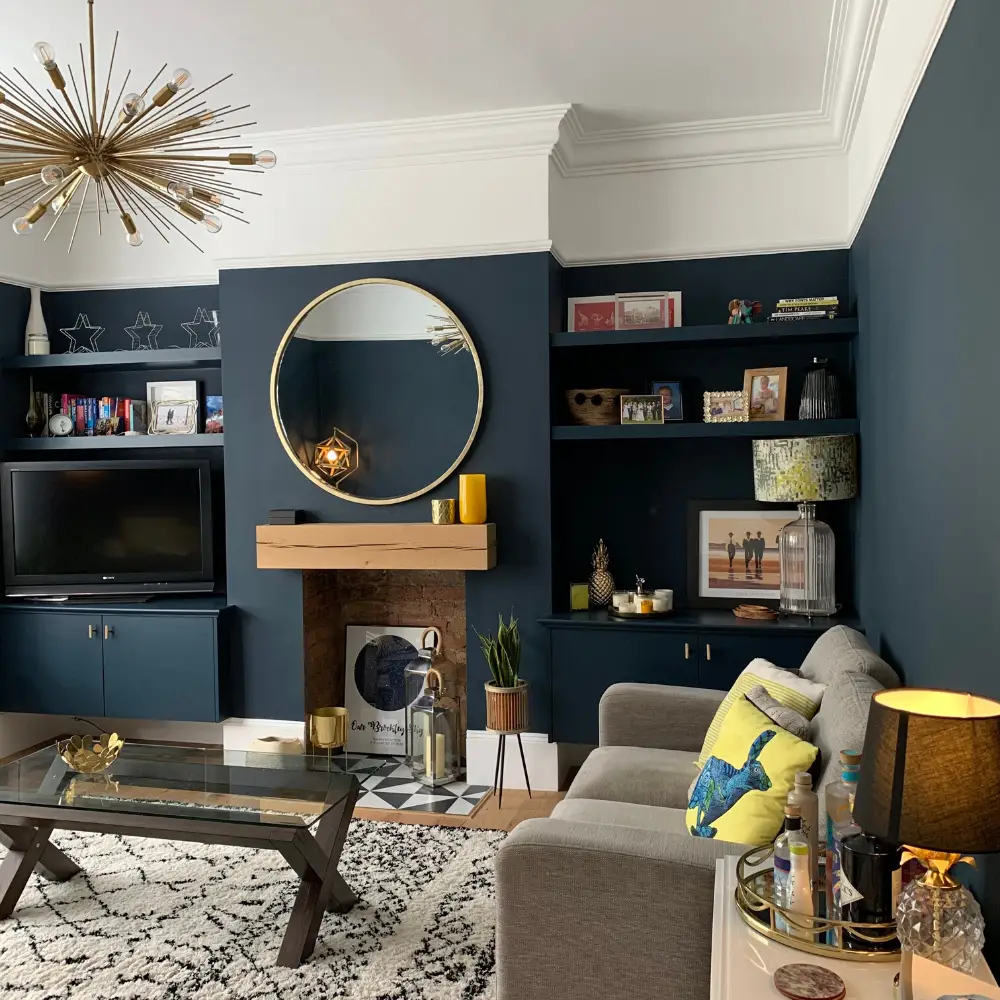 Image via The Pram Shed
This beautiful living room design by The Pram Shed shows how Farrow and Ball Hague Blue can be used to create a cosy living room that's full of character.
Light wood flooring and a light-coloured area rug help to balance out the space, ensuring the space doesn't feel too dark or oppressive, as does the white paint above the picture rail.
Create the Perfect Study Space with Hague Blue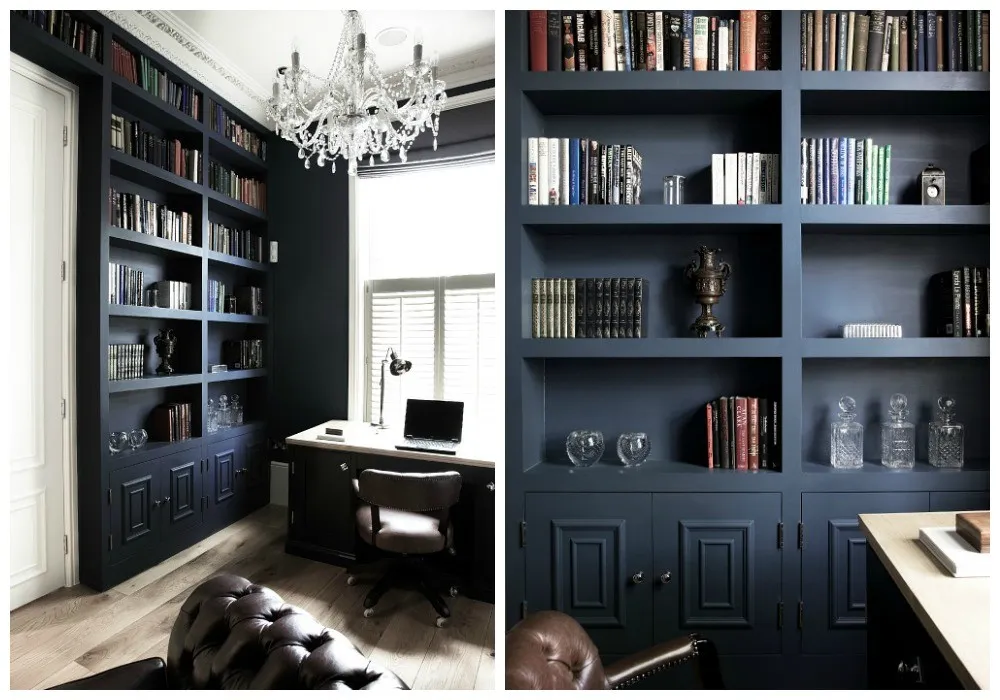 Image via: The Art of Bespoke
Dark colours often help to make rooms feel cosier, or even a little more serious. If you work from home then it could get boring having the same decor style throughout the house. If you're wanting to separate home and work, then adding Hague Blue to the walls in your office will help to create a more studious environment. Decorating your office in a different style can help to create a feeling of actually going to work because the environment feels so different – it's also the perfect place to try out a new style before expanding it to other rooms!
The dark and more traditional style furniture in this office compliments the rich tones of Hague Blue, giving the space a smart, traditional look.
Farrow and Ball Hague Blue Kitchen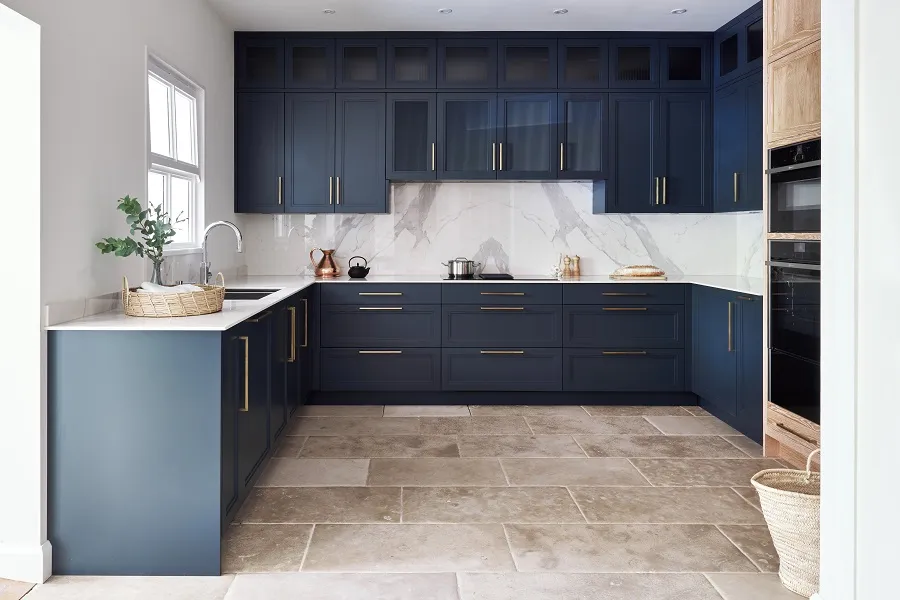 Image Source: Cheverell
Using a dark colour like Hague Blue doesn't have to restrict you from choosing more traditional styles of decoration or furniture. Farrow and Ball's darker colours can still fit in with more modern homewares if that's your chosen style.
One of the most popular designs for modern kitchens is to opt for a high-contrast look, with either black or dark grey cabinets with white walls and worktops. If you're looking to create a unique kitchen design then Farrow and Ball's Hague Blue is the perfect alternative to the black or grey that's usually seen in modern kitchens. 
Using Hague Blue in your kitchen not only adds bags of personality to a common design style, but it can also help to make your house feel cosy too. Using a bold colour also serves to provide some separation between spaces if your kitchen is part of a large open plan room.
A Bolder Choice of Kitchen in Hague Blue
Image source: Nicholas Bridger
If you're unsure about painting your entire kitchen in Hague Blue, why not try just painting the kitchen island and one wall. This is a great solution if you already have your cabinets painted in a light colour that you like, but you're looking to introduce something a little bolder. 
While Hague Blue is a very popular colour, Farrow and Ball have a huge variety of darker tones, so you could slightly adjust the colours throughout the house. Deep emerald greens and brassy golds would be a great compliment to Hague Blue's intensity.
Use Farrow and Ball Hague Blue to Create a Calming Bedroom Design

Image via Homes & Gardens
Hague Blue by Farrow and Ball is one of the most versatile colours, and one of the best places to use it is in the bedroom. As mentioned, the deep blue tones help to make a space feel more warm and cosy. While in an office this helps you to feel more studious, it can also help you to feel more relaxed too.
Painting a bedroom with Hague Blue can help to trick your mind into feeling like it's time to sleep. This is because not only is it dark (like the night) but blue is also known for being one of the most calming colours around.
Once you shut the door it's like being in a cocoon, the perfect environment for falling asleep! This might sound like something you would only enjoy in the Winter, but it actually works all year round. Opt for mid-toned woods like oak and keep other colours in the room fairly neutral to allow the paint to be the star of the show.
In Winter you could introduce some red or green tones into your space through things like bedding, cushion covers or throws. When it gets towards Summer you can swap this for white bedding, and pale neutrals to create a calming space that doesn't feel cosy when you're in the middle of a heatwave!
Create a Wow-Worthy Bathroom with Hague Blue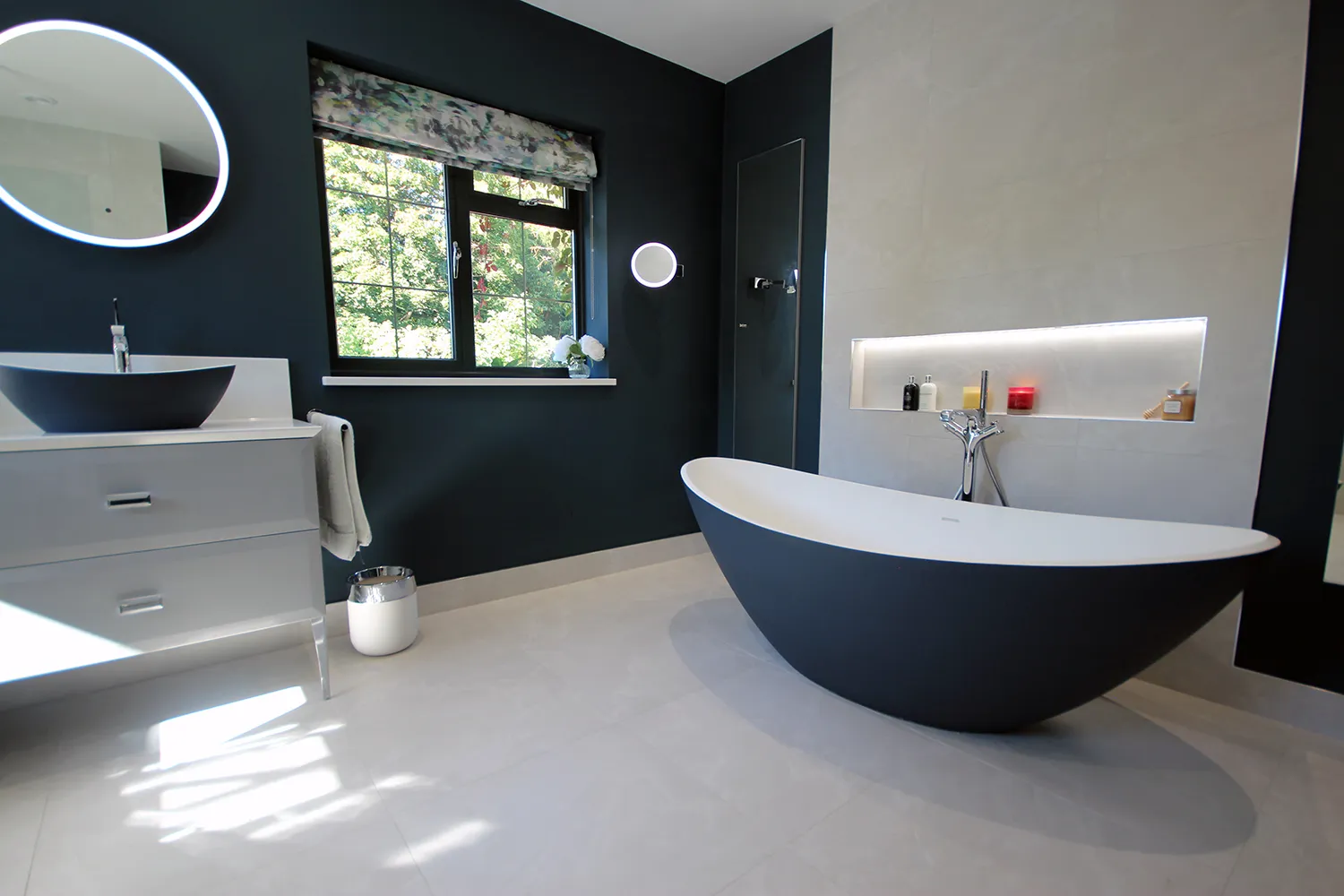 Image source: Stone & Chrome
Staying in a stylish hotel always feels special – there's always something that makes you say "wow" when you check in. This is because hotels tend to hire interior designers to design all of their spaces, and professional interior designers aren't afraid to take risks when it comes to design choices.
Patterned tiles, industrial fittings and brightly coloured walls are just some of the features that make a hotel bathroom feel so luxurious – so why not recreate this at home? This stunning bathroom is an incredible example of what you can do when you have the space, but you don't have to be put off if your bathroom is smaller – you can still create a luxury experience.
Try painting a small part of your bathroom with Hague Blue by Farrow and Ball. Behind the sink would be perfect because you can offset the darker tones with a big mirror, or use it on a side wall where you hang your towels. You don't have to have a big bathroom to create a luxury space, and you also don't have to paint huge parts of the wall to make an impact.
Farrow and Ball Hague Blue Hallway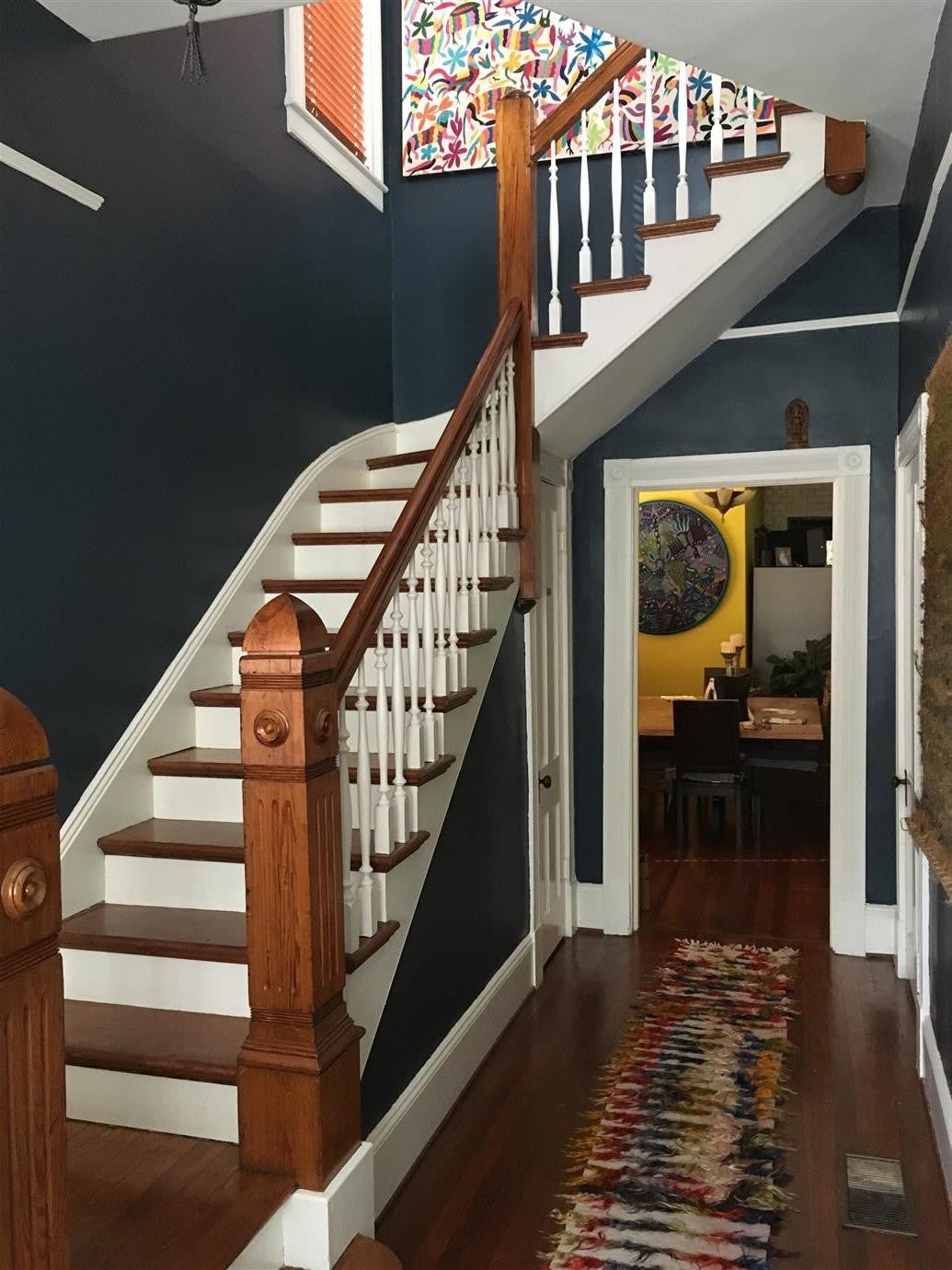 Image Source: Farrow and Ball
The hallway is the perfect place to experiment with bold colours in your home. Darker colours always create a wow factor and are sure to impress any guess visiting your home!
Hague Blue by Farrow and Ball is the perfect colour for a hallway, whether it's big or small. In more open hallways Hague Blue can help to draw the eye upwards, and in smaller hallways, it creates a dramatic entrance. Pair the impressive paint colour with gold or brass accessories for a real "wow" when your guests walk in.
What Colours Go With Hague Blue?
If you're looking for colours to go with Hague Blue by Farrow and Ball, you will be pleased to know that there are lots of great options.
Most lighter shades of white will work well with Hague Blue, but my favourites choice is Wevet. This pretty shade of white has a very subtle hint of grey to it. It contrasts beautifully with Hague Blue creating a smart, sophisticated colour scheme.
If you want to add a little more colour to your space, try using Calamine alongside Hague Blue. It works incredibly well to create an unusual colour scheme, and you can experiment with the quantities to get the look you want.
Borrowed light is another good option if you're looking for a lighter blue to pair with Hague Blue. It's a beautiful airy light blue that will work well either as an accent colour or as the dominant colour alongside Hague Blue.
Farrow and Ball Hague Blue: Final Thoughts
Farrow and Ball have undoubtedly become known as one of the best paint brands in the UK for a reason. Their impressive range of colours and rich tones can help to make any space feel special. Hague Blue has become somewhat of an internet phenomenon over the last year as more and more trendsetters are using colour to make an impact in their home.
Hague Blue can work well in any room of the home, and the amount of paint that you use and where you use it can make a big difference to the overall feel of your space. You can use Hague Blue to create a mid-century style office, a calming bedroom space or a modern glam kitchen. You can even make a deeper paint colour work for Summer, simply by changing some of the accessories that you've chosen to place in the room.
While darker paints can feel a little intimidating if you're just starting to experiment with colour, Hague Blue by Farrow and Ball is one of the most adaptable paint colours on the market. You really can't go wrong, so just have fun and make it up as you go along.