Anthracite Grey paint is a dark grey colour with a blue undertone. Named after the mineral Anthracite, which is a type of coal, Anthracite paint is perfect for creating a sophisticated and modern look in your home.
It can be used in almost any area of you home, including on the walls, doors, trim, and exterior depending on the look you want to go for. When paired with white or light colours, it can help to create a high-contrast look that really makes the space pop.
Whether you're looking to create a dramatic statement or simply want to give your space a fresh look, anthracite grey is a good choice. In this article, I'm sharing some of my favourite Anthracite Grey paint colours from some of the best UK paint brands to help you find the perfect shade for your home.
The Best Anthracite Grey Paint Colours
If you've been searching for the perfect Anthracite grey colour and not had much luck, hopefully this guide will give you a helping hand.
Many brands give their paint colours completely random and obscure names, which isn't much help when you're looking for a particular shade across a range of brands.
Using the RAL colour system, Anthracite grey is RAL 7016. However, that's very specific, and when referring to the actual material of Anthracite itself, it can appear to vary in colour slightly according to the light. This is similar case for Terracotta colours, which can vary drastically depending on the age and type of terracotta used, and is why terracotta paint can vary drastically in colour depending on the brand.
Anyway, here's a selection of some of my favourite shades of Anthracite grey from a range of different UK paint brands.
Farrow and Ball Railings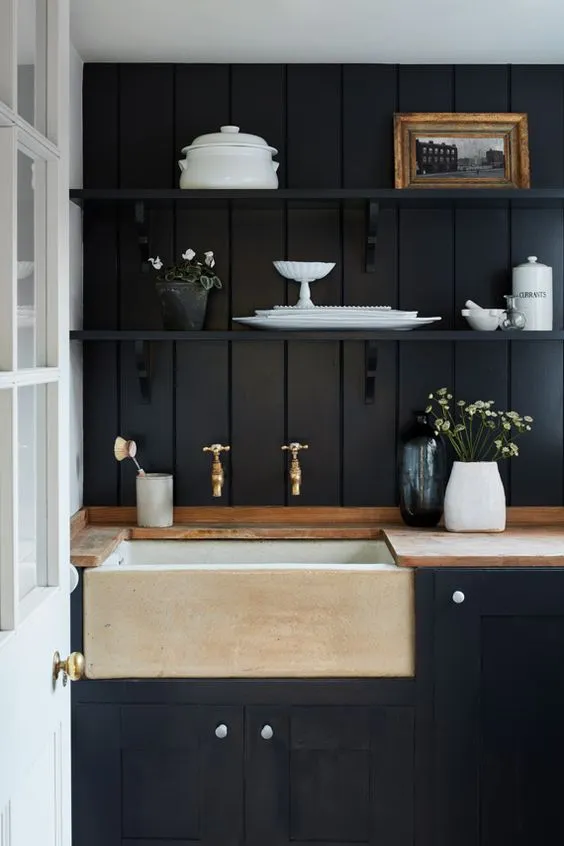 Image: Farrow and Ball
Railings is one of Farrow and Ball's most popular paint colours. This rich, deep blue-black hue is perfect for adding a touch of drama to any space.
Farrow and Ball Railings is very good colour match for Anthracite grey, and by using Farrow and Ball you can be sure you are getting the best quality, eco-friendly paint.
You can order a free Farrow and ball colour card here.
Farrow and Ball Downpipe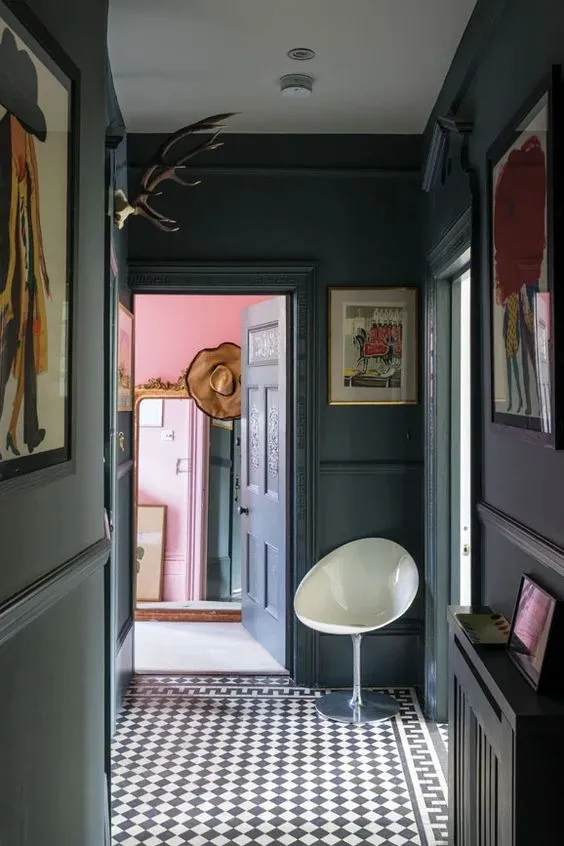 Image via Farrow and Ball
Farrow and Ball's Downpipe is a type of dark grey paint named after the traditional term for the vertical pipes that drain water from a building's gutters. It's actually slightly lighter than RAL 7016, but this makes it an ideal choice for spaces with less natural light.
When used on walls, Farrow and Ball Downpipe can create a calming atmosphere, and it is often paired with lighter greys and beige colours.
Order a free Farrow and ball colour card here.
Rust-Oleum Anthracite Grey Furniture Paint
Rust-Oleum Anthracite Grey is a popular furniture paint with a signature chalky finish. The colour is a dark grey with subtle blue undertones.
It's a great choice if you're looking to give an old piece of wooden furniture a new lease of life. Remember, you will need to seal it with a layer of wax to ensure a long lasting finish.
Buy Rust-Oleum's Anthracite Grey Here
Dulux One-Coat Cannonball
Looking for an anthracite grey paint that will cover everything in one coat? Dulux One-Coat Cannonball may be just what you need. Cannonball is a very dark, almost black shade of grey.
This paint is designed to provide excellent coverage in just one coat, saving you time and effort. The paint is also highly durable, making it ideal for busy areas such as kitchens and bathrooms.
Frenchic Loof Furniture Paint
Loof is a deep dark black paint that has the power to bring tired old furniture to life!
Frenchic furniture paint is a high-quality, eco-friendly paint that is perfect for upcycling old furniture. The paint is available in a wide range of colors, and it is easy to apply and maintain.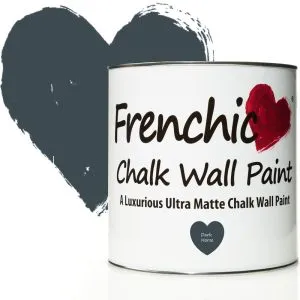 One of the best things about Frenchic furniture paint is that it is non-toxic and free from lead and other harmful chemicals. This makes it safe to use around children and pets.
Frenchic furniture paint is also very durable, and it can even help to extend the life of your furniture. If you are looking for an eco-friendly, non-toxic furniture paint, Frenchic should be your first choice.
Frenchic Dark Horse Wall Paint
Looking for a dark, bold color to make a statement in your home? Frenchic's Dark Horse Wall Paint is perfect for creating an impactful look. This beautiful off-black colour has blue undertones similar to Anthracite grey.
It's perfect for accent walls, trim, or even an entire room. And because it's a chalk paint, it's easy to apply and can be used on a variety of surfaces.
Frenchic wall paints are low-VOC and water-based, so they are safe for your family and the environment. An excellent brand choice if you're looking for non-toxic paint for nurseries.
What Colours Go Well With Anthracite Grey?
As anyone who has ever tried to match paint colours knows, grey can be a difficult colour to work with. Get it wrong and you can risk ending up with a cold and lifeless space.
However, anthracite grey is a versatile shade that can be used in a variety of ways. Here are some ideas for Farrow and Ball colours that go well with anthracite grey (a close match for Farrow and Ball's Railings). I'm recommending Farrow and Ball colours because that's what I personally use. You can find similar Dulux or other paint brand colour matches if you prefer
Pinks:
Peignoir by Farrow and Ball is a beautiful soft pink that pairs exceptionally well with dark grey colours.
And if you want to pair an Anthracite grey colour with something a little warmer, try Sulking Room Pink, a romantic muted rose colour.
Blues:
Neutrals:
Cornforth White – See my article on Cornforth White for some inspo on how this wonderful colour can be used.
Neutral shades like these will pair well with Anthracite grey, creating a calming and grounded space.
No matter what type of mood you're trying to create, there's a colour that will work well with anthracite grey. So don't be afraid to experiment until you find the perfect combination for your space.
FAQ's
Here are some answers to the most common questions people are asking about Anthracite grey.
Is Anthracite Grey or Blue?
Anthracite paint is usually a very dark grey with blue undertones. However, it can cary slightly between brands.
Is Anthracite Paint the Same Colour as Charcoal Paint?
Anthracite and charcoal are two popular shades of gray paint. But are they the same color? The short answer is no. Anthracite is a dark gray or black color with a blue undertone, while charcoal is a dark gray or black color with a green undertone.
The easiest way to tell the difference between the two colors is to look at them side by side. Anthracite will look bluer than charcoal, while charcoal will appear more green.
When choosing a paint color, it's important to consider the undertone. The undertone can have a big impact on the overall look of the room. For example, if you want a room to feel warm and inviting, then charcoal may be a better choice than anthracite. But if you're looking for a cool and modern feel, then anthracite may be the way to go.
Ultimately, the best way to choose between these two colors is to experiment with samples and see what looks best in your space.
What Is The Difference Between Anthracite and Black?
While black and anthracite are both dark colors, there are some subtle differences between them. For one, anthracite is a bit lighter than black, with a more blue-ish tint.
This distinction might seem small, but it can make a big difference in the overall look of a room. When trying to choose between the two colors, it's important to consider the overall aesthetic you're going for. If you want a dark and dramatic look, black paint is probably the way to go. But if you're looking for something a bit more subdued, anthracite might be the better choice.
If you've decided on the perfect grey paint colour, check out my post on the best curtains for grey walls to add the finishing touches to your room!