Which is better: Farrow and Ball or Dulux? If you've been looking for the perfect paint for your home, you have most probably come across both of these brands. In this article, I'm comparing Dulux vs Farrow and Ball head-to-head, so you can see how they really compare in all areas and decide for yourself which is the right choice for your home.
Farrow and Ball are well known for their beautiful range of colours and finishes, which is what makes them so popular. Dulux, on the other hand, is known for offering great-value paint that's incredibly easy to use.
I have used both Farrow and Ball and Dulux paint extensively in my own home, as well as in clients' homes, so I feel like I'm in a good position to give a fair review.
So, is Farrow and Ball better than Dulux? It really depends on your needs and preferences. If you are looking for paint that will make a statement and last for years, then Farrow and Ball is the way to go. However, if you are working with a limited budget, Dulux may be a better option.
A Quick Farrow and Ball Overview
Farrow and Ball was founded in 1946 in Dorset, England, by John Farrow (a trained chemist) and Richard Ball (who was an engineer). The two were passionate about creating highly pigmented paints using only the best ingredients.
The company was sold to Norman Chapell towards the end of the 1960s, and after a devastating factory fire, the company was relocated to Wimborne, where it remains today.
In the early 1990s, Farrow and Ball was taken on by Tom Helme and Martin Ephson, who together guided the company through a huge period of growth by focusing on a range of heritage paint colours designed to restore period properties to their original glory authentically.
Farrow and Ball still proudly use their original recipes and formulation methods, and are known as one of the best paint brands in the UK. Farrow and Ball paints are still as highly pigmented and high-quality as they always have been.
You can order colour cards for all of Farrow and Ball's colour ranges here.
A Quick Dulux Overview
Dulux is the UK's most popular paint brand. They offer a huge range of colours, with over 1,200 colours to choose from. Their affordable price point means they are accessible to anyone.
Dulux's roots are actually older than Farrow and Ball, with the founders, the Naylor Brothers, stepping into paint production back in 1919. Shortly after, Naylor Bros was acquired by Nobel Chemical Finishes, which soon partnered with three other British chemical companies to form ICI Paints Limited.
In 1931, the brand name Dulux (meaning durable luxury) was born after its first synthetic paint finish was produced. This was launched in the building trade in 1932.
In the 1960s, Dulux started offering hundreds of shades of colour for people to decorate their homes. They skyrocketed in popularity as the DIY boom took hold, and homeowners started decorating their own homes to their liking.
Fast forward to today, and Dulux is as popular as ever. They now offer a range of apps to help you visualize the colours in your home and offer a wide range of interior and exterior paint finishes.
You can purchase Dulux paints in almost any DIY store, as well as online.
Paint Finishes
Choosing the right finish for your project is important. These are the finishes each brand offers.
Farrow and Ball
Modern Emulsion – A truly wipeable finish
Estate Emulsion – a deliciously matt finsh
Modern Eggshell – Wipeable satin paint with a 40% sheen. Perfect for interior woodwork
Estate Eggshell – Wipeable satin paint with a 20% sheen. Perfect for interior woodwork
Exterior Masonry Paint
Exterior Eggshell
Full gloss
Specialist Finishes – Including Caesin Distemper, Limewash, Soft Distemper, and Dead Flat
Dulux
Simply refresh one-coat matt
Easycare – A wipeable and washable paint
Easycare Kitchen – Greaseproof
Bathroom Easycare
Matt emulsion
Silk
Soft sheen
Gloss
Eggshell
Satinwood
Farrow and Ball vs Dulux: Usability and Coverage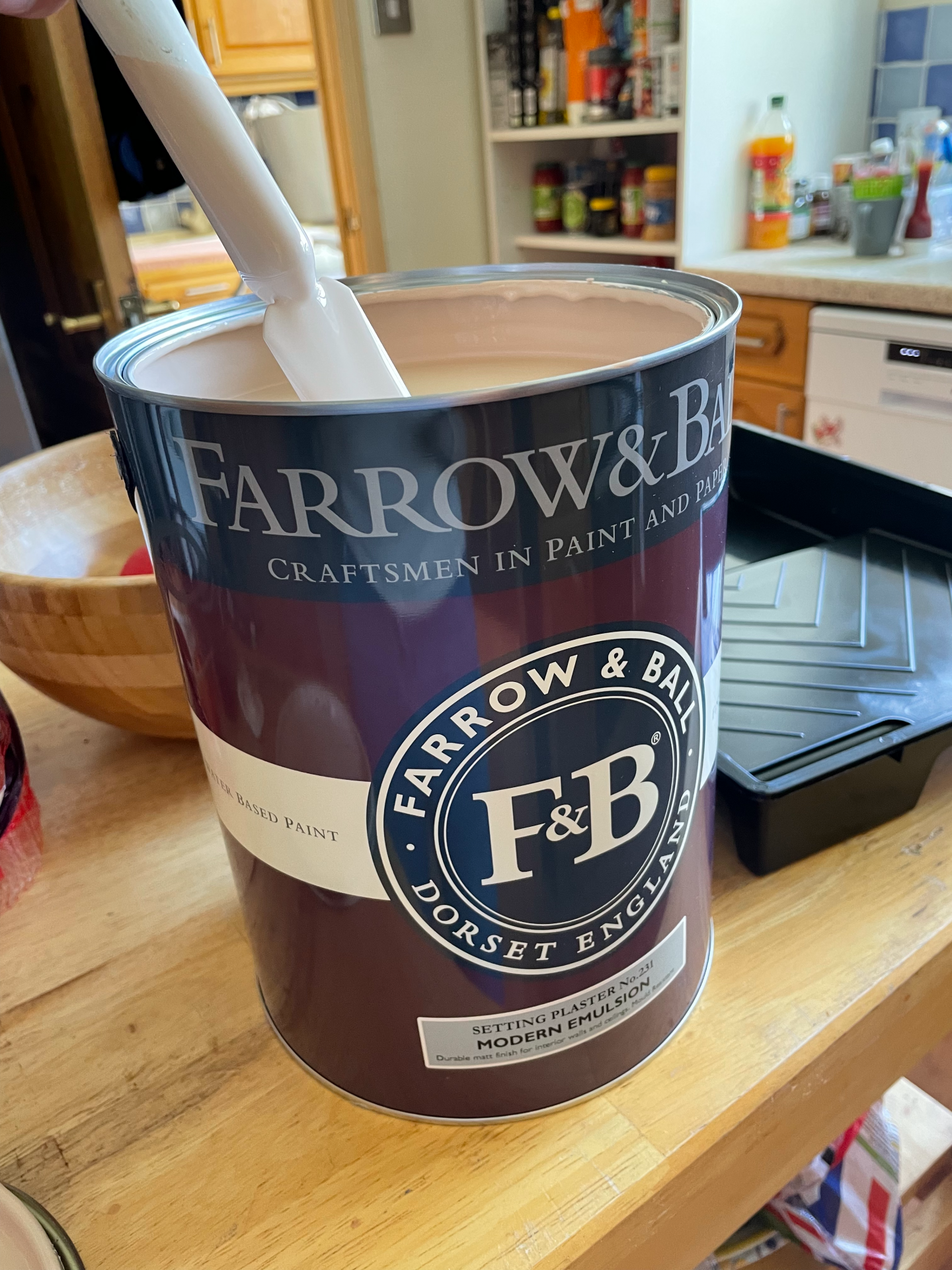 The main difference when it comes to usability, is that Farrow and Ball paint generally requires more coats than Dulux. This is also the reason many decorators hate using Farrow and Ball paint: It simply takes longer to apply.
Farrow and Ball paints usually require an undercoat. This gives the paint a good base to stick to and ensures an even application. The undercoat also helps produce a richer colour, and you can choose from different tones of undercoat to suit your paint.
That being said, if you live in a modern home with clean flat walls painted in white or a light colour, you may be able to get away without using an undercoat and simply use a third coat of paint instead.
I did this in my living room, and it came out beautifully. So I would say there are a few cases where you can get away without purchasing the primer.
Dulux, on the other hand, is available in 'Simply Refresh' – a newer emulsion paint that promises excellent coverage in just one coat. This is a fantastic option if you don't have a lot of time to spend on decorating: You can have a whole room decorated and ready to use in a matter of hours.
I used Dulux simply Refresh (formerly called Dulux Once) to paint my son's nursery when he was a baby, and it was very easy to use. Although I have to say that it did take more than 'one coat', and was closer to 1.5 or two coats.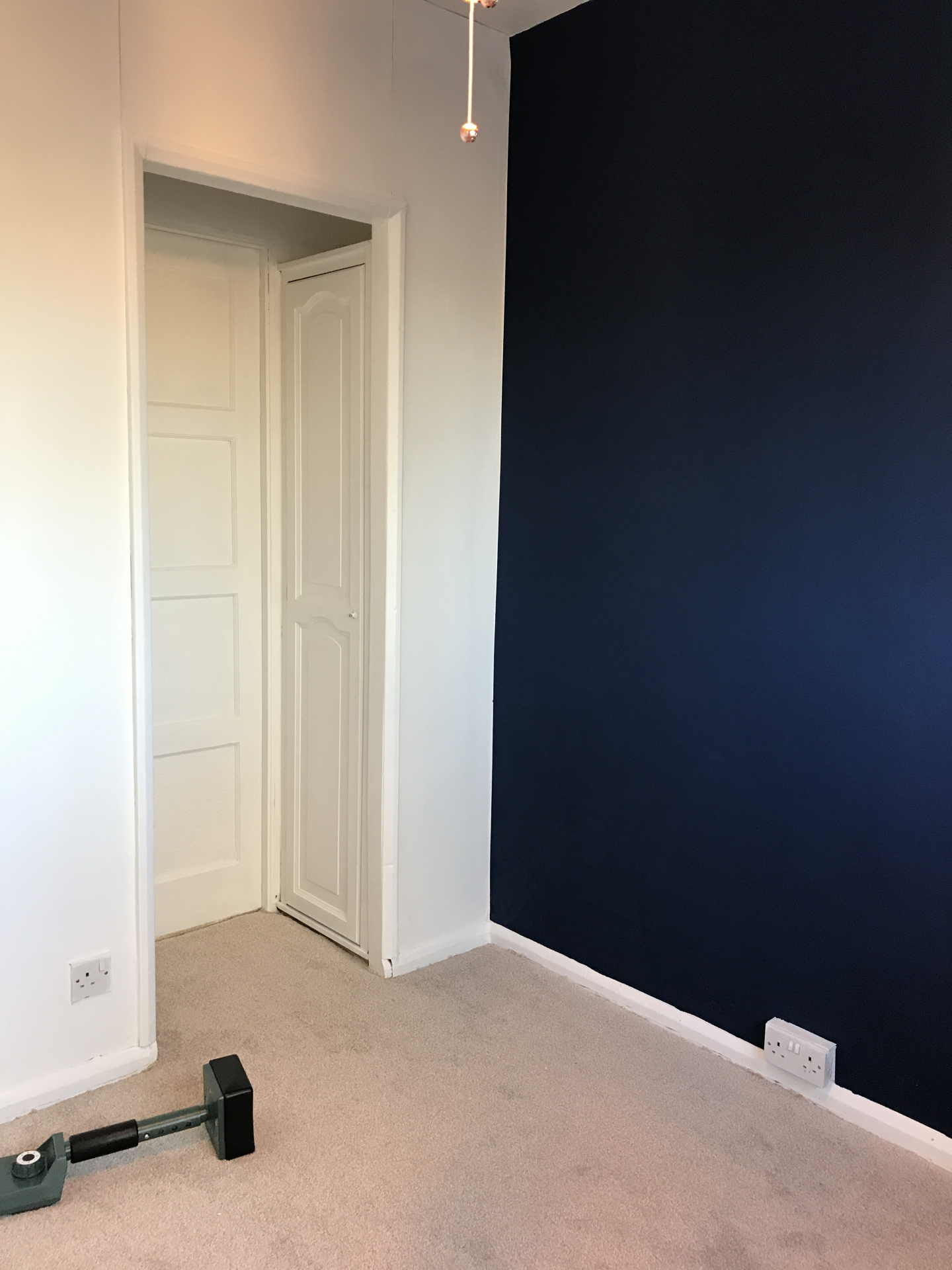 Still, it's very quick and easy to use. The downside is that this paint does mark easily, so in hindsight, it wasn't the best choice for a nursery, as it was marked easily and didn't wipe clean.
Because of this, if I had to use Dulux paint in a nursery again, I would definitely go for the Easycare finish, simply for it's wipeability.
The Verdict:
Overall, both Farrow and Ball, and Dulux, are both easy to use, but Farrow and Ball will require more coats for a perfect finish.
Farrow and Ball paint also has a much nicer consistency than Dulux. I know this sounds cliche, but Farrow and Ball is a joy to use! It goes on so nicely and smoothly, with no picture framing. Dulux is a lot more 'drippy', and had quite a few lumps and little bits in the paint, which was annoying.
If I had to choose between the two based on application, I would definitely choose Farrow and Ball, even if it does require an undercoat or additional coat.
The Pros and Cons of Farrow and Ball Paints
As with all paint brands, Farrow and Ball has its own pros and cons. It's important to look at these carefully and see if any of them are dealbreakers for you.
Pros:
Beautiful range of colours
Eco-friendly
Excellent customer service
Free colour consultations are available
You can order free colour cards online to be delivered to your home
Available in a range of finishes, including modern emulsion and estate emulsion
Ideal for period properties
The Modern Emulsion finish is truly wipable
Easy to order online with home delivery
Cons:
Expensive
The Estate Emulsion paint can mark easily, which may pose a problem for families with small children or pets.
Requires a primer (or a third coat)
The Pros and Cons of Dulux Paints
Now, let's take a look at the pros and cons of Dulux paint.
Pros:
Very affordable
Lots of beautiful colours to choose from
Wide range of finishes, including wipable finishes
Available online or at almost any DIY store
'One coat' paints are available
Cons:
The Matt and Simply Refresh paints mark easily
Poor consistency
It can sometimes have lumps or 'bits' in it
Dulux vs Farrow and Ball: Customer Reviews
Although I have used both Dulux and Farrow and Ball paints extensively myself, I think it's important to look at customer reviews to see the bigger picture. I've chosen to look at Trustpilot reviews to compare how customers are reviewing Farrow and Ball, and Dulux.
First, let's take a look at Farrow and Ball. Here's a screenshot of their page on Trustpilot:
As you can see, they're doing pretty well when it comes to customer reviews. They have an impressive 4.5 out of 5 stars from over 7,000 reviews.
Not bad at all.
82% of their reviews are 5-star, and only 7% received 1-star.
Overall, the reviews are great. Customers compliment the great service they receive, as well as the beautiful colours and finishes of the paint.
Dulux, on the other hand, isn't doing so well. As you can see from the Trustpilot screenshot below, Dulux has only received 1.5 stars out of 5 from their customer reviews. This is from a total of 1,147 reviews.
A majority of their reviews are 1-star, with just 7% receiving 5-star reviews.
It's important to point out that Dulux doesn't actively ask their customers for reviews like Farrow and Ball do, so there's a good chance that the happy customers are just not saying anything. Nevertheless, it's not a great look, so perhaps they should start asking for reviews to balance this out.
Despite this, Farrow and Ball have far fewer 1-star negative reviews in total than Dulux, even though they have over 7,000 reviews in total.
Overall, It's clear to see that customers using Farrow and Ball paints are having fewer problems with both the customer service and paint quality compared to Dulux, so Farrow & Ball is the winner here.
Farrow and Ball vs Dulux in Sustainability
Sustainability is more important than ever. Supporting brands that go the extra mile to be sustainable is key to making the world a healthier, cleaner place for everyone. Let's see how Farrow and Ball, and Dulux measure up when it comes to sustainability.
Farrow and Ball Sustainability
In January of 2010, Farrow and Ball boldly decided to move their entire range of oil-based paints to more eco-friendly water-based finishes.
This means all their paints have low VOCs (volatile organic compounds). They also use recyclable paint tins.
Their wallpaper is also made from sustainably sourced paper, and printed in small batches in their Dorset factory to minimize waste. Since their wallpaper doesn't contain any vinyl, it's also recyclable in many areas.
In fact, Farrow and Ball, as a company, are doing everything they can to operate in the most sustainable way possible. This includes:
Recycling 97% of their own wastewater at their on-site water treatment facility
Running their factory on electricity produced in the UK by solar and wind farms
Recycling 100% of their dry waste
Using FSC-certified printers to print their colour cards and other promotional materials
Overall, It's great to see that Farrow and Ball are doing everything they can so operate as sustainably as possible.
Dulux Sustainability
Like Farrow and Ball, Dulux is doing its best to promote sustainability within the company. They now sell recyclable paint cans, and all of their paints are water-based and have low VOCs.
They also offer a new range of Airsure paints, which are 99.9% VOC free. However, the choice of colours in this range is limited.
Dulux also runs a number of social projects, including:
Social Housing Voucher Scheme
Smarter Spaces – Transforming schools and other educational spaces with colour.
Dulux academy. This is designed to help young people who want a career in the decorating industry, with a range of courses hosted by industry experts.
Farrow and Ball vs Dulux: Pricing
When it comes to pricing, you probably already know that Farrow and Ball are more expensive than Dulux. Let's take a look at the pricing side-by-side to see how they compare.
Sample pots
Farrow and Ball: £4.99 for 100ml
Dulux: £2.30 for 30 ml
Farrow and Ball's sample pot is a mini can of paint, you paint it on with a paintbrush.
Dulux now offers mini rollers on their paint testers, which I love! It means you don't have to worry about getting lots of brushes dirty if you are testing lots of samples at once. It's brilliant!
Farrow and Ball Estate Emulsion vs Dulux Matt Emulsion
Farrow and Ball: £52 for 2.5l (35sq m coverage), or £89 for 5l (70sq m coverage)
Dulux: £20 for 2.5l (up to 42.5sq m coverage)
Farrow and Ball Modern Emulsion vs Dulux Easycare
Farrow and Ball: £50 for 2.5l (30sq m coverage), or £95 for 5l (60sq m coverage)
Dulux: £27 for 2.5l (up to 32.5sq m coverage) or £38 for 5l.
Farrow and Ball or Dulux – Which Should You Choose?
If cost is a concern, then you can't go wrong with Dulux. It's great value for money, and they have over 1,200 beautiful colours to choose from.
However, Farrow and Ball paints do have some unique features that might be a dealbreaker for some.
Firstly, the Estate Emulsion's matt finish is truly unique. You won't get the same beautifully chalky finish from many other brands. It really is lovely.
The only downside is that the Estate Emulsion paint does mark easily, and once it's marked, it's difficult to re-touch the paint without having to re-paint the whole wall. If you have babies or toddlers, I would avoid this.
The other dealbreaker is Farrow and Ball's unique colour range. (Check out the full range here)
Sure, you can get it colour-matched by another paint brand, but in my experience, it's never a 100% match, and even if the colour comes close, the finish will be slightly different.
If you're looking for paint with a wipable finish, go for Farrow and Ball's modern emulsion.
Farrow and Ball's Modern Emulsion is completely wipeable and easy to re-touch if required. The paint is silky smooth and a dream to apply. Although you will need to use a primer (or a third coat), the finish is amazing.
Dulux's Easycare range is also similar to this in terms of wipeability, and it's obviously a much cheaper paint, so it's a great option if you're on a budget.
The Verdict:
If I had the money to spend, I would choose Farrow and Ball paint every time. I love the quality, the usability, and the finish. However, when money is an issue, you will still be able to get a good result using Dulux.
If you live in a period home with historical features, you should also choose Farrow and Ball. The range of specialist finishes available will ensure that your property stays in a beautiful condition for years to come.
Order a free Farrow and ball Colour Card Here
---
If you're thinking of purchasing Farrow and Ball paint, check out some of my favourite colours: